Opening a brand new restaurant can be difficult and stressful because of the number of decisions you should make during this time. One of the areas that may require you to spend a lot of time and energy is choosing equipment for your restaurant. Would you strive to buy cutting-edge equipment and POS system to keep up the latest restaurant technology trends? Or would you prefer to buy used equipment and try to save some money? Regardless of what strategy you choose, you'll have to analyse a ton of information about technical characteristics, design, vendors, prices, etc. 
When choosing the equipment for your restaurant, the first thing you should learn is the difference between professional and domestic equipment.
First, professional kitchen appliances are much bigger than usual. You must admit that you likely won't need to fry fifteen steaks at a time or store three dozen kilograms of salmon in the fridge. The choice of kitchen appliances directly depends on the restaurant concept and production scale. For example, if you have a small cafe, you won't need to buy 15 pizza ovens, or if you own a kid-friendly restaurant, you probably couldn't manage without steamers and pastry tools.
Second, even a big restaurant doesn't guarantee that the kitchen occupies a large area, and it's sometimes hard to position the equipment so that everything fits in and doesn't annoy the kitchen staff at the same time, though, thanks to progress, hobs and ovens have today become more compact and mobile. Another plus of the modern systems for a restaurant kitchen is multifunctionality when you have cooking and cutting surfaces and a grill next to each other.
Third, such complex and expensive equipment should be durable. It's therefore crucial to choose reliable kitchen appliance vendors who provide service options and warranty coverage for their products.
Fourth, the kitchen should be perfectly clean (the same rules apply to the bar), all cooking and storage equipment must have easily cleaned and sanitized surfaces.
Fifth, think about the best way for your chefs to manage incoming orders. Would it be convenient for them to use kitchen printers or a kitchen display system? The functionality of a modern restaurant POS system should allow you to choose between the two options.
And last but not least, equipment should be safe for restaurant staff to operate, and energy-saving because the extra costs of electricity will affect the restaurant budget. When everything is clear concerning the general requirements for the equipment, go ahead with the actual selection and purchasing.

To help you stay on top of your to-do list and ensure that your restaurant opening goes smoothly, WebstaurantStore recommends this list of the top 10 restaurant equipment must-haves.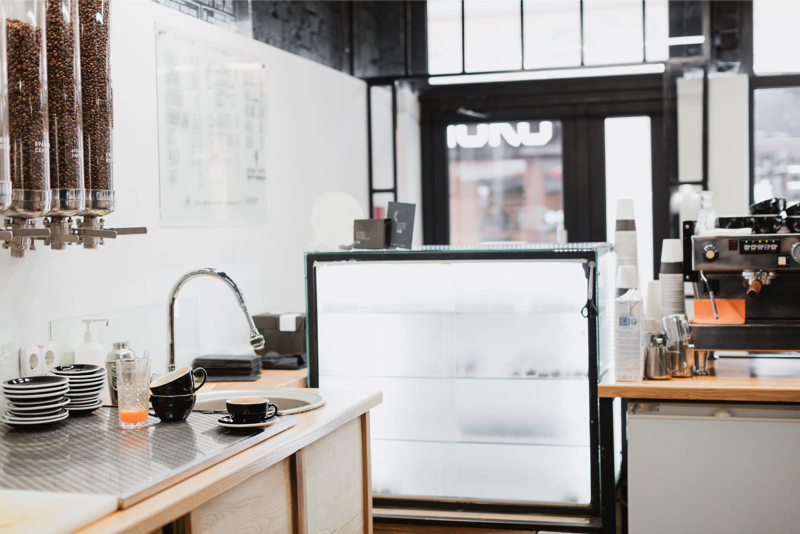 Refrigeration Equipment
Refrigeration equipment is critical in a foodservice establishment because it prevents your food from spoiling or melting. While refrigerators and freezers are essential, different types of restaurant will need various features and capacities. Fortunately, there are many types of refrigerator to choose from, so you'll be able to find one that is perfect for your establishment, whether you're opening a sandwich shop, a fancy Italian restaurant, or a fast casual joint:
-       Reach-In Refrigerators and Freezers
-       Merchandising and Display Refrigeration
Commercial Grills
Whether you're creating delicious Cuban sandwiches in a panini press, flipping pancakes on a griddle, or adding appetizing grill marks to your steaks, commercial grills are an important part of your kitchen. Grills come in all sorts of shapes, sizes, and types, making it easy to find an option that will meet the needs of your business perfectly. The most popular types of "commercial grill" can be grouped into a few categories, depending on the business type:
-       Countertop Flat Top Griddles
Ice Machines
When it comes to serving beverages, ice machines are just as important as soda fountains. Ice machines create ice and then dispense it into an ice bin or soda fountain. While ice is necessary for serving soda and iced water, you can also use ice machines to create blended drinks such as smoothies, margaritas, and alcoholic slushies. Depending on the type and concept of your restaurant, you need to choose the kind of ice machine that suits you best:
-       Remote Condenser Ice Machines
-       Combination Ice and Water Dispensers
Cleaning Supplies
One of the most important tasks in a commercial kitchen is cleaning. Careless cleaning can lead to bacteria growth and cross-contamination, the rapid route to getting an unpleasant visit from the health inspector. Instead, ensure that your staff cleans the kitchen and the equipment thoroughly each night with the proper cleaning supplies and methods.
Griddles
Griddles are ideal for cooking many different foods, such as burgers, breakfast foods, and grilled sandwiches. Because they are versatile, griddles are an essential appliance for any type of foodservice establishment. Moreover, there are several types of countertop griddle that are ideal for small restaurants or food trucks. You can choose between electric, gas, or induction griddles.
Grease Traps
Grease, sediment, and solids entering your plumbing system can lead to long and expensive repairs, so it's good to protect your plumbing by using a grease trap. Grease traps can be attached to your commercial dishwashers, prep sinks, and other equipment connected to your plumbing, and they'll catch any grease or food particles, preventing them from draining into your pipes. Because they will save your business a lot of money in repairs, they're important items for any foodservice establishment.
Chef Knives
After you figured out how to hire a chef it's time to think about a perfect knives kit for them :) A sharp set of chef knives is essential for chefs in any foodservice setting. Chef knives come in many different sizes and styles, allowing chefs to choose the option that best suits their task. Most chef knives also feature comfortable ergonomic handles, ideal for time-consuming chopping when preparing large quantities of food.
Commercial Shelving
Shelving helps foodservice establishments stay organized, and can be used to store and organize anything from food items to dinnerware. Many shelves are heavy duty, made out of durable materials which allow them to hold quantities of products without buckling. Additionally, some shelves are rust-resistant and feature epoxy coatings that make them perfect for use in humid environments, like walk-in refrigerators and freezers.
Squeeze Bottles
Whether you're looking for a condiment dispenser to put out on your tables for self-service or you want a product to improve your plating technique, squeeze bottles are perfect. You can use them to hold many different types of liquid such as condiments, sauces, oils, or salad dressings. Most squeeze bottles also have easily removable caps, which make them easy to refill.
Food Storage Containers
Food storage containers are perfect for every type of foodservice establishment; they help prevent food from spoiling while keeping your storage area organized. You can store a ton of ingredients in these containers, such as cut produce, soups, sauces, and dry goods. Additionally, many storage containers are now color coded, allowing you to organize them more easily, as well as to separate allergen-safe foods.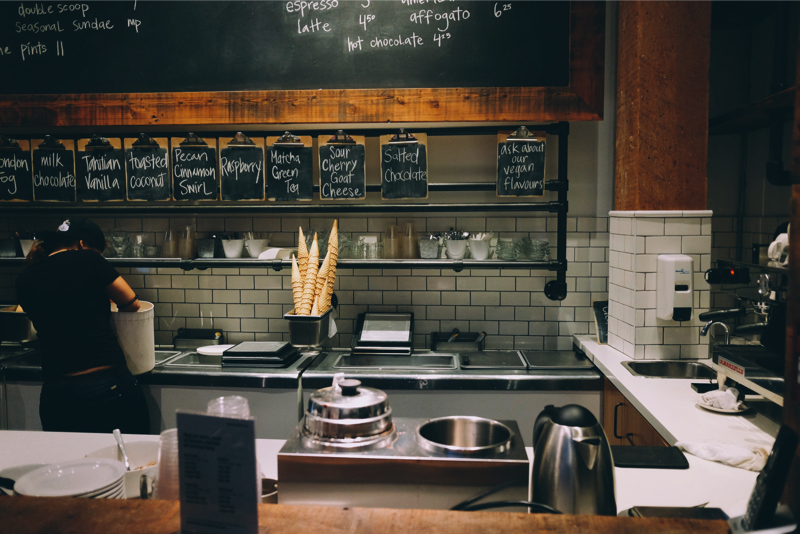 New versus Used
At the beginning, if you want to save money, then think about buying used restaurant equipment. Professional equipment suppliers will offer you a large selection of used equipment that has gone through the full diagnostics process. And, most importantly, these companies will provide you with a warranty service period, as though you were purchasing new kitchen appliances.
When choosing used equipment always pay attention to:
1. The year of production and operating time. Of course, the newer the item and the shorter the period of use, the better.
2. The presence of documents in accordance with all items of equipment.
3. The appearance of the kitchen appliances. You should carefully inspect merchandise and make sure there are no scratches, dents or other damage.
4. The equipment supplier brand. You should be able to trust the vendor and have no doubts as to quality.
5. Equipment performance. You should have a specialist check the technical condition and ensure there are no problems with their operation.
6. The reason for the sale. If a malfunction caused the former owner to sell the item rather than fix it, you may need to continue your search.
When equipping a restaurant, it is important to understand that saving money is not about buying cheap equipment. True savings come with choosing reliable and proven equipment which preclude constant repairs and disruptions to your workflow. Therefore, the choice of kitchen equipment should always be made responsibly and will require spending sufficient time.