How to set up Kitchen Kit
Kitchen Kit is the app that replaces tickets printing by displaying orders on the screen.
Install the application on the additional Android-tablet. Waiters will quickly send customer orders to the kitchen and chefs, in turn, will view orders and report on the order status.
Stop worrying about printer paper rolls, connect Kitchen Kit and send orders from the register to the preparation stations.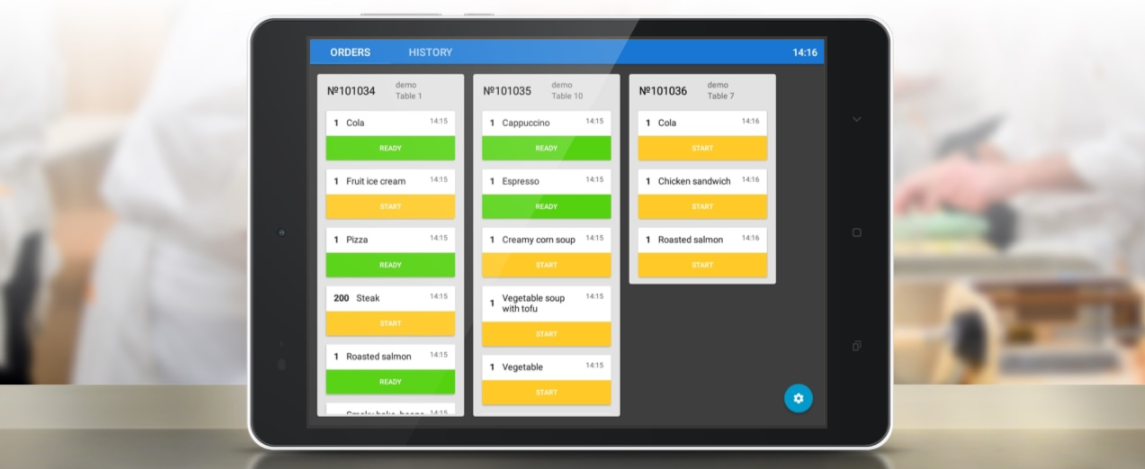 Kitchen Kit connection and setup
Launch Kitchen Kit app on the Android tablet or Android TV box with a connected screen.

Enter your login (the name of your location).

Enter your email and password. You have this information in your mailbox.

Enter the waiter PIN-code on the register.

In the pop-up window click Connect.


Click ≡ at the upper right corner of the screen and click Devices.

Select the Kitchen Kit from the list and stations for order sending. For example, Bar" or "Kitchen".
💡 To send orders to the kitchen, make sure that Kitchen Kit and the register are connected to one Wi-Fi network.
☝️ You can't connect both Kitchen Kit and tickets printer to the one station at the same time.
Sending orders to the kitchen from the register and receiving notifications that dishes are ready
Click Send in the order window.

In the pop-up window, specify the dishes priority or add a comment to the order. Click Send.

Dishes cards, which are combined into order sheet, will appear on the Kitchen Kit screen. Each of them displays the waiter name, table and receipt number, dish name, number of portions, sending time, and the comment.

Open the dish card to view the recipe and cooking process.

Click dish is ready, so that the waiter receives the notification on the register.
💡 To cancel the order:
— click three dots next to the Send button and choose Cancel. The dish card status on the Kitchen Kit screen will change to "Canceled";
— open the dish card on the Kitchen Kit screen and click Order cancel. After that, the waiter will receive the notification on the register, that the order is canceled. For example, if there is a lack of some ingredients on stock.
View the order list in the History tab on the Poster Kitchen Kit application.