Analytics
All reports at your fingertips
Sales data is stored in a secure cloud and is available to you in the browser anytime and everywhere.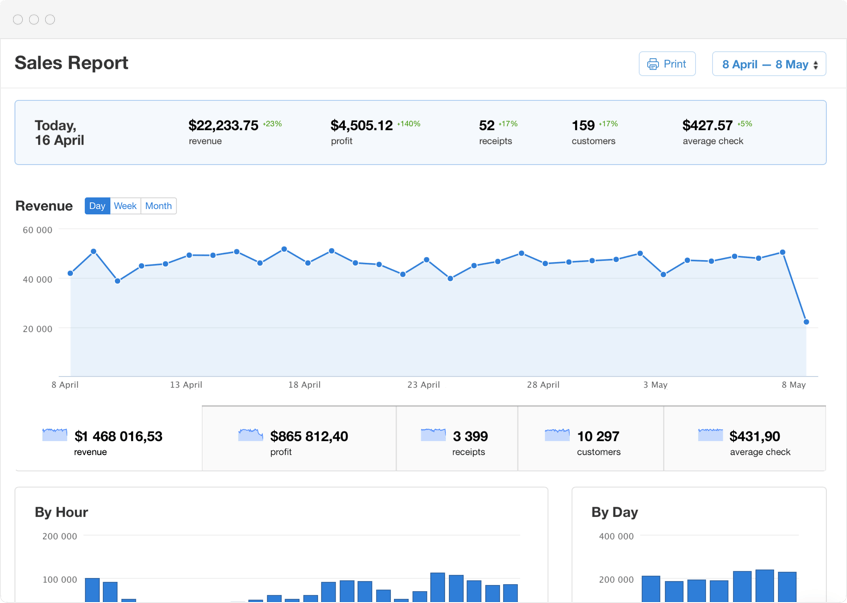 Unlimited number of users
Grant access to your accountant, CFO, investors, manager, etc. Everything is included in the subscription.

World-wide access
All analytics is accessible in the browser from anywhere around the world.

Secure storage for your data
The databases are stored in TIER 3 data centers in Europe and the USA. Management console uses secure HTTPS protocol.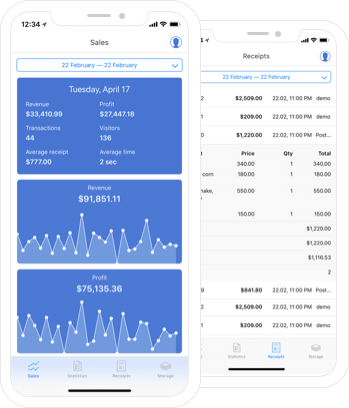 Business in your pocket
Keep your eye on your business everywhere — during a vacation, on the run or before you sleep. 😴 Download Poster Boss app on iOS or Android device and view your sales reports in a convenient way.

Flexible report filters
Do you want to view Harry's checks with applied "1+1" promotion that he paid by credit card in the first hall last month? You got it!

When is your busiest time?
Analyze your sales by time and days of the week and predict the strain on the wait and kitchen staff.


Be the first to know today's sales numbers
Get notifications about the amount of earned money on your smartphone right after the cash shift closes.
Make right decisions
Built-in reports help answer all important questions about your business
Who sold the most in April?
Who has the highest average check: Paul or Emmy?

Reports → Waiters
What products are the most profitable?
Which dessert to exclude from the menu?

Reports → Products
How many customers usually sit at table № 5?
Which tables have the highest turnover?

Reports → Tables
Show all staff meal receipts in a week
Who has canceled the ticket by receipt № 3411?

Reports → Receipts
What is the percentage of customers that pay by card?
What is a monthly amount of bonus payments?

Reports → Payments
How much money do I lose on discounts per month?

Reports → Customers
Poster is perfect for chains and franchises
We automate chains and franchises up to 200 locations

Chain management
With Poster, you can manage as many locations as you want. Each one will have its own inventory and ability to have a different menu. You will see the chain analyst in one place.

Franchise version
Products, dishes, and recipes are automatically synced up to all franchisees. The general client base allows giving bonuses and discounts to the customers, regardless of franchise location where they were added to the base.
Try Poster POS for free
Learn why 50,000 businesses love Poster POS. Start your 15-day free trial.
Next
→