POS system for dark kitchens
POS system for dark kitchens: Inventory management and accounting tools, statistics and reports, and tools to create a streamlined delivery service, all from $29 per month.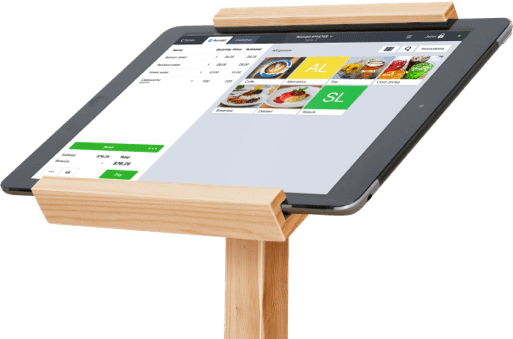 Try Poster POS for free
Learn why 50,000 businesses love Poster POS. Start your 15-day free trial.
Set up a dark kitchen for your restaurant with Poster
Handle long lines quickly
With Poster, your cashier or manager can take orders in just a few clicks and send them straight to the kitchen!
Keep track of your inventory
Poster allows you to monitor all of your products in stock, perform regular inventory checks and plan purchases from your suppliers.
Simplify your delivery service
Accept deliveries from multiple third party services or from your own website, view statistics for your orders and monitor the performance of all your couriers.
Accept any kind of payment
If your customer wants to pay cash, card or use mobile banking, we've got you covered. Customers can even split the order and pay with both cash and card!
Work with a wide range of devices
You can install Poster's POS app on Android tablets or iPads, as well as Windows and MacOS. Don't waste money on a POS terminal, get started with the equipment you already have!
And you can cut down on paper waste with Poster's Kitchen Display System. Now, your kitchen staff can take orders directly on their tablets from your front-of-house staff.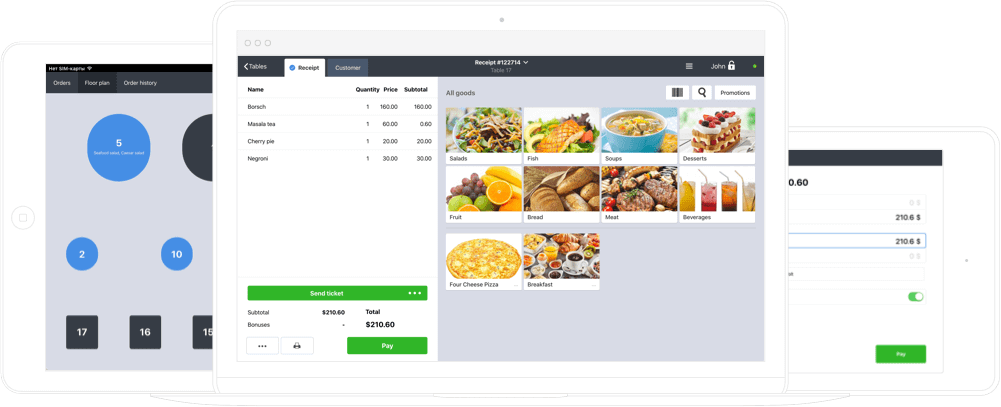 Cut down on office work with Poster's admin tools for dark kitchens
Make better predictions of how much stock you'll need by monitoring foot traffic and analyzing sales statistics. Poster calculates your average inventory requirements automatically!
You'll be able to keep stock under control with Poster's inventory management tools. Print out our ready-made tables or fill them in online.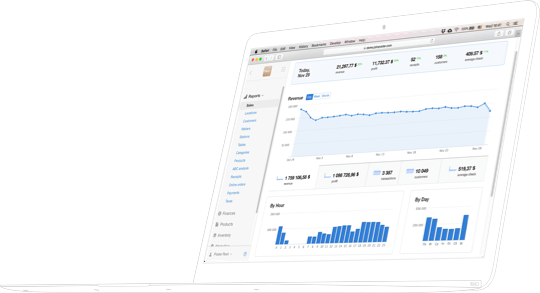 Better planning and accounting for your dark kitchen
Plan ahead of time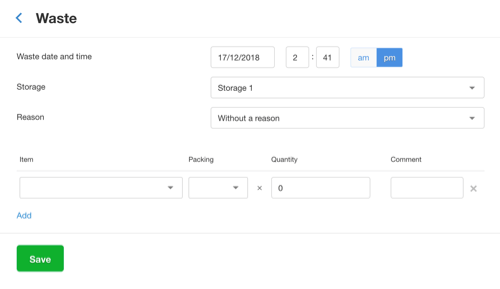 With Poster's «Manufacture» tool, you can prepare certain dishes and ingredients like soups, cakes and pizza dough ahead of time and keep them stored without causing confusion in your inventory checks!
Keep your finances under control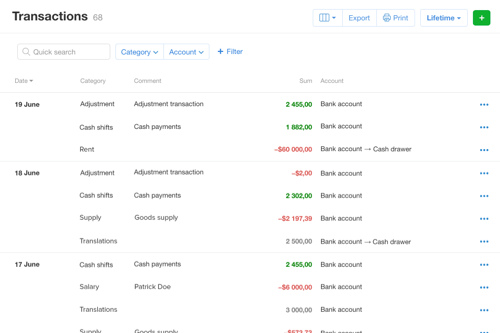 Poster's accounting tools make it really easy for you to keep track of all your transactions and reports, so you can cut unnecessary expenses whenever you need and find new ways to make your business more profitable.
Set up reminders to buy stock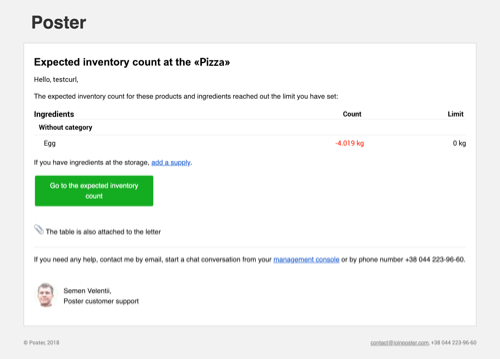 Stay on top of your stock purchases with Poster's handy notification system. You'll get an alert whenever you need to get in touch with your supplier, so you don't have to be short of any product or ingredient!
Manage your payroll and staff schedules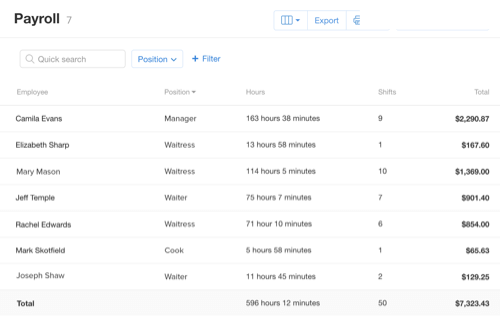 Create unique job profiles in the management console and sort out the payroll for all of your staff, and monitor hours and shifts for all of your employees.
Automate your delivery service for your dark kitchen
With Poster you will be able to accept orders from third-party services or from your own delivery service, manage and track your couriers and view statistics for your orders.
Integrate your website with your POS system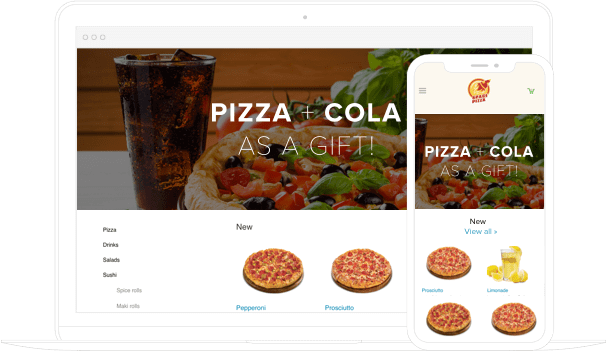 Connect your website to Poster to receive online orders through the POS terminal or create your own site with Poster Shop. All food and product categories from your management console will automatically appear on the website.
Keep track of your couriers' performance
In Poster's management console you will be able to analyze your staff's performance. View order delivery times and discover how you can improve your delivery service.
Discover the Poster Courier app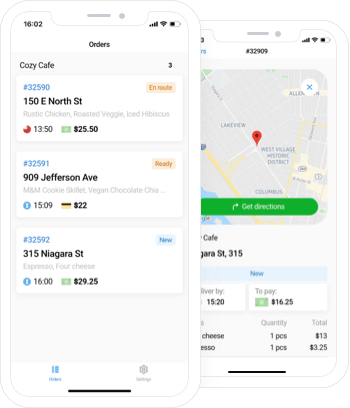 The courier will be able to see a list of all new orders with details, use integrated navigation apps and keep the client updated on the status of the order in the app.
Work with third-party delivery services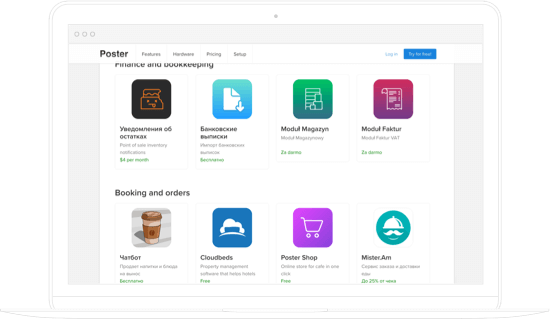 Don't miss out on the rest of the market! Poster is integrated with a variety of third-party delivery services, which you'll be able to use side-by-side with your own delivery platform.
Monitor analytics for your business wherever you are
Access the management console in your browser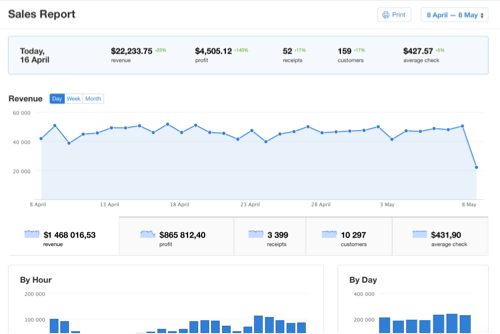 Edit your menu, your shopping list, suppliers, and inventory checks on your computer at any time.
Get live updates through your smartphone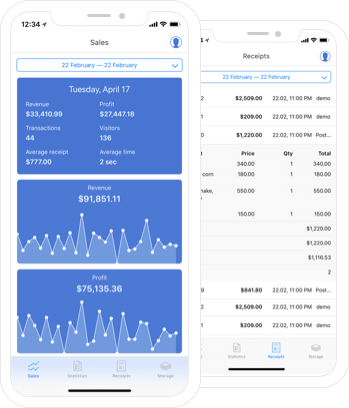 View real-time stats from your smartphone with the Poster Boss app. You'll be able to keep track of your inventory and receive notifications whenever a cash shift is opened and closed.
Detailed sales reports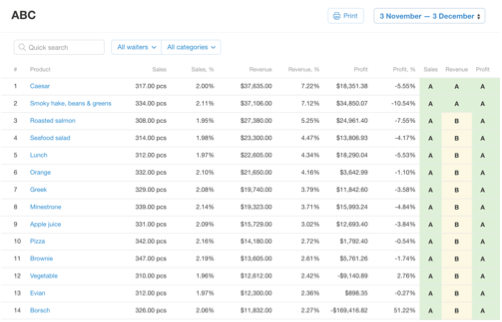 With Poster, you'll have reports on: employees, stock, product categories, and online orders. With our ABC analysis tool, you'll be able to see which dishes are bringing you more profit and which ones can be replaced.
Keep an eye on your inventory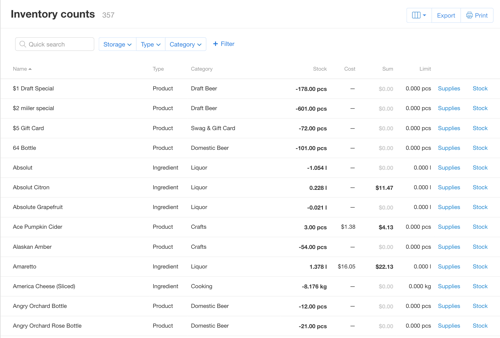 With Poster, you'll always know how much dough for pizzas you have in stock and how much milk you'll need to order by the end of the week. Get reminders instantly whenever you're running low on stock.
All the tools you need for your dark kitchen
Streamlined delivery
Multiple payment options
Sales statistics
Inventory control
Taxes and accounting
Payroll management
Menu management
Loyalty program
Print fiscal receipts
Automatic food cost calculation
Manage your franchise or chain
If you have a chain or franchise of dark kitchen, you can manage all your businesses with one Poster account. Edit menus, view statistics and set price limits for the entire chain in a few clicks.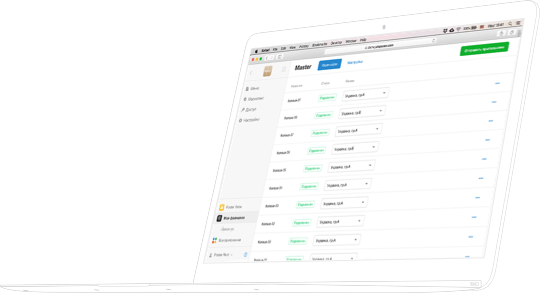 Subscription plans that fit the scale of your business
Find the subscription plan that works best for you, and start saving money for all your future projects. Our POS software for dark kitchens gives you all the tools you need to continue growing your business, for an affordable price. More about prices.
Our customers share their opinion about Poster POS
'I was really glad to find a POS system that allows me to access data from whatever computer I have available. With Poster POS, I can track sales and expenses with very little effort. The app is easy to learn and use, and the support crew is always super friendly and responsive.'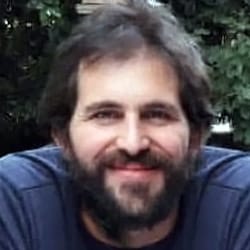 Xavier Miranda
Owner at Selva Blanca
Vegan restaurant, Mexico
'Poster is good software for restaurants. The program is easy-to-use, no complications. It's very organized and helps us keep the figures in place. We set it up in 2017 and we've been happy with it so far.'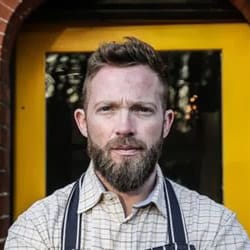 Dominic Robinson
Chef-Owner at The Blackbird
A Michelin-starred British pub, UK
FAQ
All you need to automate your dark kitchen is a tablet or laptop. Poster works on iOS, Android, Windows, and macOS. The minimum system requirements and a list of additional equipment can be found on
this page.
The cost will depend on the size of the dark kitchen, the number of items on your menu, the number of cooks and couriers who work for you, and the tools you need to run your business. Poster has a wide variety of
subscription plans
that will fit the needs of your dark kitchen.
Customer Support
You can count on 24/7 technical support by phone and chat. Our team is ready to help you with the point-of-sale setup and configuration, advise you on the best practices of coffee shop operations management, and show you how to get the most out of every feature in the system.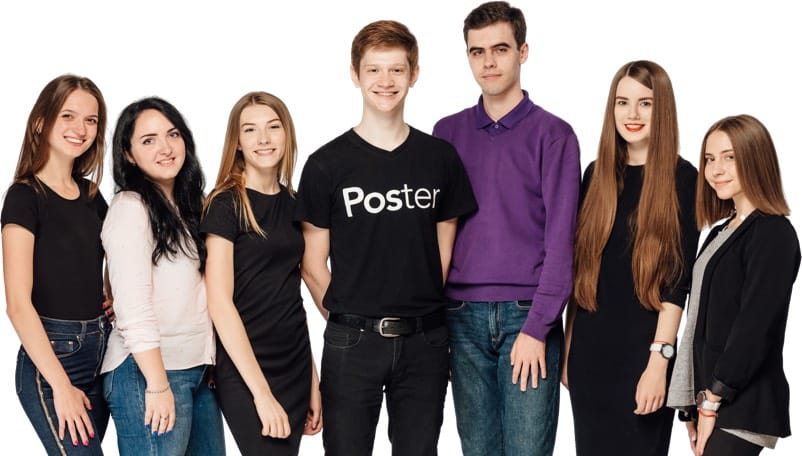 Try Poster POS for free
Learn why 50,000 businesses love Poster POS. Start your 15-day free trial.
Poster POS fits any type of food service business