Gift Shop POS System
Slick POS app & robust web-based admin software. Prices start from $29 per month.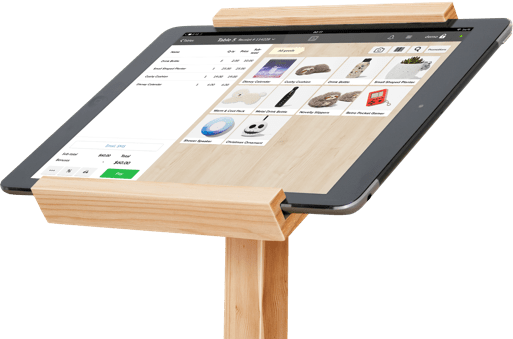 Try Poster POS for free
Learn why 50,000 businesses love Poster POS. Start your 15-day free trial.
Poster makes running a gift shop simple
Cater to all methods of payment
Accept and track payments in cash, by card or smartphone, and handle gift cards. Now you can check sales reports that display data grouped by payment method.
Delight shoppers with faster checkout
Choose a reliable POS with a slick interface to ease your cashiers' work and improve customers' checkout experience.
Use a POS that works online and offline
Use a POS solution that works in offline mode, syncs data, and stores it safely in the cloud. Now an unreliable internet connection won't harm your sales.
Use promotions to ramp up your sales
Leverage the built-in marketing features of your POS to offer limited-time deals, bundle products and sell gift baskets with discounts.
The gift shop POS that puts your business in motion
Poster's point of sale software for gift shops doesn't tie you down with a limited choice of hardware. Set it up on your Android or iOS tablet, or on your macOS, Windows or Linux computer, and you're ready to go! Poster also works with a wide variety of barcode scanners, cash registers, payment terminals and scales.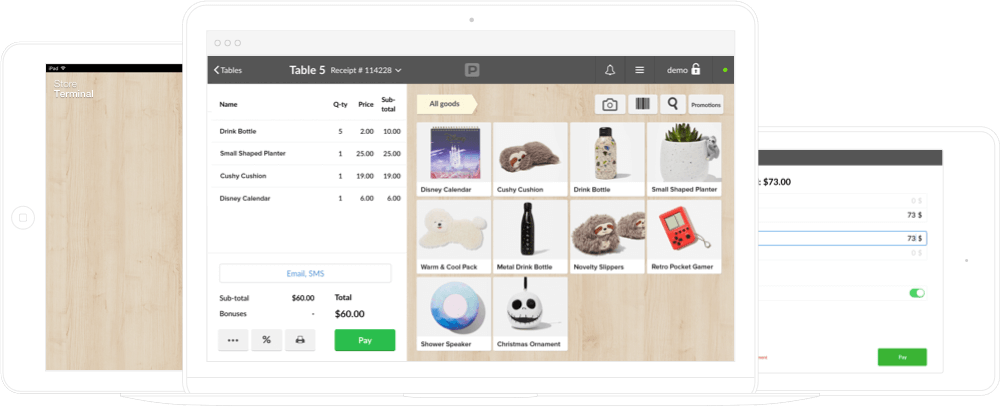 Choose a gift store POS that simplifies inventory management
Add incoming inventory without a hitch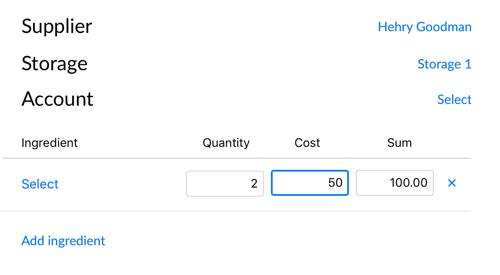 As soon as your supplier delivers your latest order, you can record all of your incoming inventory through Poster's admin panel or through the app on your tablet. Having trouble organizing your bulk orders? With Poster, you can set up ordering units for products arriving in large numbers: for example, if you get badges delivered to you in boxes of 100, you can set up your inventory to know the exact number of items in stock and prices per each item. Poster will calculate it automatically whenever you enter a bulk order into the system!
Navigate through your catalogue with ease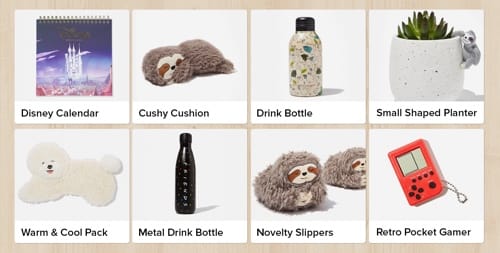 Customize your catalogue to speed up your sales. Now you can organize products in categories, add pictures to items, and move the most popular items to the top of your catalogue, helping you cut off a few seconds for each order you enter in the system.
Stay on top of your inventory management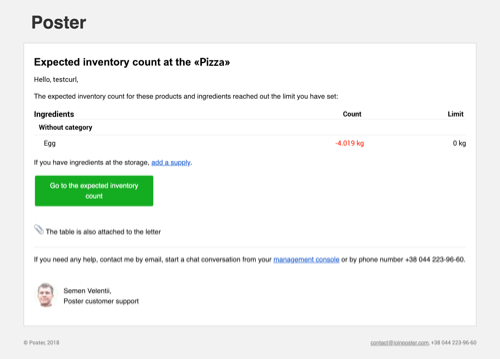 With the help of Poster's low stock alerts, you never have to worry about running out of your best-selling products. By creating low stock thresholds in the management console, you can rest assured that you will be automatically notified in time to place new orders from your suppliers!
Use barcodes to automatically register products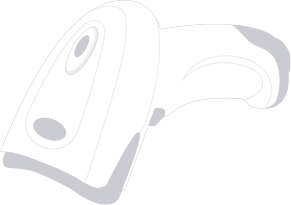 Use your barcode scanner to add a new product to your catalogue, and to find products in your POS when you receive a delivery from your suppliers. Scan barcodes to quickly add products to customers' orders. If some of your products don't have barcodes yet, search for them by name in your catalogue and add them to customers' orders in a few seconds.
The POS for gift shops that optimizes your workflow
With Poster POS, you'll be able to spend less time performing tedious tasks, and focus on what matters. Managing your catalogue and keeping track of your finances has never been this simple: Log in to the management console using any device, and manage your business whenever and wherever it suits you best.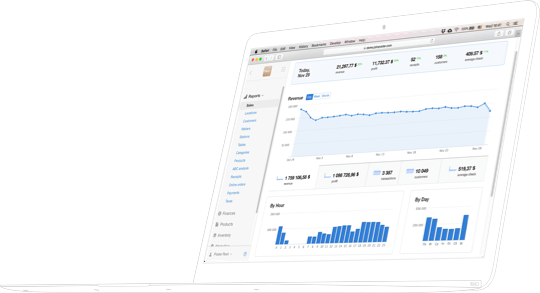 Poster helps gift shop owners understand their bottom line
Improve inventory turnover rates
Use Poster's smart reporting tools to know what sells well. Balance purchases with sales and minimize the amount of dead stock sitting in your backroom.
Calculate your net profit automatically
Track all the overhead expenses in your POS to take them into account in your financial analysis. Now you can see your net profit without performing additional calculations.
Discover what products drive profits
Track stock purchases in your gift shop inventory software and monitor your costs and profit margins. Negotiate with suppliers in good time and adjust your prices accordingly.
Get more out of loyalty programs
Compare your sales figures before and after you launch promotions. Discover how much revenue you gain from loyalty programs, and don't let your promotions harm your margins.
A POS system for gift shops that modernizes your business
Poster POS gives you greater security and flexibility thanks to the magic of cloud-storage. With Poster, you can rest assured that your business data is stored safely in the cloud. Your account is always protected, and you can safely access the management console on any computer, tablet or laptop.
Crunch numbers with ease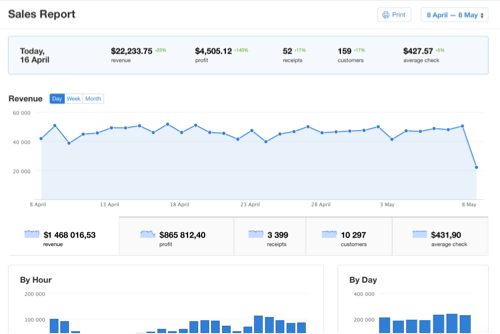 Analyze your business data using Poster's reports and dashboards. Now you don't need to pore over spreadsheets for hours to find out what brings you profit and what needs to be improved.
Poster and Cloudbeds integration for hoteliers

If your gift shop is a complementary business to your hotel, your point of sale can work in sync with your property management system. When your guests buy something in your store, invoice their room and let them pay when they check out.
Focus on the essentials when you're on the go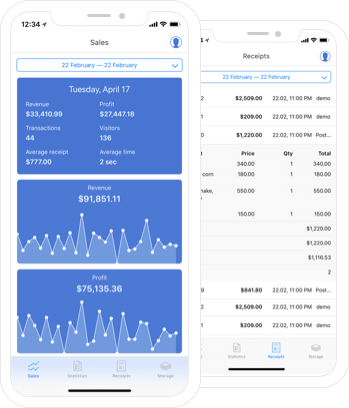 Thanks to the Poster Boss app, you can also keep an eye on your inventory and sales figures when you only have your smartphone at hand. Don't miss out on a single transaction and analyse your performance reports whenever you want with Poster's powerful app for gift shop owners and managers. More about Poster Boss.
Comprehensive POS software for gift shop owners
Payment history
Catalogue management
Inventory control
Loyalty programs
Taxes and accounting
Statistics reports and dashboards
Revenue analytics
Payroll calculation
Business performance metrics
Integration with useful apps
Run multiple gift shops or start a franchise
By using the same account to manage several gift stores, you will be able to keep track of every aspect of your business, in all of your locations at the same time. If you want to start a franchise, Poster POS allows you to coordinate marketing efforts and keep administrative permissions separate for each franchisee, so that each location has the independence they need while also working together to create promotions.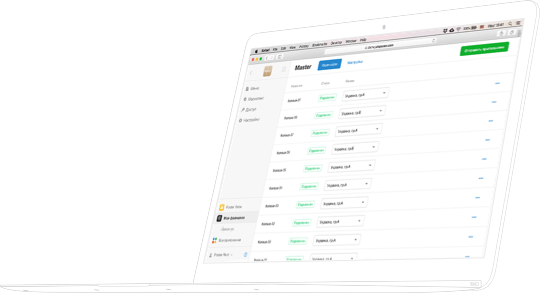 Pricing plans that fit the scale of your business
Thanks to Poster's competitive prices, you'll be able to put aside more money for future projects and investments, with all the benefits of our state-of-the-art software. Our gift shop software gives you everything you need to continue to develop your store: your business needs will be covered every step of the way with Poster's flexible prices. More about prices.
Our customers share their opinion about Poster POS
'Poster is good software for restaurants. The program is easy-to-use, no complications. It's very organized and helps us keep the figures in place. We set it up in 2017 and we've been happy with it so far.'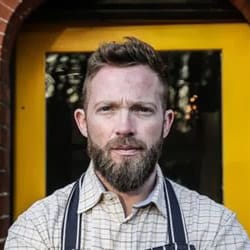 Dominic Robinson
Chef-Owner at The Blackbird
A Michelin-starred British pub, UK
'I was really glad to find a POS system that allows me to access data from whatever computer I have available. With Poster POS, I can track sales and expenses with very little effort. The app is easy to learn and use, and the support crew is always super friendly and responsive.'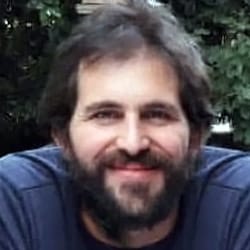 Xavier Miranda
Owner at Selva Blanca
Vegan restaurant, Mexico
FAQ
The cost will depend on the size of your gift store, the number of employees, the products in your catalogue, and the tools you need to run your business. Poster has a wide variety of
subscription plans,
where you can find something that works for your gift shop.
All you need to automate your gift shop is a tablet or laptop. Poster works on iOS, Android, Windows, and macOS. The minimum system requirements and a list of additional equipment can be found on
this page.
Customer Support
Our team is available around the clock, ready to provide you with the best technical support you can ask for every day of the week, all year round. We'll guide you through the set-up and configuration of your point of sale software, and give you tips on how to make the most of Poster POS, or advice for how to best run your gift store.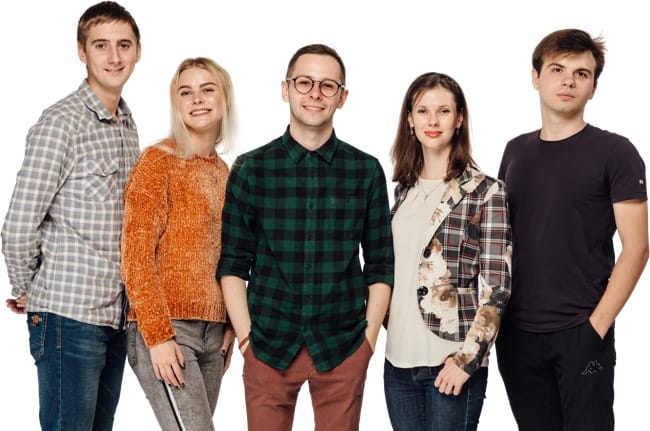 Try Poster POS for free
Learn why 50,000 businesses love Poster POS. Start your 15-day free trial.
Poster POS fits any type of food service business