Try Poster for free
Join 50,000 locations that have already tried Poster. Start your 15-days trial now.
4 reasons to fall in love with Poster
Remote access
Poster is a cloud-based restaurant POS system. This means that you have online access to the statistics, inventory, and finances of your business from anywhere in the world.
Easy-to-use
We are fans of simple, convenient products. That's why Poster doesn't require special knowledge or additional training. Your employees will start selling in 5 minutes.
Reliable work offline
Temporary loss of Internet connection won't stop your venue from work: you can continue taking orders, printing receipts, and tickets. All offline orders will be synced to the cloud and will show up in the management console after connection is restored.
Reasonable price
Restaurant POS software should be affordable. Use Poster starting from $29/month. Pricing overview »
Robust and intuitive POS application
Your waiters, bartenders, and baristas should be communicating with guests, not software. That's why we make the POS system for iPad and Android tablets as fast, reliable and convenient as possible. Rapid order taking
In the Android and iPad POS system categories and products can have photos or color codes, so staff sell even faster.
Dish modifiers
Use dish modifiers: portion size, spices, toppings.
Floor plan or counter service mode
In counter service mode, a new order opens right after the previous one closes.
Different payment methods
Guests can split payment: cash, credit card or gift card.
Manage your business from home
Poster has a fully functional back-office in the browser. Control the work of your restaurant from any laptop or tablet all around the world using your POS system for restaurants. Detailed reports
Simple, powerful business intelligence tools visually show your success.
Finances
A report on every transaction, safe drop, cash shifts opening and finishing.
Dishes
Ingredients are automatically deducted from the inventory according to the recipe after each sale.
Inventory checks
Add supplies, make inventory checks conveniently, and discover faults or theft.
Use Poster on any device
Opening a new location? Use reliable Android and iPad POS software. Got old-school Windows POS terminals left from previous software? Poster supports Windows too. The basic set of equipment costs $500.
Tablets and PCs
POS application supports any platform: iOS, Android, Windows, Linux, macOS.
Cash drawers
Connect a drawer to a receipt printer and it will open every time a customer pays in cash. Poster is compatible with any 24V cash drawer.
Accept card payments
Accept card payments via Ingenico and Verifone bank terminals.
Barcode scanners
USB-connected for Android and Windows devices, Bluetooth-connected for iPads. Beep!
Exactly what you need!
Fully functional Poster back-office.
Inventory
Supplies
Stock left
Low stock alert
Manufacture
Waste, transfers
Inventory checks
Automatic food cost calculation
Ingredient movements
Ordering units
Reports
Dashboard with basic indicators
Sales reports by hour and day
ABC-analysis
Sales reports by product and category
Waiter efficiency
Receipt actions history
Food cost
Finances
Cash shifts
Transactions
Accounts
Cashflow
Marketing
Customers
Discount-based program
Birthday bonuses
Cumulative loyalty program
Switch between discount groups
Points withdrawal confirmation by SMS
Products
Dishes
Preparations
Modifiers
Weighted products
Excluded products
Processing losses
Security
Detailed access settings
Manager password to confirm risky actions
A picture is worth a thousand words
Look at Poster in action right now!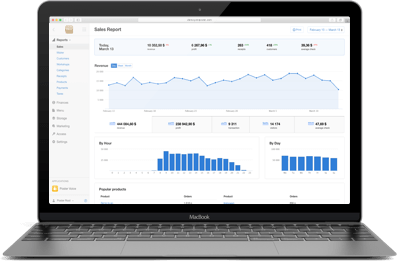 Take a peek at management console
Sales dashboard, inventory, finances, menu management etc.
Take a peek
More than 8000 businesses already use Poster every day
Poster helps businesses to become better.
But don't take our word and ask our happy customers!
Best customer support
Personal Support Manager will help you to set up Poster and maximize its benefits for your business.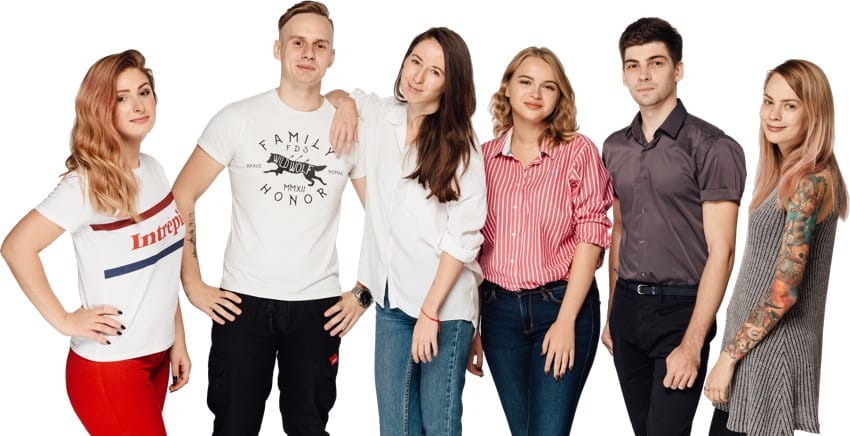 Poster fits any type of&nbspfood service business
Start your free trial right now
You are one step away from the perfect Point of Sale solution for your business.
Any questions left?
Request a callback
Our support team will contact you as soon as possible.
Call us
Poster team is here to help you every day from 8 a.m. to 00 a.m.
+1 415-573-1908
Poster Skype presentation
It's free and takes an hour!
Poster Skype presentation