Coffee Shop POS System
Slick POS app & robust web-based admin software. Prices for coffee shop $29 per month.
Slick POS app & robust web-based admin software. Prices for coffee shop $29 per month.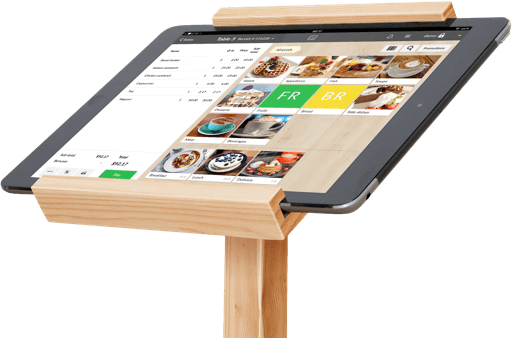 Try Poster POS for free
Learn why 50,000 businesses love Poster POS. Start your 15-day free trial.
Poster makes running a coffee shop simple
Take orders at lightning speed
Your busy customers can get their morning coffee fix fast instead of having to wait in a queue.
Take all types of payment
Encourage patrons to pay by card or with their smartphones, and reduce the number of cash transactions. Don't waste your time trying to find exact change!
Stay calm when the Internet goes down
Focus on your coffee blends and roasts, your cafe POS software will switch securely to offline mode and back.
Apply discounts and bonuses
Set up and track loyalty programs directly through your cafe point of sale to encourage regulars to earn points towards rewards.
Android tablet or iPad POS system for a coffee shop or a cafe
Don't waste money buying limiting and expensive point-of-sale hardware! With Poster you are free to choose whatever operating system and gadget you prefer, for example, a computer or laptop with macOS or Windows on it. Install our POS app on any tablet and hand it to your barista, cashier, or waiter.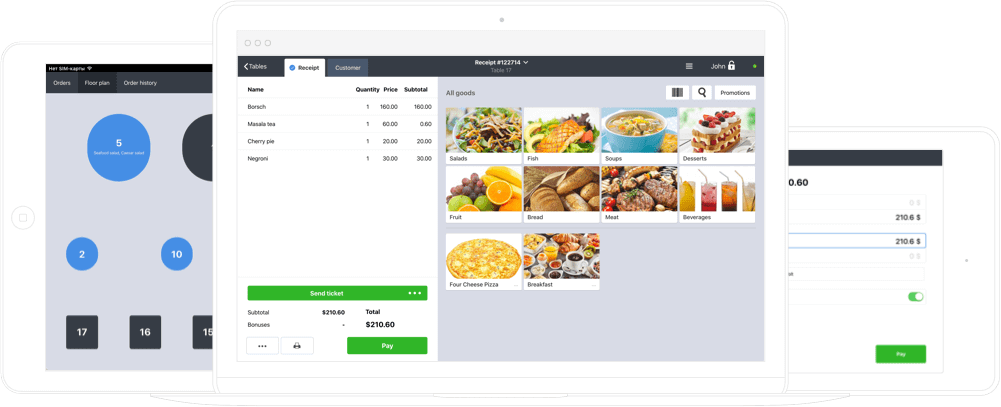 You can start ringing up sales with our Android or iPad POS system for a coffee shop and a receipt printer on your countertop. If necessary, connect Poster with all of your hardware: bank terminals, cash drawers, tablet stands, and barcode scanners.
Make your job as easy as pie with Poster cafe and coffee shop POS software
Menu with pictures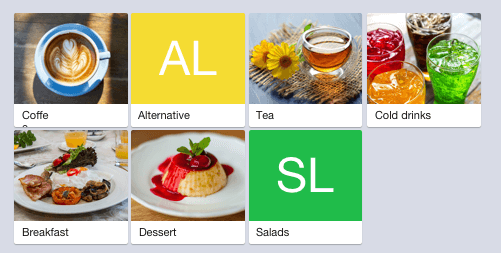 Your employees will enjoy navigating the menu. An image or a color can be assigned to each item and category. They'll find Nitro Cold Brew under Iced Beverages or Muffins under Bakery Goods on the screen within seconds and add them to the customer's order in a couple of taps.
Counter or table service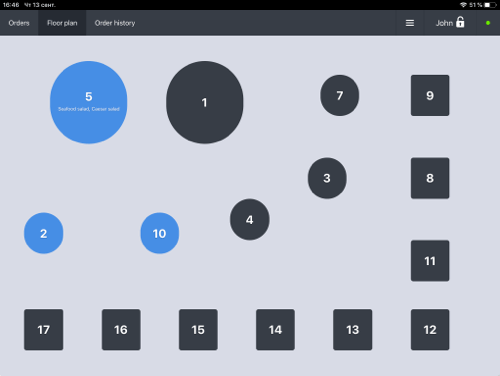 For both service at the counter and at the table, Poster is the best fit for your employees' workflow. If you'd like them to assign orders to tables, simply turn on the floor plan mode in the POS app.
Delivery service for coffee shop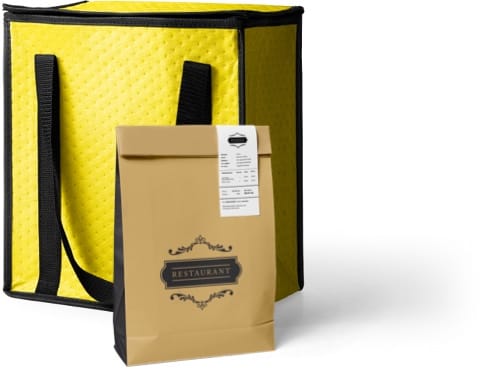 Poster has an integrated delivery service for coffee shop that allows you to handle orders from your own website and third-party services with ease. Track couriers, monitor orders from your delivery service, and optimize costs all in one account.
Modifiers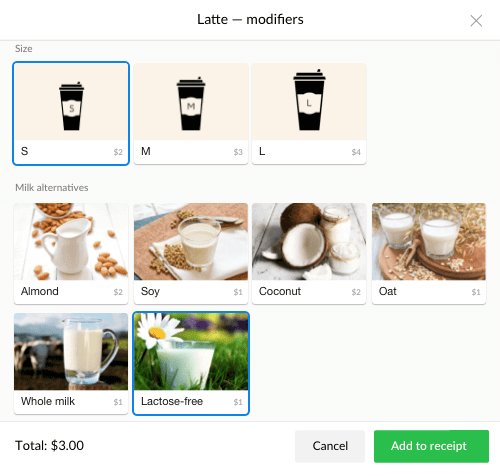 By applying modifiers to your menu items, baristas can meet all of your customer's needs. Should your guests order a latte with milk or any of its dairy-free alternatives, or ask for a decaffeinated drink, you can keep them happy without any additional effort.
Handle payments comfortably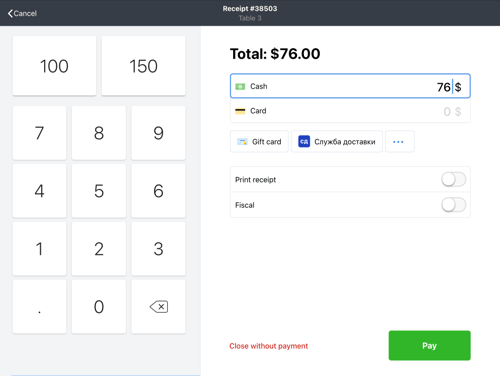 With Poster POS, your waiters don't need to worry if a big party asks them to split their bill and every person chooses a different payment option. Your employees will sort out their payments quickly and without trouble.
Reduce paperwork and hours spent in the office with Poster coffee shop and cafe POS system
You know there's nothing perfect in this world and you'll be hard pressed to find coffee shop pos software that has every single feature that you want, exactly how you want it.
However, we develop the Poster coffee shop pos system with your business needs in mind. You can rest assured that we've got all the important aspects covered to smoothen your management workflow.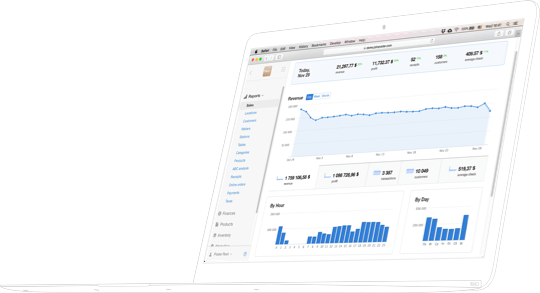 Poster POS system for cafe and coffee shop management gives you control and awareness
Make informed decisions
Check your reports and data from your dashboard. Keep track of your best-selling coffee drinks, most profitable items, busiest days and hours, and more.
Spend less time on inventory
Streamline supply and speed up inventory checks. Turn on low stock alerts to never run out of your favorite roast.
Control costs and margins
Know how your cost margin changes with every new delivery from your suppliers and adjust recipes and pricing to keep your menu profitable.
Observe employee performance
Monitor when they clock in and out, how many customers they serve and their average check, and how much revenue they bring for any given period of time.
Check your business performance in your cafe POS from any PC, laptop or smartphone
Poster cafe and coffee shop point of sale system stores your data in the cloud and updates it in real-time. You can log in to your account from any device and browser and stay on top of things even when you're at home or out of town.
All your admin on your laptop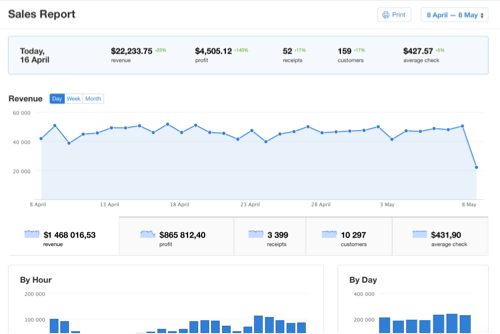 Open the Poster management console through your browser to add orders from your suppliers, manage menus and inventory, control and edit any aspect of your business operation. Even if you're dealing with a POS system for the first time, it won't take you long to figure out what's what.
Poster Boss app on your smartphone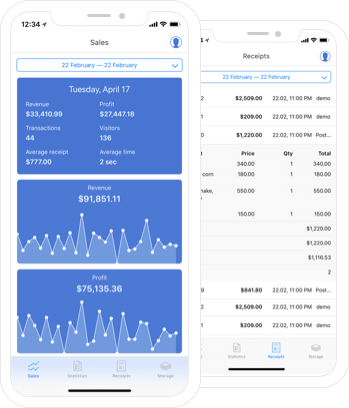 Quick-check sales and inventory reports using our smartphone app for managers. We guarantee that the data is synced and relevant. Get notifications about the transactions in your coffee shop and the amount of money in the cash register when another cash shift opens or closes. More about Poster Boss.
Have your daily and monthly numbers at hand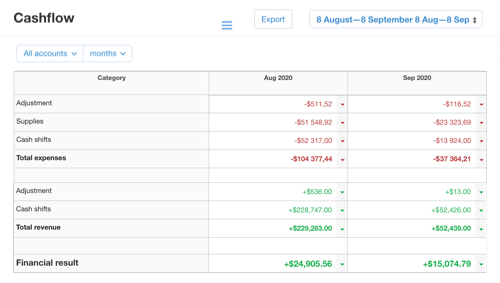 Use our dashboards and reports to stay on top of your expenses, operating costs and profit margins. Now you'll be able to spot rising supplier costs, issues with serving sizes, spoilage, and shrinkage before any of these issues can affect your profits.
Make over- and understocked fridges a thing of the past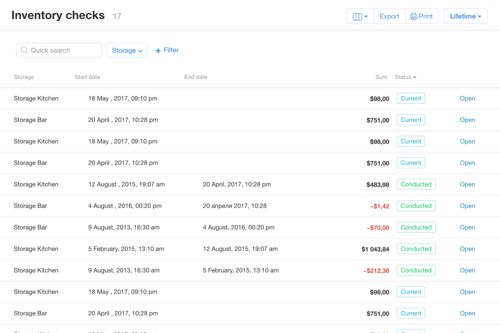 With Poster POS for cafes, you can keep your inventory under control. We give you a convenient tool to optimize the volume and frequency of your orders, so that you can reduce sitting inventory and food waste. You won't have to worry again about dealing with disappointed, hungry customers who can't get what they want.
All-in-one cafe and coffee shop point of sale software that covers it all
Records of your payments and orders
Menu management
Inventory control
Loyalty programs
Automatic food cost calculation
Taxes and accounting
Shift and sales reports
Revenue analytics
Payroll calculation
Integration with useful apps
Manage operations in multiple locations or franchise your business
Manage multiple locations in one account or use Poster coffee shop point of sale software for franchises. This solution offers extended functions for managing franchisee accounts, controlling menus and prices in all locations, and tracking overall statistics.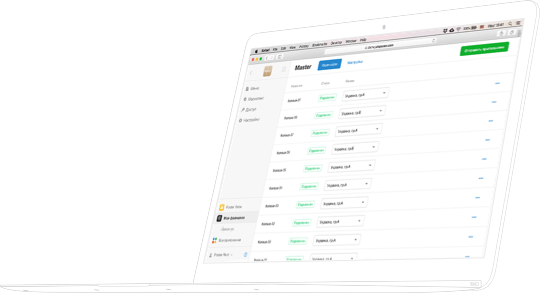 Subscription plans that fit the scale of your business
We believe that point-of-sale and inventory management coffee shop software should be mobile and affordable. With Poster POS for coffee shops, you can reduce your startup costs and switch between payment plans anytime to catch up with your business growth. More about prices.
Our customers share their opinion about Poster POS
'I was really glad to find a POS system that allows me to access data from whatever computer I have available. With Poster POS, I can track sales and expenses with very little effort. The app is easy to learn and use, and the support crew is always super friendly and responsive.'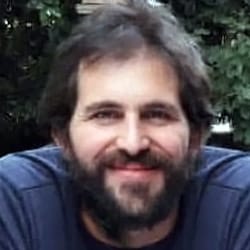 Xavier Miranda
Owner at Selva Blanca
Vegan restaurant, Mexico
'I considered several solutions and picked Poster POS. It was a great alternative to buying expensive software. It allowed us to track our business performance on any device. It's been 3 years now and the system has helped us a lot with managing inventory and sales.'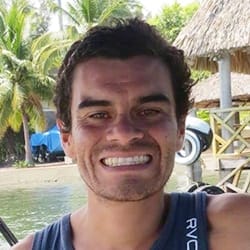 FAQ
The cost depends on the size of the coffee shop, the number of baristas and items on your menu. You can choose the best
subscription plan
for your coffee shop and choose the features you need to run your business smoothly.
To automate your coffee shop, you will only need a tablet or laptop. Install the Poster app on iOS, Android, Windows and macOS. The minimum system requirements and a list of compatible equipment can be viewed on
this page.
Customer Support
You can count on 24/7 technical support by phone and chat. Our team is ready to assist with the point-of-sale setup and configuration, advise you on the best practices of coffee shop operations management, and show you how to get the most out of every feature in the system.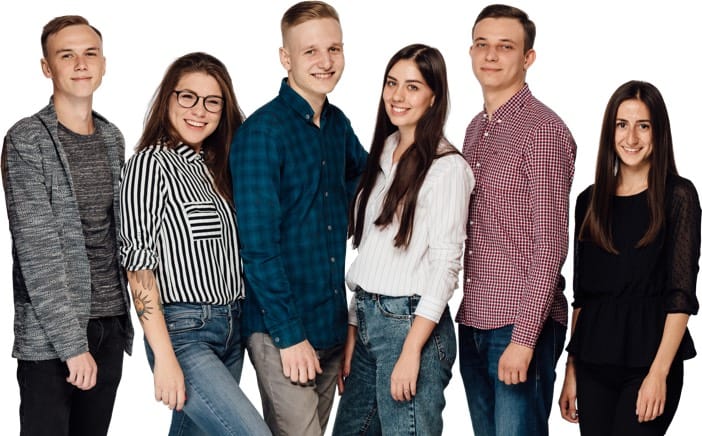 Try Poster POS for free
Learn why 50,000 businesses love Poster POS. Start your 15-day free trial.
Poster POS fits any type of food service business