Fast food POS Software
Slick POS app & robust web-based admin software. Prices start from $29 per month.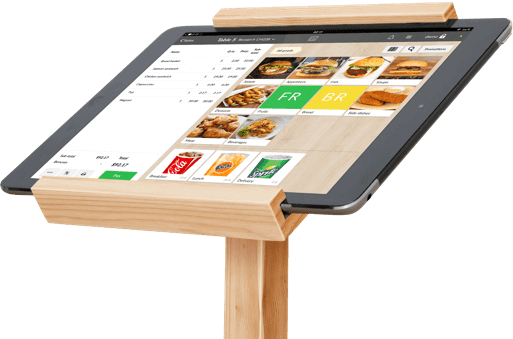 Try Poster POS for free
Learn why 50,000 businesses love Poster POS. Start your 15-day free trial.
Poster makes running a fast food restaurant simple
Accept any type of payment
Allow your guests to pay with cash, card, with their smartphone or even with your own cash-back reward program. Make payments easier, focus on what matters.
Keep working without an internet connection
With a POS system that works offline, you'll never skip a beat. Keep selling when the internet is down, we'll keep all your data safely stored and up-to-date.
Delight guests with custom promotions
Start attracting more customers with Poster's customizable marketing tools. Now you can create the perfect promotion for any occasion.
Take orders faster
With your tablet POS, you can accept orders anywhere in your restaurant. Take orders at the counter or at the table, and send them immediately to the kitchen.
The fast food POS that takes the guesswork out of hardware
With Poster's quick service pos system you won't be stuck with a limited choice of hardware. You can start using Poster on either your Windows, macOS, or Linux computer, or on Android and iOS tablets and sync up your system with a wide selection of payment terminals, cash registers, barcode scanners, and scales!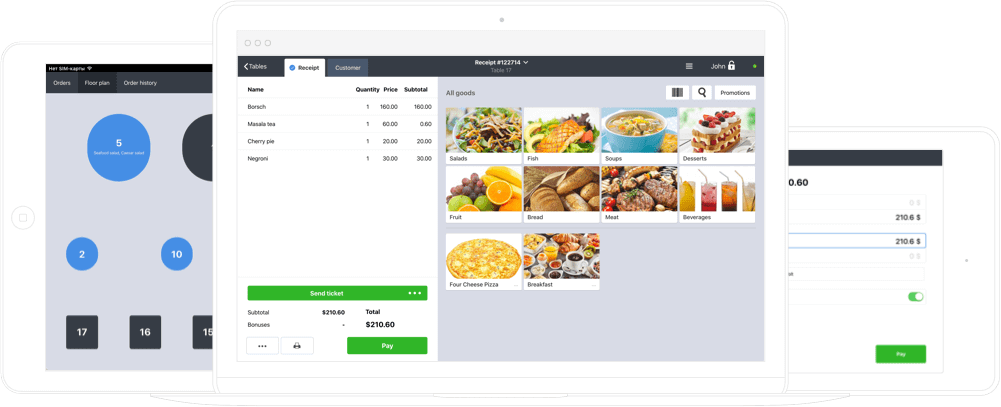 Pick the fast food point of sale that helps your quick service restaurant run even faster
Create a menu that's easy to navigate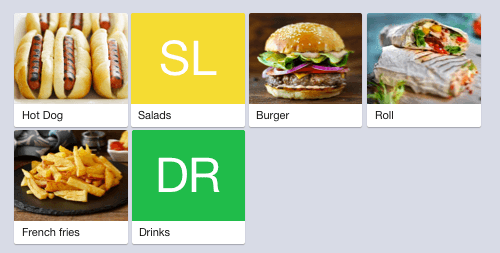 In Poster's management console you'll be able to make things easier for your staff, by creating categories, listing ingredients, and adding pictures to your menu. In a few taps, your staff will be able to find any burger, pizza or shake on your menu and send the order straight away to the kitchen.
Simplify your menu with modifiers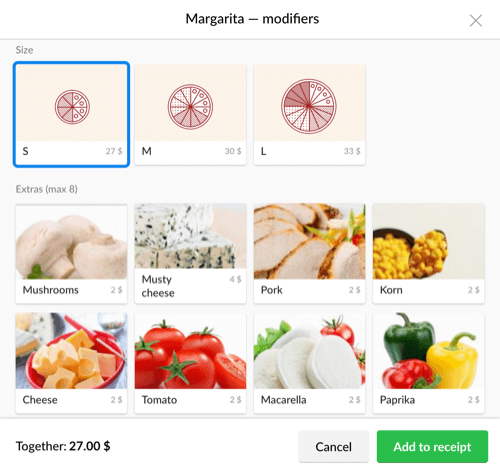 Your staff can find items in your menu even faster with Poster's thanks modifier tool. Make that pizza small or large with just one click, or add any topping without having to navigate through a messy menu.
Use a floor plan or take orders at the counter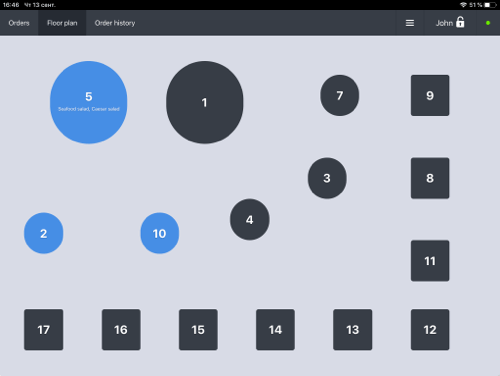 If you want your staff to keep track of all the tables in your restaurant, use Poster's intuitive floor plan to keep everything under control. And if you just want to take orders at the counter, you'll be able to switch over to quick mode in a heartbeat.
Delivery service for fast food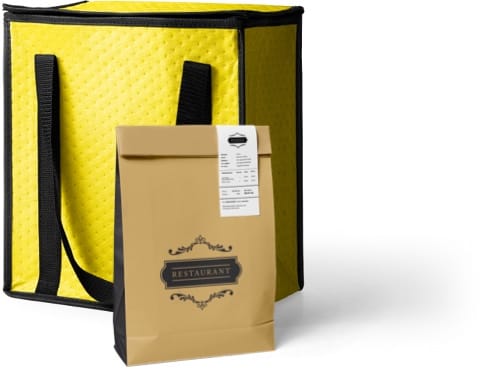 Poster has an integrated delivery service for fast food that allows you to handle orders from your own website and third-party services with ease. Track couriers, monitor orders from your delivery service, and optimize costs all in one account.
The quick service POS that cuts down on paperwork
Poster's versatile management console will allow you to spend less time doing tedious and repetitive tasks in your office. Keep your finances under control and manage your inventory with ease with our intuitive quick service POS system. Log in from your favourite device and check up on your business at any time, wherever you are.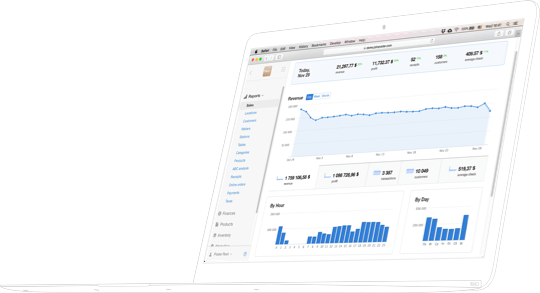 A QSR POS for more efficient management
Make better decisions for your business
Don't lose track of your bottom line with Poster's analytics tools. Find out what suppliers you need to reconsider and when your peak times start and finish.
Keep an eye on your staff
Find out at exactly what time your staff is clocking in, discover who has higher averages per order, and who's been attending each table.
Discover your top-selling dishes
Poster's management tools allow you to optimize your menu with actionable info on costs, sales, and your profit margins for each dish.
Waste less time on inventory checks
Keep all your inventory checks organised in one place, analyze waste and supplier prices, and get rid of all the unnecessary paperwork.
The fast food pos system to level up your business
Thanks to the magic of cloud-based data storage, you can be sure that your data will be kept safe at all times, ready to be accessed from any laptop, tablet or smartphone.
Gain better understanding of your analytics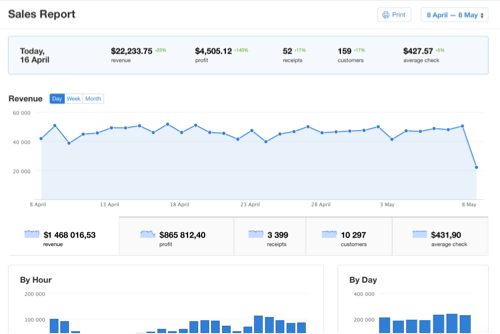 All of your reports and statistics are easily accessible on Poster's management console. No need to spend hours trying to make sense of your reports and spreadsheets, Poster's intuitive reporting tools make it easier for you to take action and optimize your business operations.
Create your own website with Poster Shop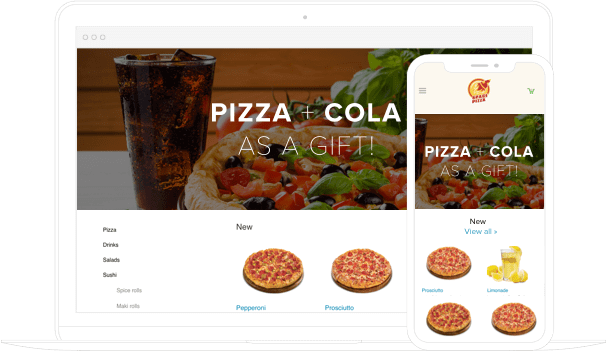 With the help of our easy-to-use website creation app you'll be able to set up your own delivery service without having to rely exclusively on third-party platforms. Keep more money in your business and cut down commissions and delivery fees. More about Poster Shop.
Keep inventory management under control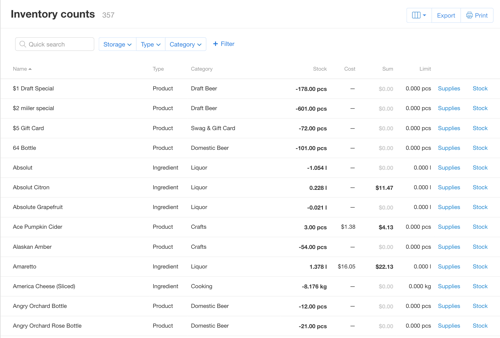 Thanks to Poster's low inventory notifications, you don't need to constantly worry about keeping track of your stock levels. Create low-stock alerts in your management console, and you'll always know when it's the best time to get in touch with your suppliers.
Keep track of the essentials on your smartphone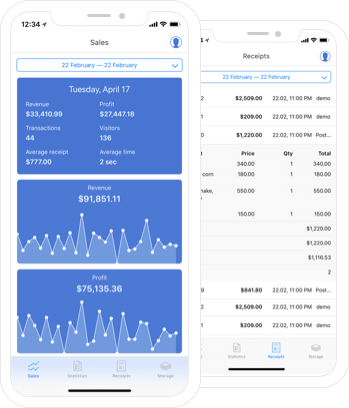 With the Poster Boss app, you'll have access to all of the essential reporting tools from Poster's management console, all in your pocket. Receive inventory alerts on the go and check your sales figures in just a few taps. More about Poster Boss.
Create promotions that work for your business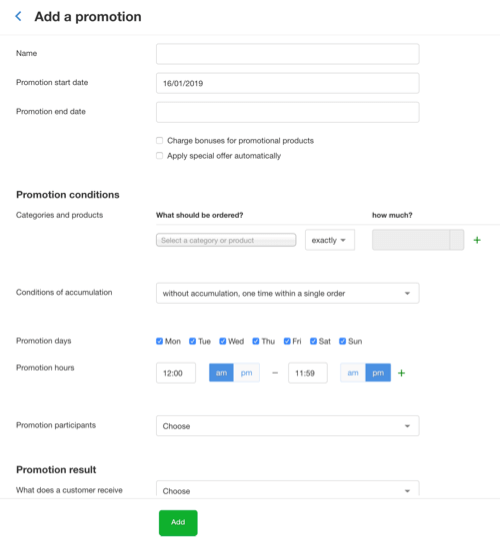 You can create your own Happy Hour deals, limited time discounts and exclude any product from your offers with Poster's all-in-one marketing tools. Make your own customer groups and make it even easier for your staff to apply promotions at the POS terminal.
A feature-packed QSR POS system for owners and managers
Payment history
Catalogue management
Inventory control
Loyalty program
Taxes and accounting
Statistics reports and dashboards
Revenue analytics
Payroll calculation
Business performance metrics
Integration with useful apps
Start your own chain or franchise
You can keep all your businesses in sync by using one account to manage all your locations. Whether your starting a franchise or a chain, you'll be able to keep your menus up to date, use the same promotions in all your locations, and track payrolls, expenses and revenue all from the comfort of your account.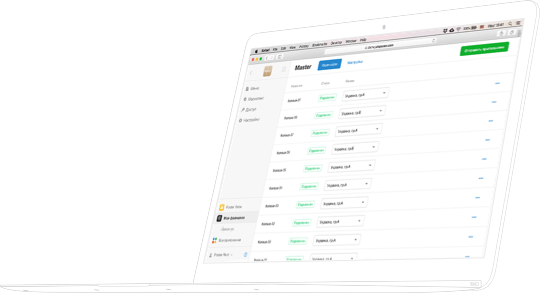 Choose a pricing plan that scales with your fast food restaurant
Find the subscription plan that works best for you, and start saving money for future projects and investments. Our cutting-edge POS software for quick service restaurants gives you all the tools you need to continue growing your business, without cutting into your profits. More about prices.
Our customers share their opinion about Poster POS
'I considered several solutions and picked Poster POS. It was a great alternative to buying expensive software. It allowed us to track our business performance on any device. It's been 3 years now and the system has helped us a lot with managing inventory and sales.'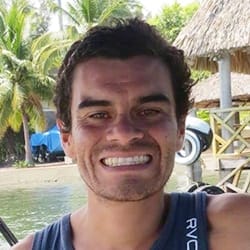 'Poster is good software for restaurants. The program is easy-to-use, no complications. It's very organized and helps us keep the figures in place. We set it up in 2017 and we've been happy with it so far.'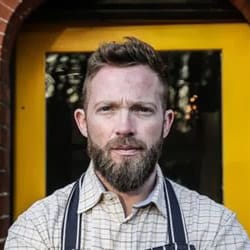 Dominic Robinson
Chef-Owner at The Blackbird
A Michelin-starred British pub, UK
FAQ
The cost depends on the size of your business, the number of employees, the items on the menu, and the features you need to work. Poster has a wide variety of
subscription plans
where you can find something to suit your business' needs.
To automate your fast food restaurant, all you need is a tablet or laptop. Poster works on iOS, Android, Windows, and macOS. The minimum system requirements and a list of additional equipment can be found on
this page.
Customer Support
Poster's customer support team is ready to help 24/7, with technical support in multiple languages. Our customer support agents will guide you every step of the way with the installation of new hardware or with any questions you have on how to make the most of Poster!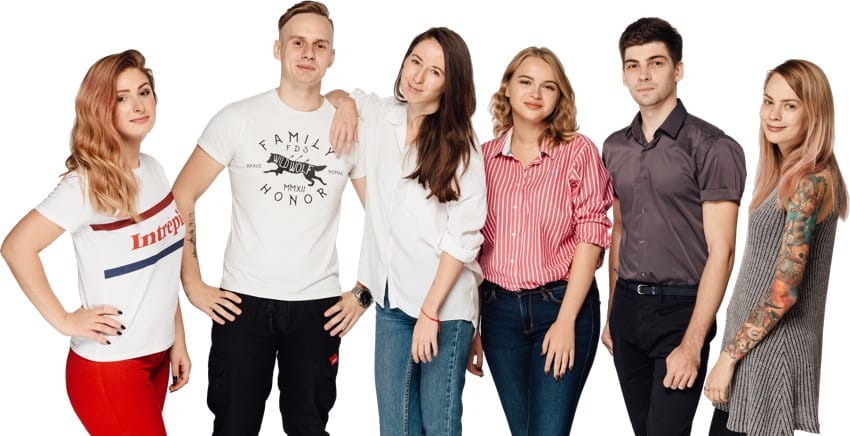 Try Poster POS for free
Learn why 50,000 businesses love Poster POS. Start your 15-day free trial.
Poster POS fits any type of food service business