POSTER SHOP
Website for orders from your location in 5 minutes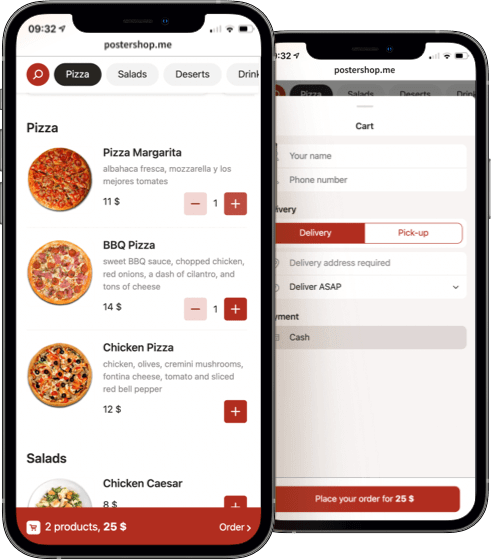 With the website on Poster Shop, your guests will be able to view the menu, order delivery or takeout meals and pay for them with a card online.
Only 475 UAH/mon, first 100 orders for free
Create a website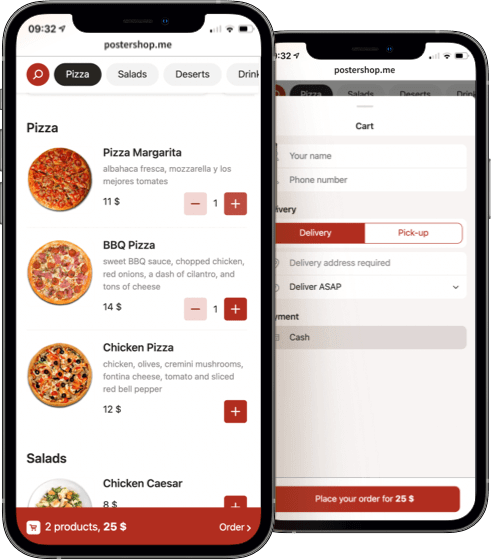 Ready-made solution for a quick start
Poster Shop is fully integrated with Poster point of sale. It means you don't have to waste time filling out the menu for the website - everything will be automatically pulled from your account.
Easy set-up
You don't need a technical specialist or a separate employee to set up and run a ready-made restaurant website. It's that simple.
Personalizing your design
Upload your logo, photos, choose a color scheme or make other design changes.
Managing your menu
You can customize which items from your menu to display on the website, add a description or change the cost.
Marketing
Show special offers or promotions, highlight popular menu items - this is all available in a convenient website builder for restaurants.
Modifiers
Offer a choice of dish sizes, sauces, and other add-ons that will boost your average receipt.
Card payment on the website
Accept payments right on the website. Supports Apple Pay and Google Pay.
Extra pages
In the website builder, create pages with contacts, service descriptions, terms of payment and food delivery.
SEO-optimization
New and regular customers will easily find your website in the search, because it has already been optimized for search engines.
Easy for customers
Customers don't need to download a separate app to place an order. Everything works on the browser on any computer or phone.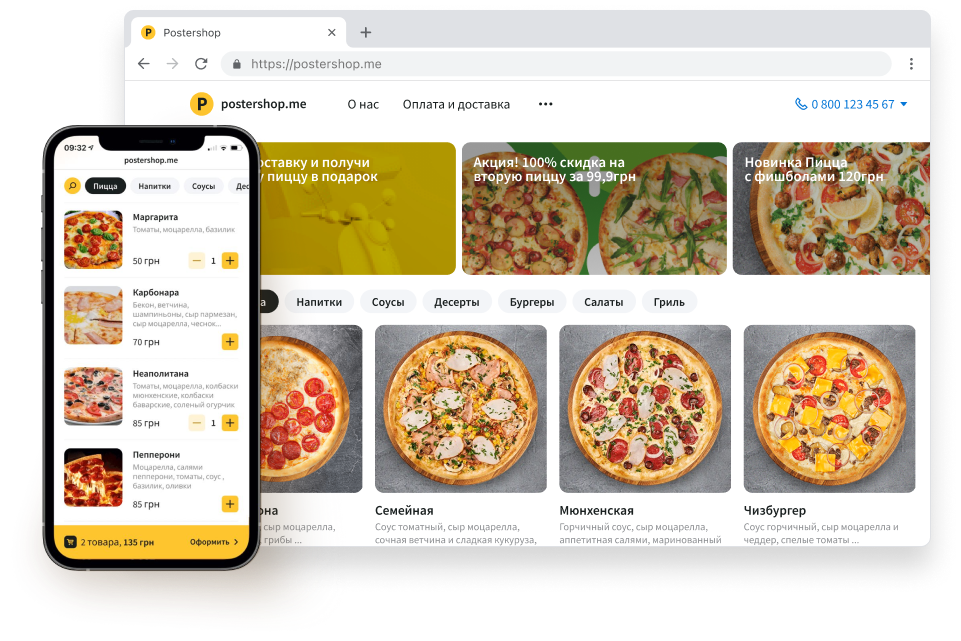 Scan to open on your phone
Managing orders from a single POS terminal
Orders from the website are automatically sent to the Poster terminal - with clear statuses and all the relevant information. It means you won't lose a single order or a single guest.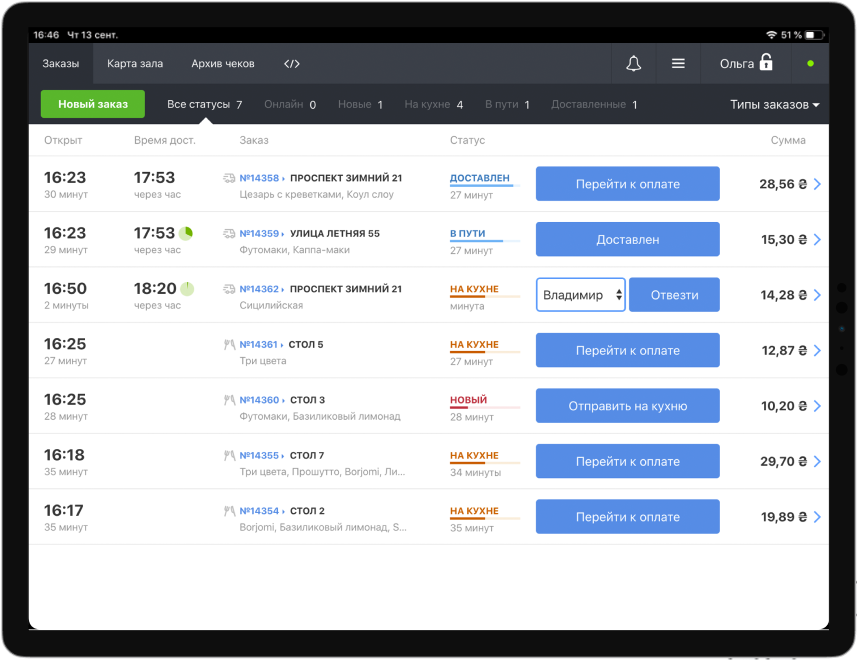 Take delivery, dine-in and takeaway orders at the same time. Poster delivery program will organize all processes so that the orders are prepared and delivered on time.
You always see the current status of each order. Poster will remind you when to start preparing an order or when to hand it over to a courier for delivery.
Keeping track of delivery stages
The point of sale system for food delivery helps to notice and eliminate any weak points, whether it is the promptness of the kitchen or the logistics of couriers.
Create your website for accepting orders now
Poster Shop works by subscription. The monthly rate depends on the number of orders placed through the website. The first 100 orders are free.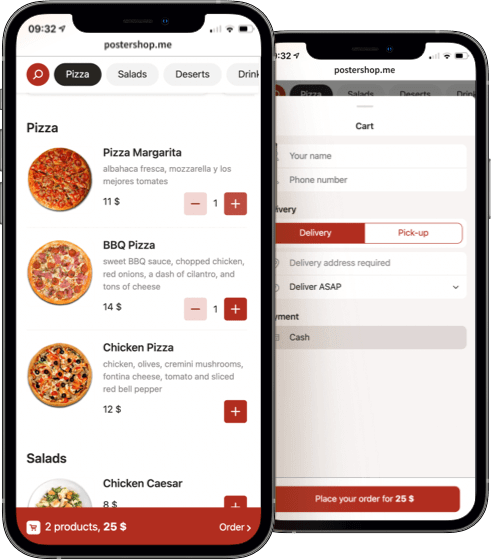 complete website for orders in 1 click
simple set-up and running
free domain in the ps.me area
free hosting
$19/mon.
up to 500 orders/mon.
$39/mon.
more than 500 orders/mon.
First 100 orders through the website are free
Create a website
More solutions for your business
Simplifying delivery
Poster's ready-made solutions for launching your own delivery from your location.
More information →
Kitchen Kit
Speed up workload in your kitchen and save your waiter a trip to the kitchen with instant alerts for dishes that are ready to be served
More information →
FAQ
How do I check which subscription plan will be applied to my website?
The subscription rate for Poster Shop depends on the number of orders through the site:
• $19/month, if you have up to 500 orders per month;
• $39 /month, if you have more than 500 orders per month.

The first 100 orders are free and are not included in the tariff.
What happens if I forget to pay on time?
Your website will be running for another week and you won't lose your sales. In a week it will be blocked, and your customers will not be able to place orders.
What is the free domain in the ps.me area?
We have chosen to work with shortened ps.me links so that it can be posted on Instagram and easily remembered.
Can I connect my domain to my website?
Yes, this is available in any subscription plan
What is the commission for accepting online payments?
We use Stripe to accept payments. You pay only the Stripe commission, we do not take additional payments.
Connect Poster Shop
For Poster's new clients
Create and account to start using Poster point of sale in your business. First 15 days for free.
Create an account
For Poster's existing clients
Enter your account and connect Poster Shop from the app marketplace
Log in