Bakery POS Software
Slick POS app & robust web-based admin software. Prices start from $29 per month.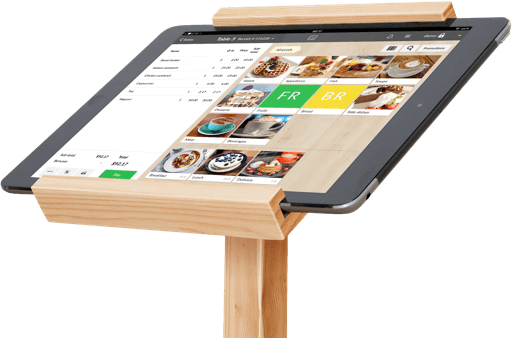 Try Poster POS for free
Learn why 50,000 businesses love Poster POS. Start your 15-day free trial.
Poster makes running a bakery simple
Speed up sales during busy hours
Choose a POS app with a slick and accessible interface. Every second counts when there is a line out the door.
Sell baked goods per unit or by weight
Whether you sell a whole cake or a slice of it, your inventory, food cost, and prices will all be calculated accurately.
Keep selling when the Internet is down
Rely on a cloud POS that works in offline mode and your customers won't even notice if the Internet goes down.
Run Happy Hour promotions
Use the marketing features of your POS to delight your customers with great deals and you will be sold out of fresh pastries in no time.
A bakery POS system for operational efficiency
Your options shouldn't be limited to buying expensive point-of-sale hardware. Whether you choose an Android tablet or an iPad or even decide to use a computer with macOS or Windows, Poster's bakery software will work perfectly.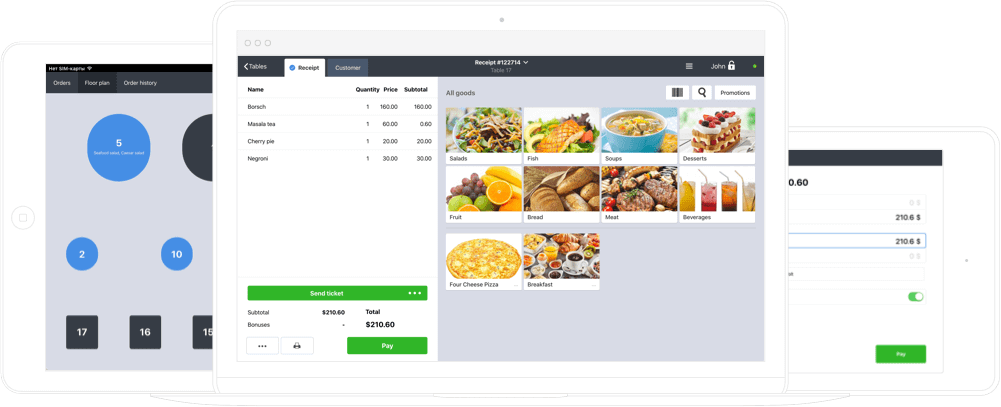 Get more than just a cash register for a bakery. Poster POS is compatible with various types of stand-alone terminals, like Ingenico or Verifone, receipt printers, cash drawers, kitchen ticket printers or display systems, and barcode scanners.
Streamline your operations using Poster POS for bakeries
Make your menu easy to navigate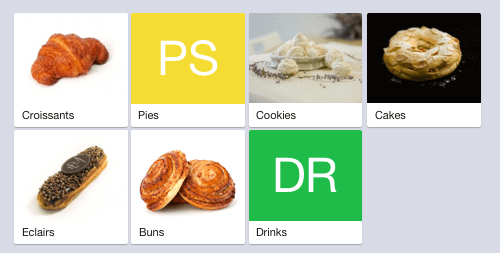 Customize the menu on your POS app to help your employees handle orders faster. Group pastries in categories, assign pictures to items and sort them by popularity.
Optimize the number of items on your menu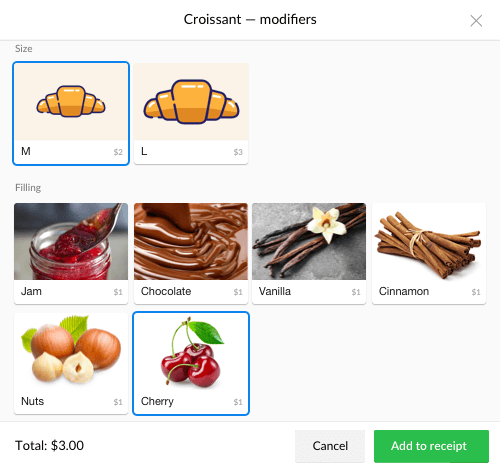 With Poster POS you can set up a single menu item for all types of croissants and apply modifiers to sell them with different fillings. You can rest assured that prices and inventory are calculated appropriately.
Cater to people who want to taste pastries on-site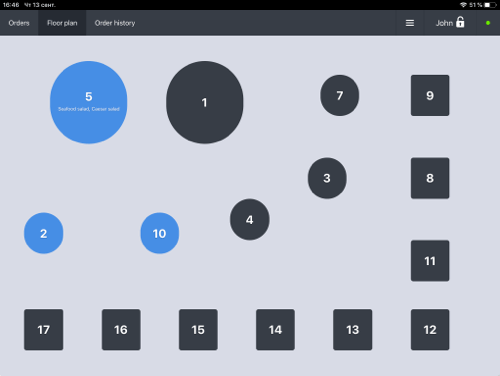 If you plan on running a small bakery with table service rather than a bakery shop, you can configure your POS accordingly. Turn on the floor plan to let your employees assign orders to tables and create an excellent experience for people who enjoy tasting cakes and drinks in your cozy bakery.
Delivery service for bakeries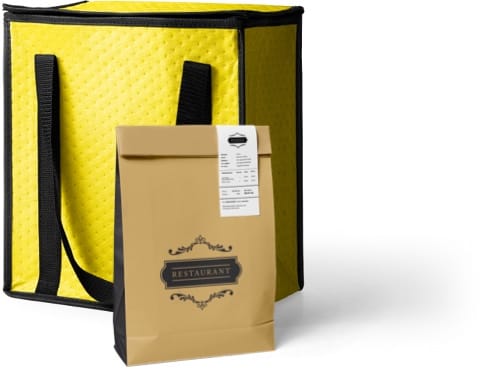 Poster has an integrated delivery service for bakeries that allows you to handle orders from your own website and third-party services with ease. Track couriers, monitor orders from your delivery service, and optimize costs all in one account.
A POS system for bakery owners that makes a difference
Poster's smart features were created with bakery businesses in mind. Now you can get a solution that covers all the important aspects of your operations.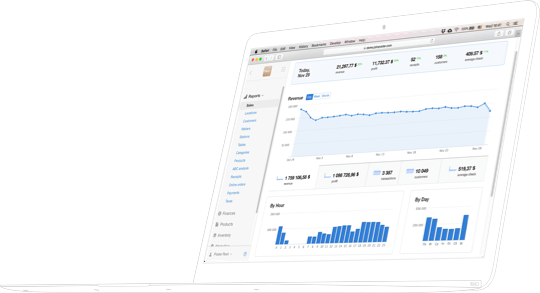 Poster helps bakery owners to make better business decisions
Analyze sales and trends
Check handy reports and dashboards and rotate the baked goods on your menu to meet the changing tastes of your customers and maximize profit.
Monitor ingredients and baked goods
Know the exact quantities of ready-for-sale baked goods, pre-made dough, and fillers, as well as raw ingredients in stock.
Get your food cost under control
Don't lose track of your recipe cost fluctuations, update prices and negotiate with suppliers in good time to keep your bakery profitable.
Make employee onboarding simple
Minimize stress for newcomers. A quick overview of the POS app will be enough for them to start selling with confidence.
Admin panel accessible online, anytime, anyplace
You can trust our bakery POS system with your business data, we'll store it safely in the cloud. Whether you're at work, at home, or on vacation, you will have access to your account and management console from any device and browser with your login and password.
Enjoy an efficient workflow with our optimized admin panel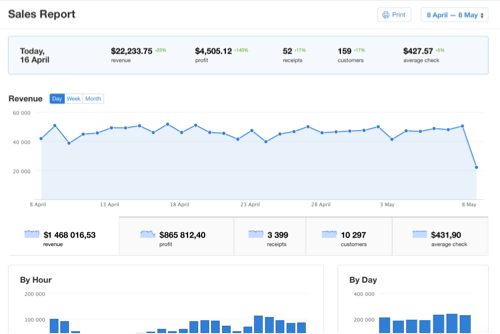 The Poster POS interface for managers was designed to let you maximize the efficiency of your business operations. Add inventory, manage your menu, control financial operations and create reports with ease.
Control products at all stages of preparation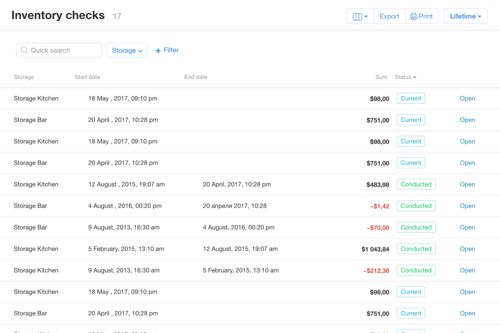 With Poster POS you'll know the quantity of flour you have in stock, how much dough and pastry cream is left, and how many cookies haven't been sold yet. You can set up alerts to get notified when baking chips or raspberry syrup are running low. Now you'll always be on time to place a new order with your suppliers and to prepare new portions of dough or fillings.
Check performance through your smartphone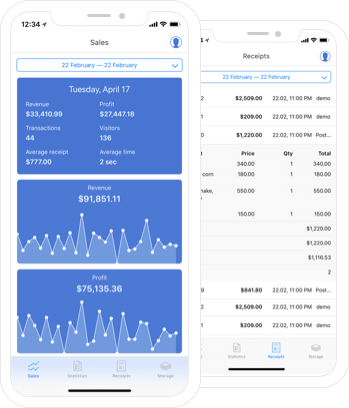 Download the Poster Boss app on your smartphone and check real-time sales and inventory numbers when you are on the go. Now the reports on all financial activities in your location and notifications about daily revenue are in your pocket. More about Poster Boss.
An all-in-one bakery point of sale that covers it all
Records of payments and orders
Menu management
Inventory control
Loyalty program
Automatic food cost calculation
Taxes and accounting
Shift and sales reports
Revenue analytics
Payroll calculation
Integration with useful apps
Open multiple locations or franchise your bakery
Expand your business by opening new locations or franchising. Poster's bakery management software allows managing multiple locations from one account and offers a solution with extended features for franchise owners. Now you can control menu, prices, and your customer base in all locations and track performance across the board.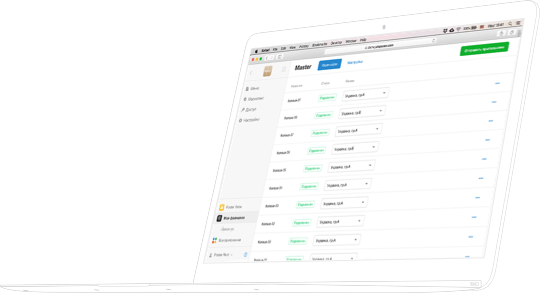 Pricing plans that scale with your business
We offer a point of sale and inventory management system that delivers value for money. With Poster, you can get software that meets your business needs for a good price. More about prices.
Our customers share their opinion about Poster POS
'I considered several solutions and picked Poster POS. It was a great alternative to buying expensive software. It allowed us to track our business performance on any device. It's been 3 years now and the system has helped us a lot with managing inventory and sales.'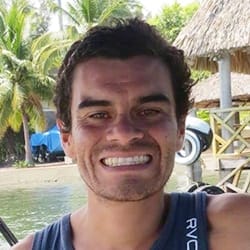 'Poster is good software for restaurants. The program is easy-to-use, no complications. It's very organized and helps us keep the figures in place. We set it up in 2017 and we've been happy with it so far.'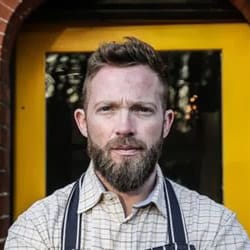 Dominic Robinson
Chef-Owner at The Blackbird
A Michelin-starred British pub, UK
FAQ
It all depends on the size of the bakery, the number of employees, the items on the menu, and the tools you need to work. Poster has a choice of
subscription plans
where you can find something to suit your bakery.
Yes, of course. One of the crucial tools that bakery owners will find in Poster is our pre-cooked items tool. It will allow you to prepare certain dishes a few days in advance, deduct the ingredients immediately from your
inventory,
and register the profits they've generated when you make a sale. This will help you understand which items are more profitable and which dishes you should replace.
Customer Support
You can count on our 24/7 technical support by phone and chat. Our team is ready to assist with the setup and configuration of your point of sale, advise you on the best practices for retail bakery operations management, and show you how to get the most out of every feature in the system.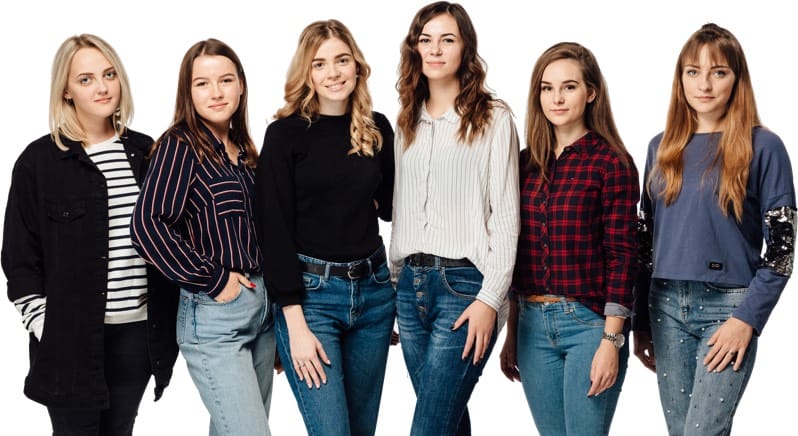 Try Poster POS for free
Learn why 50,000 businesses love Poster POS. Start your 15-day free trial.
Poster POS fits any type of food service business