Cafe POS System
Slick POS app & robust web-based admin software. Prices for restaurants $29 per month.
See Poster POS in action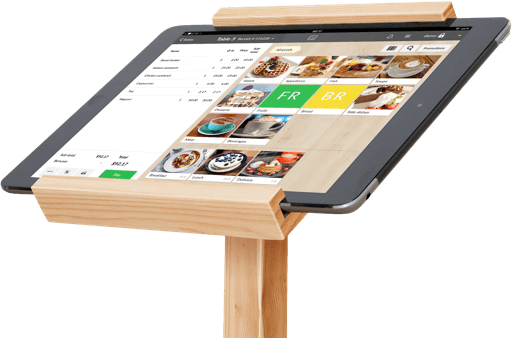 Poster makes running a cafe simple
Speed up table turnover
Rely on a POS app that allows waiters to take orders and sort out payments fast. Make your dinner rush easier on your employees and guests.
Look after your customers' needs
We've made it easy for your waiters to send notes to the kitchen with each order. Your kitchen staff can exclude allergens or personalize dishes for guests without delays and frustration.
Keep sales up when the Internet is down
Use a cloud-based POS that works flawlessly regardless of the quality of your Internet service. From now on you'll never have to use a pencil and paper to record offline sales.
Use promotions to get more foot traffic
Run a happy hour with various deals and specials through your POS without any additional software and make your cafe a lunchtime go-to spot in your area.
A cafe POS system that gives you freedom of choice
We've created an Android and iPad POS system for cafe owners who want to have the freedom to choose whatever hardware they want. Now you can run your POS on various tablets or even on computers with macOS and Windows.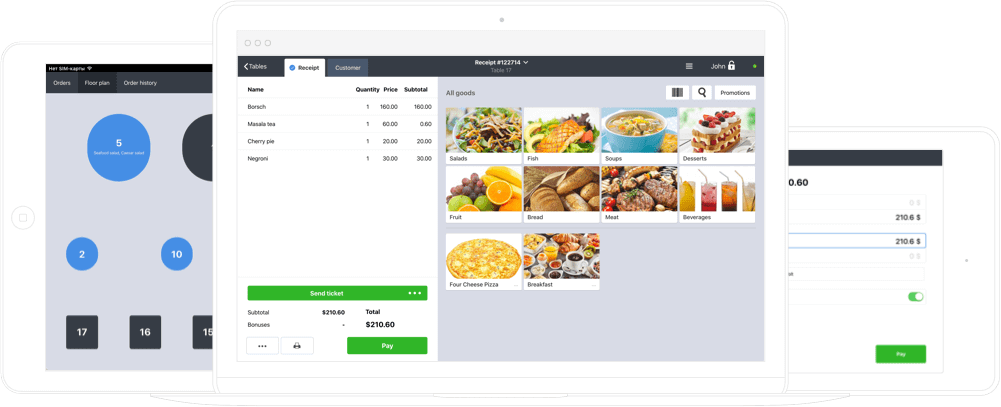 You can connect any additional hardware you need to your POS system. Poster works flawlessly with different types of stand-alone terminals, such as Ingenico or Verifone, receipt printers, cash drawers, kitchen ticket printers or display systems, and barcode scanners.
Select a Cafe POS that contributes to your success
Use a POS that fits your business concept
Whether you offer table service or counter service in your cafe, Poster POS is a perfect fit for your employees' workflow. Simply turn on the virtual floor plan in the POS app to let your employees assign orders to tables.
Handle table reservations with ease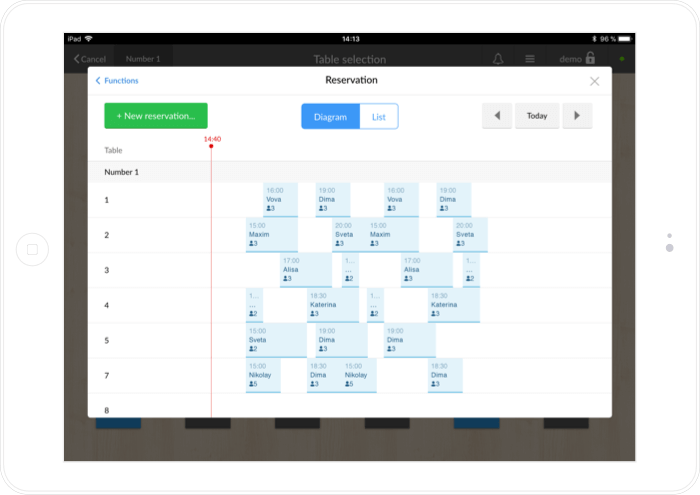 Poster POS provides your staff with a convenient tool for managing table reservations. Now they can make reservations, take pre-orders, leave notes on customers' preferences, and access this information through the calendar or through the virtual floor plan.
Handle payments comfortably
With Poster POS, your waiters don't need to worry if a big party asks them to split their bill and every person chooses a different payment option. Your employees will sort out their payments quickly and without trouble.
Try Poster POS for free
Learn why 50,000 businesses love Poster POS. Start your 15-day free trial.
A game-changing POS system for cafe managers
The times when a cafe manager had to spend half of their day working with spreadsheets are over. Choose POS software that will ease your daily grind.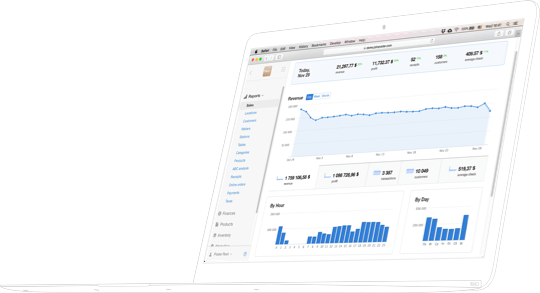 Poster streamlines work for cafe managers
Analyze business data efficiently
Monitor your average sales per guest, food profit margins, employee performance, and get valuable business insights by checking handy reports and dashboards.
Spend less time managing inventory
Use Poster's smart features to cut minutes off every inventory-related task and make your inventory management less tedious.
Keep track of profit margins
See how your food cost changes with every delivery and know when to update prices or negotiate with suppliers to keep your menu profitable.
Speed up onboarding for newcomers
Let your new waiters and cashiers skip the steep learning curve. Now they can feel confident using your POS on their first day.
Web-based admin panel you can access anytime, anyplace
You can trust our cafe POS software with your business data, we'll store it safely in the cloud. Being at work, at home, or on vacation, you have access to your account and management console from any device and browser with your login and password.
Discover a smarter management console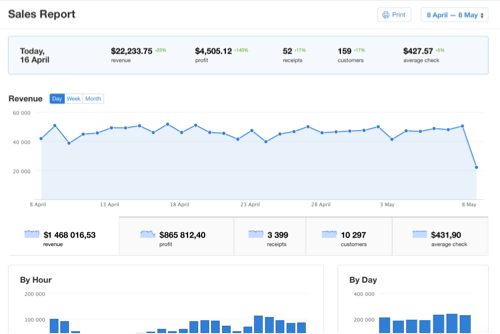 Whether you want to edit your menu, check inventory, launch a loyalty program or look through your latest transactions, using your management console shouldn't feel like a chore. We've designed our interface to ensure ease of use and efficiency.
Use Poster Boss app when you're on the go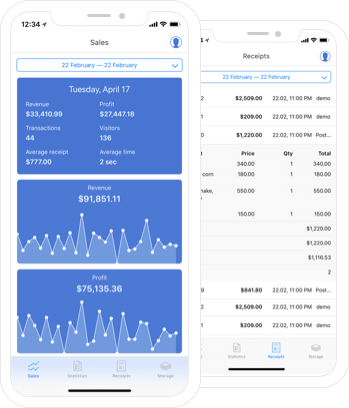 The Poster Boss app on your smartphone gives you access in real-time to condensed sales and inventory data. If you want to check how much money is in the cash register every time a cash shift opens or closes, simply turn on notifications in the app. More about Poster Boss.
Make over- and understocked fridges a thing of the past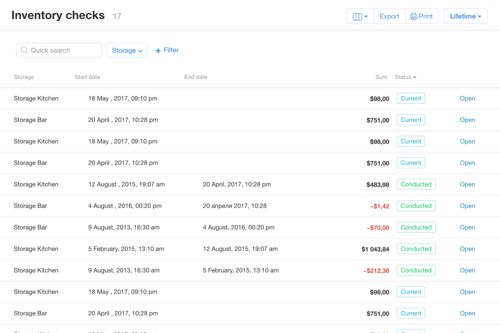 With Poster POS fot cafes, you can keep your inventory under control. We give you a convenient tool to optimize the volume and frequency of your orders, so that you can reduce sitting inventory and food waste. You won't have to worry again about dealing with disappointed, hungry customers who can't get what they want.
Have your daily and monthly numbers at hand

Use our dashboards and reports to stay on top of your expenses, operating costs and profit margins. Now you'll be able to spot rising supplier costs, issues with serving sizes, spoilage, and shrinkage before any of these issues can affect your profits.
An all-in-one point of sale for cafes that covers it all
Records of payments and orders
Menu management
Inventory control
Loyalty programs
Automatic food cost calculation
Taxes and accounting
Shift and sales reports
Revenue analytics
Payroll calculation
Integration with useful apps
Open multiple locations or franchise your cafe
Manage multiple locations or expand your business through franchising. Poster POS offers a solution with extended features to control franchisee accounts. Now you can manage the menu and prices in all locations from one account, and track performance across the board.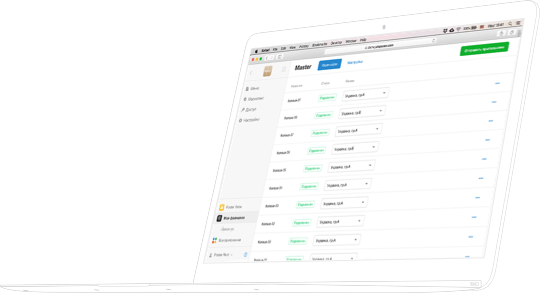 Subscription plans that fit the scale of your business
We offer a POS for cafe management that delivers value for money. With Poster, you can get software that meets your business needs for a good price. More about prices.
Our customers share their opinion about Poster POS
'I considered several solutions and picked Poster POS. It was a great alternative to buying expensive software. It allowed us to track our business performance on any device. It's been 3 years now and the system has helped us a lot with managing inventory and sales.'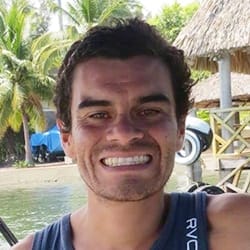 'Poster is good software for restaurants. The program is easy-to-use, no complications. It's very organized and helps us keep the figures in place. We set it up in 2017 and we've been happy with it so far.'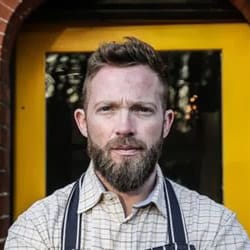 Dominic Robinson
Chef-Owner at The Blackbird
A Michelin-starred British pub, UK
Customer Support
You can count on our 24/7 technical support by phone and chat. Our team is ready to assist with the setup and configuration of your point of sale, advise you on the best practices for cafe operations management, and show you how to get the most out of every feature in the system.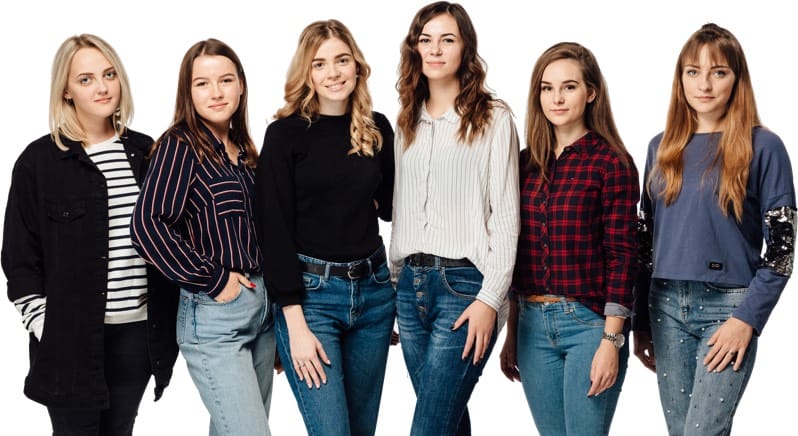 Poster POS fits any type of food service business