How to write a food truck business plan
13 November 2020
•
11 minute read
•
7,010 views
Planning to open any type of business is exciting, and you should always plan. Writing a food truck business plan will ensure you know how you want to operate your business and serve your customers. Business plans follow a general structure that helps entrepreneurs understand common stumbling blocks, including financial management. 
A food truck business plan should include all of these parts:
Executive summary

Concept and business description

Market analysis

Management structure

Services and products

Operations plan

Marketing and sales plans

Funding requests or investor proposals

Financial projections

Appendix
A business plan for a food truck can help you start your mobile kitchen on the right foot, seek out financing, and ensure that you're on the path to long-term success. These plans mainly help entrepreneurs apply for business loans, bring in investors, and maintain financial stability. 
Executive summary
Every food truck business sample plan will showcase the executive summary on the first page. An executive summary is the food truck's business plan overview. When applying for a business loan, the person reviewing your application may only look at this page and the sections relevant to financial projects or funding. 
Your executive summary is the elevator pitch or one-page explanation of what your company is all about and why it will succeed. This summary should not be overly optimistic but instead focus on probable success, facts, and your plans. 
Items you must include in your executive summary:
A clear explanation of your concept

What food will you serve?

Who are your target customers?

Where will you sell your food?

One or two-sentence take-aways from your market analysis, management plan, operations strategy, and sales plan sections

Highlights from your financial projections

Financial management plan

Financial goals
An executive summary is the first page of your business plan. You should always write the executive summary of a food truck business plan last. Then dedicate time to making sure that it is clear, concise, and compelling.
Food truck concept and description
This section is your first major stop on your way to learning how to write a business plan for a mobile food truck. Every great business idea starts with a concept, and you need to explain why your idea could be successful. 
Items you must include in your business description:
Your food truck business description, including the name and general products 

Explanation of your food truck business model (For example, targeting people on their lunch break vs. weekend foodies)

Branding — logo, color scheme, concept, and more
Your food truck startup business plan needs to clearly explain what you provide and why you're different from other restaurants and food trucks. 
In 2020 the food truck industry reached $1 billion in total revenue. The appeal of food service with increased flexibility and reduced risk divide these trucks from traditional restaurants. 
Market analysis
Within any food truck business plan template, you'll see a SWOT (Strengths, Weaknesses, Opportunities, and Threats) analysis, alongside your insights and plans for this section. Your market analysis will compare your concept against other foodservice providers and demands in your market. 
Include the following in your market analysis:
Industry description

How great is the demand for dining in your area

Trends of restaurants in your region

Projected growth for the area

Target market

Identify your potential customers — Be specific. There is no product meant "for everyone." 

Local shopping and dining habits 

Competitive analysis

Identify your competitors

Have similar food service options failed in the past?

How have other foodservice providers succeeded in your area?

Project your market share

Assess local, state, and federal or national regulations. 

SWOT analysis
In Hong Kong, food trucks particularly struggle against local ordinances, including required rotation and restricted parking areas.  
Management structure
Your food truck startup business plan must address the legal and internal operations structure. One of the most common reasons for a business's failure is not understanding structural needs. Structural problems with in a small business can quickly become insurmountable and lead to business failure. Conversely, a planned management structure and the ability to adapt when necessary can lead to long-term success. As part of your plan for how to start a mobile food truck business, you must address the legal and internal operations structure. 
Legal structure
A business's legal structure will declare the owners, degree of liability, and how they interact with the government. An LLC, or Limited Liability Company, is the most common as it offers some protection to the owners. 
As a small food service business, you may decide to legally structure as a sole proprietorship, partnership, LLC, or incorporate the company. If you're unsure of which is right with you, consult with a local business attorney for guidance. 
Management team
Who is in charge? Who makes decisions? In a few short sentences or with a chart, outline the structure of the management team. Food trucks may not need a large hierarchy of managers. They may only need a general manager, possibly a kitchen manager, and maybe shift leaders.
Operations and milestone plans
Give a food truck description, including what you expect regarding operations and milestones. For example, you might create an operation and milestone plan that sounds something like this, 
"Danny's Chicken Roost operates as a family-run business. After five years of success, we would evaluate the option of establishing a permanent location and allowing leaders of the team to advance into larger management roles." 
In your management structure section address:
The legal structure of your company

Management structure, including your general manager and any others in a leadership position

The general structure for your managerial operations and plans for significant milestones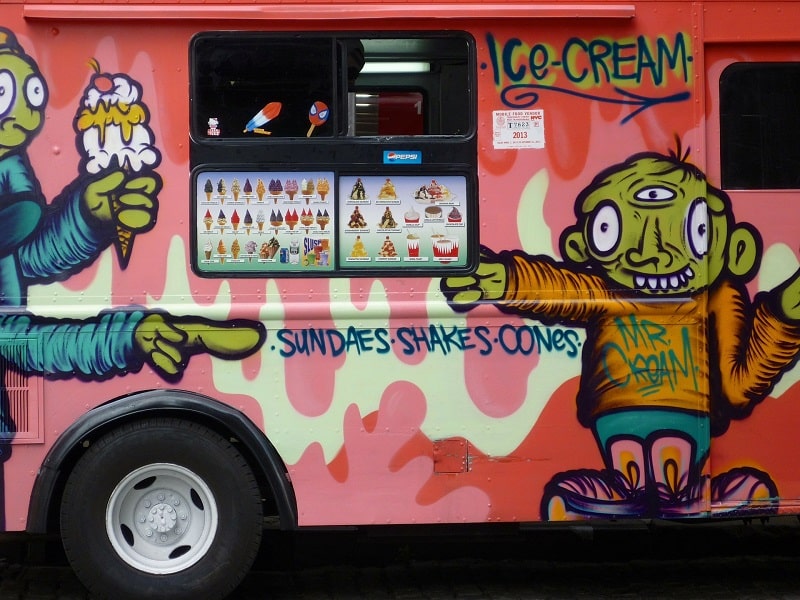 Services or product lines
An example of a food truck business plan should include a space for the menu items. Your mock menu does not need visual appeal, but you must layout everything that your region requires for a menu.
In 2008 New York City enacted a Calorie Count Law requiring that menus show caloric values. California quickly followed, and now many places world-wide require nutritional insight on menus. 
Address what services and products you will provide. Food trucks typically work with a niche menu because of their restricted kitchen space and working area. For example, a taco truck may only have two or three varieties of meats and a handful of topping options. Their menu may look something like this:
Menu Items 
Tacos Carne with Cilantro and Onions - $ 4 each
Tacos Al Pastor with Cilantro and Onions - $  4 each
Tacos Pollo with Cilantro and Onions - $3 each
Nachos with choice of meat - $6
Additional Items
Additional toppings (Crema Fresca, Queso,...) - $1 each
Salsa sides - $.50 
Chips and Queso - $3.50
Creating a food truck menu takes careful planning. Ideally, you'll get the most use out of a small collection of ingredients while providing a meaningful variety that caters to your target market. 
Your services and products section must include:
Main and side menu items (detailed information)

Plans for rotating menu items or additional products

Ingredients and materials you will need to provide all items on your menu

Plans for services such as catering, weddings, and acting as a vendor in community events
Food truck operations
Your food truck operations plan will need to include who performs which tasks to keep the business running smoothly. Who has what responsibilities and what duties are necessary for the company to reach success? Those are the big questions this section targets.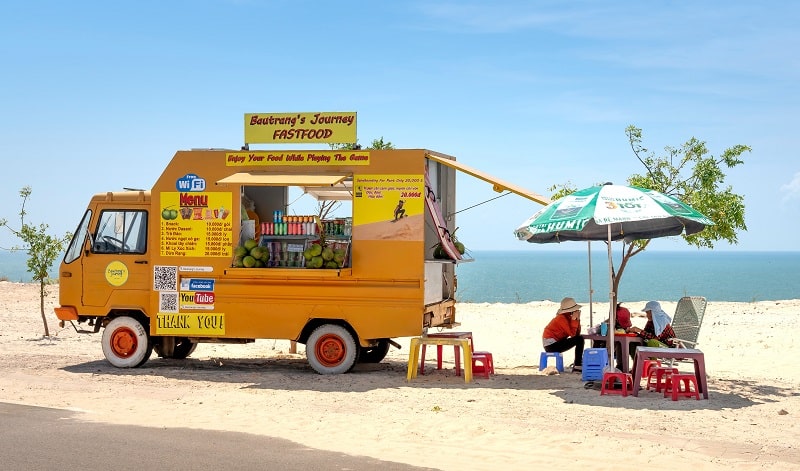 Food truck location options
As a mobile food service provider, you have the unique opportunity to go to your customers. Map out where and when you can get your truck to ideal locations. Address whether you'll need permits, how you'll access them, and if there are costs associated with that location. 
Supplies and inventory management
Who orders the supplies, and who are your vendors? This section outlines your vendor options, who provides the best quality and prices, and who will manage the inventory. Suppliers and inventory management require someone with a knack for high-levels of organization and mathematics. 
Showcase in your business plan who will handle these tasks and what qualifies them for this position. 
Food truck day-to-day operations
This section is what you need to operate a food truck. Answer these questions:
Who will prep or cook the food?

Will the team prep or cook on the truck or in a commissary kitchen?

How will you hold food at the proper temperature?

What happens if you run out of product?

How many people will work a shift? 

Will you process payment when the customer picks up the food or when they place their order?

Who will handle customer service complaints?

Who will run the register?

How will you communicate with your guests? 

What measures will you have in place for food and guest safety?
Use your food truck business plan to address technical issues as well as everyday people issues. Think of every potential element of daily operations, and then consider how you should respond. Include all of these factors in this section but keep each aspect of operations and response concise.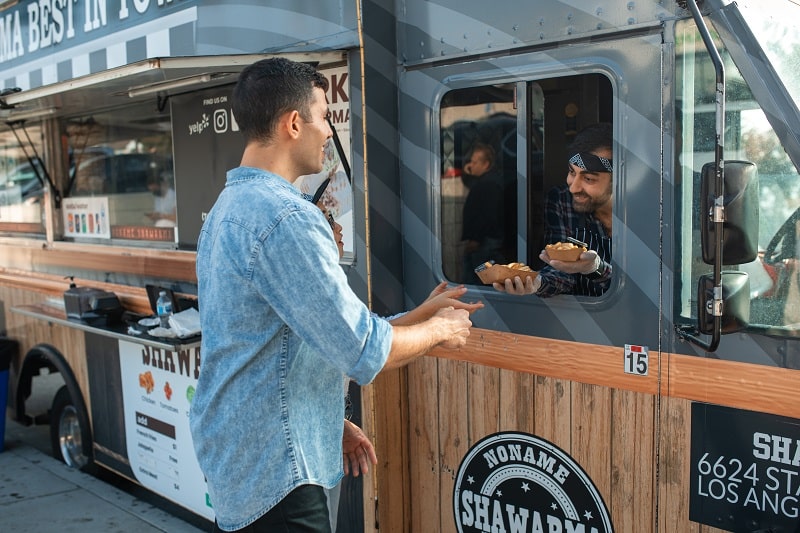 Sign up for our newsletter
Useful tips, articles, webinars about the restaurant business
You're already subscribed!
Double-check the email address you have written
✔ Thanks! You're now subscribed to our blog updates
Sign up for our newsletter
Useful tips, articles, webinars about the restaurant business
You're already subscribed!
Double-check the email address you have written
✔ Thanks! You're now subscribed to our blog updates