Although Christmas and New Year are behind us, holidays go on and now it's time for Valentine's Day. But unlike the earlier, family holidays when people prefer to spend time at home, on the most romantic day of the year restaurants are always full. 
Why Valentine's Day is so Important for Restaurants
Probably every person at list once in a lifetime experienced some sort of issues while making a table reservation on Valentine's Day. Why? Because if you don't take care of it in advance you will probably eat at home. Not the worst option to be fair but what about wear something fancy and go out for a romantic dinner?

According to Statistic Brain Research Institute on Valentine's Day people spend $13,290,000,000 on average, 34.6% of which occurs during romantic dinners out. Many couples want this evening to be truly special, which is why the restaurant should provide a special atmosphere. Typically, restaurants need to start to generate ideas a month before the actual holiday to inform customers of deals and offers in advance. We've made a list of some restaurant marketing ideas for Valentine's Day to help you prepare for the holiday.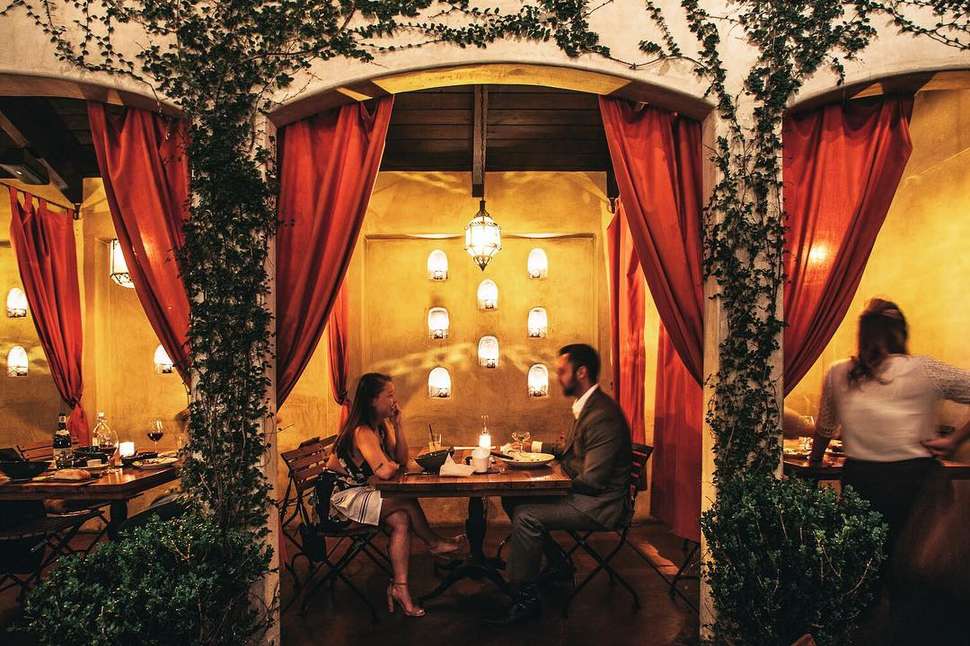 Special Menu on Valentine's Day
Add new festive dishes to your menu. On Valentine's Day, everyone wants to eat all kinds of sweets and drink champagne, so make sure your menu has a good range of desserts and alcohol. Also, for fun, you could change the names of the dishes and drinks; create a short menu of chef's specialties; or add a new ingredient to existing menu items. Your guests might be interested in trying a new "Blushing Date" cocktail, or a pizza baked in the shape of a heart instead of the regular Margarita. Be creative—people will appreciate it but stick to your restaurant menu concept at the same time.
Reliable restaurant, cafe and bar POS software allows keeping all seasonal and special menus in the system without deleting them. You can hide them and bring back to the active menu anytime you need.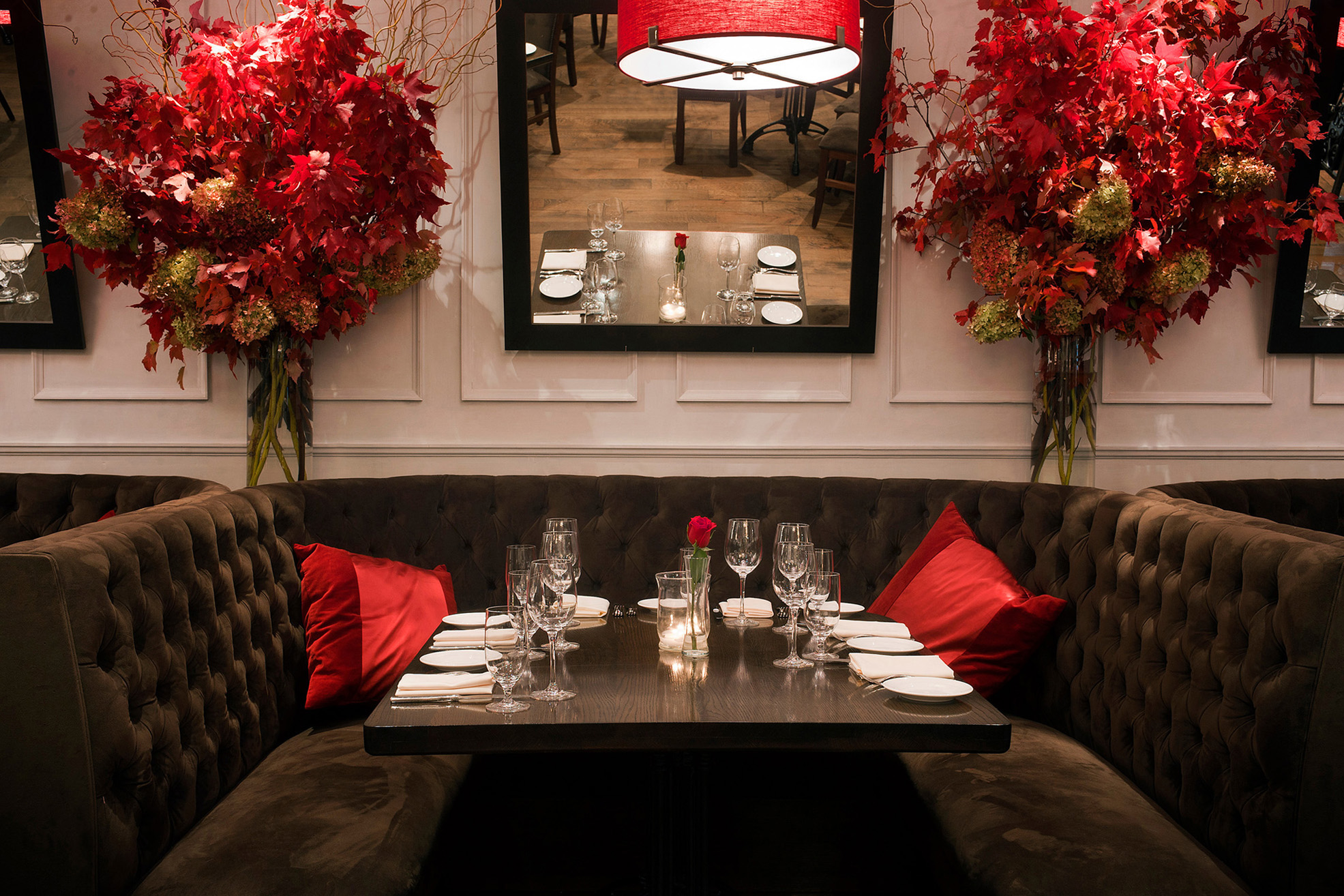 Tables For Two 
It's no surprise that on Valentine's Day couples want to have their private space: tables for two will give them just what they need. Arrange your tables accordingly, and keep adjacent tables apart for larger companies. Changing the floor plan will help increase capacity and therefore the number of reservations in the restaurant. By the way, Poster has a feature of changing the floor plan right in the management console so that you can manage your hall in a convenient way. Go for Poster 15-days free trial and try it on your own.
Atmosphere
When you are thinking through some Valentine's Day marketing ideas for restaurants start with the most obvious — decoration. When the restaurant decoration is taken care of, think about your staff's appearance. To begin with, you need to decide what you want to emphasize in your employees' Valentine's Day outfit. Are you going to focus on a romantic image or do you want to add a touch of fun? Add a small accessory like a cupid's arrow brooch or heart-shaped glasses; or switch your regular uniform for a "special occasion" style if your budget will run to it. First, though, take into account the number of employees and do a recount, maybe this will be too expensive. The restaurant type means a lot too. For example, fine dining restaurants cannot, unlike a casual diner, interfere with their sophisticated style by wearing huge funny heart-shaped glasses.
If you own large screens or a TV, use them to display a selection of romantic films and music videos, or launch your Valentine's Day special offers ads. Another kind of background entertainment for guests is live music: The concert shouldn't be so loud that customers cannot communicate in a comfortable romantic atmosphere. The music program largely depends on the concept of the restaurant, your target audience, and their preferences. You can play the most famous love song collections, soft jazz, rock ballads or folk.
Restaurant Decoration for Valentine's Day
A restaurant's romantic atmosphere begins with its decor. You could always collaborate with a professional decorator, but if your budget is limited, then you need to take the lead. Fortunately, the Internet is full of simple yet elegant and touching ideas for romantic restaurant decor. Add a dash of Valentine's Day palette to your restaurant color scheme. Make your festive interior not only romantic but also comfortable. Put heart-shaped pillows on the sofas if you have any, and decorate the chairs with matching covers. And a romantic evening won't exist without candles! To impress your customers, you can make exclusive themed candlesticks to complete the table settings. Garlands are perfect for decorating walls, windows, and furniture. The main thing is not to overdo it and turn the restaurant into a battlefield of Cupids with massive red balloons and scattered rose petals. Minimalist proponents could use muffled light, candles, and refined flower decoration. Light is a very important item, so try to find the perfect balance between a cozy light over the tables and the pleasant semi-gloom of the hall. This will visually divide the space between the tables and create a romantic atmosphere to last the whole evening.


Photo Zone
The era of Instagram makes people want new, unique content for their social media: No one will miss the chance of getting photographed, especially on Valentine's Day. Offer your customers a professional photo shoot against the stand branded with the restaurant logo and festive attributes, the wall decorated with flowers, a massive heart-shaped arch or various head-in-the-hole stands. The photo session is limited only by your imagination and the size of the room. Don't just dwell on romantic themes—add a bit of humor to your restaurant. Realize that your customers have come with a group of friends to have a great time together. Add an element of decor for fun pictures and for sure most of those photos will wind up on Instagram, Facebook, and Twitter. Ask customers to add your restaurant hashtag and geolocation to their posts and give them a special offer in return. This is going to be great advertising for your place. Valentine's Day promotion ideas for restaurants give a huge profit to every venue!
Blind Dates
Unfortunately, not everyone is fixed up for February 14. Many single people would like to have a lovely evening too. Why don't you hold blind dates at your place, to help your customers? Of course, blind dates are held all year round, but according to Tinder statistics, Valentine's Day is the perfect day. Most of these events take place in a rather uncomfortable and awkward atmosphere. But a well-prepared, appropriately decorated restaurant with a special menu and romantic music... that's a different story! Grab the moment and hold a couple of blind date evenings a week before the actual holiday and maybe a few single guests will visit your place on February 14 as a couple. Anyway, this is an excellent restaurant promotion for Valentine's Day, and if you schedule the event for the less frequented hours, you'll kill two birds with one stone.
Proposing in the Restaurant
According to NRF statistics, men spend at least twice as much money than women on Valentine's Day. In addition, men use this day as the occasion to propose to their girlfriends, and many choose cafes or restaurants as a suitable venue. Take advantage and create a special offer for customers who want to make the evening really special. In addition to the usual table reservation, add congratulations from the staff, a special food and champagne presentation, romantic videos played over the TV screens or offer the service of musicians. We bet, after such service the restaurant will quickly achieve popularity among couples and perhaps even become a location for future weddings.
Promotion of Valentine's Day for Restaurants
People usually plan February 14 in advance, so don't forget to announce the restaurant's special offers and news on your social media well before then. Encourage your customers to reserve tables and offer them special deals on Valentine's Day! For example, offer 15% cash back for the first 20 reservations. Another great way to capture your customers' interest is to hold competitions on social networks. For example, the most beautiful couple could win dinner for two, a bottle of wine or a reserved table with a deposit. There are plenty of promotion variations for your business, so go for it! 
Use a variety of methods for restaurant promotion for Valentine's Day. Place your offers on websites such as Groupon, so more people know about them. Visit the various stores, beauty salons and companies in your neighborhood and get them to collaborate by cross-advertising on social media and good old printed material placements.
Don't miss the chance to increase the restaurant's income during the "love fever" and do it in style. It's better to run one or two unique promotions, that your customers will remember instead of coming up with a bunch of similar and trivial Valentine's Day restaurant promotion ideas.
Get lucky!