All over the world food trucks are trying different strategies to stay afloat and help local communities during COVID-19 quarantine. Although food trucks are by definition take-out businesses they had to make a complete shift of their business model and change their food truck business plans. After offices and business centers had got empty and all events had been canceled, street food business owners had to take their food into neighborhoods and quickly pivot to taking pre-orders for food pickup.
Owners of SAM'WICH food truck in Houston, Texas, told us how their team has adapted to working in the new reality. SAM'WICH has been operating for a year now. People in the Houston City and Montgomery Area around The Woodlands have enjoyed their Mediterranean-inspired sandwiches and bowls. Being a food truck business that people know and trust, SAM'WICH counts on the support from the community and takes every opportunity for giving back to society. 
How do people in Houston feel about living under the Stay Home, Work Safe Order?
Mostly, people are anxious and overwhelmed. I would say that the community has come together to support one another in this time of crisis. It is amazing the community we have. 
On March 24, 2020, Houston and Harris County joined other Texas cities in announcing Stay Home, Work Safe Order, which has been extended through April 30, 2020. 
What was your reaction when you realized the possible impact of the COVID19 outbreak on your business?
At first, we were nervous about possibly going into deficits and felt helpless. We thought there were no places to serve and no events to attend. After brainstorming, we realized that people still wanted delicious food. At first, we tried to stay open at our permanent location but then we decided to take our trucks to neighborhoods and apartments.
Each city has its own rules about where food trucks can park. Was it difficult for you to start operating in new locations?
It was a bit difficult but not too much. We are big on doing the right thing at all times, so we have been asking permission before going out to residential areas. Some communities said no but others were excited about that idea and requested us to come. To make it legal we had to get a new food permit to serve the area where many people reside (read more about food truck permits and licenses cost). The process was very smooth.
Houston Health Department has a set of documents regulating the operation of mobile food units in the city.
How many people now are working in your food truck? Has anyone had to leave your team?
We have 6 people working on our food truck team. Some are part-time and we typically only have 3 people working in the truck at once. Due to COVID-19, we have had to scale back on hours.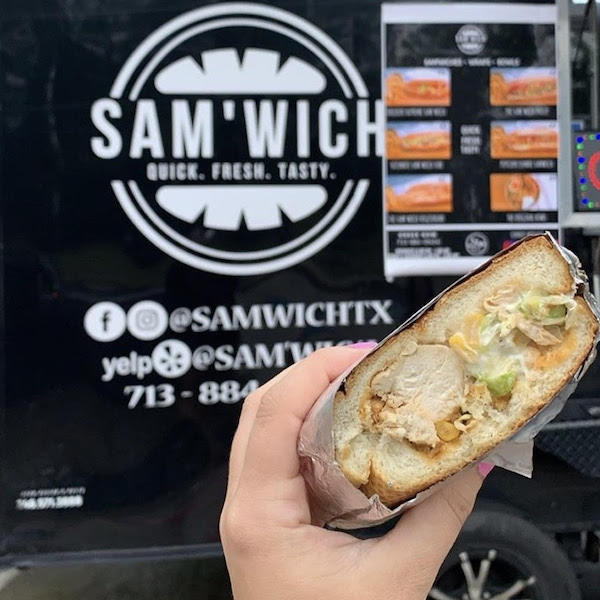 Have you made any changes to your menu?
We still offer our full menu, but more on a pre-order basis (also we've made changes in our food truck pos system). We've changed our packaging though and stopped serving food on open plates. Now we pack up food, write descriptions, seale packages, and keep the food bagged for pick up.
Our top sellers have been our Philly Cheesesteak Samwich and our Gyro. We add corn in our Philly Cheesesteak Samwich, customers have told us the corn makes it stand out and special.
How much in sales are you getting now compared to the pre-COVID period?
Pre-COVID we were making a profit. After the pandemic reached Houston, we tried to remain open at our nightly location for some time. But our business was very slow. Moreover, we were not able to ensure the 6 feet rule when people would walk up to order. We felt that it was best to temporarily stop opening there and focus solely on neighborhoods and apartments. Now our working hours are reduced and we are getting enough sales to cover our expenses. 
Some residential areas, like Riverwood Apartments, request food trucks to come and create their own food truck schedules. They post the schedule on their socials to let the community know when people will be able to order their favorite street food. 
What has changed in your operations? 
The food preparation has stayed the same. We have always been diligent in following best practices in food safety. We all wash our hands regularly, wear gloves and hats. We keep all our surface areas disinfected and are conducting hourly disinfection measures. We had to rethink our approach to purchasing a bit. Now we have one person who buys supplies and we have to be very aware of what we are buying to limit any unnecessary trips to the store.
What additional safety and sanitation measures have you introduced?
We are asking employees to take their temperature before coming in for their shift. I know that for many businesses it has been challenging to get sanitizers. Thankfully, we had a good amount of stock on all sanitary items beforehand, so we have not had to worry about restocking just yet.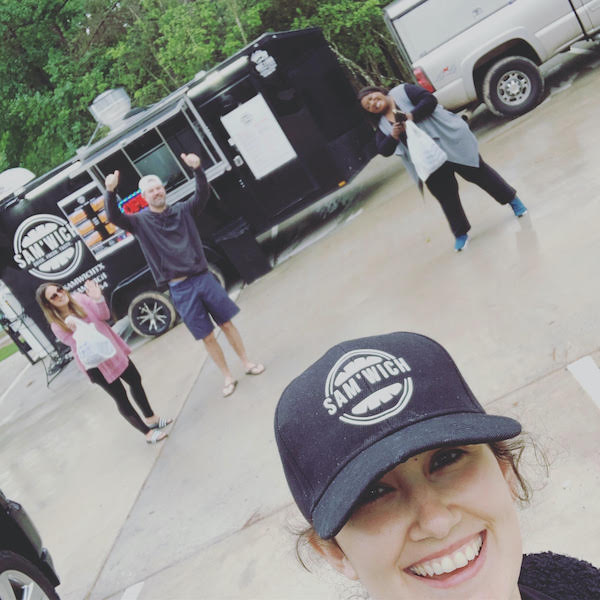 How has your customers' experience changed?
Our customer experience looks very different now. We came up with a pre-ordering system that worked very well for us during these times. People place orders via call or text. They schedule a time to pick up their order, then come up and let us know they arrived. We carry their food to their car or hand it to them when it's ready. It has been very nice to see customers from afar and have some small talk while practicing social distancing.
Have you participated in any charity activities? 
At the beginning of this crisis, we made lunches to feed those in need. We've collaborated with H-E-B, who launched the Texans Helping Texans campaign and catered to the Harris County Emergency Management Office. 
Just before Easter, we were contacted by a nurse who asked us to provide dinner to an entire floor of nurses taking care of COVID patients at Memorial Hospital in The Woodlands, TX. We were able to feed them and prepare Easter baskets for them. To support the nurses during those challenging times we also sent them some heartfelt cards we had collected from neighbors. 
The nurses were kind enough to go out of their way and post pictures of themselves with our food and the Easter Goodies. We will forever cherish those pictures. Seeing their smiles made us feel so happy! 
Do you believe SAM'WICH will work through the crisis? 
I do believe SAM'WICH will strive against the crisis. We have always had that kind of vision for SAM'WICH. We refuse to give up and are always finding ways to make our business work. We are blessed to have such a supportive town that is trying their best to help all of us local businesses out. Every neighborhood and apartment we go to has blown us away with their kindness, support, and understanding. 
We recently met a couple in a neighborhood we were at, and have made such a great connection with them. They love our food so much that they have made it a point to come to one of our events every weekend. It is so heartwarming to know that positive relationships are made during these trying times.
What would you advise other food truck owners to do or not to do in the current situation?
My biggest piece of advice is to stretch the way you look at business and rethink how you can reach your customers. I would recommend solely focusing on bringing food to residential areas on a pre-order basis.
What do you do to boost your personal morale and stay positive?
The charity work we do has been amazing at boosting morale. We also are very open to one another as a team. So if one of us feels down we are quickly able to boost that personś mood and offer words of encouragement. One more thing we do to stay positive is connect with our customers on a personal level. We always ask them to post about their food so we can hear how they felt. We are fortunate enough to have made many new friends working in our food truck. 
Our motto is all in all the time. 
We love our food truck and consider it to be our baby. We take pride in our food and the connections we make with our community. We are a family working together to build our dream and will do whatever it takes to turn our dream into a reality.