The ultimate guide to buying restaurant equipment
18 February 2021
•
14 minute read
•
7,979 views
For many new restaurateurs creating the kitchen equipment list is one of the more demanding tasks. While making a menu is fun and building your brand is a creative process, restaurant equipment is more about finding the right fit for the restaurant opening process and knowing you may need to make changes later.
As you're planning, take some relief in knowing that most restaurants need the same equipment. The essentials you'll find in a Bar & Grill are likely the same that you'll find in an Italian restaurant or a mom-and-pop diner.
Determine your restaurant equipment needs
When you start on your commercial kitchen equipment list, consider your concept, menu, and projected growth. These three aspects can steer you in the right direction for creating your equipment list, shopping for equipment, and prioritizing pieces as you buy or lease.
Menu
The menu will direct you to different types of kitchen equipment. For example, if you serve primarily rotisserie-style chicken, you might not prioritize a fryer. On the other hand, if you own a diner, then your fryer and grill are fairly important, but you may not need a rotisserie at all! 
Look through your menu and list out everything you would need to execute the full menu. Freezer? Check. Walk-in refrigerator? Check. Blender? Pass. It is okay for this list to be a mess. You'll clean it up as you go.
Concept
Your concept will dramatically impact your restaurant supplies list, from the produce you order to the equipment you install. The concept differs slightly from your menu in that it looks at the big picture. Are you a grill-based, fryer-based, or raw-foods based concept? Are slicers more important than a panini press? 
Evaluate your concept to help you prioritize each item. Your most important equipment will need more research given that it may be the priciest investment.
Growth
How fast do you plan to grow, or do you think the restaurant will be extremely successful at first and then level out? This depends on your concept, marketing, and region. For example, a new franchise owner bringing in a brand that wasn't previously in the area will be very busy through the first year and then slump into your normal ebb and flow.
If you expect to grow slowly over time, you may be able to invest in equipment pieces months after opening or may choose to finance some equipment knowing that you'll even out. Alternatively, if you'll be busy at first and then hit a lull, you may choose to rent equipment to handle high-volumes.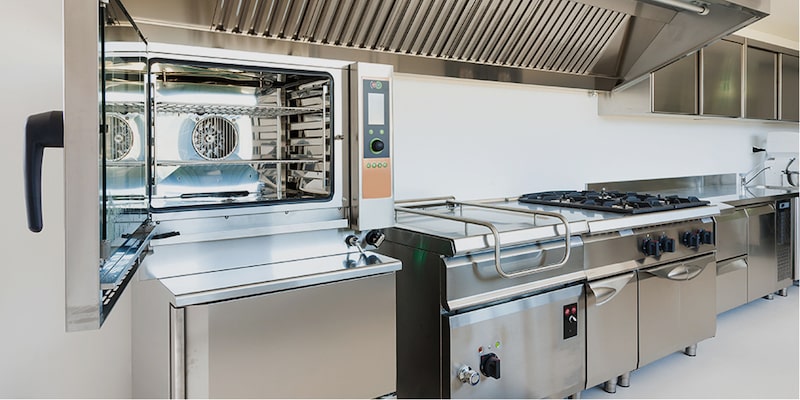 Identify your essential tools
The essential equipment needed for a restaurant includes commercial equipment that you need to operate on a basic level. New restaurants may not need the best brands or the biggest option on the market, but they will need some type of oven, range, ventilation, and refrigeration. 
Here we've provided a full kitchen equipment list and definitions for the most common essential tools.
Commercial oven
No restaurant equipment list would be complete without an oven! Commercial ovens are nothing like your stove at home.
Why a commercial oven?
●  Larger in size
●  Durable and with greater reliability
●  Longer lifespan than home ovens
●  Additional features for safer cooking
●  Often convection - meaning they are more economical than standard ovens.
●  Convection ovens heat more evenly, resulting in higher quality products.
Commercial convection ovens typically cost a few thousand dollars per unit, depending on size and additional functions.
Ranges and ventilation 
One of the most vital pieces of equipment needed for a restaurant, your range will serve as your stovetop. You can use them for sauteing, simmering, boiling, pan-frying, stewing, steaming, and more. They do however require a ventilation system. The ventilation system will remove grease, fumes, smoke, steam, and heat from the air. It is a safety factor but also makes the kitchen environment more bearable.
Ranges and their accompanying ventilation systems are often expensive, costing thousands or tens of thousands of dollars. Additionally, they require professional installation, and in some areas, advanced fire-safety system installations such as an Ansul system, which can cost between $3,000 and $5,500.
Food processors
For many restaurants, a food processor is an easy way to get through a lot of prep work. Some chefs don't use them. Others rely on them heavily. 
A food processor can:
●  Cut
●  Dice
●  Grate
●  Puree
●  Blend
●  Chop
●  Slice 
Investing in a food processor can make your kitchen extremely efficient, but it may not be a priority for every new restaurant owner.
Mixers
Mixers are great for anyone who will mix batter or dough. If you're not mixing batter or dough or won't be baking, then you may not need a mixer. These equipment pieces stand apart from specialty items because they are commonplace in most restaurants.
Slicers
Slicers come in two varieties, the classic meat/deli slicer and the slicers for produce. Meat slicers are a must-have for any deli or sandwich shop. However, most restaurants don't need them but do need to produce slicers. These are smaller pieces of tabletop equipment that will slice ten onions in half a minute. There are also options for tabletop vegetable dicers that are extremely handy.
Cutting boards
Cutting boards are absolutely necessary, and you typically can't use any old cutting board. You want to follow FSA and HACCP color-coding to reduce the risk of cross-contamination. The good news is that the polyethylene cutting boards don't crack, chip, or warp and can last for years.
Food preparation counter
Nearly all of your restaurant tools will require counter space. You may have many more options when shopping for food prep counters with a greater variance in price as well. These countertops don't just provide working space. Many come with a space to place your trash can underneath for quick disposal, cupboard space underneath the counter, or even cold-holding trays on the table.
It's best to invest in counters that are versatile rather than specialty shapes or tables that have overhead features that may actually get in the way.
Freezers and refrigerators
Freezers may be optional, but generally, refrigeration as a whole is not. You will need refrigerators and, likely, freezers. These units come in all different sizes and degrees of power. However, it's worth mentioning that walk-in refrigerators and walk-in freezers are not substantially more expensive than standing units, and they perform better.
Specialty cooking equipment
Ensure that you have an overview of all your needed cooking equipment for your full commercial kitchen equipment list. Specialty equipment can include espresso machines, proofers, soft-serve machines, and more. Again, it's best to revisit your concept and menu to identify any specialty equipment you may need. 
Specialty equipment can include:
●  Anti-griddle or flash freezer
●  Meat slicer
●  Espresso machines or specialty coffee makers
●  Pasta cookers
●  Rethermalizers
●  Panini grills
●  Sous Vide immersion circulators
●  Crepe makers
●  Steamers or fast steamers
●  Vertical broilers (for gyros, al pastor, and shawarma)
●  Salamanders
●  Smokers
●  Warming tamps
●  Wok or specialty ranges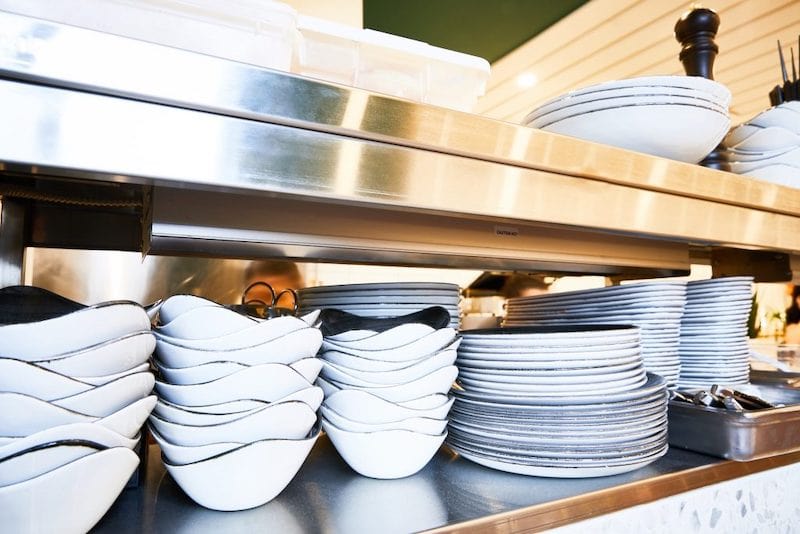 Sign up for our newsletter
Useful tips, articles, webinars about the restaurant business
You're already subscribed!
Double-check the email address you have written
✔ Thanks! You're now subscribed to our blog updates
Sign up for our newsletter
Useful tips, articles, webinars about the restaurant business
You're already subscribed!
Double-check the email address you have written
✔ Thanks! You're now subscribed to our blog updates