The advent of warmer weather means people are ready to start spending more time outdoors. People start looking for outdoor dining spots to enjoy the sunshine and eat al fresco. It's the time of the year when the demand for outdoor seating at cafes and restaurants begins to grow. 
In the warmer parts of the globe, people enjoy temperatures of 70°F (21°C) - 95°F (35°C) almost throughout the year and patio season never ends. Restaurant concepts centred around al fresco dining belong to the best restaurant ideas for such areas. That said, while some places are seeing their guests fight for the last table, other spots end up looking abandoned and uninteresting.
If you plan to open a beer garden, a rooftop bar, or just a sitting area on the sidewalk, let's see how you can make it an ideal summer hangout spot for your community.
People love eating and drinking al fresco
Everybody envies the happy owners of stand-alone houses with backyards, as they're able to throw a barbecue whenever the weather is good. 
However, urban dwellers have to rely on cafes and restaurants to get a breath of fresh air tucked away from the bustle of the city. Your job is to make your outdoor seating area people's favorite place to spend their time, eat and drink al fresco. 
Depending on trends, competition, and the things that make your location special, you can find the outdoor seating place that works best for your business.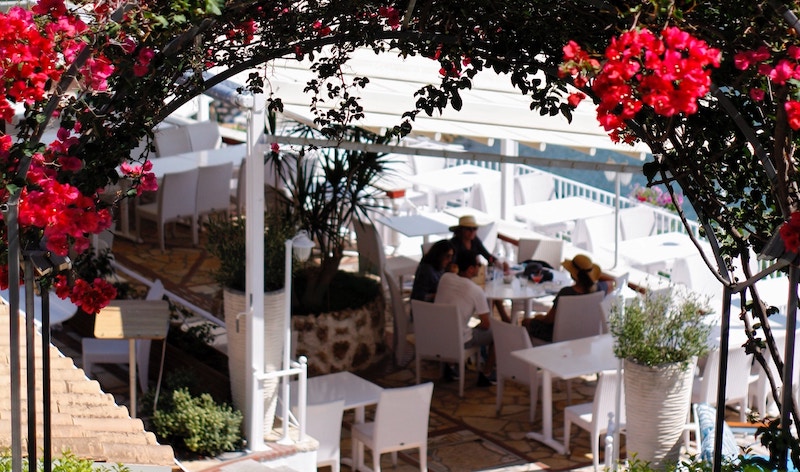 Front yard patio
If your restaurant, cafe or bar is located in a tourist destination, by the riverfront, if it's by the sea, or facing a famous attraction, then you'll be wanting to build a patio or a terrace and make the stunning view a 'top item on your menu'.
Breezy outdoor settings with gorgeous views are especially popular among tourists. To make your patio a success, you should take into account that travelers always strive to experience as much as they can per day. So, you should strive to speed up your service to turn tables quickly and give your guests a hassle-free experience.
If your place gives tourists a relaxing 20-minute stop with tasty food and an instagrammable view, they'll be more likely to leave a five-star review for your restaurant or cafe on Tripadvisor and it won't be long before you have a queue of new customers that goes around the block.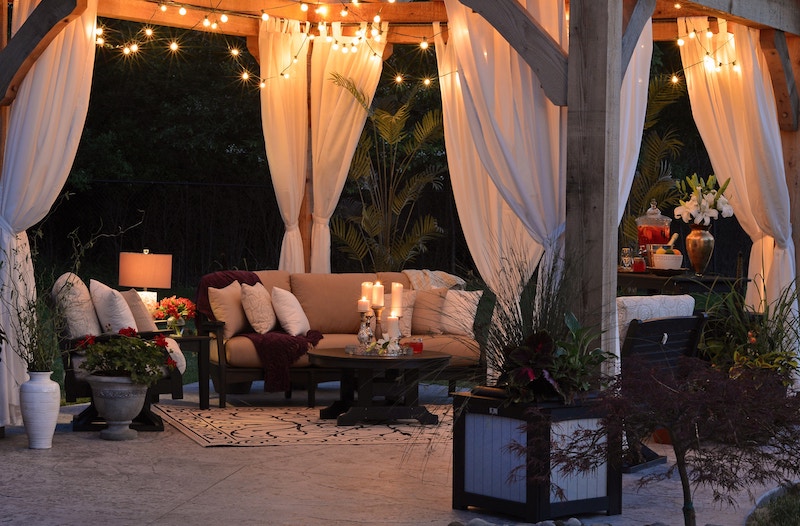 Backyard patio
If you have access to a backyard behind the building, consider turning it into a secret patio with a romantic atmosphere. Guests walking into the main room of your restaurant won't notice the magical hideaway for outdoor dining unless they know about its existence. 
By opening a secret garden you can create an exclusive dining opportunity for your patrons. Nothing is as enticing and attractive as having access to a secret place reserved only for a lucky few. 
You don't even need to put up signs for customers to find your garden, the ambiance of this place will attract people who want a table for two or are going to throw a private dinner party. Word of mouth alone should do the job and can even turn your secret garden into a sought-after destination for celebrity guests who want to hide away from the crowd.
Beer garden
If there is a green area adjacent to your pub or bar, you can try to open a London-style beer garden there. It may soon become a go-to spot for locals, where they can catch up with a friend and grab a beer, and even stay for a while enjoying the cheerful atmosphere.
To create a festive vibe you can invite local bands to play at open-air concerts, arrange poetry events, or offer patrons engaging tabletop games to make every night special. During the daytime, you can host thematic events for your local community depending on what's popular in your city. 
Whether you're hosting a mini-golf tournament, a plant-swap and wreath-making  workshop or a market for artisans and their wares, people will come just for the experience even if they're not planning on grabbing a beer.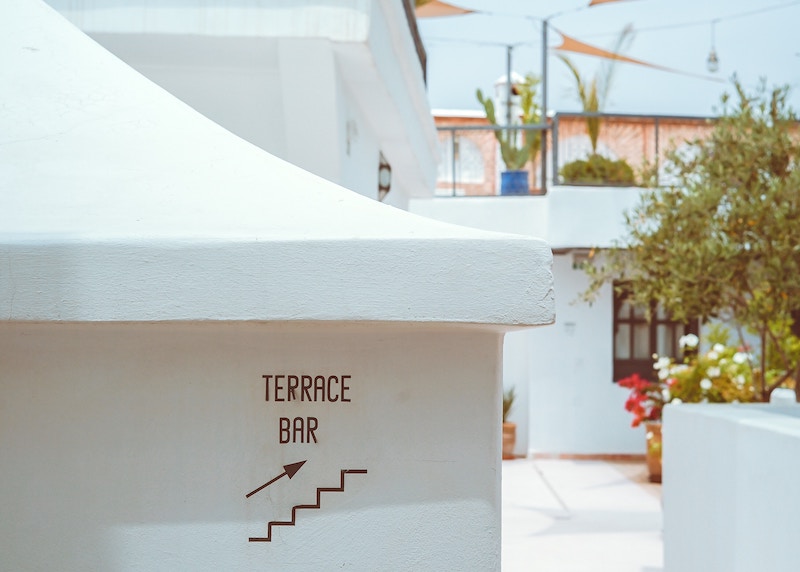 Rooftop bar
If your building has an unused open rooftop with a sweeping view of the city, consider converting it into a sitting area with a dedicated bar. Rooftop bars have great potential to become people's favorite outdoor spots where they can sip on cocktails while they enjoy the view.
There is no need to bother with an extravagantly large menu. Simply serve a good range of cocktails, popsicles or frosé, sangria, wines, beers, and offer a small selection of sandwiches. It will be enough to attract young cocktail aficionados who are always on the lookout for the next best drink that they can share on their Instagram.
Add a special vibe and your guests will be living it up at your rooftop bar in no time! If you manage to recreate the atmosphere of home-thrown parties your place will quickly become a hub for people looking to have a good time. Alternatively, you can create more of a relaxing vibe for those who want to gaze at the sunset or take in the view of the night skyline with a drink in hand.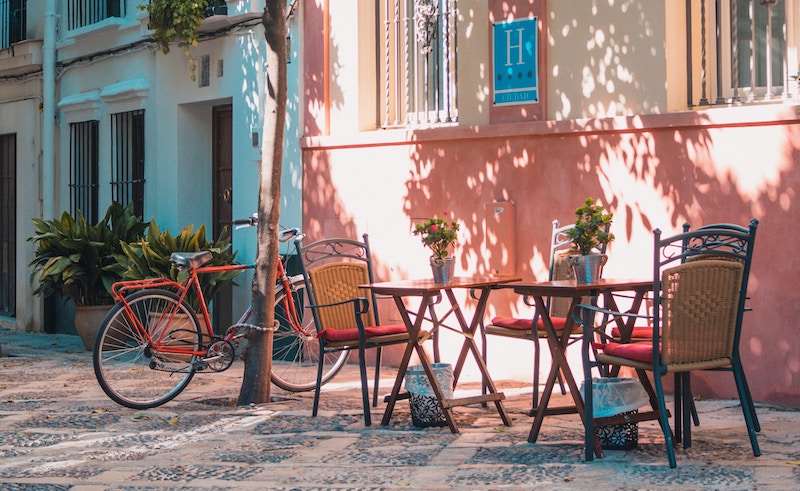 Sidewalk seating
If you own a location on a busy street or within an outdoor mall, consider adding a sidewalk seating area in front of your building. Even if you don't have a lot of square footage, you can still put a few umbrella-topped tables. 
This type of outdoor seating requires minimal investment from you, still, they'll become a welcome stop for people to rest their feet or sit and watch other people passing by and drink in the atmosphere. 
If you're looking for a dose of inspiration, you should have a look at pictures on Pinterest and Instagram of the lovely outdoor tables next to the most popular cafes in Paris. If you're able to capture that style and vibe, you'll have yourself a small but attractive al fresco spot.
Whatever concept you choose, it's best that your outdoor seating area has an attractive design and a well-thought-out layout.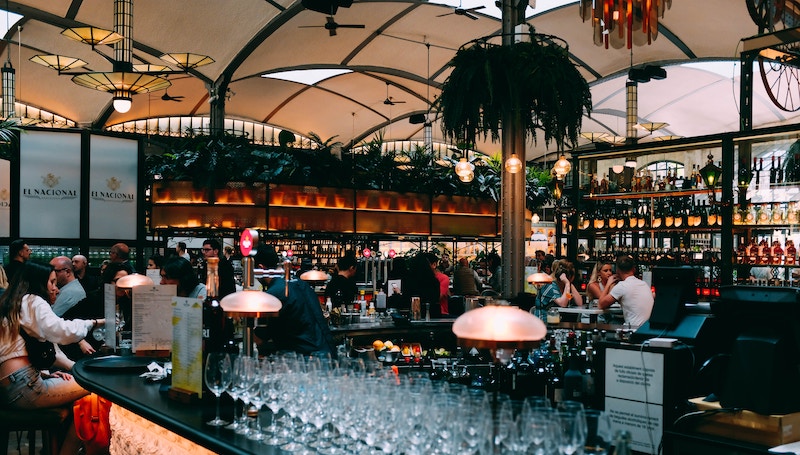 Thoughtfully and beautifully designed patios steal the show
The look of your outdoor dining area should be an extension of your interior design concept. Whether it's a swanky rooftop bar or a casual terrace tucked along the side of the building, you might want it to meet these criteria:
Create a cozy and inviting atmosphere.

Provide maximum comfort for your guests.

Facilitate your employees' work.
The right choice of shades, outdoor furniture, and additional equipment will help people feel comfortable at your place in every type of weather.
Shade and shelter
Shade is the first thing people look for on hot days. Choose the best option to provide your guests with a shelter where they can hide from the sun and passing rain showers.
Patio umbrellas to be put next to each table providing guests with their own personal spot of shade.

Extra-large umbrellas to block more sunlight while covering multiple tables and to make your outdoor area look less crowded.

Awnings and retractable canopies to block the sun for the whole dining area with the option of retracting them during stormy weather to prevent damage.

Patio covers, pergolas and gazebos to ensure durable and functional shelter that'll attract lovers of outdoor dining even on rainy days.
When it comes to choosing restaurant equipment to protect against sun and rain, you should consider all available options. You can't afford to cut corners when buying the right shade for your business.
Your best option is to do some research into the design and materials so that you can find a solution that will work all year round.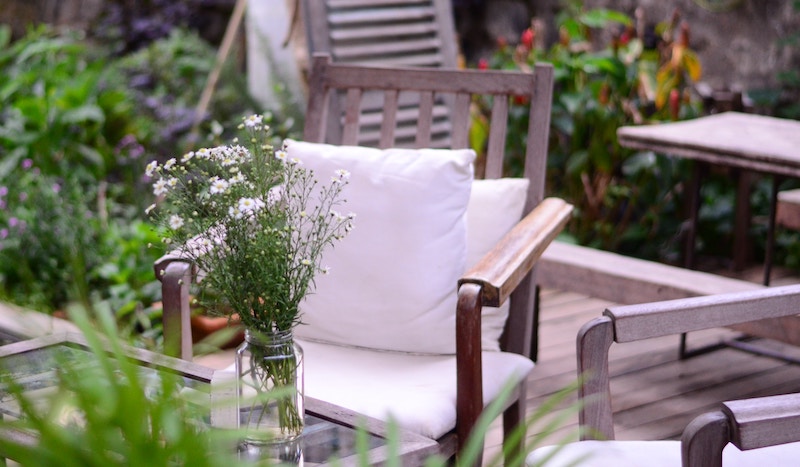 Outdoor furniture
You have to balance the look and level of comfort of your outdoor furniture with the amount of time and effort you are willing to put into keeping it in good condition. These are some of the options you might want to consider:
Bar and bar stools for your dedicated outdoor bar area. 

Round tables for two with chairs to recreate the romantic atmosphere of a sidewalk cafe. 

Wooden tables and benches to maximize seating capacity and attract bigger parties and families.

Sectional patio furniture, cushioned seats with pillows, love seats, chaise longues to create a comfortable and leisurely oasis people won't want to leave.
Plastic, wood or metal: every material has its advantages. 
Plastic lasts in all sorts of weather and can be purchased in countless designs, shapes, sizes, and colors.

Wood is a natural, light, and considerably weather-resistant material that helps to create a cozy atmosphere.

Metal (powder-coated aluminum or steel) can be welded or cast to create any design, and it will last for a lifetime.
Don't let yourself be put off by the immense variety of options. You should choose the furniture that best compliments your style, outdoor space dimensions and desired level of maintenance.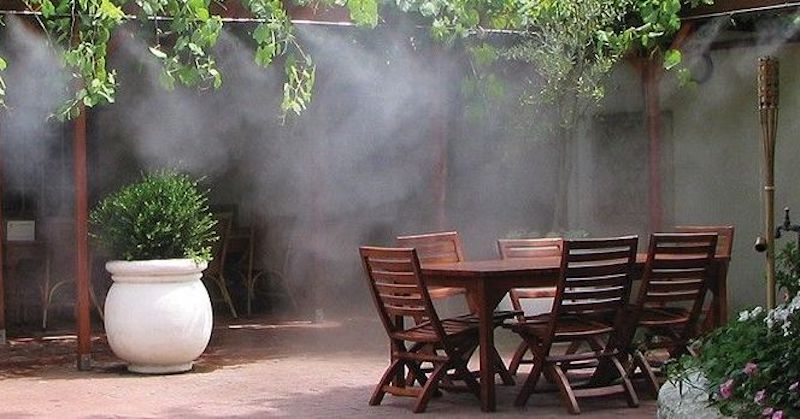 Outdoor equipment
Consider investing in additional outdoor equipment and stuff that improves customers' comfort in different ways.
Decorative lighting: you can create an inviting and festive ambiance by having fairy lights hanging overhead and along the fences.

Misting fans and cooling systems to reduce the temperature on hot days and to make a refreshing microclimate inside your patio.

Fly traps and insect zappers to reduce the number of insects hovering around your outdoor dining area.

Heaters and fleece blankets to extended the duration of the patio season and keep guests in on chilly nights.

Curtains to separate space and add a little more privacy to the dining experience.

A variety of plants to give your restaurant a park-like feel by adding colors, oxygen, and shade with hanging flower baskets, trees, and climbing vines.

Bicycle rack to provide a welcome stop for people going for a ride if cycling is popular in your area.
Each piece of equipment makes a difference for customer comfort and can become a decisive factor for people who are choosing between several options for al fresco dining.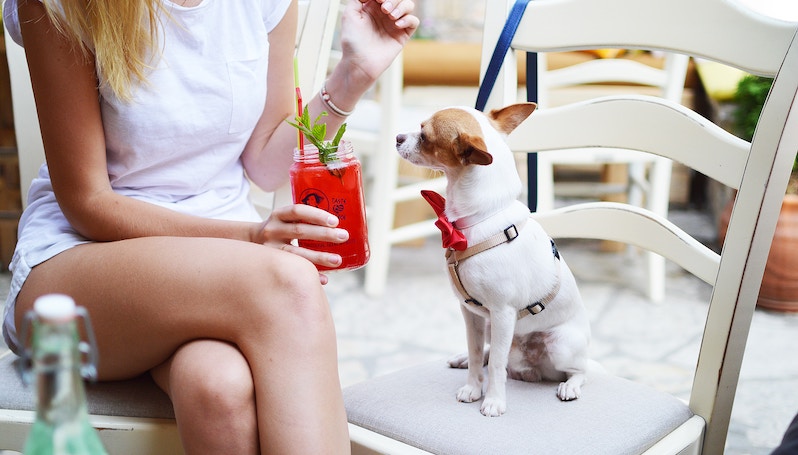 Pet-friendly space
One more thing that'll significantly influence your customer's comfort is your pet policy. While some people are looking for pet-friendly outdoor dining places, others might prefer someone else's pets to stay away from their eatery of choice. 
If you have a large outdoor dining area, try to resolve this dilemma by dividing it into two spaces: pets allowed, and no pets allowed. This is not an option if your patio or garden is small. However, you can still serve both audiences by introducing featured pet-friendly days or hours.
Whatever your pet policy is, make it easy for people to find out. Start by instructing your employees, use stickers and signs onsite, and finally spread the word online about your pet-friendly space, days or hours.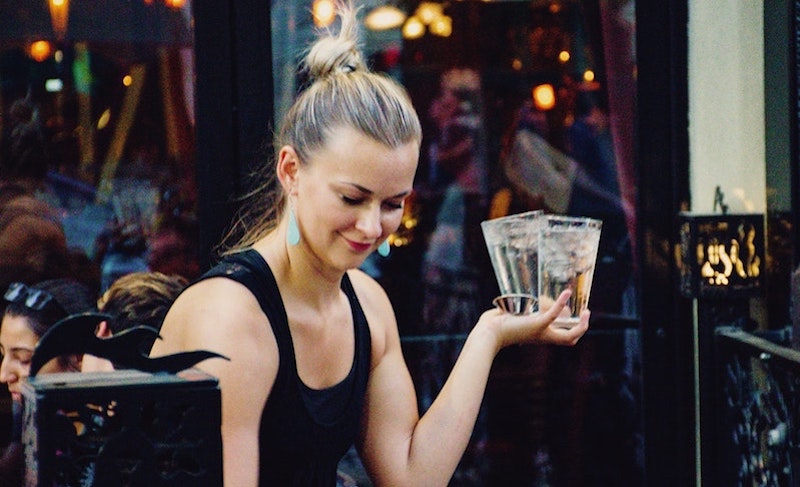 Your team and customers come out on top with optimized operations
Opening an outdoor dining area not only changes the space and design of your place but also influences your employees and operations.
Downsides of opening a patio
Serving people seated outdoors often requires extra effort from the waiters. Outdoors, diners are harder to track. It's more difficult for a waiter to memorize orders and bring food if they have to open doors when running back and forth with trays under the hot sun. 
This all makes waiters tired and slow. They may start making more mistakes, and it won't be long before your guests start to notice. As a result, the overall customer satisfaction with your place may drop. But that is definitely not the outcome you're hoping for when opening a patio.
Consider what you can do to ease your employees' workload and reduce the number of setbacks. There are technological solutions and operational approaches that can help your team turn tables faster and focus on delighting guests rather than feeling frustrated with inconveniences. Let's go through some tips to optimize the workflow in your outdoor dining area.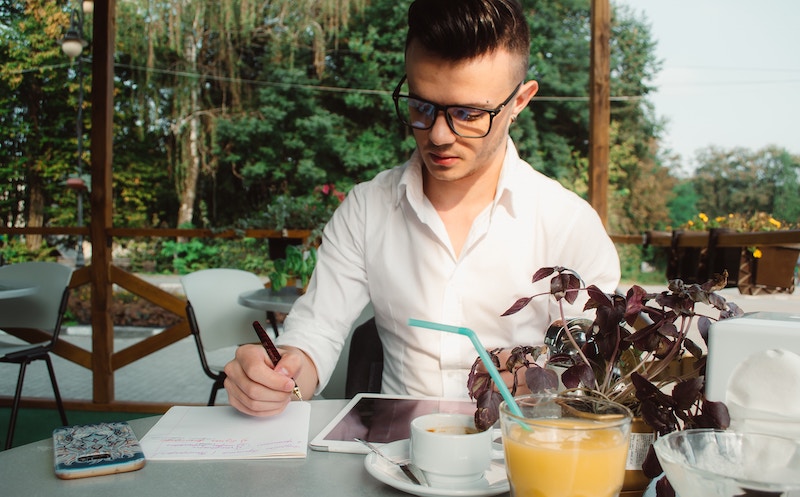 Importance of keeping an efficient workflow 
Unlike the weather, your team, operations flow, and tech fully depend on your decisions. There are several key choices you make that will determine the success or failure of your outdoor area.
Distributed workload
Depending on the traffic inside and outside you can either assign a dedicated waiter to serve people in your outdoor area or give every waiter a couple of tables. 
Table ordering
By choosing a tablet restaurant POS system for your operations, you can simplify the process of taking orders for your waiters. Instead of memorizing customers' orders or having to write them down, they can simply add them to the system. During busy hours, a waiter can easily take several orders one after another without running back and forth to the register.
Shorter waiting time
Using a tablet POS system for cafe enables waiters to send orders to the kitchen in one tap, right after inputting  them into the system. With technology like the Kitchen Kit, your chef can start cooking for your guests even before the waiter has a chance to walk away from the table. Download Poster POS on your tablet and start a free trial, and you can see for yourself how Poster can integrate your kitchen ticket printer or kitchen display into a single system.
Takeout window
If some foods or drinks served in your outdoor seating area are prepared inside your main building, think about creating a takeout window. It may be more convenient for servers to receive trays with food through the window rather than having to carry them through the entrance door. 
Attention to details
As soon as your employees start serving guests outside they'll start facing issues that they didn't have to deal with indoors. It's best if they pay extra attention to details. Ask them to clean spilled drinks before they attract pests and wipe wet tables and chairs right after it stops raining.
Seasonal help
More seats for your guests mean more work for your waiters during peak hours. Consider hiring college students as seasonal help to have a backup option for these busy hours. If you feel there's no need to employ them full-time, offer part-time positions and ask them if they can be on call for your busiest hours.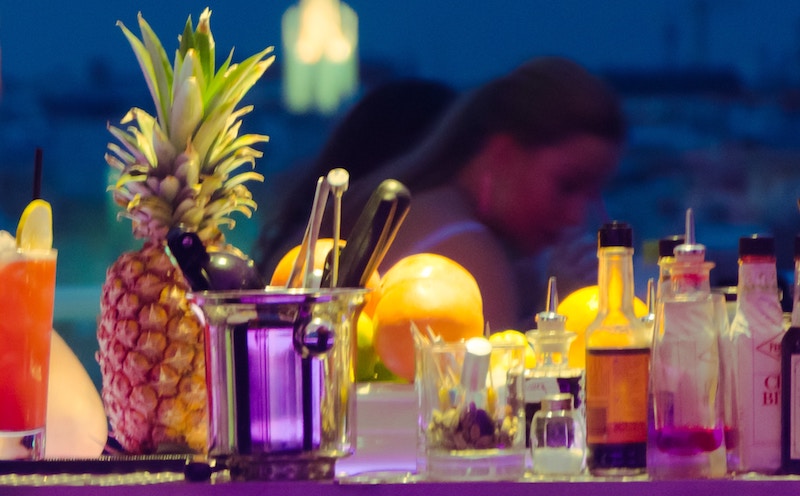 Seasonal items on your menu drive revenue
Fast preparation 
From the point of view of restaurant operations, adding a patio may increase the workload in your kitchen. Address this issue when deciding what you should have on your outdoor menu. This will help you ensure your back-of-house staff can cope with the load without compromising food quality and extending preparation times.
Easy eating
Another thing to consider is how messy the food is to eat. It's best if you make a small menu mainly including options that guests can consume easily while lounging. Snacks and sandwiches have the potential to become top-selling items. 
Comfort food for every season 
Add some variance on your outdoor menu by adding some specialties and rotate them depending on the weather. Why don't you promote something light and refreshing on the hottest days of the year? And likewise, you can offer  some drinks and dishes that will warm up your guest on a chilly day.
Feature profitable items
To increase profit, steer your guests to the options with higher profit margins and shorter preparation times. If your chef works a bit more on the presentation of your dishes, even the simplest meal will have a mouthwatering look. 
Disposable tableware
Opening an outdoor seating area is a good reason to tap into the trend of disposable eco-friendly tableware. You can choose fun and practical designs for your dishes and they'll become a great substitute for glass and ceramics, less suitable materials for poolside patios, kid-friendly areas, etc.
Extended drink menu
They say that al fresco drinking makes even the simplest wine taste better. This might be true, but you should consider that mixed drinks have high profit margins and are in high demand in warmer weather. So, it's in your best interest to bank on it and to offer your guests a variety of both alcohol-free and soft drinks to enjoy. Create a seasonal drink menu for your patio in your point of sale system to ease your waiter's job.
Depending on your concept you'll offer a bunch of craft beers or a trendy selection of summer cocktails. A killer selection of drink specials can create some buzz and put your place among the cream of the crop of outdoor dining.
There's no question that your outdoor dining area can add value to your restaurant, increase the seating capacity and boost revenue. It will become the flagship of your restaurant and let people see the energy of your place and the hospitality they can count on when they stop by. Prepare early, be among the first to open, and let the tables on your patio become the most sought-after seats in your city!