Restaurant Technology Hackathon at Poster: 36 hours to solve real challenges restaurants are facing
20 December 2019
•
3 minute read
•
4,594 views
At the end of every year, Poster POS hosts a hackathon event where food service industry professionals collaborate with software developers. The hackathon became an open forum to let people put together their effort to originate solutions that would enhance the dining and food-service experience for both customers and restaurants.
"This was the third time Poster POS hosted a Restaurant Technology Hackathon. 43 software developers came to meet five restaurant owners and discover what apps they can build in the cross-section of food and technology. They had 36 hours to prototype and pitch software solutions that would help the food entrepreneurs overcome the real-life challenges facing their businesses." – Rodion Yeroshek.
Cooperation with local community
Felix Bezruk of WHITE Coffeebar, Fedir Logvin of Object Coffee Shop, Tigran Karapetian of 3Legs Pub, Yevgen Yakutin of Bar Acacia, and Dmytro Bologov of MEOW Restaurant represented our local Dnipro community of food service business owners at the event. They became mentors and judges for 15 developer teams and their projects.
Every entrepreneur who came to our event is keeping track of the restaurant technology trends. They were willing to share their ideas about enhancing the dining experience for their customers and improving their employee's working environment by adding new features to their POS system.
"Being a coffee shop owner, I've been trying different approaches to raising employee productivity. But, I still find it quite challenging to motivate my employees. This time I asked the guys to gamify the employees' interaction with the POS system. The idea was to let baristas gain achievements in the POS app, for example, for the biggest number of transactions per day/week/month or the highest average transaction value. Such features would add some fun into the employees' daily grind and invigorate their competitive spirit." – Felix Bezruk
Another idea that Felix Bezruk put across concerned custom business performance reports. Restaurant owners would like the restaurant POS system to send them notifications with stats through their favorite messengers. 
"For example, if a restaurant owner wants to monitor the daily number of orders associated with a particular discount, they'd love to add this metric into a custom report and start receiving Telegram messages with the data every time another shift closes." – Felix Bezruk
Fedir Logvin suggested another great idea. Like many other restaurateurs, he is looking for some rational methods of automating purchases. 
"I'd like to automate the work with suppliers in my coffee shop to the greatest extent possible. It would be great if I could enter work schedules, preferred delivery days/times, and other specific terms that different suppliers have to get smart purchasing recommendations from the POS system. For example, if milk is about to run out of stock next Friday evening and the supplier doesn't deliver on weekends, the POS system would send me a low stock alert not on that Friday morning but a couple of days earlier". – Fedir Logvin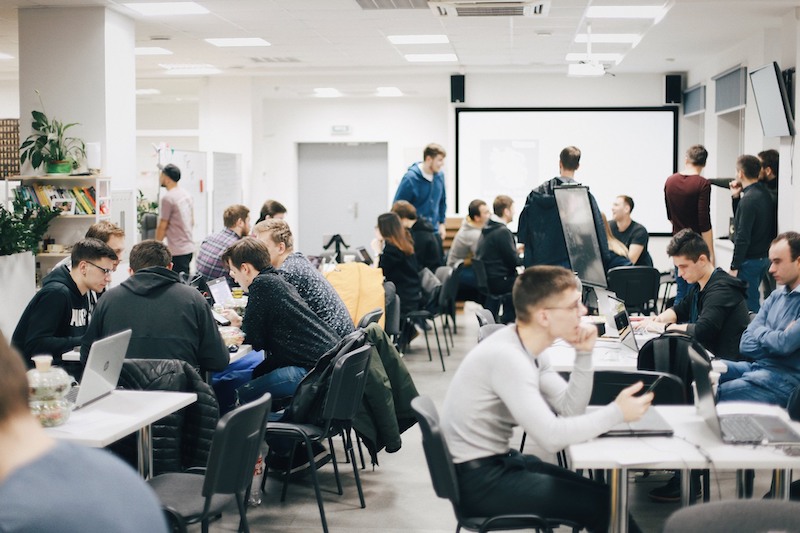 Healthy competition and joyful networking
After the restaurant owners gave their speeches, each team of developers decided on the problem their future app should solve. During the next two days, they brainstormed their ideas, prototyped apps, and pitched their projects as if they were launching their own startups. 
Sergii Korniushov, a participant of the hackathon and a member of the winning team said that the biggest value of this event is in getting hands-on experience in creating products that meet people's urgent needs.
When you take part in a hackathon hosted by a product company and have facetime with potential customers, creating an app just for fun is not an option. Unless your app solves a real problem no one would pay for it." – Sergii Korniushov.
For many software developers, participation in such events means breaking out of their comfort zone. Everyone has an entrepreneur inside, but it takes courage and will power to get it out in the wild. However, the cheerful atmosphere of the event eases the challenge.
The team that won the first prize
Retarget! The team of Sergii Korniushov and Andrii Konovalskyi presented a customer feedback collection app. The app allows guests to evaluate their dining experience, communicate their opinions to the restaurant owner, and quickly leave reviews on the restaurant's socials using QR codes available in the location. The app allows restaurant owners to process the data shared by guests using Facebook Pixel or other analytics tools and launch retargeting campaigns. Restaurants get a tool for narrowing targeting and raising the relevance of their advertising campaigns.
The team that won the second prize
BZhUk. The team of Kyryl Gerasymenko, Oleg Zhaivoronok, and Andrii Volkov built an app that automatically calculates the content of nutrients - carbs, fats, and proteins - for every menu item based on the dish specifications the restaurant has in Poster POS. Even if a restaurant has an extended and changeable menu, this app makes providing dietary information to guests an easy task.
The two teams that won the third prize
Foonder. The team of Vladyslav Gryshyn, Artem Pavelko, Illia Chaika, Kyryl Kononenko, and Yaroslav Osolikhin brought to live Felix Bezruk's idea and created an employee motivation app. 
BarAssistant. The team of Artem Shevchenko, Ivan Snisarenko, and Volodymyr Chakov presented a cocktail catalogue app that works as a bartender's cheat sheet. A bartender can easily find recipes for any cocktail that is on their bar menu in Poster POS and 'refresh their memory'.
Hackathon gives a chance to launch a startup
The teams who got first, second, and third place took home prize money of $2 000, $1 500 and $500 towards the possible implementation of the project. The money is an external motivation for launching their startups. After the guys finalize their apps, those products will appear on  Poster's Marketplace. This is how the winners of Poster's Restaurant Technology Hackathon can start their own business and reach their first clients.
"Quite often software developers who work for outsourcing companies write code without seeing the big picture and understanding the value the products bring to customers. Taking part in hackathons developers get a chance to look at software development from a different perspective and feel themselves entrepreneurs. It's a real opportunity to create a product and see how the market responds to it at almost no time." – Rodion Yeroshek.
Sign up for our newsletter
Useful tips, articles, webinars about the restaurant business
You're already subscribed!
Double-check the email address you have written
✔ Thanks! You're now subscribed to our blog updates

Your detailed checklist for opening a new restaurant
Setting up a restaurant business? Use our checklist to do it right.
×
Sign up for our newsletter
Useful tips, articles, webinars about the restaurant business
You're already subscribed!
Double-check the email address you have written
✔ Thanks! You're now subscribed to our blog updates