When you're a restaurant owner, you do it all, from food cost control to sales tracking. In today's world, technology can make the job more manageable. While some software solutions for restaurants are desirable, others, like POS systems, have already become must-haves. 
What are POS systems? If you use a POS it becomes the heart of your restaurant technology stack. The most basic point of sale is a combination of hardware and software for completing transactions between your restaurant and guests. However, POS systems that follow the latest restaurant technology trends can do much more than that. They not just offer terminals for waiters and cashiers to process orders and payments, but also provide managers with functional admin panels to control all aspects of their business. 
Choosing a point of sale solution you'll have to decide between a cloud-based or a legacy system. Both types of POS systems can provide tools that would meet your business needs, but there are two major differences between them you should be aware of from the start. Those are their approach to storing data and their price.
Cloud-based restaurant POS systems, like Poster POS, are solutions that allow you to choose from a wide range of hardware options and safely store your business data on the web. In contrast, legacy systems usually require setting up a specific hardware and internal network and store your data on local servers. Therefore your choice will define whether you'll have access to your business data from outside of your restaurant or not.
As for the difference in price, you should know how much you're able to invest in your point of sale from the start. Vendors selling legacy systems would ask you for one up-front payment while companies providing cloud-based solutions would charge you a subscription fee for the first month. Knowing your startup budget, you'll be able to make a justified decision on which of the two options is more acceptable for your business. Read on to learn more about what POS stands for in restaurants and different ways cloud-based solutions can help you grow and manage your restaurant.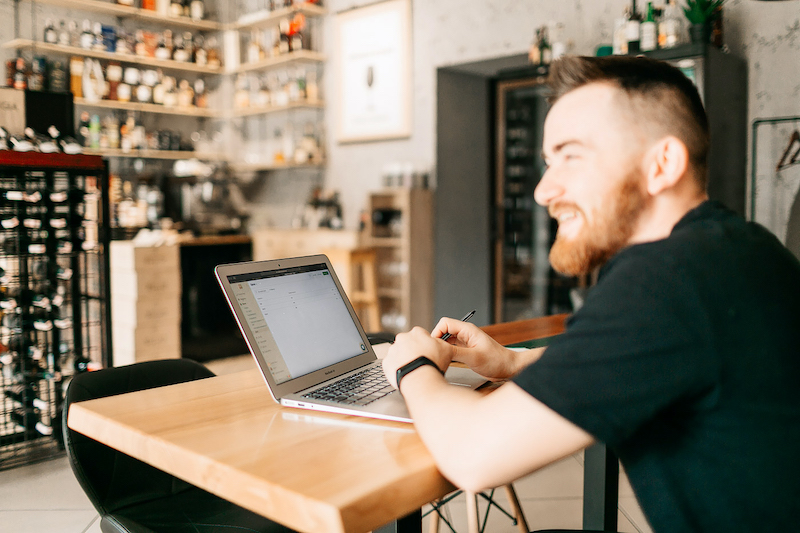 1. Reduce your restaurant start-up costs
Different types of POS systems used in restaurants significantly differ in price. Most of the cloud-based options would allow you to reduce your startup costs, while legacy POS systems would require huge upfront investments. As you buy a legacy POS system for life, investing in it may seem a good decision. However, you won't know for sure if that software and hardware is right for your restaurant until you buy and start using it. The advanced features and modules that add up to the price may appear irrelevant to your business type. Then there's the annual or semi-annual maintenance, which can be expensive too.
The startup costs for a restaurant can range between $495,000 to $735,000. The expenses vary depending on the equipment, whether you lease or rent the building or property, and your concept. You probably won't want to increase those costs through investing in expensive and limiting hardware.   
When you choose a cloud-based solution you'll be able to install it on an iPad or Android tablet depending on your preferences. Some systems even work on laptops and PCs. Other hardware, such as a receipt printer or cash drawer, are minor investments. Subscribing to a cloud solution, you should expect to pay anywhere between $40 and $200 per month.
2. Review sales, activity, inventory, and more whenever, wherever
It's good to have access to vital elements of your business at all times. POS systems allow the advantage of  checking current sales and inventory numbers in your location even when you're out. You can jump onto any PC, tablet, or laptop to log in your admin panel and see your actual business data. That means a day off or a weekend away can come with some peace of mind. 
Some POS vendors provide restaurant owners with mobile apps that allow them to access reports on sales and inventory on their smartphones. For example, managers who use our Poster Boss app often mention that it helps them stay aware of what's in stock and control key business metrics remotely.
3. Boost sales with more efficient service 
To get a better idea of what is a POS system in a restaurant, let's consider how it influences the quality of service. The main purpose of this technology is to deliver a smooth and efficient way for customers to order and pay. Modern systems can help you streamline processes in your location, whether you run a quick-service or a full-service restaurant. 
95% of restaurant owners report that technology improves their overall efficiency, while 73% of diners say that technology enhances their experiences in restaurants.
When evaluating how a POS system can improve efficiency, you want to look at the speed and ease of transactions. If you run your POS system on a tablet in the counter-service mode, your cashier takes advantage of the efficiency of its interface, and your customers get through the line faster. If you use the POS in the full-service mode, your waiters can easily take orders and assign them to tables, send orders to the kitchen immediately and receive notifications when the food is ready to be served. They cut down on running between the kitchen and the counter or dining room. 
4. Improve your payment process 
Handling payments, splitting checks, and using coupons shouldn't be a hassle. It's all part of the day-to-day operations, and you should choose a POS that will help you handle it all. You should look for versatility and productivity in these systems. POS systems should process:
Credit and debit cards

Cash 

Gift cards or vouchers

Coupons or discounts

Redeem loyalty club points or rewards.
Perhaps the most prominent feature that restaurant owners look for is the ability to split checks quickly and easily. Ideally, your staff or your customers shouldn't have any problem or frustration with splitting a check. The purpose of a POS system is to make payment processing simple for everyone.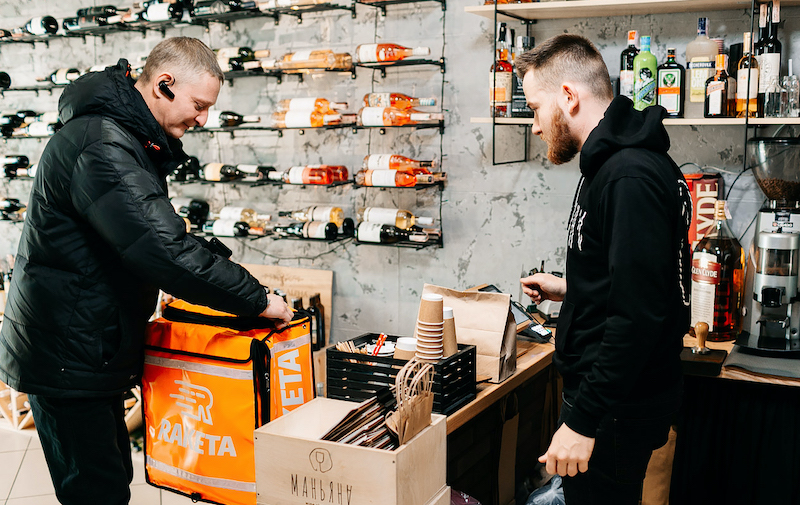 5. Handle online orders, reservations, and deliveries with ease
Ordering through DoorDash, GrubHub, and Uber Eats continues to gain in popularity. If you are going to capitalize on this trend, choose a delivery POS that allows tracking online orders directly in the app and create your own restaurant website or look for solutions that integrate with apps for third-party delivery services. When orders come in from different channels it increases your employees workload and makes them multitask. To minimize human error, you should strive to provide your staff with efficient software that eases their daily grind. 
In just a few years, online orders have tripled, with about 26% of diners ordering online for takeout or delivery at least once a week. 
When learning how to use a POS system in a restaurant for manage restaurant's online orders, don't forget to check what features it has for handling reservations. Some POS systems let you book tables using an interactive floor plan and calendar. Inputting a reservation and managing bookings should be as painless as tapping on the screen a few times. If the POS doesn't have an out-of-the-box reservation functionality, you'll have to buy an additional piece of software or handle reservations manually, which is undesirable.
6. Use your menu data to control your margins
Use your POS data to cultivate a menu design that influences consumer spending through menu engineering. Place high-margin items front and center. You might find all necessary data in the admin panel of your POS. Your POS may not only have dashboards with raw data but also some features for ABC analysis that would let you identify dishes that contribute most to your profits at a glance.  
A POS system can give you analytics on the sales, cost, and profit of each menu item. With the right data and planning, you can craft a menu that highlights your most popular and profitable items giving you enhanced control on your margins. 
Evaluate the pros and cons of any POS by looking at the convenience of making the most frequent routines in its interface and its ability to provide actionable insights from stats. This is something that could change the game for your staff and profits. 
7. Monitor staff activity and manage your payroll
Table turns, upsells, and voids all spark a considerable amount of concern. POS features should include staff tracking on tickets so you can address all behavior. With POS reports, you can reward high performers, train underperforming staff, and spot employee theft. This data can make it easy to schedule waiters that turn tables faster on your busiest days or those that upsell best during slow times. 
A restaurant's payroll should not stretch beyond 35% of all sales unless you're fine dining. Comfortably, payroll will be at or below 30%, including employee benefits, tax rates, and additional government requirements.  
A POS system can track employee time on the clock and calculate wages automatically. This feature is one of the elements that make a POS such a valuable management tool.  
8. Minimize the risk of error and misuse
Among the POS benefits we should mention minimizing risk of people mishandling change, credit cards, or refunds. It also reduces the risk of employees giving freebies or voiding transactions. Your POS should help you see whether your sales reports match your inventory reports and identify shrinkage so that you can cut costs and optimize product usage.
Evaluating questions such as, "What are the advantages of a POS?" should bring up obvious issues. Your POS should allow you to adjust the access rights for all employees depending on their position in a way that can significantly reduce errors and inventory abuse. Any activities on the POS terminal that can signal fraud should be logged and checked by the manager.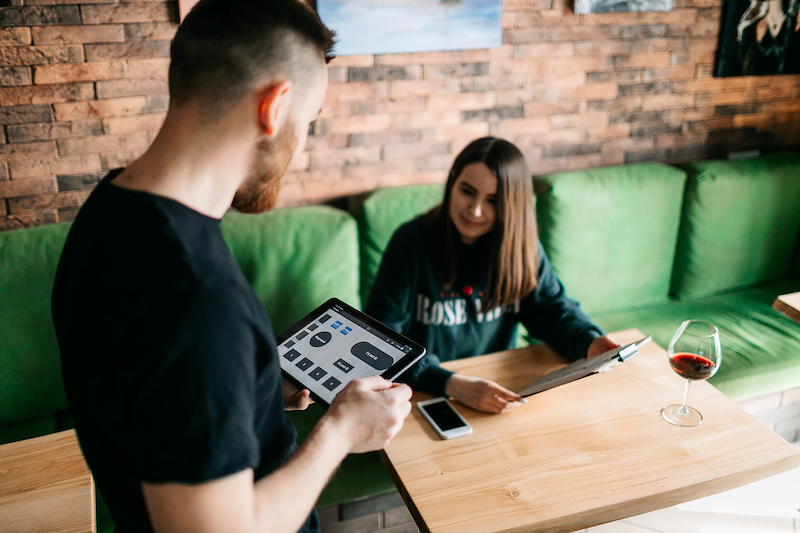 9. Build efficient customer retention
When considering the advantages and disadvantages of a new POS system, pay attention to the features for customer retention. About 45% of diners will decide where to eat based on loyalty programs they use. Check if the POS of your choice has a convenient out-of-the-box tool for running a loyalty program or you will have to buy an extra module or look for a separate software solution.  
Boosting customer retention by only 5% can increase profits between 25 and 95%, making it worth any attempt to drive retention. Additionally, it can cost 6 or 7 times more to get new customers than to keep your current guests.  
Build customer retention through a POS by:
Implementing a system-hosted loyalty program

Building your customer base

Providing loyalty-program discounts or points rewards

Hosting promotions for return guests.
You can also rely on other system capabilities such as automatic discounts for specific items or time frames such as a Daily Special, or Happy Hour. You can even use the data from your loyalty program, sales, and use of promo codes to quickly identify if you have a good ROI from a marketing campaign. 
10. Cultivate communication between FOH and BOH teams
How does a POS system work in a restaurant that has a big kitchen? A FOH staff member takes an order using POS either at the counter or at the table and sends the order to the kitchen staff in one click. When inputting orders, waiters can add comments such as "no pickles" or "vegan", notify the kitchen of allergies, and make other notes. 
Commonly cooks receive orders via restaurant printers. However, kitchen display systems (KDS) become a popular kitchen equipment item in restaurants. If your POS system integrates with a KDS, like Poster POS and Kitchen Kit, cooks will be able to see incoming orders on the screen, read waiters' comments, track preparation time, and even check recipes if needed. When another dish is ready to be served they'll mark it on the screen and waiters or counter-service staff will receive an alert on their tablet. No shouting over counters or running back to an expediter to check on an order. 
When a POS and KDS work together, there's no messy handwriting, order codes, or negotiating between chefs and waiters. Good communication between BOH and FOH teams can reduce the number of customer complaints. Your employees can track orders and comments with higher accuracy.  It helps them get food to the table as soon as it's ready without mistakes.   
11. Reporting for in-depth performance analysis
What does a point of sale system do for business performance analysis? From a POS with an online admin panel, you should expect dashboards and reports with real-time data. These are reports that you and your management team may never have had time to create before getting a POS. Each system is a little different and the convenience of interface plays an important role when you work with data. Your POS should deliver insight into:
What was sold in any given time.

Who sold what in a shift, day, week, month, or quarter.

What methods of payments were used.

Trends in performance.

Forecasting for sales to manage employee schedules, promotions, and specials.

Historical data comparing month to month and year over year.

Food costs, labor, and inventory expenses.

Connections between sales, inventory, and staffing.
High-level insight will always require a human eye, but with this data available in basic visual formats, you can pull out the most useful information with little effort. Does a POS system improve efficiency? It does give management teams the information they need to make decisions that contribute to productivity.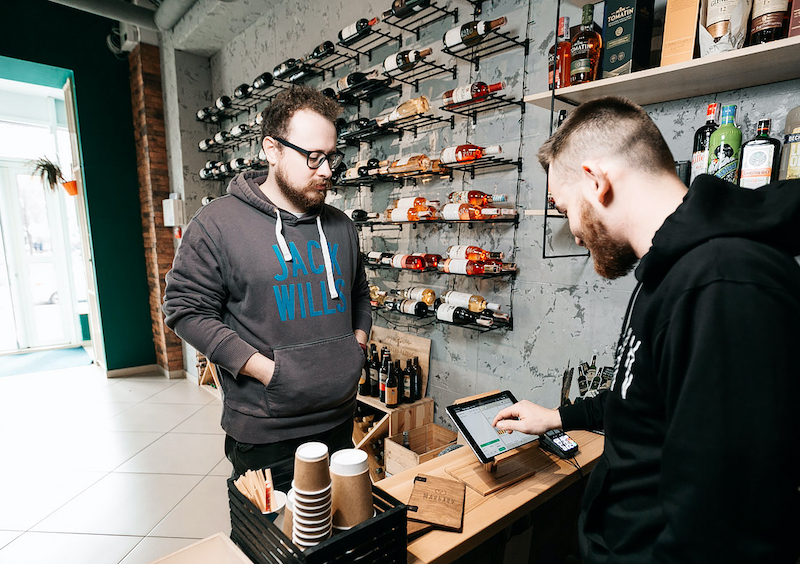 12. Take charge of your inventory
Be the manager who knows what's on the shelves and when it was ordered. You can monitor the menu items cooked and see the impact on stocked ingredients. How do POS systems work in a way that allows for inventory control? With every new order, your POS calculates the amounts of every ingredient required to cook the ordered food based on your recipes and portion sizes and deducts it from your inventory.
Around 40% of the world's food waste comes from restaurants, and simply tracking and managing your inventory can help reduce your impact. Many POS systems allow you to track everything in your stock for more accurate ordering.  
If you track all your inventory in your POS system, you'll know how much products you should have used for every period under review. By doing regular inventory checks, you'll see how your expected numbers differ from the actual and take measures to minimize spoilage, waste, and other problems. You can set up low stock alerts in your POS to get notifications when your products run low and purchase products on time. But through inventory management, you can also track when the prices of items go up. It's a great way to spot seasonal pricing trend changes and to identify when it's time to find a new vendor.
13. Join your POS with accounting software
One of the benefits of points of sale systems that are more modern is that they usually integrate with popular accounting software solutions. Connectivity should be something to consider when researching different systems. 
Now you can have up-to-date and accurate figures for your accountant on sales and expenses at any time. Get rid of having to manually take data from a POS software and enter it into your accounting software. POS automatic data export can make this frustrating task trouble-free. Check if the POS you're going to buy can help you deliver your accounting information and use it for P&Ls, income statements, and tax purposes.
14. Grow your business
Opening a restaurant is often just the start. Having multiple locations or creating franchise opportunities is the natural next step for most owners. Operating as a chain or franchise with one franchise POS account brings your management tools for all of your locations into one place.  
Yet again, sales for the Restaurant industry should increase by 4%, with sales projected to hit $889 billion before the end of 2020.  
How do you set up a POS system for a restaurant with many locations? It's a stumbling block that many owners face if they don't think about their business growth in advance when choosing a POS for their first location. But if your POS has the master account functionality for managing a multi-unit restaurant operations, it isn't any more complicated than setting up a POS in your first restaurant. 
If you want to launch your future locations flawlessly, check how easy it is in your POS to set up a master account, manage menu, inventory, and customer base for multiple units and track business performance in all locations. 
15. Unify a POS with a hotel property management system
Poster POS and Cloudbeds is one example of a POS and PMS working together seamlessly. Such integration is a huge benefit if you run a hotel or hostel that has an in-house restaurant and improves both your operations and guest experience. It gives guests the ability to choose whether to pay for their dinner at the restaurant or ask your employees to invoice their room so that they can pay at checkout. 
Hospitality brands are changing. No longer are they giant establishments with an excess of 1,000 rooms and limited room service. Newer hotels are 50/50 for food and beverage to rooms, and guests expect a seamless experience between dining, shopping, and staying overnight.
Hopefully, this article gives a detailed response to the question: 'What does POS mean in restaurants?' It's a payment processing technology, restaurant management tool, and a must-have for growing your business. Investing in a cloud-based POS system will provide access to growth and development opportunities while helping you expand your passion for food and your guests. Take the time to review POS systems that would serve your business needs best and then commit to a solution that can impact your guests, staff, and profits. At Poster, we host a Restaurant Technology Hackathon once a year. This helps us connect software developers with restaurant owners to create solutions addressing real-life needs of food service businesses.