SEO for a Restaurant Website: 5 Easy Tips for Explosive Growth
7 August
•
13 minute read
•
387 views
Why are some restaurants and other eateries more popular than others? The answer to this question doesn't lie in just having fantastic chefs and a properly chosen convenient location. Today, the popularity of restaurants largely depends on their SEO indicators and visibility in search engines. And although Collaborator will not be able to evaluate the professional qualities of your cook, it will help your bar or cafeteria to become known on the Internet.
Below, we will tell you:
Reasons why modern restaurants should work on SEO indicators;

SEO tips for a successful promotion with examples;

How to check progress and why it is worth doing.
Read to the end and learn how you can increase the profit of your establishment monthly. 
What is SEO for Restaurant
"Restaurant SEO," in simple terms, is improving the quality indicators of your restaurant's website to obtain top positions in the search results. These actions help users find the site of your establishment more often than competitor ones. Also, it should be remembered that the food delivery market continues to grow, and for a restaurant, taking out food is not an innovation but what helps to get over-profit.
And before moving on to SEO optimization tips, let's discuss in detail the benefits your business will receive.
Why Do Restaurants Need SEO?
The Internet provides an opportunity to influence the opinions of millions of people. And now, we will prove it to you: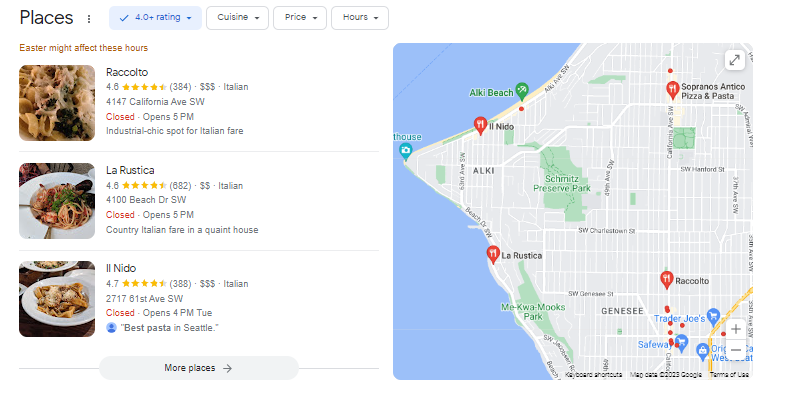 Look at the picture, and you will see that people who wanted to try pasta in Seattle made a search on Google. Google, in a split second, "recommended" restaurants that worked in advance on their SEO indicators. Surely, it also takes into account users' reviews, the overall rating of a business, and so on. Now imagine that you own a little Italian restaurant where the best chef makes the best pasta, but you also need a high-ranked website to attract potential clients. Otherwise, millions of people will not know about your restaurant and pass by it.
But if it is quite the opposite (you have created a user-friendly site and stuck to your promotion strategy), users can see that your establishment is open and can come to try dishes or order food online with home delivery. And it helps you pay off your business even faster... You'll agree it's better, won't you?!
And now, let's move on to the specific benefits of using Food SEO. 
What are the Benefits of SEO for Your Food Business
We're certain you've heard about the importance of creating a unique strategy to promote your website. Sticking to it will provide you with at least five significant benefits.
Increase the position in Google results. For several years now, statistics show that Position#1 in Google searches gets 27.5% of the total clicks. This number is 1.5 times higher than #2 and 10 times higher than #8-10.

Customer loyalty boost. Because according to EarthWeb research, 5+ billion people use the internet daily. Your site should always be in the view of customers, and SEO restaurant will help you with this.

You'll make the best website for your clients. SEO is not only about first place but also about taking care of users. Search engines analyze the behavior of users on sites and valuable resources that provide customers with the best conditions.

Your restaurant is becoming more competitive. If you work on indicators, customers will likely choose you over your competition.

These four benefits lead you to the fifth and most important — a steady profit increase. The more users find your website online, the more they book tables, order food, read customer reviews, and recommend the restaurant to their friends.
But how exactly to get them? Below we do not reveal secrets but give you the already-proven technology. Read below and learn about life hacks that have helped restaurants get more customers and increase profits.
How to do SEO for Restaurants: TOP 5 Recommendations
The text below is more than tips or best SEO practices for the restaurant. We will give you working promotion tactics to combine successfully in your strategy.
Tip 1. Improve the Mobile Version
According to Gitnux research, about 3 billion users use smartphones to surf the Internet. And this is almost 60% of those who go online worldwide. That means that 6 out of 10 people who walk by you or ride the subway with you are your potential clients. And they'll be looking for your restaurant on their smartphone. We think you understand what we mean :)
In 2015, Google announced an update to"encourage" sites to work on site "mobile-friendliness." That means the restaurant owners can now "kill two birds with one stone." Not only do you care about your customers, but you also improve your site rankings in the SERPs.
Pizzeria Vetri is a prime example of the increased conversion of the restaurant website after developing a mobile-friendly site. According to their SEO specialists, just this one step helped to increase the number of customers and orders by 24%. 
To determine how mobile-friendly your website is, you can use the Responsinator online platform or Mobile-Friendly Google Service. 

If you see such a report, then Google already highlights your site as convenient for smartphone users.
If you want to make a mobile-friendly site, we recommend paying special attention to:
fonts and pictures: the content on the site should be easy to read so that the user can find the right category in no time;

the size of pop-up windows: make sure that banners do not interfere with users and help with a decision;

site menu: it should be well-structured and easy to navigate.
You do not need to create a new site to handle these elements. But you will have to introduce an adaptive layout.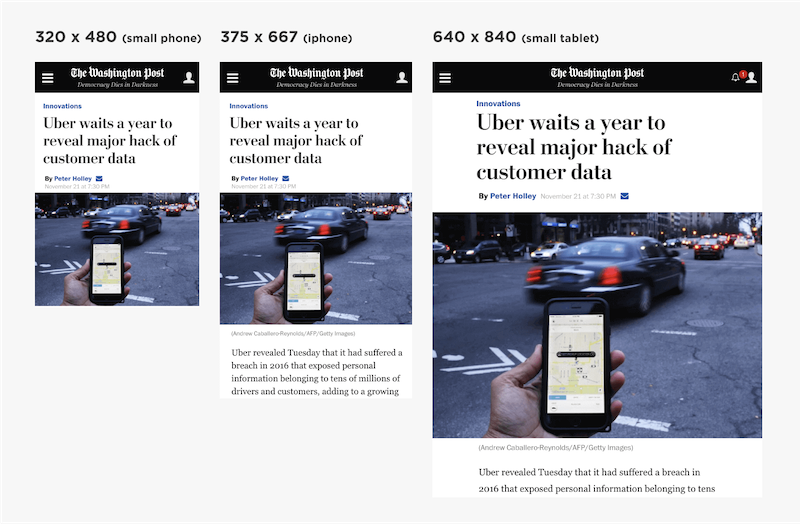 Poster QR comprehensive website builder
Poster QR is a simple website builder helping you to create a comprehensive and visually appealing website without any tech expertise or extra staff. Friendly interface, lots of customization, online card payments, Google Pay, Apple Pay, SEO configuration and so on.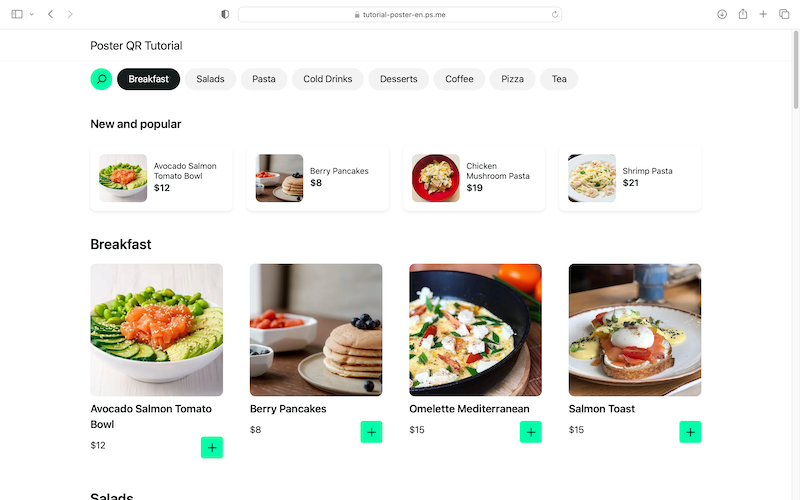 Customization options. You can upload your logo, select appealing photos, and choose a color scheme that matches your restaurant's brand. You can customize which items from your menu you want to display on your website, add a description, or change the price.
Marketing features. You can highlight special offers, promotions, and popular menu items on your website, engaging customers to explore and interact with your offers.
Modifiers. Poster QR's modifiers enable you to sell dish add-ons like dish sizes, sauces, toppings, and so on. Thus, increasing the average receipt value.
Online card payments. Accept payments on your Poster QR website. Secured transactions via Stripe, Google Pay or Apple Pay.
Custom webpages. Such pages can provide important information such as contact details, the story behind your business, and details about your food delivery service. This approach ensures that customers have all the necessary information at their fingertips.
SEO-tools. Before displaying search results, Google indexes webpages appearing there. Poster QR websites are indexed by Google. 
And you can also create titles and meta descriptions of your products, add keywords to the product descriptions, and change the default SEO title in your Poster QR back office to attract more customers.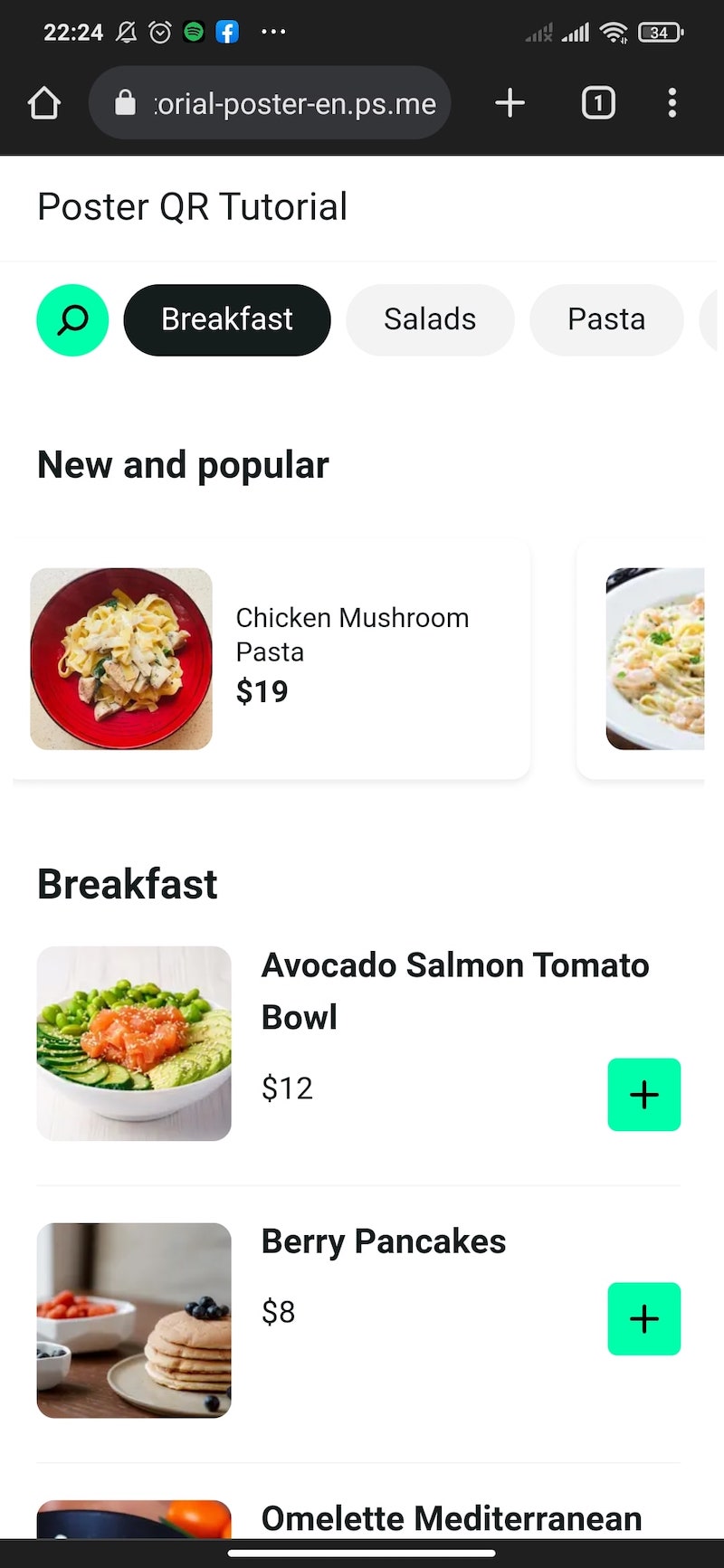 In conclusion, Poster QR is a powerful tool for building restaurant websites. User-friendly interface, customization, and menu management features, along with SEO optimization, are making it a neat service for your restaurant's online presence. With Poster QR, you can create a comprehensive website that showcases your restaurant, accepts orders and engages customers.
Tip 2. Work on Local SEO
When we talk about introducing local SEO, we mean optimizing your website with Geo restaurant keywords. We are sure you have repeatedly seen such key phrases: "Italian restaurant in Seattle" or "pizzeria in West Seattle," etc. You should also post information about your bar or café in the relevant directories, like Google My Business, Trip Advisor, and others.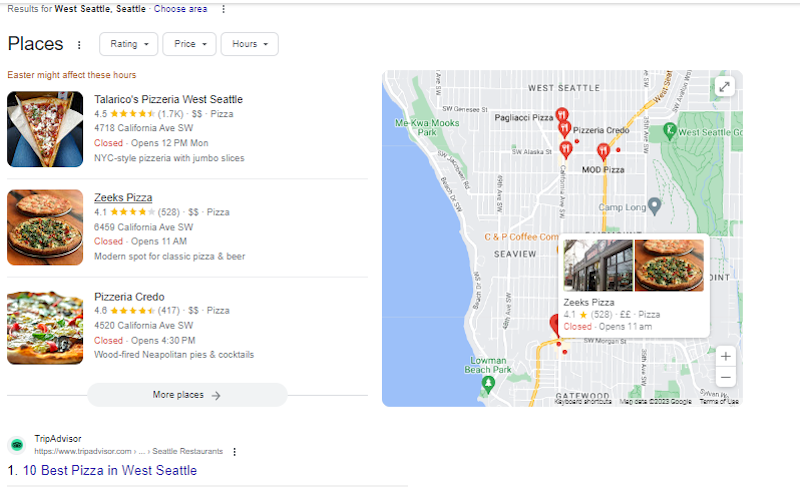 The advantage of this SEO tip is that you "attach" your restaurant to a specific area of your locality. When users look for a restaurant in your area, they will definitely see the link to your site in the catalog.
We also recommend that you not limit yourself to directories, but also place a link to the site on Facebook, Instagram, and other social networks.
In its Blog, MOZ confirms that by registering with Google My Business, Yelp, and other directories, you can increase the visibility of the site and its position in the ranking of search engines. And if you want to place your site in such directories faster and more conveniently, you can use MOZ Local. It dramatically simplifies the work due to the All-in-One approach.
Tip 3. Get Reviews on Review Sites
Many restaurant owners avoid using this life hack because getting positive customer feedback is only sometimes possible. And competitors can underestimate ratings, undermining the bar's authority online. But you really need to use review sites.
4 main reasons to use sites with reviews:
Increase the trust of search engines and customers;
Improve reference mass;

Increase the number of site visitors;

Increase in the number of new users. 
And an additional advantage is the increased rating of your restaurant in the catalogs of reviews. It will help your site rank better and increase customer loyalty.
A great example of the work of review websites showed Digitalthirdcoast on its Blog. SEO experts have registered The Gray Plume restaurant website on Google My Business, and Yelp, as well as introduced location-based keywords. What benefits the restaurant got:
the number of online orders increased by 60%;

by getting to the first page of the search results, the flow of users increased by 700+%;

the number of targeted actions on the site increased by 300%.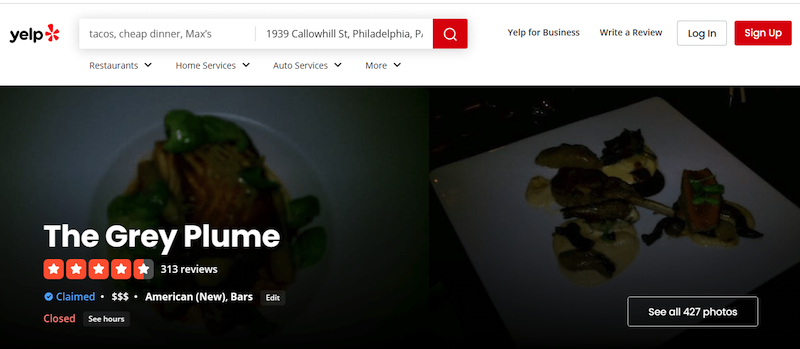 Here are three ways to get more feedback from customers:
reward customers for each review: for example, you can offer a discount or give away;

send emails to clients to get their feedback and place the most vivid comments in the catalogs;

make "competitions" between commentators and place the most valuable in their social network.
Tip 4. Create a Blog
According to Demand Metric, 90% of users interact with posts on social networks and read blog sites. For bars and cafeterias, this will be a great way to not only increase customer loyalty but also improve their SEO performance for restaurant searches.
You can write about your values, missions, novelties, and promotions. The main thing is to be on the same page with users and find common interests. One of the most famous examples of a successful restaurant blog is Pinch of Yum. They began actively writing about the best recipes and dishes in 2016. In just a few years, their organic traffic exceeded 1 million users per month.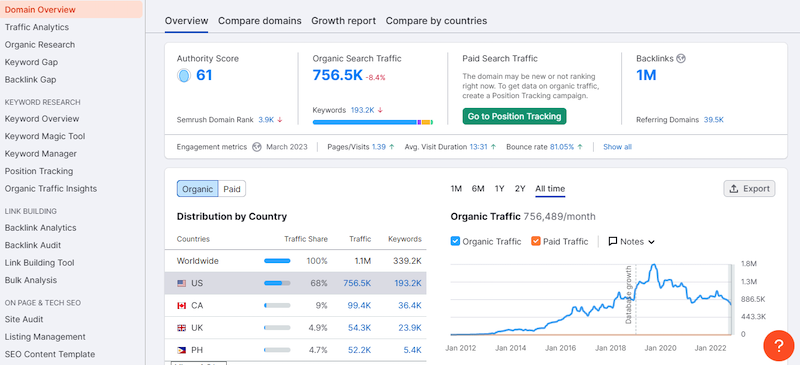 If you find it challenging to start a restaurant blog, you can use ChatGPT. It will give you ideas on where to start. Then you will find your unique style and begin to attract more customers.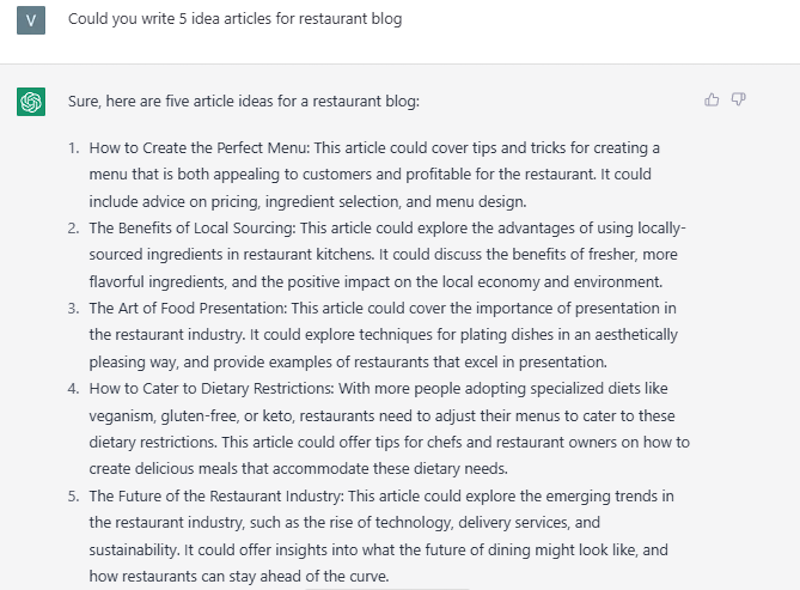 Tip 5. Get Backlinks
If you already receive links from catalogs such as Google My Business or a place on Foursquare then you already get backlinks and improve your restaurant SEO. But this is just a small part of the references you can get. First, let's find out why backlinks are important. When other websites link to the page of your website, Google recognizes your website as a trusted resource and will start ranking it higher in the SERPs. In other words, backlinks improve SEO metrics of a site, therefore, increasing its ranking on Google, Bing, and other search engines. So how to gain backlinks? Here are the examples of the best link building tactics that will assist in boosting your website in the SERPs: 
1. Get listed among the best restaurants in your geographical location. This is a good method to get a quality backlink and attract the attention of potential clients. To do that, you should enter a search query "best restaurants in "geographical location"". For instance, we chose Las Vegas.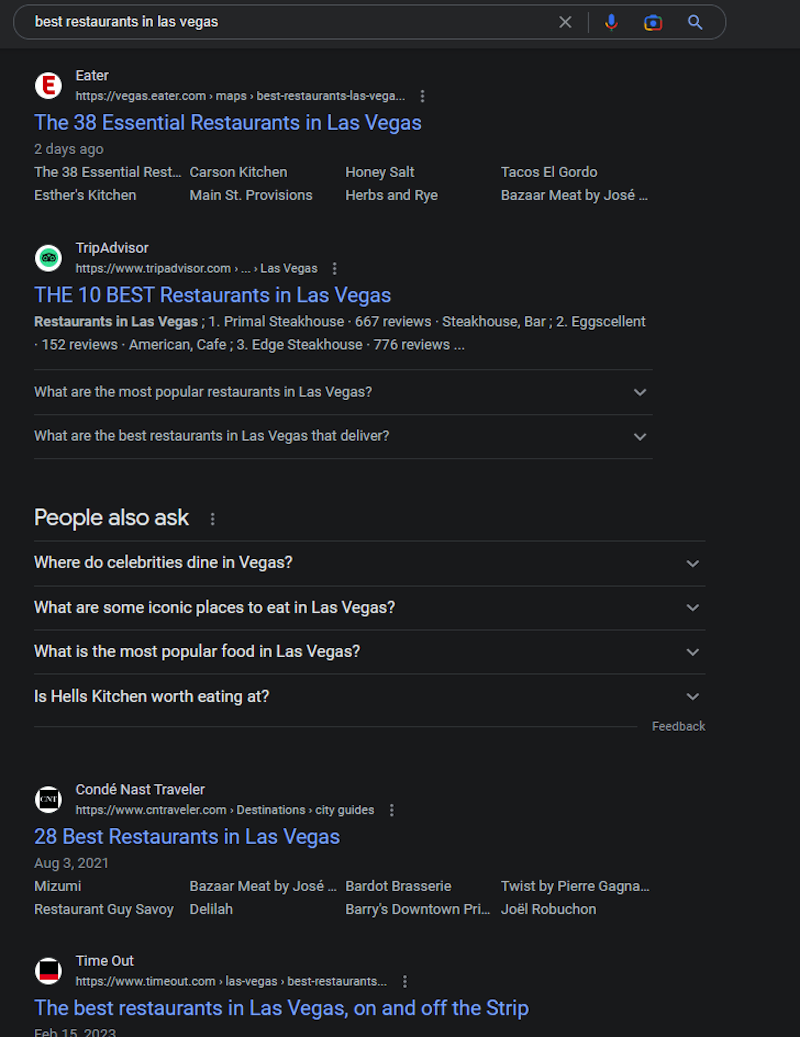 The main goal is to get into the Top-10 articles for this query. The algorithm is as follows: you collect all articles and the contact information of the owners of the website where they are published (editors, SEO specialists, or marketers), write outreach emails, and negotiate the placement of your restaurant in this collection. 
2. Exchange links with websites in your niche. How to find such a website? As an example, you can analyze the backlinks of your competitors and use search operators.
The search operator "keyword + inurl:blog" will help you find relevant blog posts in which you can place links to your website. Now, let's see how to analyze competitor backlinks in Ahrefs. We took the first website from the list of the best restaurants in Las Vegas.
Click on "Site Explorer" in Ahrefs  → Paste the website URL  → Click "Backlinks" (see the screenshot below).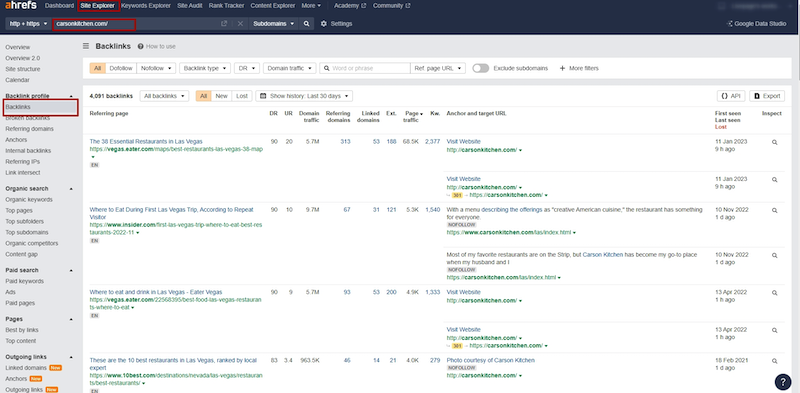 You can export all backlinks into an Excel file from Ahrefs and then continue working with it. The algorithm is the same as that of the previously-mentioned tactic. When it comes to outreach, you need to be more creative to get positive responses to your emails. You can use email templates or ask ChatGPT to assist you in writing outreach emails. The AI-language model works well for this task.
3. Promote your website with guest posting. Guest posts are a great opportunity to attract direct relevant traffic to the website, promote your restaurant or cafe and get a high-quality link. There are two methods of guest posting. Let's explore them in detail.  
First method. You can find platforms for guest posting manually. This is when, again, you should analyze your competitors or use search operators. The search operator "keyword + inurl:write for us" can help you find blogs that publish guest posts from websites in the restaurant niche. The following steps are collecting contact information and outreach. What you should keep in mind is that some blogs charge money for article publication, but you can get quality backlinks for free.
Second method. You can use specialized services for PR and link building such as Collaborator. This platform connects advertisers and publishers to help businesses grow. You should just sign up for Collaborator, choose the relevant platform of the catalog, and order the publication of your guest post in a few clicks. It is always a good idea to place a press release with a catchy title in local media. By doing so, you will kill two birds with one stone: attract clients to your establishment and increase the trust flow of your resource. If you have no idea what to write about, ChatGPT can generate attention-grabbing titles, build a contact plan for your press release, and more. While it won't do all the work for you, it can provide you with a great starting point. By using content marketplaces, you will save lots of time and effort. To know how to do it effectively, check out an article on buy backlinks. 
How to analyze results
Here are three reasons why you should analyze SEO results:
It helps you determine whether your strategy is effective or not. This information will assist you in understanding what you need to add or change to achieve better results.

You can monitor the strengths and weaknesses that need to be addressed.
What indicators do you pay attention to analyze the SEO promotion of your site? Let's discuss the main of them:
Ranking by keywords. This metric shows how high you are in SERPs for these or those keywords. You can track in real-time with tools such as SERanking and monitor with Ahrefs. Let's take the website of the restaurant we have already analyzed for backlinks as an example. 
Click on "Site Explorer" in Ahrefs  → Paste the website URL  → Click "Organic Keywords"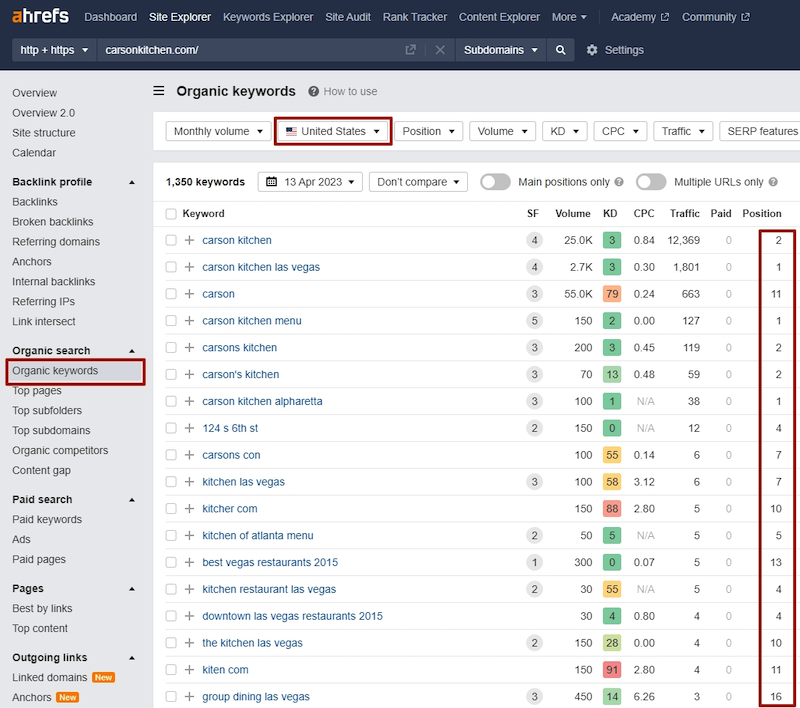 You should pay attention to the country you are ranking for. For instance, if you are better ranked by keywords in Canada, but your restaurant is located in France, you should work on local links.  
By analyzing keywords, you can identify which keywords require stronger backlinks and which ones you lack in your content. The latter can be inserted in the existing website content to improve your chances of being found by potential clients.  
2. Click Through Rate (CTR). This metric can be seen in Google Search Console under the "Search Results" tab. Then you should select the CTR checkbox and go to the "Pages" tab to see CTR for each page of your website. If you notice low rates, you should work on meta descriptions and titles of your website's pages.  
3. DR of a site. Track the search engines' trust rating of your website. This metric is determined on a 100-point scale. If the DR of your site doesn't change for a long time, it might be a good idea to create new content and backlinks. However, keep in mind that this metric doesn't change very quickly.   

4. Backlinks. As we have mentioned above, backlinks are highly valued by Google. According to SemRush research, the number of backlinks that lead to pages on the first position is 2.2 times bigger than the number of backlinks that lead to pages on the second. If the number of backlinks doesn't increase, you should consider improving your link building strategy and the quality of your content to attract more resources to link to you. 
5. Page Speed. The speed of page loading can be checked with PageSpeed Insights. It is an important factor that impacts numerous other metrics. Firstly, it is one of the indicators that search engines consider when ranking a site. Secondly, nobody likes when a web page is loading too long. As Google's studies on site speed confirm, a bounce rate is low in case of quick loading site speed. We can summarize that the longer your web page takes to load, the higher the chance of the user leaving the site. If your page speed rating is lower than 90, you should discuss this issue with the development team. 
Conclusion
The internet and search engines have permanently changed the restaurant business. Today, in order to generate stable profits, you need to work on SEO indicators daily. This is the only way to attract more customers and revenue.
Here are 5 restaurant tips that will help your website consistently rank higher in search results:
Use local SEO to target users near your establishment;

Be mobile-friendly;

Get more restaurant links;

Maintain a blog;

Use SEO platforms to analyze results.
This way, you will be able to consistently increase restaurant profits and be stronger than competitors.
Sign up for our newsletter
Useful tips, articles, webinars about the restaurant business
You're already subscribed!
Double-check the email address you have written
✔ Thanks! You're now subscribed to our blog updates
Sign up for our newsletter
Useful tips, articles, webinars about the restaurant business
You're already subscribed!
Double-check the email address you have written
✔ Thanks! You're now subscribed to our blog updates