Opening, owning and running a bakery day-in and day-out is about much more than offering tasty treats. Baking is a creative outlet for many, but running a bakery requires a hard skill set too. If you can take on the responsibility of directing and managing the business end, you'll creative side can start dreaming up any number of baked goods to sell.
Starting a bakery business is possible. You can learn how to get your doors open, and how to run a bakery over a few weeks and start thriving. Bakery business is not so different from its café, juice bar, or even restaurant counterparts.
What do you need to know before opening a bakery?
We asked AJ Brown and Kirsten Brown, co-founders and owners of KNEAD Bakehouse and Provisions to share their experience in starting their bakery business. AJ Brown's passion for food and fermentation, with bread being the perfect marriage between the two, is what kick started his dream of opening KNEAD. First he he worked at several restaurants while simultaneously baking breads and pastries for the area farmers markets. In 2017, AJ decided that he had got enough experience in baking, adjusting conditions, tinkering with production time, and testing ingredients to produce 'the best bread you've ever tasted,' and started his own business. 
'You have to be ready to take on all aspects of a business rather than just be passionate about baking. You need to be passionate about being an entrepreneur that happens to love being in the kitchen.' — AJ Brown
AJ's wife, Kirsten Brown was working a full time job in fashion, flipping a house, obtaining her real estate license, and giving birth to a baby girl, all while helping her husband to start KNEAD. In true 'make it happen' fashion, she had her hand in everything, aiming to make a difference through the food and experience guests have at KNEAD.
'I wish we knew that everything was going to take longer than expected. I guess this applies to most projects or pursuits, however, I think we could have planned better if we knew that we'd be pushing our opening out a few weeks. This is usually due to things out of your control like city permits and contractor schedules. Another thing we would have liked to know is that things will never be exactly the way you want them to be. We had so many projects that we delayed starting because we wanted them to be perfect. We have come to realize that you will always want to be growing, having new and ever-changing ideas, so perfection will never be reachable. It is about creating the best product and experience possible and giving yourself grace to be imperfect.' — Kirsten Brown
AJ Brown says that he follows a two-prong approach to cooking and business and attacks his work with both a technical prowess and artistic passion. Having studied Food-Science at Benedictine University and finished the culinary program at the Institut Paul Bocuse in Ecully, in France, AJ now draws from both his passion and his technical skills to cast vision and build systems that can help grow his business and bring his goals to fruition. 
'A common misbelief is that you have to work ridiculous hours. We have set up boundaries around our staff's work hours. They come in at 5am rather than 2am like most bakeries. We have set up great systems to make sure we protect our teams work life balance. As owner operators, it is very difficult to hold to these work-life balance boundaries, but we are proud we have them for our team.' — AJ Brown
Browns' say their strength lies within perceptiveness, a trait that lends itself well to hospitality. If you love making people feel included and welcomed, and use your warmth to set patrons at ease, you'll enjoy owning a bakery despite all the hurdles. However, owning any creative business has a clear division between necessary business skills and baking skills. While you probably already have a knack for creatively expressing yourself through pastries, cakes and more, there are a few other things to consider.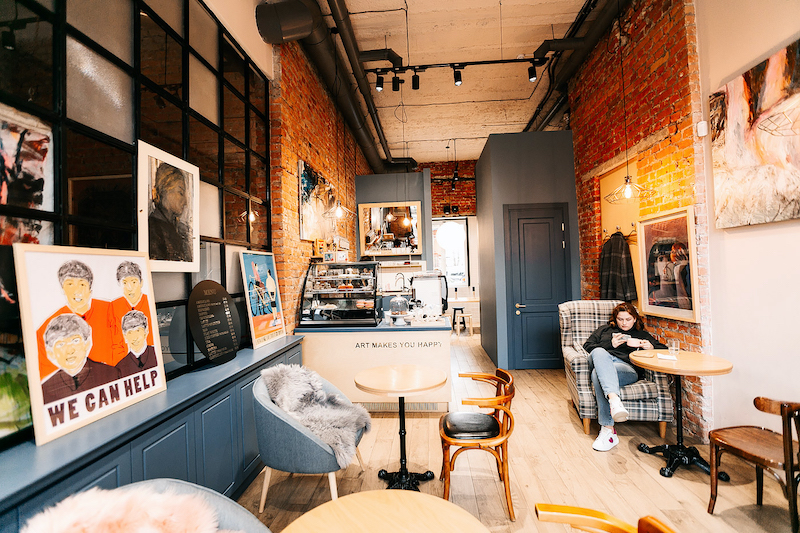 1. Consider different types of retail bakeries
Opening a bakery is on the list of top successful business ideas for small towns. Depending on the local trends and people's preferences you can choose among various types of retail bakeries. Some bakeries sit on the border of a café serving coffee and tea through the day. Then there are bakeries that primary focus on flour-based products including break and cakes.
You can find a massive variety when it comes to retail bakeries:
Bakery Café. Baked goods, morning treats, and coffee or tea.

Counter Service. Virtually baked products with no sitting or dining space.

Food Truck. A viral food trend that takes pastries to the streets.

Flour Based Bakeries. Showcased flour-based products only.

Nationality Specialty Bakery. Depending on your experience, and interest in diving into a specific nationality, there are many regions of the work with specialty bakeries.
Panaderias are found outside of Mexico and Spain, but all host a similar variety of pan dulce, conchas, and freshly made tortillas. French bakeries with crepes, puff pastry treats, and more are also popular worldwide.
Carefully choose your type of retail bakery as it will significantly impact your operations.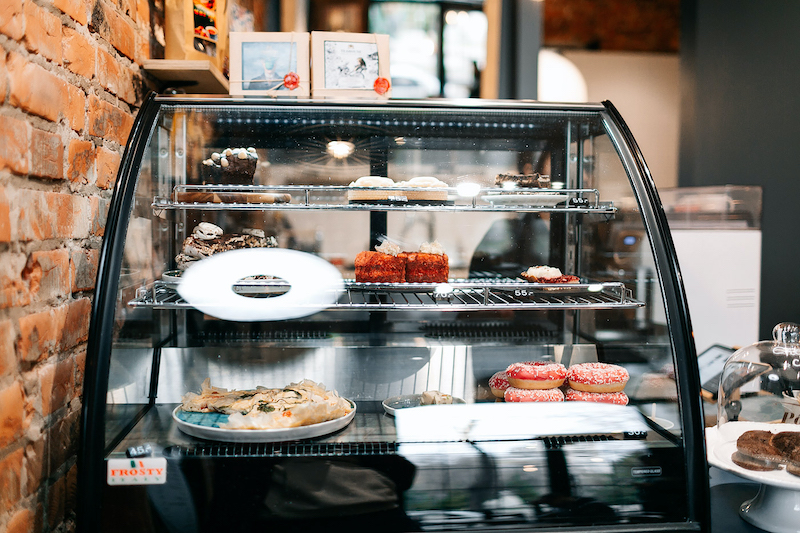 2. Research trending baked goods
As always recent trends will tell what is to come and that is helpful in staying ahead of trends and remaining popular. In the past few years we've seen these trends take over, for however short a time:
Black buns, doughnuts, and glazing
A halloween dream or a marketing scheme, black dough, is less than inviting but grabbing a lot of attention. Daring trend setters are using natural ingredients such as blueberries or opting for traditional food coloring to turn their treats black.
Pink chocolate
Better tasting that whipped frosting or hard candy toppings, pink chocolate is making the aesthetic of baked good delicious too. Pink chocolate is a fun way to change up traditional white chocolate on cakes, and even cooled chocolate forms.
Bakeries serving alcoholic desserts
Rum cake taken to new heights, bakers are serving pie with shots, cupcakes with cocktails and pouring hard liquor straight onto cakes. Be sure to acquire any appropriate license to serve alcohol in your establishment before bringing this trend to your area.
Comfort food flavor combinations
This trend came out of the bacon craze that struck a few years ago. Bacon wrapped maple bars brought a savory comfort food classic into pastries. Now you can find s'mores cakes and even chicken and waffle scones.  It's not just fun and delicious, these comfort food flavors are resurging bakers creativity.
Non-traditional fillings
What is a traditional filling when it comes to cakes or pies? Apples and frosting are taking a back seat. Innovative flavors such as Taro and Yuzu are coming to doughnuts. While, matcha and chia seed have made their way into the pie communities favorites.
"Unicorn" coloring
Unicorn coloring is the gentle swirling or stacking of a pastel rainbow. Add some edible glitter, and you have unicorn magic on anything. Unicorn coloring is hardly ever as simple as frosting. This type of coloring often fits right into the batter of a cake or other baked good.
Floral flavoring
Floral flavoring has come in and out of popularity through centuries. While well-known flavors such as vanilla seem to stick around, others such as chamomile and lavender gain some attention every few years. As a rotating trend you should definitely know how to work with fusing flavors such as lavender, rose, and hibiscus.
Trendy bakeries don't have to coincide with the term "hipster" in fact most bakery trends are more fun than anything else. Opening a creative business should have some element of fun!
More trends are always sparking up, but we've seen many of these before, and they will surely rise again.
3. Learn how to start a bakery business
Getting down to business, you need to learn how to start a bakery. What is the first step? We suggest you to start with doing some research and creating a draft of your bakery business plan. It will be your unwavering guide to your ultimate goal. It will serve as a reminder of your original vision, and help you navigate the many challenges of starting a business. Your business plan should provide you with:
A clear-cut vision for your company.

A description of your goals and how you will achieve them.

An analysis of your marketplace – look at your competition!

Map out your management team and who will make major decisions.

Lay out all of your products, with prices, nutritional info, and cost-outs.

Create a marketing plan, how will people know you exist?

Create a sales plan, what will you charge and how will people pay?

Financial projections.

If you're looking for investors, a funding request.
A business plan will cover everything for your expected cash flow for the first three years to what social media platforms you'll use for marketing. It is vital for success. Ultimately, you are the best person to write it, although you may want to seek help for any financial projections.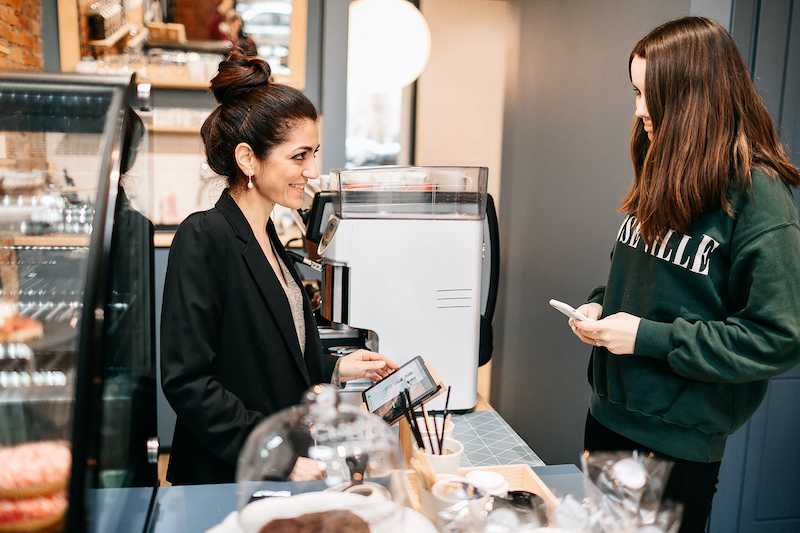 4. Choose the right POS software for your bakery
The days when sales and inventory in bakeries were handled on paper have gone since POS and inventory management systems became mature and available. Either you're opening an independent mom-and-pop bakery or a chain, you'll find a suitable bakery POS that'll ease your life. Even if you decide to make your bakery mobile, you can pick a food truck point of sale and manage your sales conveniently.
If you select a cloud solution, the basic set of POS equipment and the monthly subscription won't cost you a fortune. Just make sure it gives all the functions you need:
A slick app for cashiers, to speed up sales during peak hours.

An inventory management tool, to know at a glance what products you have in stock and how much dough and fillers you can make, and pastry you can bake.

Menu management, to automatically calculate quantities and costs of ingredients, preparations, and baked goods.

Marketing tools, to run discounts and bonus programs that will increase your bakery sales, without any additional software.

Statistic reports, to see best selling pastry, best-performing employees, peak sales days and hours, and more.
A careful selection of a POS system will help you reduce your startup costs and ensure flawless operation on your opening day and for years to come. 
5. Prepare documents for your bakery business registration
The next step makes your business a real entity with a tax number and everything. It's an exciting and unfortunately troublesome step.
You may have to obtain several permits and licenses, all of which require you apply, then wait for the approval. Depending on your state, and the structure of your business this could take a few weeks or months.
Learn more about the details of how to start a food service business to find out about some of the different permits. Possibly the best online resource to find out exactly what you need is the U.S. Small Business Administration (sba.gov), or License Suite (businesslicenses.com) sites.
Most bakeries in the United States will go through this process or something very similar depending on their state:
1.     Obtain a general business license through your city or county.
2.     Obtain an Employer Identification Number (irs.gov).
3.     Research cute bakery names, register your business name and publish it in the paper.
4.     Register with the U.S. Federal Government for a federal tax ID.
5.     Obtain a certificate of occupancy through your city.
6.     Contact the county or city Health Department for food service license, initial inspection, building health permit, and employee health permits.
7.     Obtain a fire department permit and schedule inspection with the Fire Marshall.
8.     Obtain a Seller's Permit through the city.
This process varies wildly from country to country. In Latin America, you must register as a persona moral, or a formal business entity. You would obtain a tax ID number through the Secretaría de Hacienda y Crédito Público and then you would jump right in to finding a location and opening your business.
However, in Asia, opening a bakery is not only challenging, but expensive. Ideally you'll have the financial means to support the business for about two years as investors can be hard to find. Then depending on your location you may have to negotiate lease renewal annually rather than every few years.
When you look at further specifics within Asia, Japan has the Ministry of Health which sets regulations into place that a bakery must prepare for before opening. You will need a business license in addition to certifications from the Ministry of Health. A struggle many face when opening a location in Asia is the need for special permits for any type of construction, like, those that you can receive on companyformationjapan.com.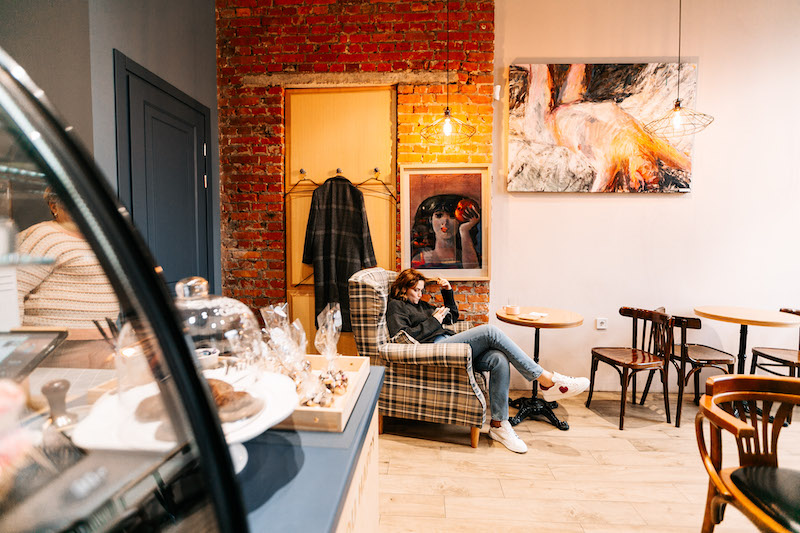 6. Find a perfect location for your bakery
Finding the right space for any business is tricky. For a bakery, there are a few limitations in place already. Most states still do not permit food service companies to manufacture food outside of a commercial kitchen. In other words, you probably can't start a home bakery and then serve food to paying customers. Keep these things in mind when choosing a location:
Premises need a waterproof floor

Requires air conditioning and ventilation

Separate room for storing dry products

Changing room

Available water supply

Access to gas

Cannot be located in a basement or semi-basement
After these initial considerations, you'll want to look at things like how close you are to competitors or high foot traffic.
7. Create an advertising plan for your bakery
Many businesses can start marketing their company for only a few dollars a month on social media. This is one of the things that you can fit into your downtime while waiting on permits and licenses. When you are setting up your social media accounts for your business, see them as your primary advertising platform.
Social media for businesses is the best way to market your new bakery. You can reach thousands of people in your area and garner a following before you even open your doors.
8. Estimate how much it can cost to open a bakery
After learning how to open a bakery, most people express concern over what it will cost. A bakery business requires a lot of startup costs when you factor in the equipment, materials, labor, and lease.
You'll be happy to know that pastry sales aren't seasonal highlights and most bakeries see consistent business all year round. You should find out while you're learning how to open your bakery, what sort of business your local bakeries have daily.
When evaluating startup costs, you should account for all of these categories, although the cost ranges vary depending on location. These figures represent the probably startup costs for a bakery opening in a large city in the United States.
Cost of opening a bakery
| | |
| --- | --- |
| Licenses | $1,000 – 2,000 |
| Public utilities | $1,000 – 2,000 |
| Marketing | Less than $1,000 |
| Lease | $1,000 – 3,500 |
| Furniture | $4,000 – 10,000 |
| Staff | $10,000 – 15,000 |
| Design and Repair | $5,000 – 30,000 |
| Unexpected Expenses | $5,000 |
| Equipment | $40,000 – 50,000 |
| Total | $67,500 appx. |
While equipment may feel like a one-time expense, you'll pay into a depreciation on the equipment monthly or quarterly. Things like payroll, utilities, and your lease will be recurring bills for the life of your business.
So how much investment is needed to start a bakery? Depending on your region and the location you've found bakery startup costs could be as little as $5,000 or into the hundreds of thousands of dollars. For example in India, you can open a bakery for about 1,500,000 Rupees. While in Australia the standard initial investment for a bakery is 200,000 Australian dollars.
Your building, location, and the equipment you need will determine how much you need to invest.  
If you find a building to lease for relatively low cost that comes with the lease of equipment your initial investment will be low. If you're buying a plot of land, putting up your own building in a popular area, and purchasing all-new equipment, your initial investment will be substantial.
Your region can significantly impact the cost of opening a bakery. It's important to plan for every possible cost, and when in doubt, assign a higher estimation. You'll want to research the price of electricity in your area and the opportunity for establishing relationships with vendors for initial supplies.
9. Calculate future labor costs in your bakery
Labor costs vary wildly by state and by what you want to pay your staff. Many bakery owners will run a "bare bones" staff until business picks up and then will fluctuate their payroll costs depending on the demands of the business.
Bakeries almost always need: two bakers, two cashiers, two maintenance staff.
This estimation is for a small bakery that rotates it's staff between shifts and bakes through the early morning hours allowing fermentation time through the afternoon. One of these bakers should be a senior technologist who sets quality standards. Your labor costs should reflect your staff needs and organizational structure.
You may want to take on administrative staff to help lessen your workload. Assign inventory and scheduling to a manager. In the least, hire an accountant. Small businesses fail every day because they preferred to do their accounting. Nearly 82% of businesses fail because they can't manage their cash flow.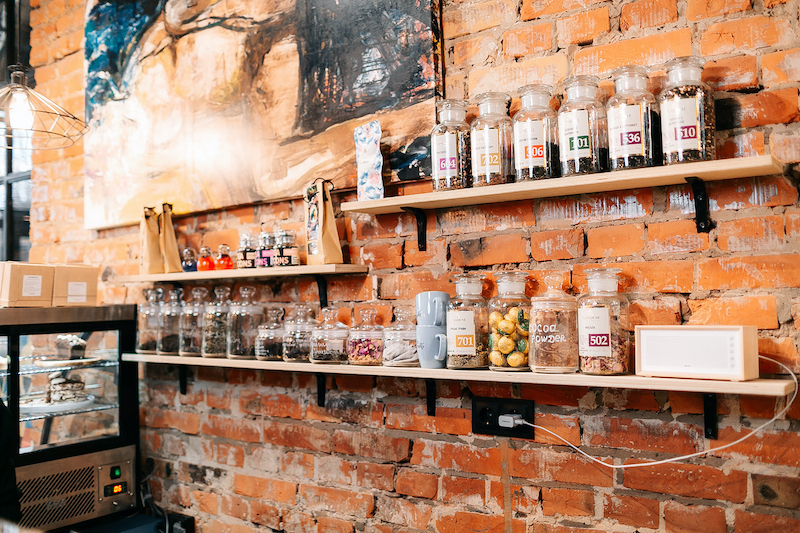 10. Purchase startup supplies for a bakery
What do you need to open a bakery? Startup supplies are absolutely vital. They are tools that should last you through at least the first few years of business. Part of this stock will include consumables, and this is an excellent time to start lasting relationships with vendors.
Basic equipment needs include:
Point of Sale system

Mixers

Proofing cabinets

Dough press

Dockers

Sheeters, rounders, and dividers

Bakery Ovens

Flour Sifters

Trays

Holding cabinets

Walk-in refrigerator and possibly freezer

Washing equipment including three-sink compartment

Climatic equipment

Work tables
When it comes to equipment, you can often find a restaurant warehouse for many things on this list. Typically, it's best to avoid second-hand or used equipment as a warranty can save your business.
Take the opportunity of opening a bakery business to invest in quality equipment. You should look for longevity and ensure that all of your equipment meets sanitary standards.
So far as consumables you will need to identify all the ingredients for each of your recipes. Then begin working with vendors on getting the best price. If you're a small bakery, don't worry about directly reaching out to flour mills.
Flour mills often work exclusively with commercial bakeries. Look for vendors that are more interested in delivering batches of what you regularly need at a good price. Remember that fresh ingredients determine the quality of the final product.
11. Consider leasing a space for a bakery
Finding a space to lease does not require a realtor or property management company. Although working with a commercial realtor can help you feel more secure in handing over a deposit or retainer on a space.
When you are leasing a space, which is completely normal for businesses both big and small, be sure that you can work with the landlord. If you find that the landlord is being overly critical of the leasing terms or generally seems impossible, move on to another possible location.
You want a space that will be yours for years to come and dealing with an over demanding person for years is not worth the stress or struggle.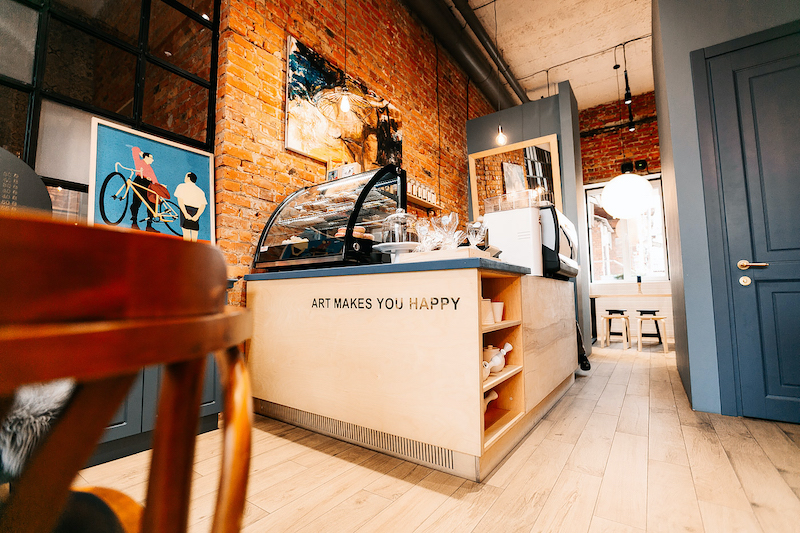 12. Research how soon should the bakery business pay off the original investment?
Ideally, a business should always pay off the original investment within three years of opening. Many restaurants and bakeries reach that point far ahead of time. When you are working on your cash flow projections, keep your numbers realistic.
13. Make financial plans and predictions for your bakery business
When working on your financial projections, estimations and predictions, it's always best to consult with an accountant or financial advisor. These experts can help you understand more about how your area impacts your cost estimates and sales predictions.
Creating any financial estimates will require a few hard set details such as pricing for your products. Decide what you will charge, and set goals for profits. Be sure to leave some accounting for unexpected financial problems so you have a cushion with your financial projections.
Consider the other factors at hand such as:
Is your economy growing, or shrinking?

How close are your nearest competitors?

How many potential customers are in your area?
It might seem hard to factor in these aspects, but it can be critical to achieving realistic numbers. Work with a CPA to help nail down a value on your demographic and the fluctuation of your local economy.
14. Find out the average time to "break even" for a new bakery
Ideally, your bakery should break even between a year and a year and a half. When you create realistic financial projections, you can set a break-even goal date and work on implementing actions to make that goal happen. Adding items such as coffee, tea, or a few sit-in tables can impact your break-even date.
That's all there is to it, put your skills to work and take a practical approach to make your dreams a reality. Get down to the city for your business registration and schedule your grand opening.
As a new bakery owner, you will be able to look forward to serving your community. Help the non-morning people through the early hours of their day. Produce outstanding bread and cakes that could perk up anyone's mood.
Do keep in mind that you will need a fair amount of patience through this process. Take the long opening process as a chance to fine tune your recipes and focus on your marketing.
It might seem like waiting between opening stages has a lot of down-time, but you can fill that time with useful actions that will serve you in the long term.
Good luck with your new business! Share with us in the comments below any insight you have in opening a new business, or bakery.