Restaurant business management requires serious effort—experienced restaurateurs know it well! You need to organize the workflow to make sure that nothing slips past you. Reliable POS system for restaurants is a perfect helper but without good marketing, any effort you make may receive less attention than expected. Of course, you can try to promote the restaurant offline, handing out flyers, telling passers-by about special offers, just relying on word of mouth. These old-school ways still work, but we live in the 21st century—the age of technology. Therefore, it's logical to pay more attention to the most influential side of modern marketing—social media. A picture is worth a thousand words, right? Let's look at five examples of successful restaurant marketing on social media and highlight their main points.
Smoke's Poutinerie Hollywood
Instagram: @smokeshollywood
Facebook: @SmokesPoutinerieHollywood
Create a location and link all social media together
We've already written on our blog about restaurant Instagram marketing, but you have to remember that an Instagram account must be linked to other social networks. Let's use as an example the Facebook page of Smoke's Poutinerie Hollywood restaurant. They created a specific location which is tied to a map and added it to the profile on Instagram. This helps customers find the location of your restaurant faster, use your geotag on their publications and share it with their friends.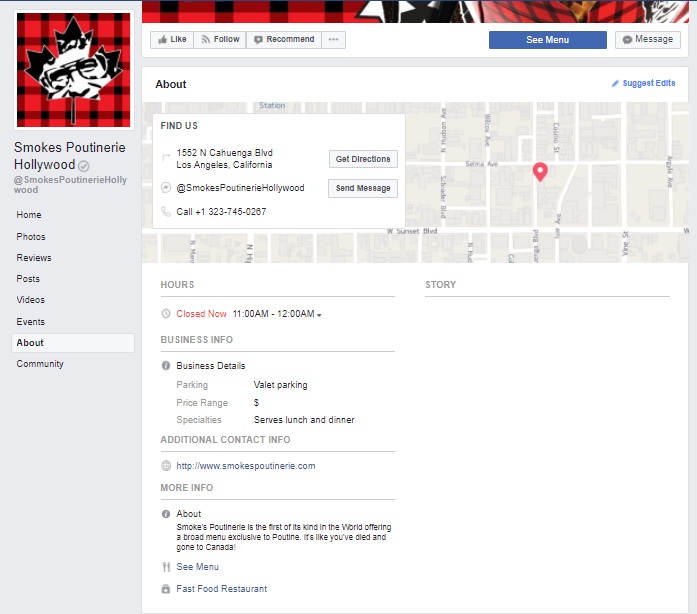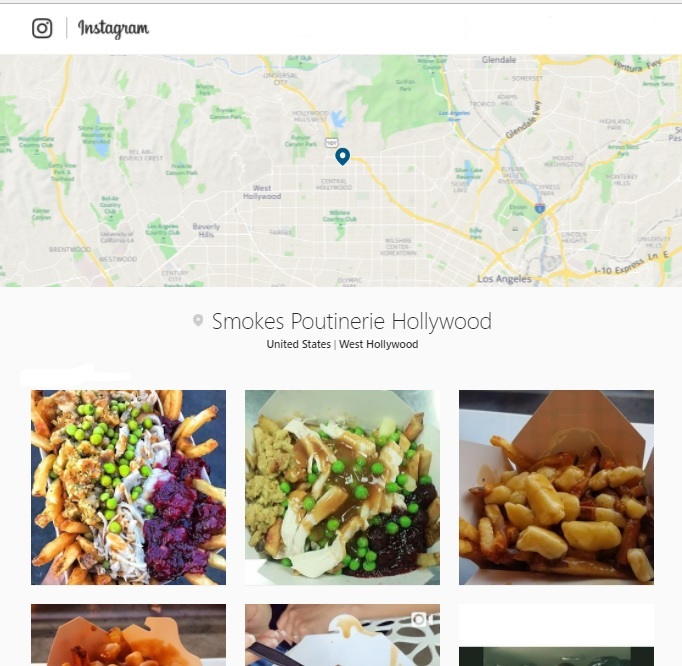 Collaborate with large public social media accounts
Another appealing way to be seen by potential customers is to get mentioned on other popular social network accounts. For example, we see that Smoke's Poutinerie Hollywood is referred to two huge food blogs with a formidable number of subscribers (INSIDER food—1.5 million followers, Los Angeles Eats—465k followers).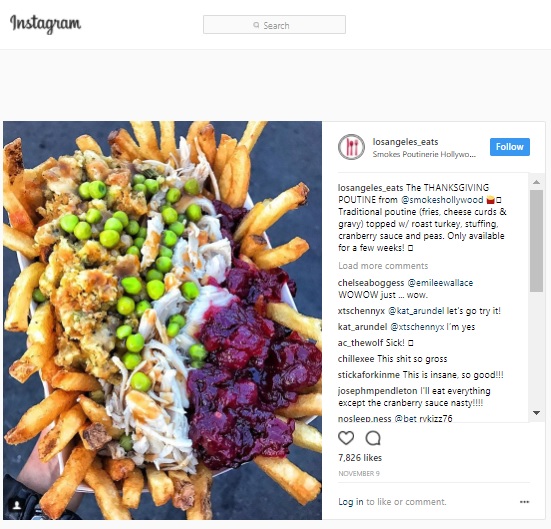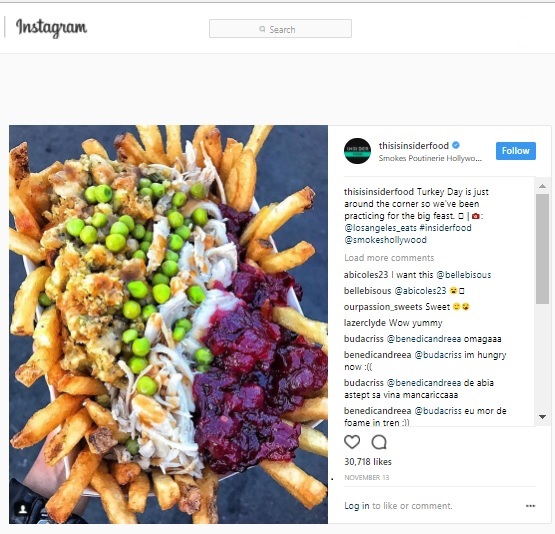 Search through the public pages, check their attendance, number of followers, likes, and comments, and choose one or more that are suitable for advertising. Ideally, the concept looks like this: the audience sees your post, follows the link to your account and places an order. Of course, this algorithm is not going to work 100%, but recognition of your restaurant will definitely be improved.

In addition to large public social media accounts, you may interact with popular bloggers and local people of substance. Smoke's Poutinerie Hollywood did this very unobtrusively, by tagging social media influencers on an Instagram photo. This way of using social media restaurant marketing is targeted on the desire of people to be trendy and visit the same places as folk who are popular.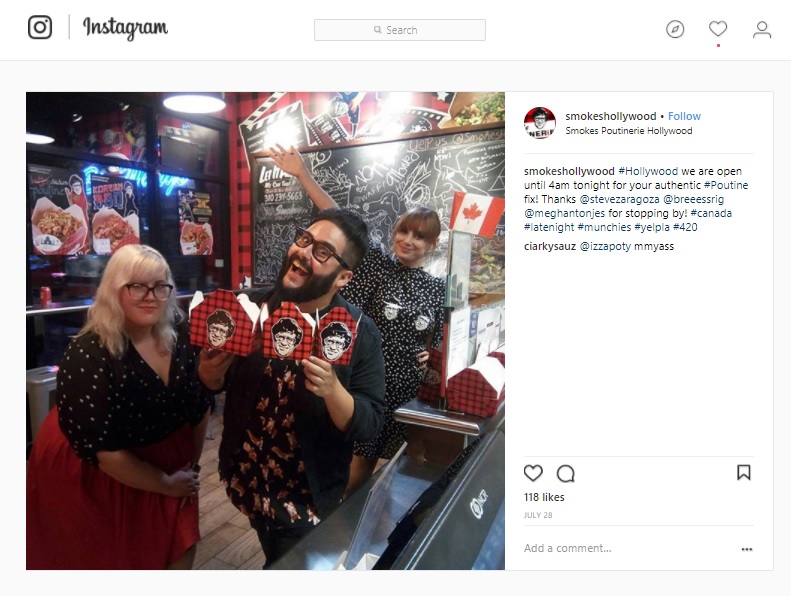 Communicate with your customers

Another weighty advantage of social networking is quick feedback from your audience. Regardless of whether you receive negative or positive feedback, always respond to your customers for comments.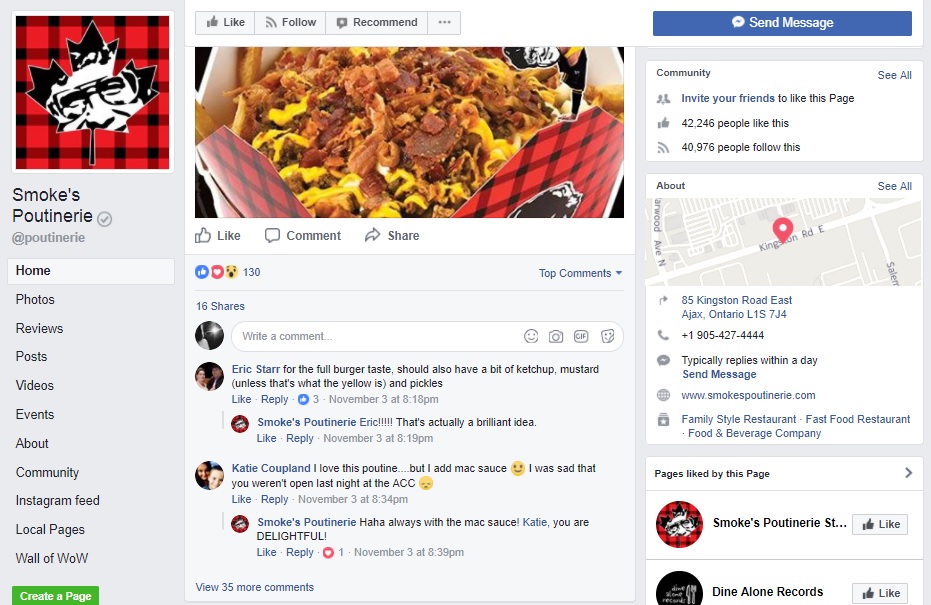 By Chloe
Instagram: @eatbychloe
Facebook: @eatbychloe
Provide quality content on your social media
We live in the Instagram age, and many people, before they start eating, take pictures of food. Does this sound familiar to you? We are sure it must. Offer catchy and aesthetically pleasing content to existing and future restaurant guests. Some restaurateurs even use the services of branding agencies, employing entire creative teams to make dishes from their menu as photogenic as possible. This applies when you have completely run out of ideas or if you are serious about building your concept around social media. By sorting out the aesthetic component of your place on social networks, you can save significantly on marketing. Your restaurant and your customers become your own marketing. But don't forget about the quality of the food you serve, otherwise you run the risk of having "one-off" customers who came because of a beautiful picture, but weren't satisfied with the taste. Combining quality and beauty is the key to your success. The New York Vegetarian restaurant By Chloe is an excellent example of an instagrammable concept, aimed at their attractiveness on Instagram. They construct the full cycle of marketing from visualization of the future restaurant to the actual dish.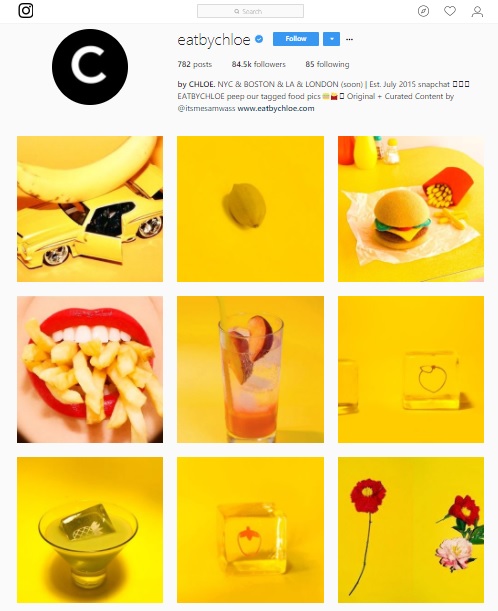 Cold Stone
Instagram: @coldstone
Facebook: @coldstonecreamery
Support charities
Charity will never go unnoticed. Here you kill two birds with one stone—doing a good thing for the community and increasing the attractiveness of your brand's reputation. If you tell your clients that you are giving a certain percentage of revenue to charity, many people will want to participate. Nothing difficult has been done, but a customer has the enjoyable feeling that he/she did something noble. A brand that arranges offers like this garners trust and customer loyalty. This is how Cold Stone used their social media. For a small donation of $1 to the Keith Haring Foundation at one of the local Cold Stone Creamery stores, customers receive an iconic Keith Haring sticker that will remind them of their good deed.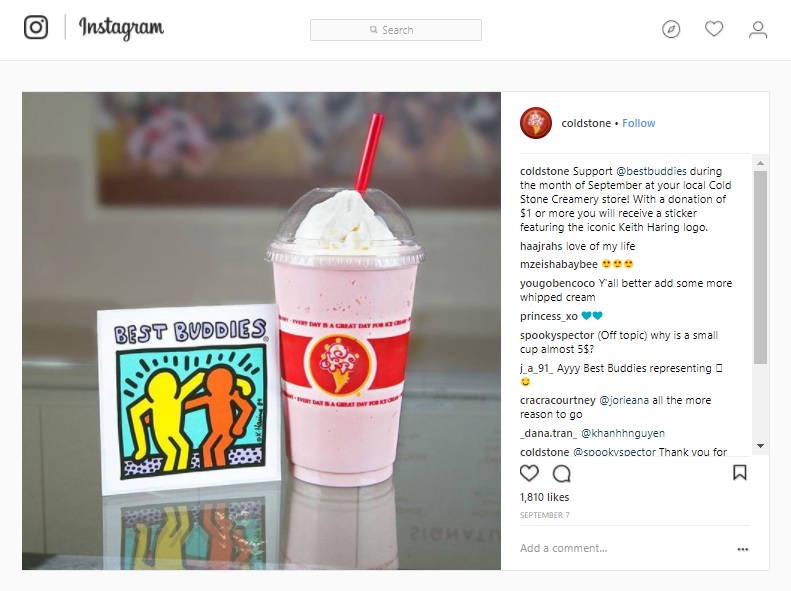 Interact with your customers content

Another simple but effective way to attract the attention of your audience is to interact with their content. You can scroll the hashtag (if you have one) or geotag results, pick the picture you think fits your concept and then repost it. But first, make sure the person whose picture you want to use is totally in agreement. This way you show the importance of your guests and gratitude for the fact that they choose your place. Also, tag the picture owners and your post will be visible in their profiles.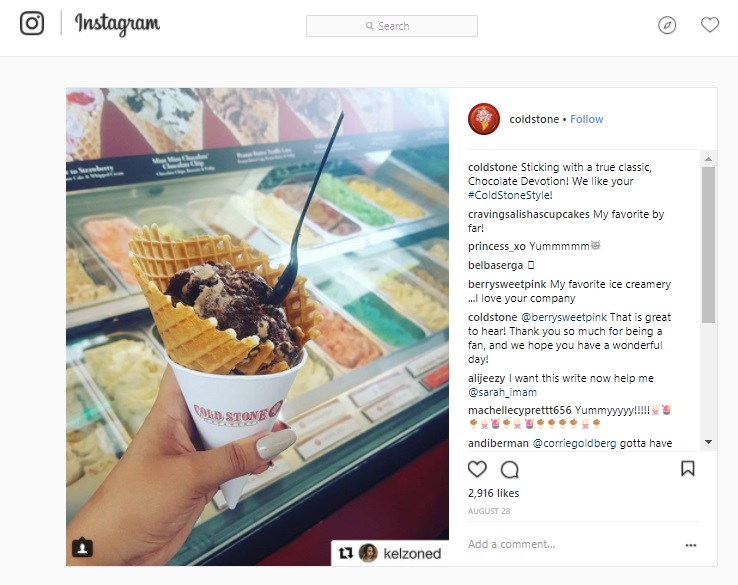 Encourage your clients with new promotions

Get the maximum benefit out of your social networks. By scrolling news on Facebook, Twitter or Instagram the chance that a future customer will find out about your special offers is much higher. Encourage your clients with new promotions, gift cards, and promo codes. This approach usually helps to increase attendance at the restaurant and improves customer loyalty.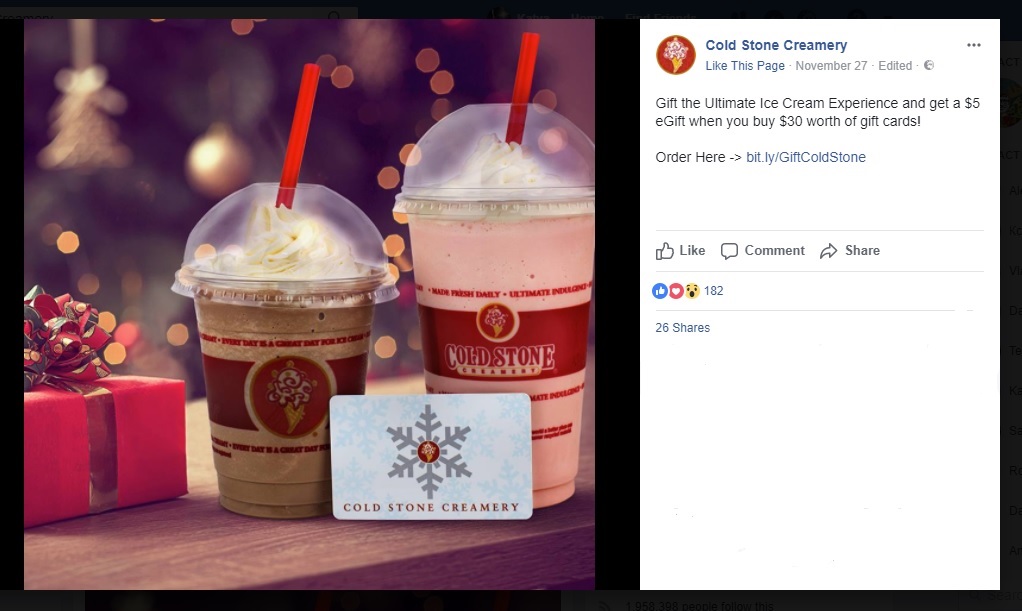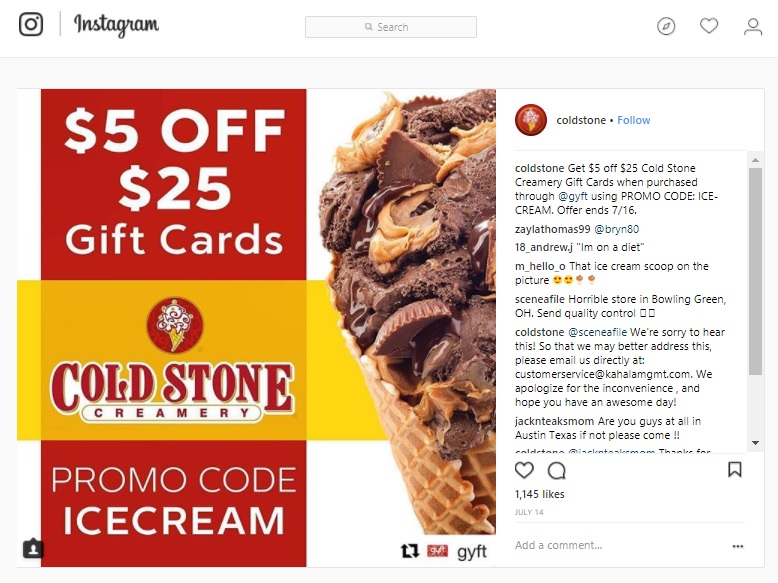 SweetGreen
Instagram: @sweetgreen
Facebook: @sweetgreen
Twitter:@sweetgreen
Make short quality videos
To acquire thousands of subscribers takes time and perseverance. But the quality of Instagram is not determined only by thousands of likes. Followers are always happy to share catchy content with each other, so experiment with your style and do what you like. Make short, quality videos, such as a video-announcement of an upcoming meeting with an invited chef, as fast, casual restaurant Sweet Green did. Try to diversify content and make it more attractive to your audience.
Keep your customers informed
Tell your followers about important restaurant news, seasonal dishes, change of opening hours, etc. For example, Sweet Green made a post about autumn dishes on their Twitter account and pinned it above the other posts, highlighting its importance. Followers will always be aware of the latest news, and special offers won't get lost in the information flow.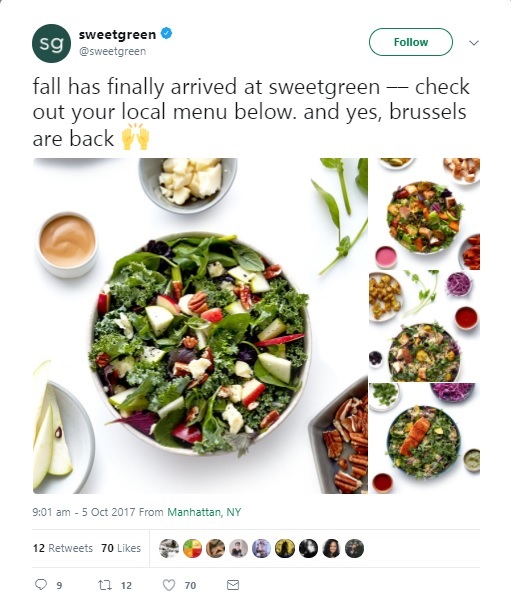 Use Facebook events

You can create events on Facebook and invite people to meet you outside of social media. The event could be available to all users or just have a limited number of invited participants. It depends on what type of meeting you want to hold. Also, you can track subscriber reactions and roughly imagine how many people will be at the meeting. Users can mark if they're going, "maybe" going, or not going. The event will appear on their page, which means more people will be involved.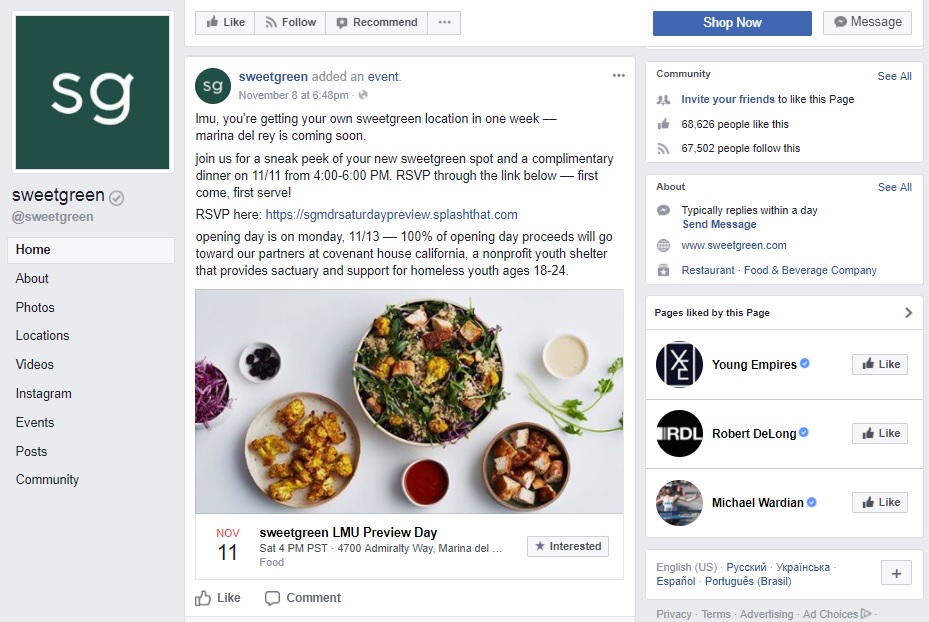 Show restaurant backstage life

The next level is communication with your team and how you build relations between your team members. It is very important to have a philosophy, a personal approach to employees and conduct team building with them. The Sweet Green restaurant has a whole channel on YouTube that includes videos of the team's daily meetings before the start of each working day. And they really have a lot to learn, because if customers see what kind of trusting, "family" relationships you have inside of your restaurant, their loyalty to you will also come close to reaching that state.
Dunkin' Donuts
Instagram: @dunkindonuts
Facebook: @DunkinDonuts
Twitter:@DunkinDonuts
Come up with catchy contest ideas
By creating a contest on social media you'll cover your restaurant's existing audience and also be able to grab the attention of potential new customers. To increase followers' involvement in the life of the restaurant, include active participants in the contest terms. For example, to come up with a picture description, a name for your new dish, or take part in a photo contest, etc. Dunkin' Donuts offered an impressive prize for a costume contest and it worked. If your business is on a smaller scale, then think through less expensive but still catchy contest ideas.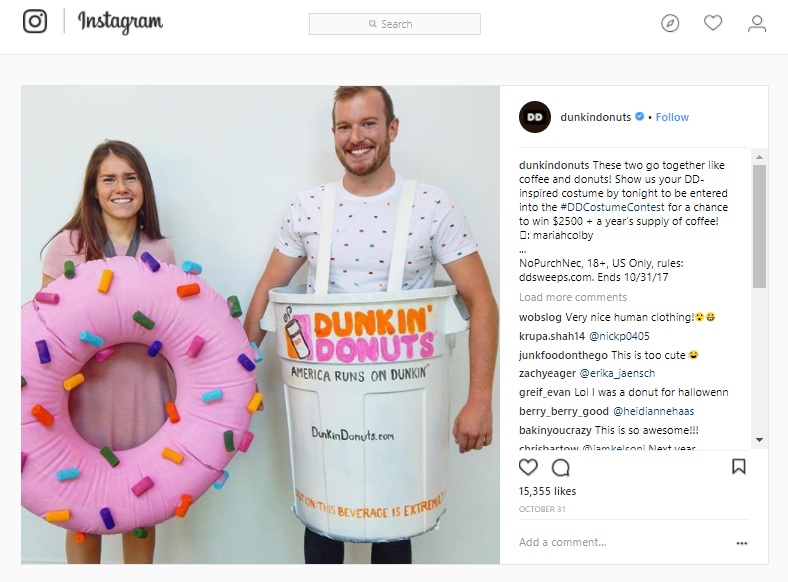 Share the festive spirit on social media

People love holidays and this is what they want to share on their social media accounts. Bring some holiday spirit to your restaurant and tell your subscribers about it. For example, Christmas cups, as the network of coffee shops Dunkin' Donuts did. We are sure that there were quite a few users who had a very strong desire to go buy a cup of tea or coffee and share with others an atmospheric picture.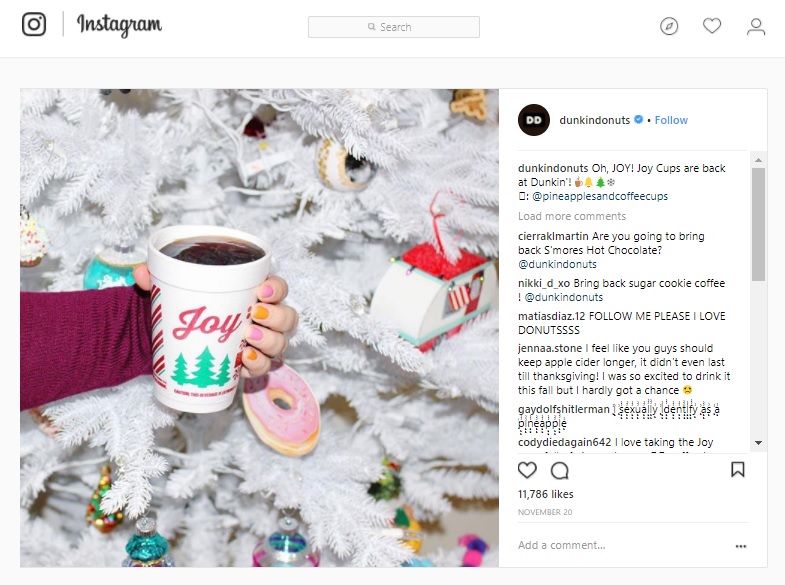 Use different types of content

We can come back to video content time and time again, and every time come up with something new. One of the obvious advantages is the ability to assess the true number of viewers: Instagram has open statistics on video views. In addition, videos are still rarely seen on Instagram, so if you bet on this format, it will be easier for you to stand out from other users.
Sort out your posting schedule
A few more words about restaurant social media marketing. Regular content publication is an attribute of a successful use of Instagram. But don't abuse it! By posting several photos in a row you will mostly just annoy subscribers. One or two photos a day are enough. The best time for publishing photos is always an individual thing; the ideal schedule for your audience might be completely different from what's standard, so the only way to find the right time is through trial and error.
Among other things, social networks pursue the goal of uniting millions of people via the Internet. All these people need two things more than anything else: communication and purchases (food included). This leads to the conclusion that you can sell and promote your restaurant business on social networks. There are several types of social network, and each of them should be used to implement certain marketing purposes (Twitter, Facebook, Instagram). We've already written about paid advertising on Instagram and Facebook in our article How to promote your restaurant on Instagram. Follow the hyperlink to learn more about ad settings.
We hope that this article will give you ideas and inspiration to create your own marketing strategy for successful social media.