Managing social media for restaurants is far more complex than many restaurant owners initially believe. It can be among the first restaurant marketing ideas that come to your mind. However, it requires more than posting regularly and inviting people in for the occasional promotion. Thankfully, there are many ways to automate and plan your marketing so that social media won't take up all of your time. With the right social media marketing practices in place you can get more locals in your door, and create a strong brand voice.
Gen Z and millennials are 99% more likely than prior generations to rely on social media as well as online reviews when choosing a place to eat.  Restaurant owners shouldn't ignore social media marketing and can take advantage of low average cost per click rate that travel and hospitality industry has: It makes $0.63 per click which is the lowest rate compared to other industries advertising on Facebook.
It's likely that learning how to promote your restaurant on social media will become more critical as more people look to social media to decide where to eat. Get a head start with these best practices for creating content, engaging customers, and of course, boosting your sales. 
1. Create content geared for conversions
Social media marketing for restaurants will always start with content. You'll need some way to gain exposure for your special offers and promotions than what you've had in the past. With any social media platform, you can post promo codes, advertise, or simply post content that sparks a buzz and generates leads.
The end goal of all content is to create conversions. Content is the beginning of the buyer's journey that would take them from scrolling through their feed to paying their bill at the end of a delicious meal. 
When preparing for content geared conversions, cover all of your bases. Have engaging and entertaining posts, and a POS system that can easily manage promo or coupon codes. 
To help your employees manage coupons or promotional codes you need a restaurant POS system that has own features to process discounts and allows you to manage your restaurant loyalty programs. It should be as easy as possible for your loyalty members, contest winners, or people cashing in on a special offer to actually get what you promised.
In your content, you should briefly address how easy the process is for customers. For example, if you're promoting a new special to get people in the door on a Tuesday night, you might post an image with the caption, "Show this post to your server on a Tuesday evening for a free appetizer with your order."
Always be clear and concise with your wording about promotions. Your ad copy not only needs to make a massive impact with just a few words, but it should also personally address the target audience.
2. Leverage location targeting
Location targeting is the act of advertising only to those who are within a specific distance of your location. This type of targeting is vital for restaurants because you're simply not going to gain much traction with people a hundred miles away. Facebook allows businesses to advertise to people within a specific radius around your location.
Take the availability of location targeting into consideration when you're deciding which social media platforms are right for your business.
Ryan Stewart, a thought leader, and Restaurant Marketing Consultant, recently helped Dr. Smood's, a café with over 10 locations in South Florida. The success of this campaign falls mainly to the skillful leveraging of location targeting.  
Ryan shared that the goal of his campaign with Dr. Smood was to boost foot traffic into the cafes and to build brand awareness. Together they set up local ads on social media by targeting users within a half-mile radius. The campaign offered a free coffee with the purchase of a food item which required people to enter the store rather than sharing or commenting on a post online.
"The results were great; people were claiming the free coffee for around $5 per customer. While we were breaking even on the total campaign spending, we were creating lifetime value for those who came in…" – Ryan Stewart 
Location targeting isn't just about advertising to boost your sales. As Ryan mentioned, it built an expectation of value for those customers, who will likely return again and again. Using location targeting can help grab attention for your business within your community, but it can also help you engage more with the locals interested in your brand.
3.    Test different offers to learn what your audience wants
Targeting options, specifically those on Facebook, make it possible to test out various opportunities to ensure that you're reaching the right audience. With Facebook, you can target audiences based on demographics, connections, interests, behavior, and location. When creating a restaurant social media strategy, you'll need to identify your target audience and develop a method of confirming that you're providing them with enticing offers.
The best restaurant social media campaigns will use a multi-faceted approach to grab attention, engage, and provide useful insight. Adam Guild, the Founder and CEO of Placepull, presents a strategy with a three-pronged approach and a strict method for targeting to achieve success with social media marketing campaigns. In recent successes, Placepull has proven that using social media advertising for restaurants with niche targeting and the right offer could bring in 1,397 new customers in just a week!
'We targeted locally (and) specifically niche restaurant interests similar to our client's. This helped to 1) narrow down on the target's taste buds, and 2) disqualify non-relevant campaign leads. Central to this campaign where the targeting, the efficient automation of delivery, and a giveaway setup that was too enticing to miss out on."  - Adam Guild 
The three-pronged approach Adam uses includes three offers that would hit its target audience through a social media campaign. The first was a Grand Giveaway that was the goal of all participants. The other two offers included a thank-you offer available to all participants and an offer to anyone who saw the post after announcing the winner.
"We offered three separate giveaway offers. This allowed us to test the offer that worked the best, what people responded to, and which giveaway participants were most likely to lead to restaurant customers." – Adam Guild
What Adam explored here was that it is more important for the restaurant to provide an offer that hits its target market than offer a little "something for everyone" promo that would fall flat. Testing different offers helps you learn about your best customers and find more of them. The testing phase isn't even demanding on your resources or time, given the many different ways to automate the social media marketing process.
4.  Automate the back end of your social media accounts
 Automation is more straightforward than many of us ever believed possible. With the use of chatbots, Zapier, and Buffer you can automate nearly every step of your social media marketing plan besides the content creation. Businesses everywhere are using chatbots to grow and cultivate their email lists while relying on other solutions like Zapier to move data effectively. It's become so commonplace that these automation tools work together across multiple platforms. 
Adam Guild encourages restaurant owners to put in the time to set up online marketing tools that allow for automation. He acknowledges that setting up the giveaway wasn't easy, but it was simple. Many of these online marketing tools are straightforward and serve a particular function. In the giveaway campaign, Adam used a chatbot, lead list, and integration tools.
"Leads are great, but making sure each lead is efficiently and carefully handled (with the highest likelihood to become restaurant walk-ins)…even better. Our chatbot automatically-collected users' phone numbers and emails. Then that list of highly engaged leads who gave us more info was imported to ActiveCampaign, which let us follow up even further!" – Adam Guild  
The tools and techniques used in this restaurant social media advertising campaign made the grand level of success possible because they never missed a hot lead. Staying on top of leads is what led to a higher rate of conversions and it was made possible because of the degree of automation.
5. Make your user-generated content work for you
Is it possible to get users to promote a restaurant on social media? Absolutely, and it's good advertisement that you don't even have to pay for. You can and should put some emphasis on user-generated content as part of your strategy. User-generated content includes reviews, questions, images or comments that address your restaurant.
A recent QSR report exposed that 45% of U.S. diners have interacted with restaurants on a social media platform, and 36% of U.S. diners actively follow restaurants on social media.  
Learning how to market your restaurant on social media will always include a steep learning curve for managing user-generated content as well. Encourage your guests and followers to use particular hashtags and geotags or to tag your restaurant in their posts and offer small rewards for these types of engagements.
User-generated content will naturally gain traction, and you don't want to interfere with the ebb and flow of this content too much. An excellent formula for engaging with your users and embracing their content is to repost, follow, and comment equally.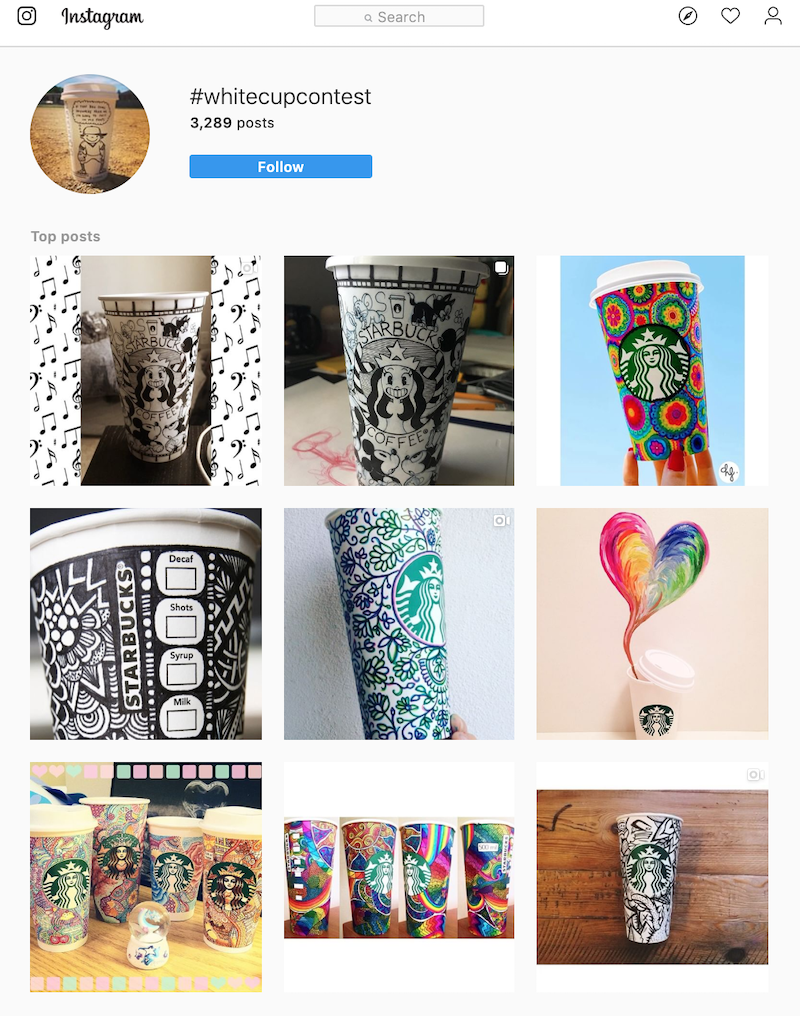 6. Run contests to improve engagement
Contests are fun ways to boost user engagement, brand awareness, and sales. Stand-out contests in the past have included the Starbucks's #WhiteCupContest and Mission Food's Football Season Voting Contests. As these two examples show, there are drastically different ways to run a contest.
When first starting your contest, be sure to clarify:
How you will reach your target audience (specific social media platform)

When the contest begins and ends (announce your dates clearly)

What terms will impact those eligible for winning

How you will select winners (Random, best design, etc.)

What prizes are available to the winner and other participants

How you will inform everyone of the winner (likely through social media)
After you decide how you'll reward your participants, you'll need to work on how they can win. Many social media contests rely on commenting, tagging, or sharing a specific post. It makes it easier for the company to track a single post's engagement while using other tools to handle the information collection.
Contests will boost engagement and traffic into your restaurant for a short time. Now, you probably can't give away a huge prize every week. Plan around your sales projections and schedule a time when you can run contests and still deliver an exceptional experience to everyone who comes in.
7. Plan your posting schedule with different types of content 
There are three primary aspects of high-quality content. Every piece of content should be engaging, entertaining, and educational no matter the format or platform. Teach your followers a little something about the restaurant industry while using your brand's unique voice. Your content can help customers learn about cooking for guests, managing crowds, or show how to motivate restaurant stuff while working through major holidays. 
As important as it is to create captivating content, you'll need a plan to deliver it consistently. Your content plan might include creating one 7-minute educational video for your YouTube channel daily, making 4-5 posts for promoting your restaurant on Instagram and Facebook, and recording one episode of your podcast weekly. 
Create an initial content calendar with specific posts or ideas to try out as many different approaches and formats as you can.

Write or craft content that is visually appealing and genuine to keep users interested and look what resonates with the audience.

Scale the successful formats and start using tools like Hootsuite, Buffer, or similar, to upload your content consistently and with less work.
Of these three steps, you need to give the most thought towards what type of content you will create. Many businesses find the most success with a healthy mix of video, image, and text posts. All content should invoke an emotional response, build brand awareness, and cultivate engagement.
When you're making pictures of your food for socials, try to get closer to the product to show the jussiness and thickness of the meet, its crispiness and flavor to prove the quality of your product.
Social media marketing isn't a breeze for restaurants because you're not just looking for clicks as a sign of success. You need real, in-the-store sales. Use contests, a consistent posting schedule, and location targeting to drive sales. Having tools such as online automation tools, and even a top-notch POS system will make it easier for you and your customers to handle the boost in popularity. Finally, test out different offers and campaigns while also promoting user-generated content. Give your users a chance to experience your brand online in a way that should produce loyal customers.