People love to take pictures of food: this is indisputable. Even more, people love to share these photos on Instagram during dinner with friends, celebrating or just chilling. Right now, posted on social media, there are 240,098,018 photos on the #food hashtag, 71,168,238 on the #foodie hashtag, and 136,979,233 on the #foodporn hashtag. Can you imagine 240 million pictures of food in one place? Absolutely every type of food service from food trucks to luxury restaurants will find using Instagram for marketing really helpful for business. It's one of the most universal restaurant marketing ideas that apply to any business regardless of its marketing budget.
Instagram isn't just storage with great pictures. To attract people you need to be able to write catchy photo captions and comments; use hashtags to increase views; be an active follower of other users. You also should engage your followers in your restaurant loyalty programs. It sounds easy… so why do some restaurants fail and others succeed? To answer this question, let's take a look at a restaurant Instagram marketing checklist.
Help customers to find you
First of all, give your followers a short, informative description of the restaurant. Give the name, address and contact information (website, Facebook page, number to book tables, order or delivery of food). It will be much easier for you and your followers if you specify this information just once, in your profile, rather than write it under each post.
Instagram uses Facebook geolocation, so it's an absolute must to have your own Facebook Page and create a free business profile. Specify your location and tie it to your profile on Instagram. Make a couple of postings on Facebook using your geo-tag and 24 hours later it will appear on Instagram. Duplicate it in the Swarm application on Foursquare, because on rare occasions Instagram pulls up data from Foursquare. Add to your account a custom location, so people can check in and use your restaurant's geo-tagging – and don't forget to encourage them to use geolocation and follow you on Instagram. Make a special offer to your restaurant guests, rewarding them with free coffee or a dessert if they follow you on social media or make a repost from your page. Also, always use popular and corporate hashtags and many users will easily find posts about your place by following them. Create a unique hashtag that includes a memorable name. And do more offline: Put your contacts in prominent places, write your hashtags on the walls, put your Instagram username on the check, table menu or customized placemat or any other place where guests will likely find information.
Create a content plan
Want to know the main secret of a prosperous business on Instagram? Planning. A good content plan is a very important part of the Instagram marketing strategy for your restaurant. Many people take a few photos at a time, then upload them to Instagram during the week. This not only helps to maintain a stable blog (which attracts users), but also comes in handy when you have no time to take new pictures. For convenience there are many online services, such as Buffer, HootSuite or Later that will help you schedule your posts in advance.
Be picky about content
Before you post any images or information on your profile, you need to create a background. It's no secret that no one will subscribe to an unattractive and empty profile. 12-20 pictures with nice quality will be enough for a great start. Be picky about your content. If you really want to attract subscribers to Instagram and customers to the restaurant, then remember—it's better to post nothing than low-quality or boring photos. If you want to tell followers about your new dishes, don't publish the menu layout. (You may do this when you have a brand new menu design.) When potential guests want to see your menu, they will go to your website or ask a question in the comments. Instagram is not a showcase for your place.
Another great idea is to track the Instagram profiles of your competitors. Usually, they will focus on the same results and the same customers as you do, so they may have a similar content strategy. Analyze not only your own successes and failures but those of your competitors as well. Check out their posts, photos, reviews, likes, subscribers, etc. Get an idea of what they're focusing on. For example, if you represent a chain of seafood restaurants, find out the sort of content that's popular on the market.  Maybe it's information on serving oysters or videos about fishermen producing seafood? This will help you focus on strategies that really do work, and avoid mistakes.
Put it all out on the table! Tell about you special deals and loyalty programs that you offer to your regulars and new customers. So you can significantly expand your customer base. In order to maximize your loyalty program, you will most likely need additional tools to interact with customers. Therefore, choosing a POS system for restaurants, make sure that it has all the features that you want to implement in your business. You'll never know until you give it a shot, right? Many POS systems offer customers to try the software before actual buying, for example.
Learn the art of taking pictures
Instagram is the social media for visual aesthetes. If the food is in focus, the light is natural and the photo has great composition and perspective, then the number of your followers is guaranteed to increase. This makes it sound like you need to go and buy a professional camera right now! But actually, you don't. The profile of a restaurant should look real and representative at the same time. Basically, the main purpose is to find a balance between the two, and a good smartphone camera will be enough. We suggest you use VSCO, Snapseed or Afterlight filters. They look more natural than Instagram filters. Using those apps you can regulate brightness, contrast, make colors seem colder or warmer, correct perspective and angles. Yes, it takes a bit longer, but it will make your pictures cooler, more trendy. Either use the same filter for your pictures or don't use filters at all. And if you want to present a new dish to your followers follow rule number one—always, if possible, shoot under natural light. The photo will be lighter, better, and show more detail.
Use Instagram Stories & Instagram Live
The greatest feature of Instagram Stories is staying current and more real than users do on their profiles. You can add multiple photos, gifs, ten-second videos to Stories, all at the same time. Post photos of brand new menu items and today's specials, videos of the cooking process, boomerangs or special offers and much more. With the latest voting feature on Instagram Stories you can engage the audience by asking if they enjoyed the interior design, the service or what they think of the latest menu changes. The main task is to increase the number of sources where customers can learn more about you.
Live Streams on Instagram is an amazing way to introduce people to a menu, broadcast a current event and share exclusive, piping hot information. Show the process of how you choose the ingredients at the local farmer market and maybe give people advice on how to pick the freshest fish/chicken/fruit etc. Offer users a fun cocktail mixing tutorial or give a sneak peek into the hidden "kitchen life". During a live session, you will be able to track the number of viewers and see who is currently watching. This way of sharing information brings you even closer to your audience and humanizes your brand. By having a Q&A with your restaurant's head chef you will engage even more people. Instagram Live gives your audience a unique look at the real life of a restaurant.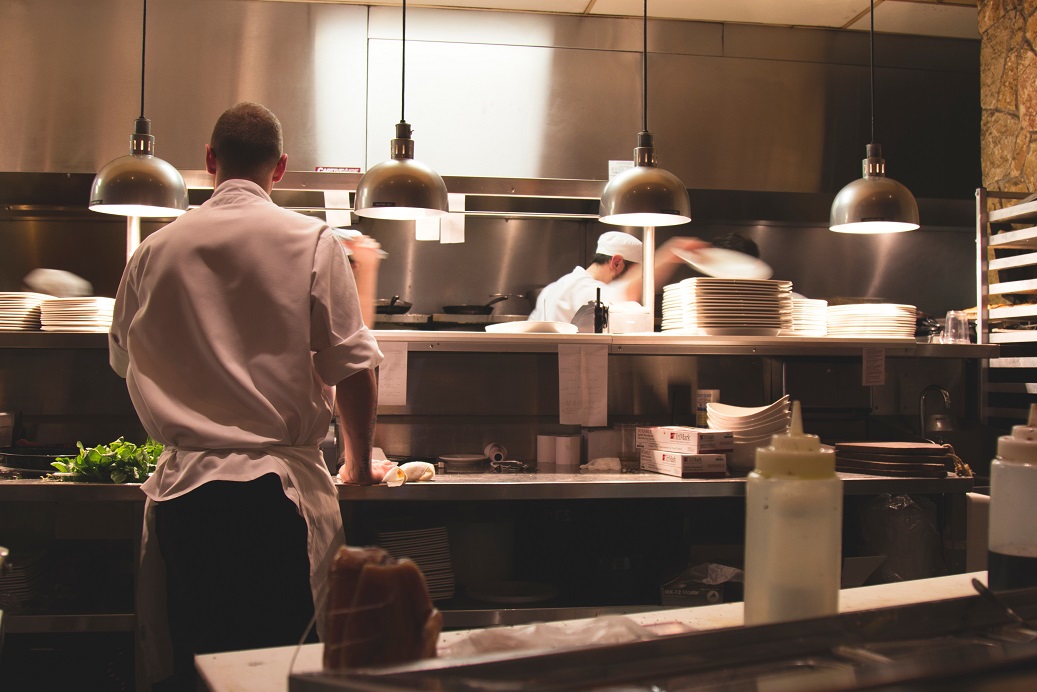 Show kitchen life backstage
Everybody wants to know what goes on "behind the scenes" of everything. Restaurants and bars are no exception. If you looking behind the restaurant's Instagram profile, then show the audience all the hiddens—the cooking processes, the staff, food purchasing, storage organization, etc. Take a photo of the chef while he cooks today's special, show the ingredients being used, everything people are curious about. Share some fun information with followers, telling them in the captions the baker's nickname or what kind of music most inspires your team of cooks. People with their features, habits, beauty, and intelligence will make any service, product and even a corporation a living organism. Without a great team, the restaurant is basically zilch: Share a more personal life and people will appreciate this.
Communicate with the audience
Prove to subscribers how much you value them by publishing and sharing their best photos on social media. Before you post a picture always ask for permission. A huge corporation such as Starbucks (one of the top three most successful brands on Instagram) often does this. Once every few weeks, they dedicate publication to one of their followers, posting his pictures depicting a Starbucks product. You can do so much more, for example, you can create fill-in-the-blank posts, hold photo challenges, ask for customer opinions, reward follower shares, and use every opportunity to communicate with an audience. And remember, always reply to your customer's comments. Don't miss the notification when someone else mentions you in a comment or tags you in a photo (of course, we don't mean spammers). If you are invited to dialogue by real people, the answer won't just be a polite gesture, it will also show your closeness to your audience. This is the meaning of social networks.
Follow the Instagram rules
You don't just need to know the rules, but also stick to them. Believe us, the cases of blockage on Instagram are not a myth. Imagine how you would feel when your account is already well promoted, your promotion campaigns are launched and you wake up in the morning and discover your Instagram has been blocked. Of course, you can unblock the profile, but during this time you could lose some of your subscribers and your reputation might be harmed. Do not forget that Instagram has restrictions on a number of certain user actions. Exceeding the limits is a good reason for blocking. Limits have been introduced to protect users from excessive activity by commercial accounts and spammers. Most decent Instagrammers are safe, but these limitations must be known to everyone.
For Instagram accounts existing more than 6 months

Following and unfollowing

60 per hour

1,440 per day

Likes

60 per hour

1,440 per day

Commenting

60 per hour

1,440 per day

Mentioning (@username)

5 per comment
For Instagram accounts existing less than 6 month

Following and unfollowing

30 per hour

720 per day

Likes

30 per hour

720 per day

Commenting

30 per hour

720 per day

Mentioning (@username)

5 per comment
The thing is that Instagram summarizes all your activity. For example, you're allowed to do 60 followings or 60 unfollowings per hour. If you want to use both options at the same time then split them into 30 followings and 30 unfollowings or whatever you want. Basically, you shouldn't exceed 60 actions in total. Another important thing is that all comments should differ from each other. You can't write the same comments like "Nice pic!" and "Great view!" or put the same emoji all the time. These comments are equated to spam and according to Instagram rules spam usually means blocking. Limits are constantly changing depending on the policy of the service. You can track all updates and changes on the Instagram website.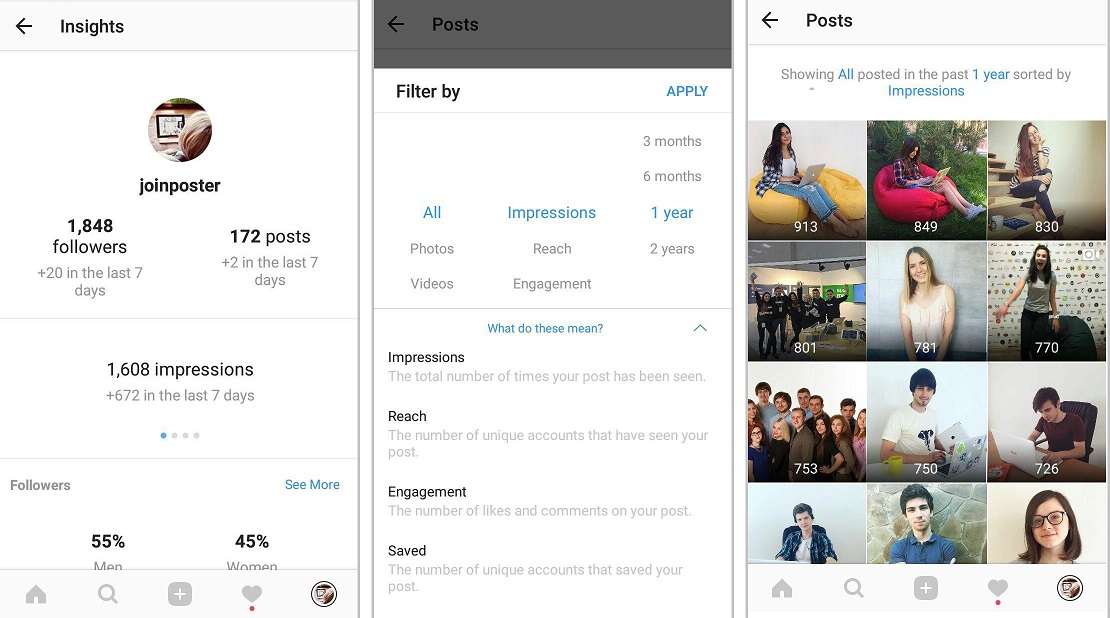 Analyze all the way
Analytics is an important part of any marketing strategy on social networks. Instagram has many metrics that will help you understand the effectiveness of your campaign and marketing strategy. All the indicators needed can be obtained from your own Instagram Insights analytics or other tools like Keyhole, Socialbakers, etc. To access Instagram analytics, it is necessary to have a business account. Be aware that Instagram Insights is only available on the mobile app.
Using the analytics tool, you can track many indicators of your Instagram profile. For example Instagram Insights shows impressions (the number of times your ads were on screen), profile views (the number of unique followers who visited your profile) reach (the number of unique followers who viewed your posts and stories), website clicks (the number of clicks on the link in the profile description), etc. Using Instagram Insights, you can analyze audiences by gender and age, and determine what content they like by coverage, display, and involvement. Analyze what publications are popular, and try to identify patterns.
Pick the right time for publishing
A perfect schedule depends on the specifics of the company and its audience. Services like Statigr.am were created to help people with timing management and posting schedules. Discover the days and times your subscribers are most active. Don't post content more than twice a day to begin with. People might get annoyed at seeing your pictures appearing in their Instagram 10 times over the last couple of hours. Pay attention to how many likes you receive. Instagram is now formed by a special algorithm: as on Facebook, there is no perfect publication time. Followers are active at different times, so you need to investigate, figuring out when your audience is most involved. This will take time, but is part of your success.  Remember that Instagram is a two-way street, let this sink into your mind. Sometimes it's a better idea to take time and spread likes under other people's posts. A professional marketer always correctly schedules working time on Instagram and knows where there is a balance between content publishing and interacting with another user's content.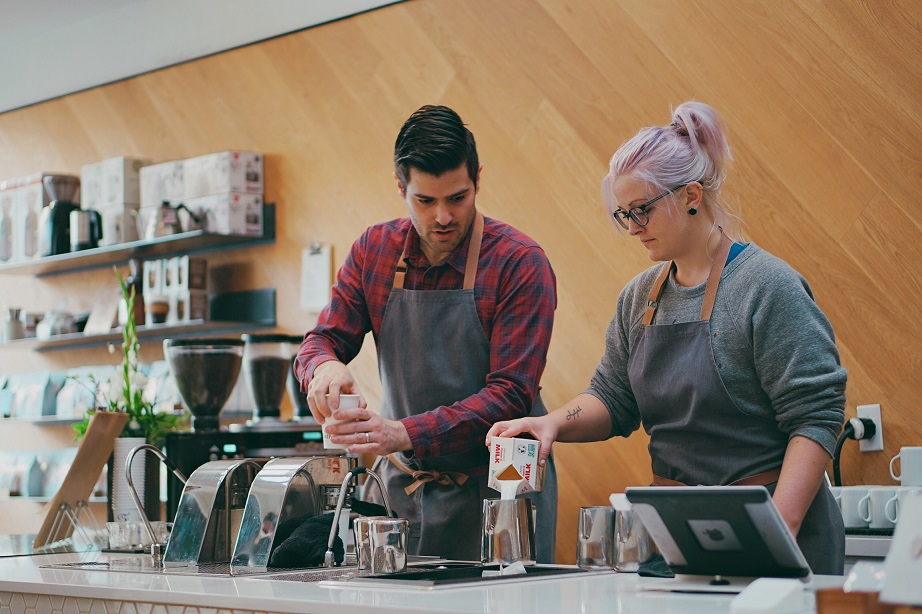 Collaborate
Right now, the era of the blogger is on the rise, so take as much advantage as you can. Honest reviews of popular Instagram users with an impressive number of subscribers are some of the best tools for promotion on social media. Write to local city accounts and find out the terms for cooperation. Advertising on the city forum will not be superfluous. Start working with bloggers and find partners in different areas for collaboration. It doesn't matter what field you are going to collaborate in, the main thing is to have the same audience. For example, if you own a health food restaurant, you can contact a local gym or yoga studio: Create a special project together and promote it on social media. This will lead to a follower exchange and increased activity on your profile. Invite a blogger to your place and offer him free dinners during the week or gold member benefits for a promo and mention on his blog (the conditions of collaboration may vary). This method of spreading the word works really well!
Use ads on Instagram for promotion
You can create an ad in Ads Manager on Facebook or right from your business Instagram account. Facebook has a wider range of options for customization and targeting, so we recommend this option. Targeting can be based on demographics such as gender, age and interests or location. As a result of Instagram advertising, you will be able to raise recognition of your restaurant, help potential customers learn more about your menu and offers, and increase sales.
Be careful with the content you promote and pay attention to the list of retired ad formats and prohibited or restricted content on Facebook advertising policies. You may think you don't deliver forbidden content to your audience, but in reality – it can happen. For example, if you own a bar make sure you don't mention tobacco products and alcohol in your ad campaigns.