Are you ready to uncover brilliant coffee shop names? After learning how to open a coffee shop and how much does it cost to open a coffee shop, you'll have a lot of big decisions, and possibly the most significant one is finding a great shop name. Brainstorming lets you try out ideas before you commit to anything. When you're coming up with your names, consider your concept and target market. But be careful not to kill the creative elements of naming a business.
There are no restrictions for creating an excellent name for your coffee shop, get started with brainstorming. Use this fun process to test what works and what doesn't without any pressure. Ask yourself, "what would be a good name for a coffee shop?" and then challenge those ideas to develop something even better.
1. Decide on a few coffee shop name elements
To get started with generating some coffee shop name ideas, decide if you have space in your concept to use references, cool, or funny names. If you do, then that's wonderful, and if not, there are other great naming opportunities. You can always use your name or pay tribute to your hometown. Spend some time creating a long coffee shop names list, and you can start by identifying key elements such as:
Products

Location

Community culture

Personal interests (that bleed into the concept)

Internet availability and more
For cool coffee shop names plan out ideas that sound good and are great communicators. High Octane Coffee and Caffeine Stop both express that their focus is on getting you the jumpstart you need with strong brews. Other options such as Cold Brews Crew or Little Cappucino showcase product options. After you have a list of coffee store names, then you can get moving forward. Ideally, you'll have ten or so ideas to start with, and maybe a few more that you might consider later. If you're in a creative slump don't worry. 
2. Check if online services can help you come up with ideas
Sometimes, good coffee shop names don't come so naturally, and you need a little help. There are many online services that are free and can generate business names for you. While it's tempting to generate hundreds of business names at once, you should avoid having too many options. 
Business name generators are a great way to get creative coffee shop names. While the generators themselves typically produce rather generic or 'vanilla' business names, you should use them as inspiration and put a creative spin on the results you get. For example, a generator might produce "Well Grounded," which could inspire, Grounded for Good. Useful sites to get a list of unique names for coffee shops are:
Biznamewiz.com Coffee Business Name Generator (Which also lets you check domain availability).

BusinessNameGenerator.com service for coffee-based businesses.

Getsocio.com

KopywritingKourse.com, which allows you to play with your initials to generate random coffee shop names.
3. Consider using another language
Clever coffee shop names can stem from other languages. Use sounds, pronunciation, idioms, and other elements of language to create a truly unique and foreign name. 
Coffee culture is rapidly changing in France, and the result is worldwide applause as the best in food finally challenges the idea of a traditional beverage. Coutume with their name roughly translating to "Custom" is brewing custom French coffee snob experiences. 
France has deep roots not necessarily in coffee but in coffee shop culture. They're known for attracting intellectuals and writers. Famous coffee shops in France include Les Deux Magots, Ten Belles, and Cafe Loustic. To get some inspiration, look up a few translations for words that spark your interest. 
Spain's rich history in coffee does tie to Italy, but they've certainly made their drinks unique. In Spain you can find Carajillos, Trifasico, and Café vienes. Use the musical swing of the Spanish language to grab inspiration from coffee shops names around the world. 
What are some good names for a coffee shop? Without a doubt, you'll come across many Italian sounding names. Coffee in Italy has set the bar worldwide. They brought in cappuccinos, americanos, the latte, the macchiato, and more. Italian has a similar sound to Spanish, but it's still very different. Italian-inspired names include: 
Il caffè del mondo (Coffee of the World)

Caffe del mattino (Morning Coffee)

Bella Giornata (Beautiful Day)
Explore different languages, maybe some that tie into your concept and possibly others that simply sound nice. Using coffee shop names around the world is a great way to stand out from nearby coffee shops and create a luxurious vibe.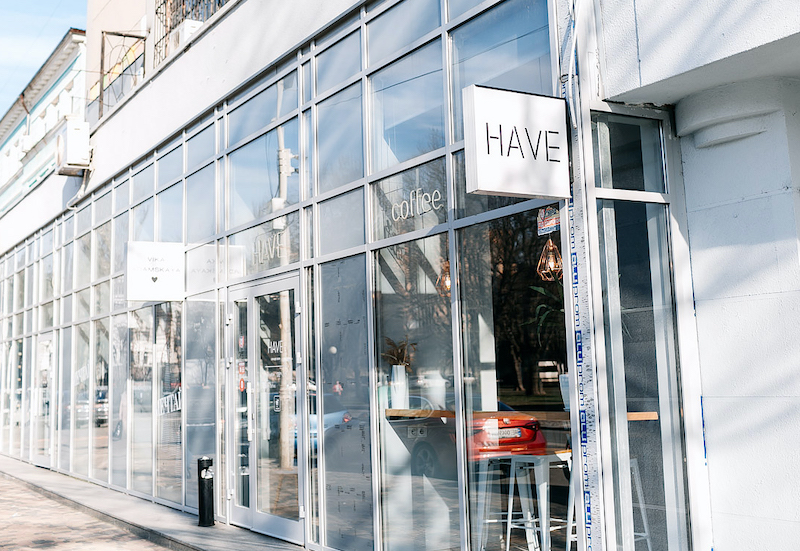 4. Use the spoken test
Does it sound good? Names for coffee shops in English, often use a lot of harsh sounds. Say the name out loud, a lot. Tell your friends and watch for their facial reactions to see if anything grabs unwanted attention. A great name should roll off the tongue. You will need a name for your shop or coffee bar that isn't a tongue twister, and won't lead to any speech stumbling. That's why puns, rhymes, and alliteration do so well for these businesses. These examples definitely pass the spoken test:
Zombie Coffee

Craving Cafe

Whole Latte Love
Coffee shop unique name ideas often require editing. Look through your list of possible names and see if there are ways to make them more interesting when spoken.
5. Explore Initials and fan-given names
Finding unique coffee shop names might seem like an impossible task at first. But a not so original name can quickly become something special through its initials or later through a fan-inspired name. 
Caffe Zucca is part of Milan's history. It also goes by three names. Caffe Zucca is also well-known as Camparino, and Miani. The names all come from ownership or branding changes, and the result is that fans call it what they prefer. 
Business name ideas for coffee shops can be a blend of multiple elements in this list. For example, you could open a Japanese-inspired coffee shop named Cafe Kami and, in your branding, use C.K. 
6. See if the name is available
With over 35,000 coffee shops in the U.S. and the global coffee industry growing each year, it shouldn't be too surprising when a name isn't available. In the U.S., you must register your business formally with your city, state, and sometimes county. You must also get an EIN for your coffee shop through the federal government, and if you're creating a corporation, then it's one more reason that you need a unique business name. 
It can be easy to find out which coffee shop names are not taken. Every state in the U.S. has an entity name check tool online. The IRS has a similar service to use when registering for a business tax ID. Other countries don't use these types of services but still expect unique business registrations. You can find good unused coffee shop names in different countries through registration specialists. Check the names you want against a free company name check tool.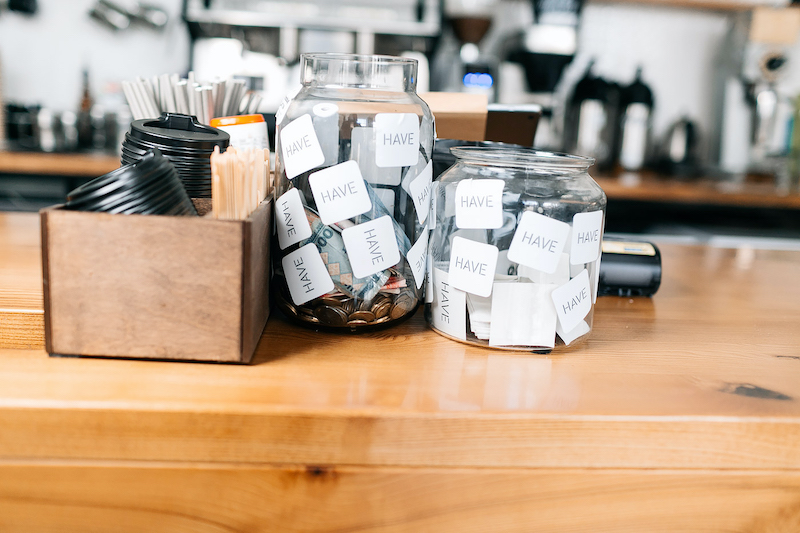 7. Check for a Domain Name
Most coffee business names aren't very original, and they usually include "cafe," "coffee," or "bean." While having any of those words in your business name is not bad, it can make finding a domain name a little tricky. 
You can check for domain name availability for free online with Name.com, GoDaddy, Bluehost, and more. Don't pay to check domain name availability. 
When reviewing coffee shop name suggestions along with domain requirements, you must determine if you will need to trademark your domain. When debating on how to find a name for a coffee shop, this step could help you narrow down your list. Check for domain names, and check for social media usernames, even email addresses. You want to avoid situations like:
Strongbrewcoffee.com 

Strongest Brew on Facebook

Strong Brew Coffee Seattle on Instagram
You'll need consistency across all of the technology elements for your business. The name of your coffee shop should be the domain name and all other online business accounts too. When signing up with a cloud coffee shop point of sale system or any other software, you'll want your account name to match your business name. It's about making it easy to access and track accounts for owners, staff, and customers.
8. Test out branding ideas
Catchy coffee shop names can make for easy branding. Your branding ties the name to the concept then consistently represents the entirety of your shop across social media, marketing, in-store design, font preferences, and even things like cups or napkins. 
Successful branding strategies will have a human narrative. Give your coffee shop a name that connects with a bigger story or goal through branding. For example, an eco-friendly shop might incorporate their recycled product use into their small wares design. Coffee bar name ideas should fit naturally with your logo, color scheme, and business values. For inspiration, look no further than Rosebud Coffee. 
Rosebud Coffee helps at-risk youth and local homeless blossom by providing employment and empowerment. Rosebud's branding and name clearly reflects its values and engages the community. 
It's a struggle to decide how to choose a coffee shop brand name. You could start with your ideal branding plan and then see what names match, or begin with a name you love and build a brand around that. But, you shouldn't finalize anything with a domain, trademark, or business registration until you're sure that the shop's name and brand work together perfectly.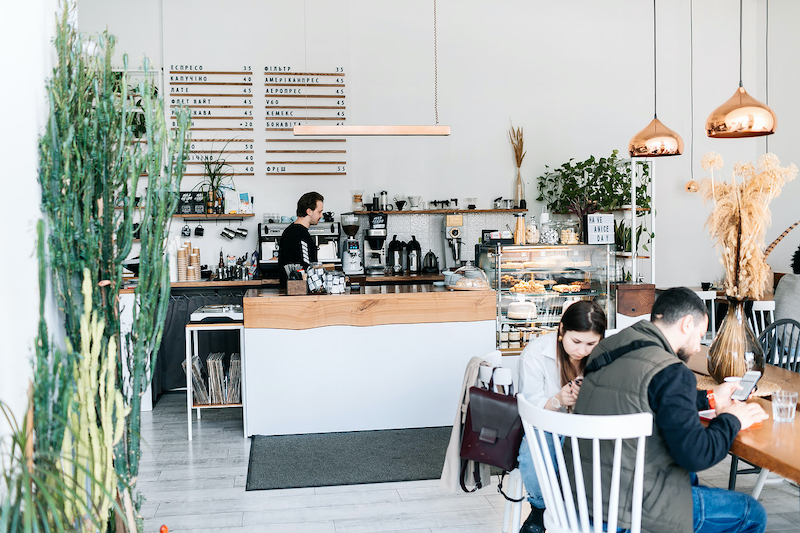 9. Does the name clearly cover what you're all about?
It's hard to resist cute coffee shop names like Little Pearl (@littlepearldc), but does the name represent your passion? The example Little Pearl incorporates a cutesy feel through their star-shaped sugar cubes, the cute name works because it fits the owners and staff. 
Your business name is a great excuse to play around with things that you're passionate about that might fit indirectly with your concept. A fun new-age shop could use literary puns such as Espresso Patronum, or, Pride and Presses. Funny coffee shop names can include anything like:
Double Dripping

Espresso Yourself

Pour for Life
While it's always great to have some nod to coffee, some entrepreneurs name their shop after something they love. Starbucks got its name as a nod to literary figure Starbuck from Herman Melville's Moby Dick. 
Finalize your business name
Hopefully, you'll have between one and three names to consider because, at this point, you have gone through all the practical elements. You've done everything you could to narrow down your list. You've removed the possibilities from your initial brainstorming that were already taken didn't have available domains or just didn't sound right. That means you should have one amazing name that is perfect for your shop. 
Now, you just need to finalize everything by registering your business and purchasing the domain. The best coffee shop names will have a strong story, logo, and design that people will remember. It can be cute, cool, or something else that fits your personality. Or, it can represent any of the up and coming coffee trends that define your concept such as sustainability, tourism, or even subscriptions. Are you still wondering about your coffee house name ideas? Go through the checklist one more time to narrow down your name possibilities! 
Brainstorm until you have up to 10 ideas that you love.

Use generators to help in a creative block.

Test out Spanish, French, and Italian translations or words for inspiration.

Say the possible names aloud.

Consider the possible initials or nicknames, are they good or bad?

Check your country's currently registered businesses, don't accidentally steal a name!

See if the name is available on various online platforms.

Test a few logos and branding ideas and see how they match your name possibilities.

Make your passion clear in the name.
So, how do you name a coffee shop? By going through a long list of possible names and then finding that one which is perfect for your vision, values, brand ideas, and design concepts.