Know your market and give your customers the most in-demand coffee shop trends. This year there's a surge in focusing on social issues, involving younger generations, and moving past limiting coffee to a cup. If you're thinking on how to open a coffee shop and outperform the heavyweight competition, make sure you take the major trends into account.
Targeting younger audiences
Gen Z is bringing in a new wave of coffee drinkers and they're preferences are far different from other audiences. As of 2018, 48% of 18 to 24-year-olds now drink coffee. Coffee shop industry trends show that Gen Z consumers are showing strong preferences for anything other than traditional coffee. They're opting for ready-to-drink beverages, iced options, and the use of both whiteners and sweeteners. To cater to younger audiences:
Avoid artificial ingredients whenever possible
Gen Z consumers have shown they will actively avoid products which include GMOs or artificial ingredients. Take this initiative one step further and make complete and transparent ingredient lists easily accessible.
Deliver a treat
Unlike older groups, Gen Z consumers do not cite coffee as a daily ritual. Long gone are the days of a mandatory coffee stop before work or school.
Use tech and tradition
As digital natives, Gen Z expects technology that offers consistent branding and convenience. Explore options to ensure that you're not outdated while still providing an authentic coffee shop experience.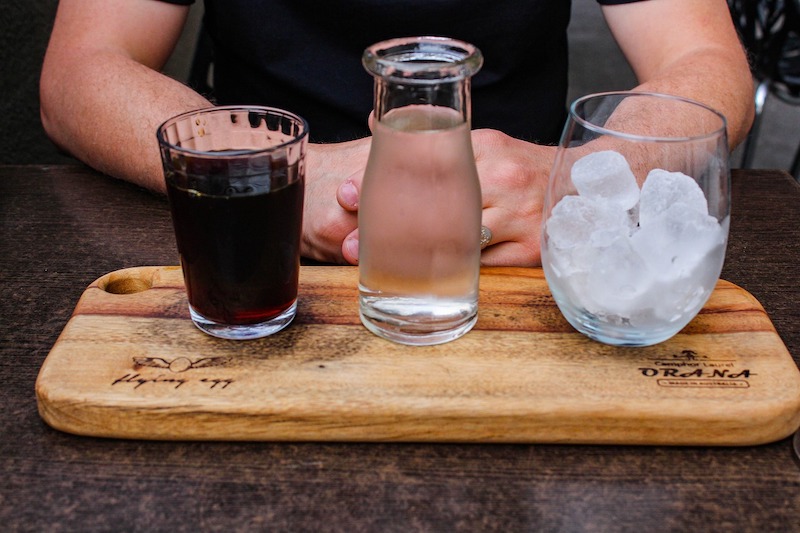 New coffee brewing methods
Cold brew, Nitro, and at-the-table coffee presses are changing how coffee shops finish their products. While the cold brew was initially seen as a novelty, it has become a 29 million dollar market in the U.S. Cold brew is also prominent in markets throughout Japan and China.
Start delivering cold brew with a bit of new equipment and some room temperature water. Cold brew coffee relies on a much longer brewing process. Ultimately if you want to add cold brew coffee to your menu, you will need a carefully thought out timetable for brewing.
Trends in the coffee shop market show that Nitro brewed coffee is carving its own spot in the industry as well.  Nitro uses the same brewing method as cold brew but then goes through a process similar to holding and serving beer.
Nitro coffee, stored in kegs, gets infused with nitrogen for a smooth and occasionally bitter taste. Then when served, the coffee pours from a tap with the thick and malty quality of Guinness.  Brew, keg, and tap a nitro brew of your own.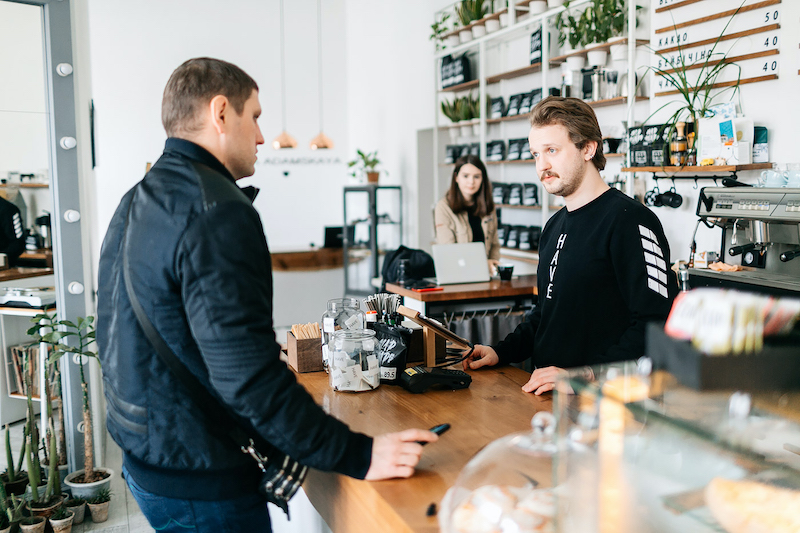 Custom ordering trend
Custom orders have been on the rise for a while, although coffee shops throughout Europe haven't caught onto this U.S. craze. Let your customers create their own drink from scratch. They will choose the type of drink, size, and any additions such as toppings or syrup flavors. After they put in their order, the barista makes them a drink that has everything that customer wanted.
Bring custom ordering into your coffee shop with a cafe POS that offers a menu with item modifiers. The item modifiers feature will make it easy for baristas to create custom orders and track the ingredients used during preparation. As an owner, you might want to know what toppings and extras are your best sellers. Seeing the stats on dashboards in the coffee shop POS system, you'll know how to rotate coffee beans and select suppliers to better meet your customers' tastes.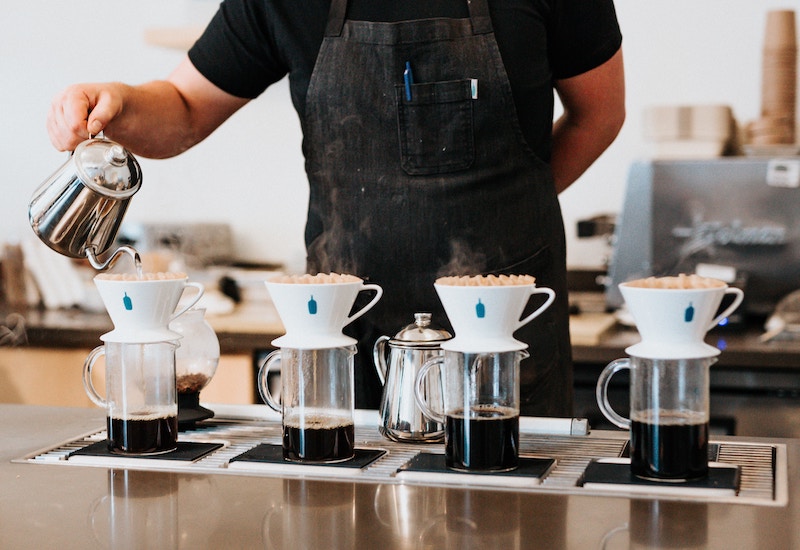 Artisan coffee and specialty drinks
Artisan coffee relies on quality and care throughout your entire supply chain. Specialty drinks can differentiate themselves from the competition with different roasting, brewing, or crafting methods. Pairing with small or local roasters may be the key to artisan success. Sourcing various ingredients locally can begin your artisan adventure and can create a coffee culture in your community. 
Recent coffee shop market trends show that:
Specialty coffee makes up 59% of the market share

Specialty coffee shops are the fastest growing segment in Europe's food service industry. 
What are coffee shop market trends saying about artisan and specialty drink chains? About 25% of consumers cite the coffee quality as the reason for revisiting some of the largest coffee-chains. Other factors include the availability of specialty options.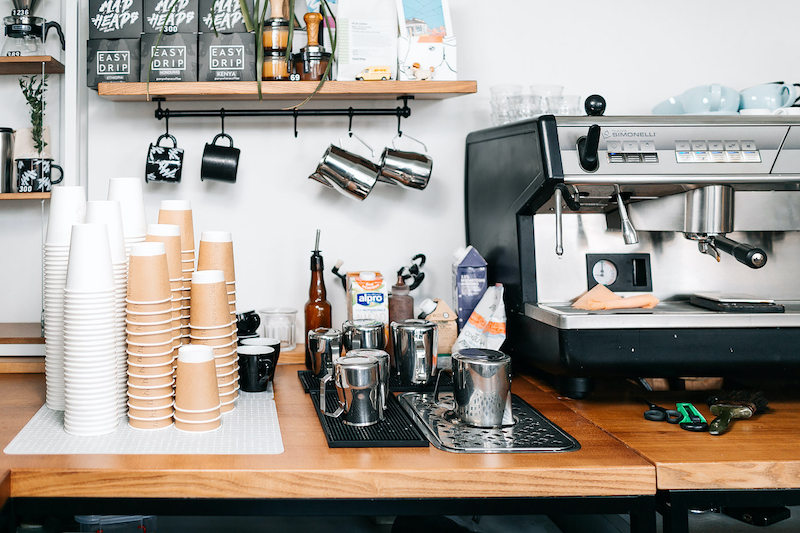 Drinks with milk alternatives
Usually perceived as a healthier option, plant-based milk is popular among younger crowds. Non-dairy milk used in coffee needs to function as close to actual dairy as possible. That means that it should foam easily for cappuccinos, not become oily when met with a hot liquid, and generally not add an unpleasant taste.
Right now, oat milk is leading this trend. Other top choices include soy, almond, rice, and cashew milk options.  Popular coffee shop trends such as specialty drinks can benefit from the alternative textures of milk alternatives.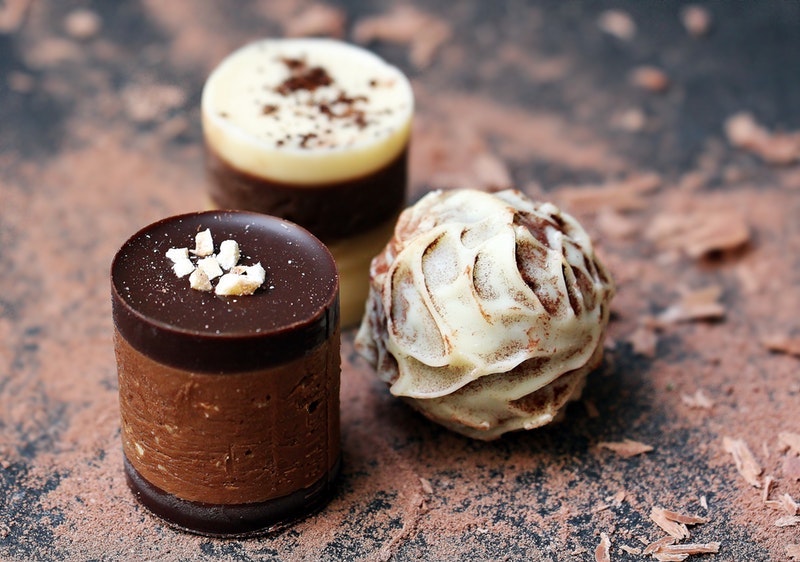 Stretched concept coffee
Coffee is now in ice cream, popsicles, chocolate bars, and even mixed drinks. The possibilities are endless, and the trends here show once again coffee is becoming a treat. Get creative and start experimenting with delivering the flavor and experience of coffee in many different ways.
If you have a liquor license, consider adding a Siciliano onto your menu. Match sweet Italian vermouth with cold brew and Amaro Averna for a smooth, sweet, and strong beverage. Or, bring your barista and mixologist together to make creations unique to your brand.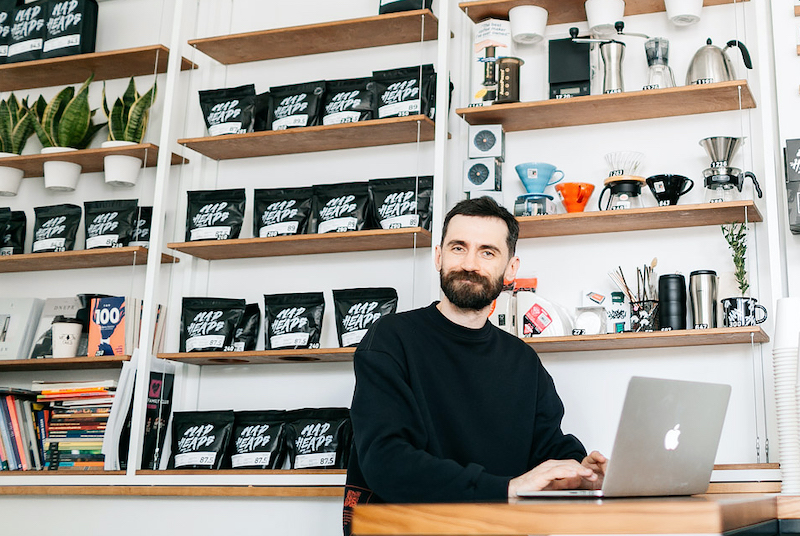 Sustainable coffee
One of the biggest trends in the coffee industry is sustainability. After shedding light on the coffee industry's contribution to ecological and social issues, many brands declared they would make impactful changes. 
The problems that sustainable coffee tackles are huge. The points of focus include the people involved, the planet, and profit. Other coffee shop trends of 2019, such as artisan coffee, can help guide you towards choosing sustainable options. 
Fast facts on the impact of the sustainability trend on the coffee industry
Resource coffee from
Local farmers and roasters

Fairtrade certified farms 

Rainforest Alliance Certified farmers

Vendors who work with the UTZ Certified seal
Reward private roasters or growers with your business when they pay their employees a fair wage to contribute towards social sustainability. This can impact countries and businesses which use child labor or harsh working conditions.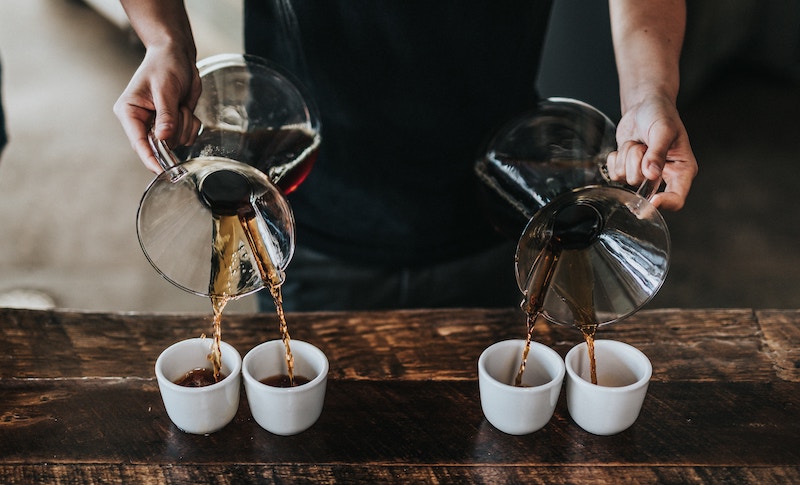 Coffee cupping classes AKA coffee tasting
Coffee cupping, a fun way of saying coffee tasting, often relies on coffee bars, cafés, or coffee shops host an event. Those attending coffee cupping classes will smell the coffee in one deep inhale then take a loud slurp. The method of slurping provides a different experience, compared to sipping, as it spreads the coffee across the back of the tongue. 
During coffee cupping, tasters will measure and discuss key elements of the coffee's body:
Mouthfeel – texture

Sweetness – natural sweetness as there are no sweeteners involved

Acidity – sharp delivery or bitterness

Flavor – often reminiscent of fruit, wood, nut, or spice involved during the manufacturing process

Aftertaste 
During these classes you're selling an experience, so put a lot of thought into how you can be a good host.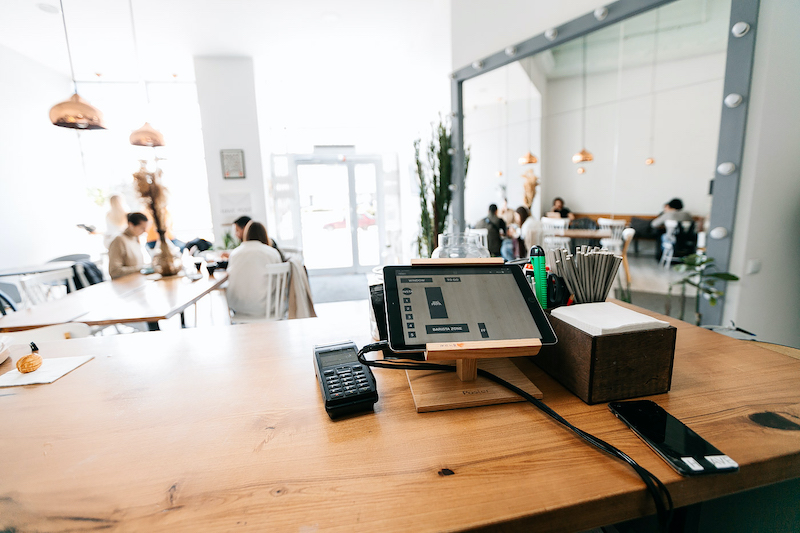 Wider range of equipment choices
Coffee shop drink trends will always rely on the appropriate equipment. When you're just opening your coffee shop, consider adding a few of these into your coffee shop equipment budget.
Standard equipment
A necessity for all coffee shops include:
Espresso machines (Available in manual, semi-automatic, and super-automatic models)

Commercial coffee makers

Coffee Presses

Coffee bean grinders

Coffee Urns
Specialty equipment
It is vital to take part in trends such as nitro brewing. For cold and nitro brewing, consider investing in:
Nitro stout faucets or nitro coffee taps

Kegs

Nitrogen gas

Chinois Strainer
Accessories
Deliver a bit of flair using:
Frothing pitchers and thermometers (great for latte art)

Coffee-to-Go boxes for added convenience

Flavoring syrups and specialty whipped cream for "treat" inspired drinks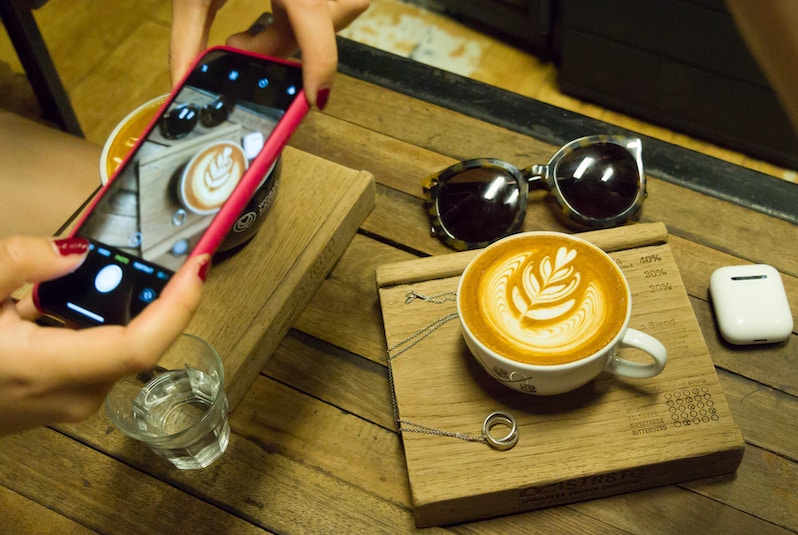 Trends in coffee shop interior design
Interior design has always been a hot topic, and this trend is seeing another major shift. The use of eclectic furniture and mismatched cup sets are long gone. Regarding interior design, business owners should choose a simplistic design, natural light, catchy coffee shop names and occasionally, theme décor. Hot design trends in coffee shops and cafes focus on blending functionality with comfort. 
Design trends for coffee shops
Group or "family" sized tables to deliver a meeting spot for friends or study groups.

Large and well-placed windows for natural lighting.

Use bookshelves, or visually appealing partitions around seating to create the image of privacy.

Opt for high-quality materials such as durable wood options or metal for furniture.

Explore unconventional themes such as Boutique or Steampunk Cafes.
A latest-trends coffee shop will rely on industry changes to build their brand, develop their menu, and direct major business decisions. 
Resource ingredients locally to create artisan coffee that is also sustainable. Then ensure you avoid anything artificial to draw in a younger crowd. Finally put some effort into planning other elements such as design, equipment, and the implementation of new technology even they will increase startup costs for a coffee shop. Current trends in the coffee shop industry will impact your shop so use them to your advantage!