Opening a coffee shop is extremely rewarding, but it's a challenging experience. A complete checklist of coffee shop necessities can undoubtedly make that process easier. Do you need equipment to brew and froth? Probably not, but you can start your business with the most crucial pieces of coffee shop equipment. 
Even with the events of 2020, it is evident that people won't abandon coffee. The coffee industry felt a 17.9% decrease in revenue from 2019. However, experts still expect industry revenue to surge back to 81.1 million in 2021. 
In addition to explaining what equipment you need, we've also given broad-level pricing information for reliable and durable equipment options to help you estimate your investments. 
Understanding your equipment needs
Equipment for a coffee shop is not always straightforward. Your coffee house will also need blenders, stirrers, and it might seem like you're stocking up a bar rather than buying a simple coffee maker. Get your baristas ready, and stock your shelves!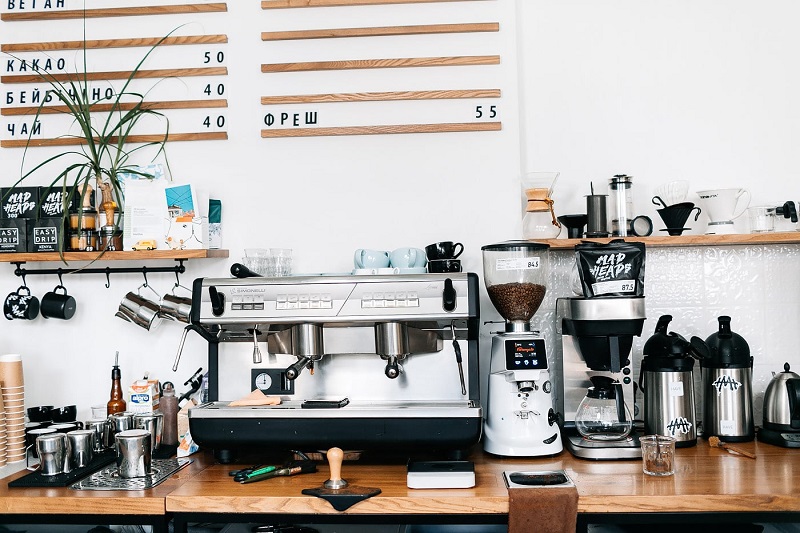 Coffee, espresso, and beverage equipment
Starting a coffee shop with equipment needs the machines required to brew a good cup of coffee. A CoffeeMate won't handle the flood of customers you should expect. 
When purchasing equipment for any business that prepares or provides food or beverage, ensure that it meets specific standards. Explore whether the equipment is NSF approved and meets safety standards. 
Automatic drip coffee makers
Coffee shop appliances tend to revolve around brewing devices. An automatic drip coffee maker should include a water system or connection, basket, and carafe. 
Automatic drip coffee makers use a hot plate to keep the carafe of coffee warm, resulting in burnt coffee and poor taste. Metal carafes can retain heat internally with greater precision and reduce the chance of getting that burnt taste. 
You may also consider self-service commercial coffee machines, which may have longer lifespans and require less maintenance. 
Coffee brewers
Where do you start when searching for the right coffee machine for a coffee shop? Brewers will deliver the most value during your slow periods as most are single or small use. Many coffee houses use these when they don't want to keep brewed coffee on hand for the risk of losing quality. 
A coffee brewer can provide:
Single serving brewing

Small serving brewing (2.5 liters)

Automatic grinding

Automatic brewing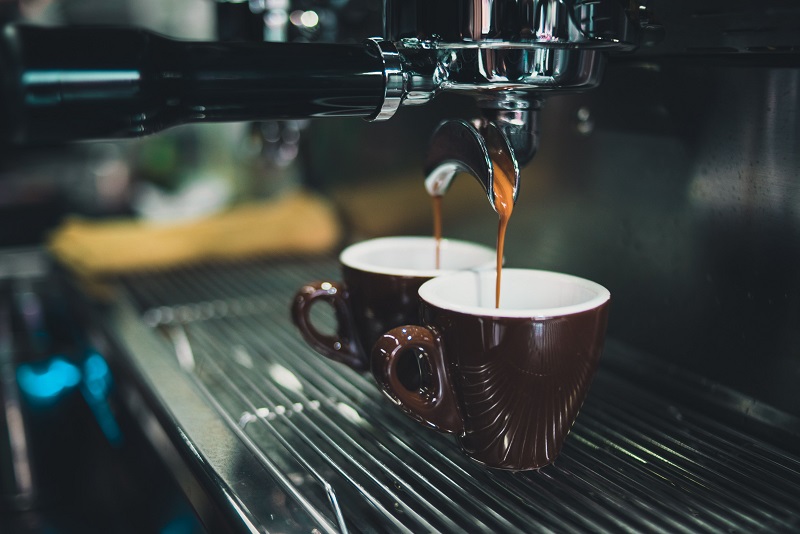 Espresso machine
You can't have a complete set of coffee shop start-up equipment if you don't have an espresso machine. An espresso machine can be a hefty investment but they're critical for a coffee shop. 
Your espresso machine will allow you to deliver delicious Caffe Americanos, Macchiatos, and cappuccinos. Astra, Estrella, and Grindmaster are powerhouses among espresso machine brands. 
An industrial coffee grinder
Commercial coffee shop equipment performs on a much higher level than residential options. Do not attempt to run your shop, even during your first few months, with a standard coffee grinder. It just won't handle the demand. 
Industrial coffee grinders usually hold between 1.5 to 5 pounds of coffee beans and can grind them down in minutes. Expect to pay right around $1,000. 
Milk and water
Milk is something you'll need to get from your vendor, but keep in mind that you'll need a wide variety of options—the water you'll need through your utilities and a filtration system. 
Consider stocking:
Whole milk

2% or reduced-fat

Oat milk ( A hot trend)

Soy milk
Industrial blenders — frappe and smoothie must-haves
Commercial blenders do look like your standard at-home device, but they are far more powerful! They are necessary to craft specialty blended or frozen drinks and smoothies!
The quick list with competitive price estimates
Coffee brewer — $300 - $2,500+

Espresso machine — $2,500+

Coffee grinder — $980

Blender — $250
Coffee shop cooking equipment
Coffee shop machines also include everything necessary to support your menu, even when it's not related to coffee! Most coffee shops have a variety of breakfast, lunch, and snack options. Make sure you have everything necessary to meet food safety requirements and deliver quality food items. 
Ovens and toasters
Many people don't consider ovens or toasters among the basic equipment for a coffee shop. Why? Although many coffee shops serve pastries, sandwiches, and other hot items, it's not required. 
Coffee shop baking equipment typically includes ovens, toasters, and small wares such as:
Muffin tins

Baking pans

Baking liners or parchment paper

Mixing equipment and bowls
Consider how much cooking you'll perform daily. You may need a Combi oven, or you may only need a heavy-duty microwave oven. 
Shelving
An equipment list for a coffee shop should include all the necessary tools and items to guarantee food safety. Shelving will keep your ingredients off the ground.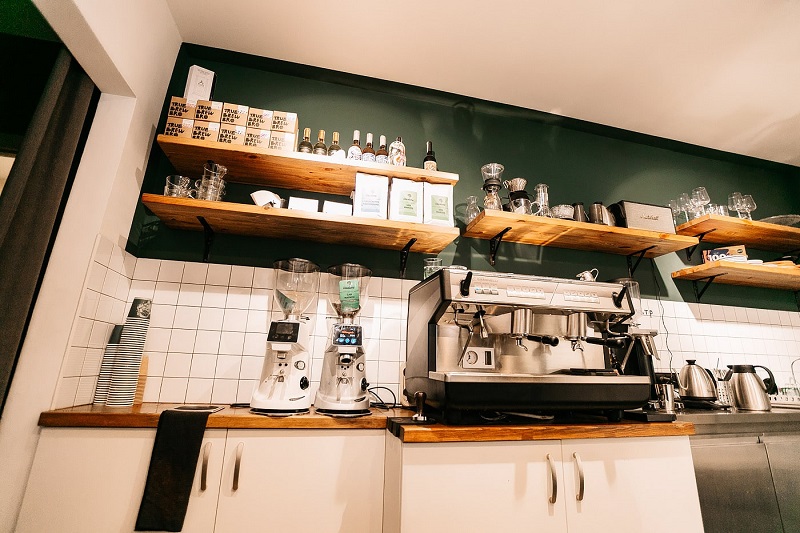 Containers, pumps, and storage
Coffee shop items involve a ton of small wares, including:
Pumps for syrup — $30+  (Nozzles are available separately)

Carafes for milk and coffee — $20 each

Airpots — $20

Condiment organizers — $30

Cup dispensers — $60 - 600

Scoops and dippers — $15 - 40 

Portion spoons — $20 - 30 (collective price for variety)

Frothing pitcher — $5 - $8

Knock box — $9

Thermometer — $3 - 5

Nitro Whip — $200

Nitro chargers for Whip — $25

Tamper — $6

Portafilter spout replacements — $80+
Use this as your complete coffee shop kitchen equipment list:
Combi Oven — $16,000 - $40,000

Heavy-duty microwave oven — $600 - $2,900

Wire rack shelving — $400 (estimating 4 units)

Small wares and kitchen small wares
Coffee shop refrigeration and warewashing equipment
Coffee shop supplies and equipment need regular cleaning and a stable holding environment. With refrigeration and washing stations, you can ensure your coffee house is safe for everyone who enters!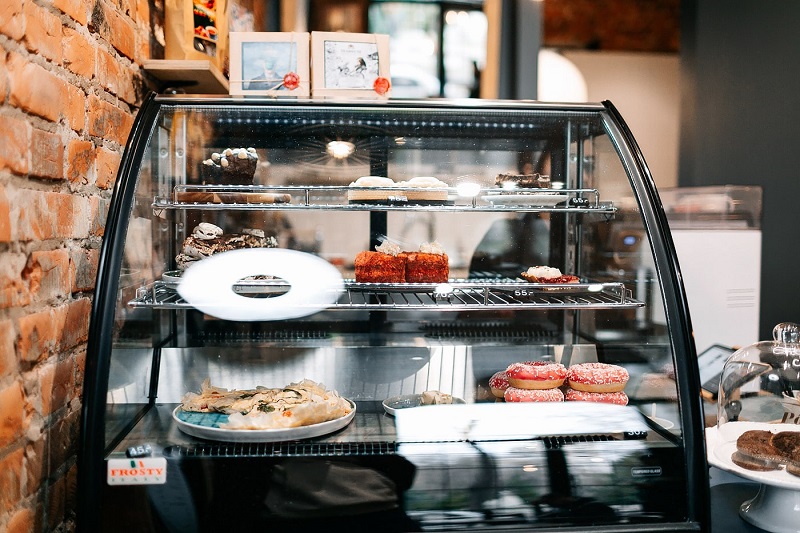 Refrigerators and freezers
What refrigeration equipment do you need for a coffee shop? A refrigeration system will keep milk and other materials fresh. If you serve food, then you may need a walk-in unit. Otherwise, you may need a smaller unit to hold milk and milk alternatives. 
Display style refrigerators — $600 - 2,000

Walk-in cooler systems — $5,000 - 8,000

Display style freezer — $3,700
Coffee shop water filtration
It's easy to find a coffee shop equipment checklist that leaves out water filtration. The quality of the water directly impacts the quality of your coffee and all other beverages. 
Water filtration system
It's typically easier to implement a filter system that will work for hot and cold machines. The systems themselves are usually between $300 and $1,200, but the cartridges require replacement, and they run between $20 and $60 each. Don't opt for a cheaper system that has unreasonably expensive cartridges. 
Coffee equipment cleaning and maintenance supplies
Skip out on the age-old advice of cleaning coffee makers with vinegar because there are high-quality cleaning products available. All of your coffee equipment will need frequent cleaning and regular maintenance. 
On the note of maintenance, similar to maintaining a car, you can avoid costly repairs if you put some time into keeping the equipment in top shape. 
Coffee equipment cleaners
Typically you'll pay between $6 and $20 per bottle of coffee equipment sanitizer or scale remover. There are also powder cleaning options available too. You may need scale remover, sanitizer, cleaner, and even line cleaner if you're serving up cold brew. Your coffee shop will also need a 3-compartment sink, which can cost between $350 and $900.
Equipment to keep your shop running
Many soon-to-be cafe owners believe that their coffee shop inventory list ends with the machinery and equipment. There are additional pieces of equipment you'll need to support day-to-day operations.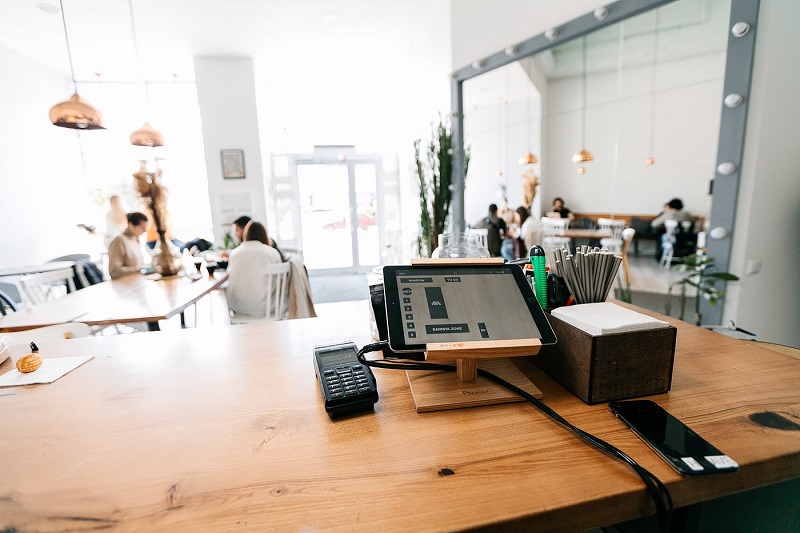 POS system and website
The point-of-sale system is the final piece of the puzzle that makes these other machines useful. When your customer goes to pay, how will you process that transaction? Through a POS but a POS should do much more than just run a payment. 
A coffee shop POS system such as Poster POS allows the business to closely monitor sales, track inventory, and even help build customer relationships. Enable discounts, customer loyalty programs, and reward your regulars through an easy-to-use system. 
Pricing for POS systems can change depending on your business size and needs. Contact Poster POS to explore a customized plan that fits your business and your budget. 
Curbside pickup supplies
With curbside pickup changing the way people order, even at coffee shops and cafes, you'll want to have all the right supplies. Ensure that you have bags that can seal or sealing stickers to ensure the safety of your customers. 
Other curbside pickup supplies can include disposable or single-use stirring sticks, forks, spoons, napkins, etc. 
Security system
No business is complete without a security system. A security system can deter robberies and break-ins, but it can also help you work with law enforcement if a break-in does occur. 
Security systems are vital, and fortunately, you can find many great options well within your budget for opening a coffee shop. Advancements in technology have made it easy to secure your business and set up surveillance for affordable monthly rates. 
Additional types of equipment
Would a coffee shop equipment list be complete without all those little things that produce high-quality beverages? Ready to finish off your coffee shop supplies list? 
Coffee bar equipment can also include kegs and taps for cold brew coffee or a press for juice on the menu. Carefully review your concept and determine if you will need additional equipment to accommodate your plans. 
Don't forget these essential coffee tools and equipment: 
Scales — $15 - $30 (each)

Ice machine — $1,500 - $3,600

Hot water dispensers — $150 - $220
Where to buy coffee shop equipment
You'll find a few vendors that function internationally; however, you may have many local or regional options available. It is essential that you know you're purchasing reliable equipment. 
Some coffeeshop owners do their best to buy direct from the manufacturer. That doesn't guarantee that you'll receive more support when it comes to repairs. One of the most popular online choices is WebstaurantStore. Other options include Whole Latte Love and McDonald Paper Restaurant Supplies. Some shop owners will begin a relationship with a local Restaurant Depot or a similar membership-required restaurant supply store. 
Ready to move on? What happens after you have your equipment
The equipment needed for a coffee shop is substantial, but once you've found quality pieces of machinery and small wares to match, then you're nearly ready to open. Now you can get started on finding suppliers, hiring service staff, and cultivating a marketing campaign. 
Gathering the right equipment is only one step of learning how to open a coffee shop. Ensure that you're carefully addressing critical steps such as registering and marketing your coffee house before you open the doors!