Best tips to start a restaurant catering
10 December 2020
•
6 minute read
•
5,742 views
Restaurants have most of the equipment and know-how necessary to offer catering services as well. Unfortunately, many restaurants don't treat their in-house diners and their catering customers the same in terms of quality or service level. Offering restaurant catering services is an excellent opportunity if you fully understand the challenges ahead. 
As you build your restaurant catering plan, consider a number of our tips on managing a restaurant. There are many ways that these tips apply to catering as well, and you'll see throughout this guide that how you run your restaurant will impact your catering services.
Our guide to catering helps answer critical questions a restaurant owner should know before getting started.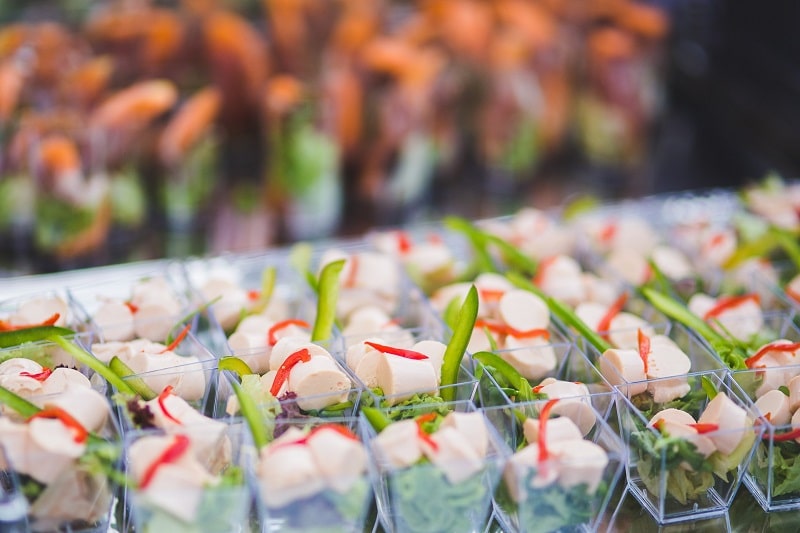 What is restaurant catering? 
Learning how to expand a restaurant business into catering can help your business reach new customers and operate with greater confidence during uncertain times. Catering has a vast scope. Essentially, you are providing food for a large group. 
In the United States, catering is a $12 billion industry. Still, it only focuses on three core activities: providing one-time event-based food services, providing service in banquet halls, and transporting meals or preparing on-site. 
When you start planning to implement catering, answer the following:
Will you offer on-premise, off-premise, or both?

Will you deliver or offer pick-up only?

If you deliver, will you set it up?

If you deliver, will you serve?

Will you be preparing anything on-site?
Some customers will want the catering done for their home, and others will have a venue. There are a variety of obstacles and benefits that could come with adding catering to your restaurant. 
Restaurants often offer catering services for:
Weddings 

Graduations

Business events

Anniversary parties

Holiday gatherings 

And more. 
General pros 
As a restaurant owner, you already have an established customer base who would likely choose your service over working with an unknown catering company. You also have the advantage of working with an established brand, name, and menu. 
Other benefits include:
Offering a wider variety of work for your staff

Access opportunities for profit when your business may have been closed (late-nights/holidays)

Use your knowledge of ideal portion control and food handling. 

Accommodate unique diet restrictions 

Build a cost-effective catering model. 
General cons 
Many restaurants face major pitfalls when they first introduce catering. The first major obstacle is that many restaurants have developed a bad reputation with their catering for not providing an experience consistent with their in-house dining. 
Restaurant owners have spent years with the clients coming right to them. Now they must learn how to find clients for catering from a restaurant and more. 
Common cons of restaurant catering include:
Inability to adapt top menu items for bulk preparation

Food losing quality before the catering service

Not having the equipment to transport food safely or to sustain quality during travel.

Attracting customers for the new service
Other challenges occur when you're preparing to kick-off a catering service. It may feel as though you're opening a second business or that you're putting your existing brand at risk.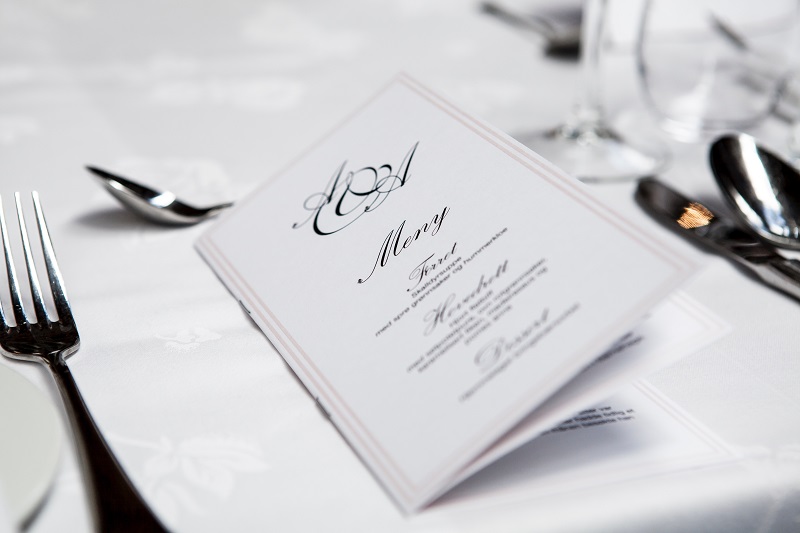 How to create a menu for catering 
As you already have a menu and established brand, you don't want to deviate too far from your current menu. A restaurant catering menu should include some of your top menu items, but it must also accommodate unique catering demands. 
Design your menu:
Identify the top-ordered items on your menu. Some Point of Sale systems will show which dishes receive the highest order volumes. 

Determine if your top menu items can:

Be made in bulk without losing quality.

Travel well, or be prepared on-site. 

Reduce your menu offerings to the following

Five or six main items

Three to five appetizers

Three to five side dishes

Two deserts 
In recent years, small menus have gained popularity, and it cuts down on decision fatigue. That seems simple when you're a niche restaurant. Even with catering, small menus have shown more success, reduce inventory costs, and cut down on waste. 
When evaluating how to begin a catering restaurant or develop their menu, many owners don't consider the different catering styles. Determine which style would fit your menu best:
Serving stations - Staff serve food at designated stations. 

Action stations - Made to order food is cooked in front of guests. This style ensures freshness.

Portion controlled buffet - Staff serve guests as they progress through the buffet, which controls portions and food safety. 

Self-serve buffet - No assistants are on-hand. Guests serve themselves.

Plated - Each guest receives an individually plated meal.

Family style - Each table has large platters, and guests serve themselves from those platters.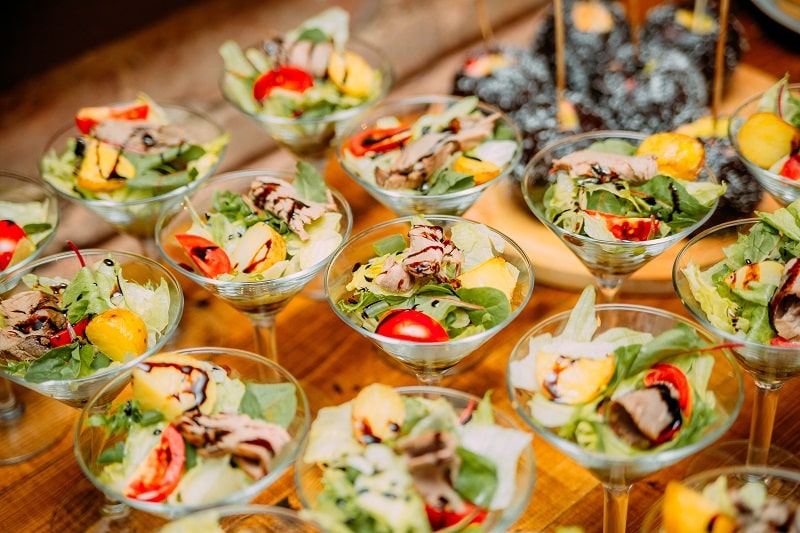 What do you need to start restaurant catering?
Restaurants have most of the materials necessary to begin catering right away. They should obtain an additional license and choose a restaurant equipment if they're going to cater off-premise.  
What is a catering license, and is it required for a restaurant? These licenses vary depending on location. For example, in California, any establishment with a liquor license can add-on a caterer's permit and serve liquor at catering events as well as food. Check with your local health department to add a catering license to your existing restaurant. 
You may need additional permits for fire safety, operating as a fictitious business, or even air and water pollution control. 
Equipment for a catering kitchen
How do you make your restaurant show up for catering? In addition to the kitchen you already have, you may need travel equipment, food storage equipment, and more. Here is our list of additional equipment you'll need to kick-off your catering:
Food pans or holding cabinets

Vehicle outfitted for safe food travel. 

Serving materials such as serving trays, beverage dispensers, and chafing dishes
You'll also need a restaurant point of sale software. Be sure to register your accounts so staff can use the cloud POS system on-site at a catering service or in-store. Restaurant catering software can help you ensure that you're meeting the customer's expectations and working within the venue's confines. 
How to set prices for a catering business
How to price catering for a restaurant is a challenge for many restaurant owners and managers. You don't price the same way you would for your menu. 
To set prices, most caterers will:
Total costs for bar, labor, and food.

Adjust to represent a lower-than-usual menu price (Due to the large volume, a $12 menu item may become a $9 per person catering menu item) 

Multiply the "per person" menu price by the guest count

Add service charges or catering fees.
What are catering fees?
After building some clientele, you'll have to explore how to increase restaurant catering sales — restaurants add catering fees for various reasons. When you're looking to increase sales, it's essential to present your fees transparently. 
Catering fees can include:
Room rental

Clean up fees

Transport fees

Bartender fees

Delivery fees

Set up fees

Serving staff fees
In addition to fees, many catering services will add a 15 to 20% tip as part of the bill.
Marketing your catering business 
Wondering how to promote a restaurant catering service? Your restaurant may already have a strong following, or you may be starting from scratch. Either way, you'll need a multi-faceted approach. 
Social Media — Social media is a great advertisement tool. Use your Facebook page and even post ads on Instagram. Use your best photos and creative insights into food and events. 
Your Network — If you're struggling with how to advertise catering at a restaurant business, you might consider sending out emails to your loyalty club members, use table tents, or even put your serving staff on the job. 
Word of Mouth — Spread the word the old fashioned way. Ask people to tell their friends, and even add the catering service onto your business cards or takeout menus to get people talking. 
Get your catering started
You can undoubtedly add catering to your restaurant mix. Start with the technical aspects, such as obtaining any necessary licenses or permits. Then, set your catering menu, price it accordingly, and focus on getting catering orders for your restaurant. Use a variety of advertising methods, gather your equipment, and get started. 
Building flexibility into your restaurant can help bridge gaps during slow sales periods. It can also provide more stability when changes in the economy or local environment impact your business. You can build a successful catering business right out of your existing restaurant with the same branding, reputation, and outstanding staff.
Sign up for our newsletter
Useful tips, articles, webinars about the restaurant business
You're already subscribed!
Double-check the email address you have written
✔ Thanks! You're now subscribed to our blog updates
Sign up for our newsletter
Useful tips, articles, webinars about the restaurant business
You're already subscribed!
Double-check the email address you have written
✔ Thanks! You're now subscribed to our blog updates