It's generally believed that people who live in large cities have more opportunities for business and career development than those in smaller towns. This is true, but it doesn't limit the possibilities for businesses everywhere. If you live in a small town and moving to a big city isn't on your agenda, that doesn't mean that you can't run a successful business.
What's the best business to start in a small town?
Opening a new business is the perfect chance to start gaining experience and building your skills in sales and operations. Most people spend a good deal of their time working for a company, and they don't often realize that they can take that experience to make their own way. 
For example, an accountant could easily open their own business, providing financing and tax accounting services, and making tax returns. These types of services are always in demand, especially among small business owners. Providing a service and working as a self-employed accountant allows you to offer a less costly option for account management to other small business owners. Small business owners often struggle with these services as they don't need a full-time employee and can choose to contact service providers whenever it's necessary.
Then, you can also provide courses to share your knowledge and experience with other people. There are many professions that can do likewise including lawyers, restaurant chefs, cosmetologists, photographers, masseurs, and more.
Small town businesses can be divided into three main categories:
Services. This business-type includes tire services and car wash businesses, beauty salons, and all types of home or business repair services (plumber, electrician, welder, tiler, etc.).

Retail. There is a huge range available for those interested in retail: Grocery stores, pharmacies, household stores, building materials, car parts and handmade goods (it is better to combine sales through both a brick-and-mortar location and an online store).

Self-production. This category can include the processing of any products for sale. Most products will end up in a large city or a restaurant business (restaurant, cafe, bar, coffee shop, mini-bakery, etc). Self-production includes farming, or any product that you manufacture directly. 
Discount retailers, and fast food locations can thrive even during economic downturns. McDonalds was still growing during the 1970s downturn, and Walmart grew year-over-year between 2007 and 2011.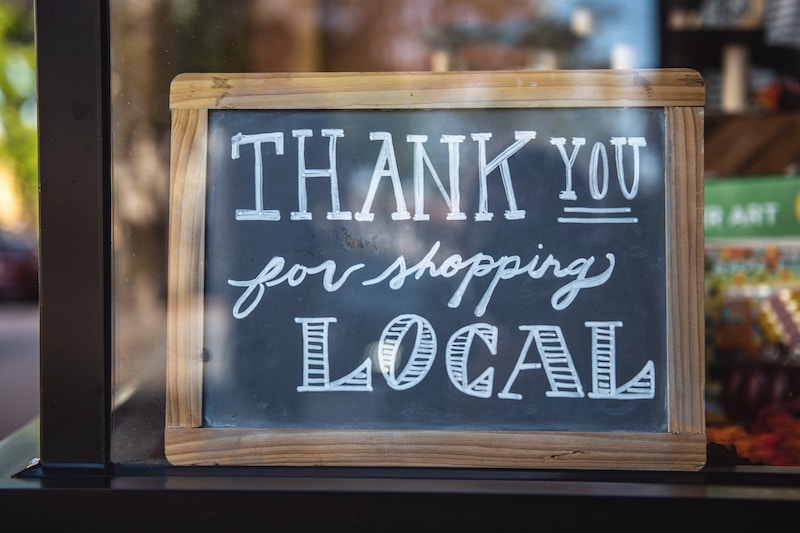 Pay attention to fields that are always in demand 
There are particular business niches that don't depend on seasons and crises. For example, people will always eat and drink, get dressed, take care of themselves and visit doctors. Basically, everything concerning people's daily routines and principal needs will involve businesses that are "recession-proof." Analyze the availability of shops and pharmacies in your area. Is there a supermarket in your neighborhood, or do you need to go across town? Figure out what is missing and what is already in place, and then explore how your skills and experience can fill the gaps.
Consider purchasing power 
You'll probably agree that selling certain exclusive, expensive items may be high-risk. Sophisticated fashion boutiques, car showrooms, VIP beauty salons, venues like these won't be a success in every small town. Similar startups may not be good business ideas for small towns because of the high risk. Instead of getting a profit, you could lose money.
Attract tourists
Tourist towns have their own advantages. Look at the cozy little stores, workshops, cafes and family businesses in small European towns. You can choose to follow this line in your hometown and turn your business into a local attraction. You could promote local traditions and crafts, combining them with souvenirs or unique dining experiences. Check more ideas on marketing your business to tourists in our recent post.
Can you create a business to provide scarce services 
Scarce resources aren't exclusive to hard to find materials. For example, many small towns have few affordable entertainment options that cater to adults and kids. Consider opening an open-air movie theatre, DIY or cookery classes, provide camping programs or even open an arcade center. Figure out what your town is missing and give it to the people!
Go online
Today the Internet gives business owners more opportunities, so why not grab them? The type of business and its target audience affects online results, so before you start make sure you'll be able to take full advantage of this. You can be in your small town and operate on an international level. Keep your small business feel, while using the internet to reach a broader audience. But, make sure that you keep a special space for your locals, offer discounts for locals or personalized services that you can't find on your site. 
For example, if you're thinking about opening a farm food store, maybe it's worth complementing the business with a website and delivery service. Right away, the online presence and delivery service will make you stand out from your competitors. At the same time, you're providing additional opportunities for scaling up your business later. Once your website gains some traction you can use advertising as a stream of passive revenue.
Businesses based on local products 
The idea is that you buy from the local community and then sell those goods in bigger towns or cities at higher prices. As a rule, local produce (fresh vegetables, fish and farm produce) is relatively inexpensive. 
97% of consumers search online for local businesses before deciding where to go. Having a local product is a big edge and will continue to attract locals and create revenue opportunities in cities or online as well. 
Popular options for businesses based on local products revolve around food items such as fresh-baked bread, farmed vegetables, or locally harvested honey.
Small-scale production
You can produce goods for sale in other cities or within your town. This could be anything, including furniture, metal working products, or even soap. Use your imagination and explore your town's market. You'll likely find a niche quickly! On a special note, production costs in a small town tend to be much cheaper.
Franchise options for using someone else's business concept
This type of business is called franchising. This means you no longer have to create a business from scratch but instead, you represent a brand. Franchises are now offered by many well-known brands from fast food to high-end retail.  
Essentially, you open a store and handle things such as overhead costs, and staffing. However, the corporate end of the business will often provide marketing materials, metrics for success, franchise POS system and inspect your location to ensure it meets brand standards. Franchise opportunities usually require paying a percentage to the corporation that's permitting your franchise to operate.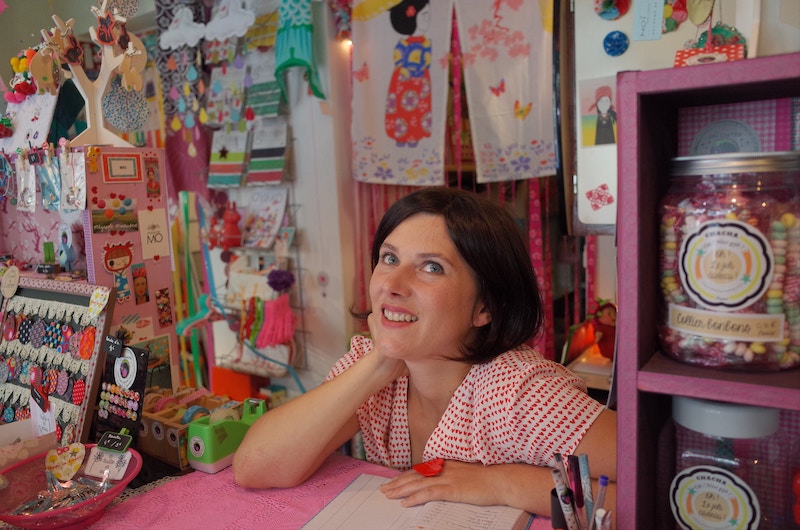 What you need to consider when starting a business in a small town
The entrepreneurial features of small towns are related to the specifics of their economic development. Usually, a small town is considered to be an urban center with a population of 50,000 people or less. If your hometown sounds like this, don't give up on the idea of starting your own business. As we said earlier, there's always a way to build something and succeed.
A business in a small town should have specific features:
A number of empty niches for your business. It is possible that there are plenty of shops or cafes in your town, but this does not mean that all niches have been occupied. It's worth taking a closer look.
A low level of competition. You probably won't need to fight for every client as hard as entrepreneurs in metropolitan areas do, as they compete with similar start-ups. But, you shouldn't relax and allow the level of service to fall because there's less competition. You must stay client-oriented and keep quality at the highest level possible.
Limited customer flow. Let's say your store, cafe, or beauty salon, is already visited by almost all the town's residents, so there's no way to increase the client base. If you want to earn more, you will have to come up with new sources of income. For example, bring in tourists (if the town gets them) and make your place more attractive for new arrivals. Although many businesses in small towns have a limited customer flow they may see a natural boost near holidays or with seasonal population changes. Towns that play host to retirees through hot or cold seasons, can have a natural ebb and flow in business. Another common situation is college towns which turn into ghost towns during the summer holiday. Your business may have lulls, but be booming for specific times of the year.
The importance of looking after your reputation. If you had a good reputation before starting a business, then maintain it by providing good services and high-quality products.
Lower start-up costs. Since the cost of buying or renting real estate, labor, supplies and other things in a small town is several times smaller than in a large city, it is possible to start a business with lower investment.
So, where to start?
When you think about starting a food service or retail business, you should decide whether to open an independent business or consider some franchise ideas for small towns. If you are a creative person, you may prefer starting a unique business, but if you have a more pragmatic approach, you may choose opening a franchise to bank on someone's proven business concept. 
The business idea should be:
Fresh and relevant (if there are 15 stores for 5000 people, then ask yourself if another one is needed)

Cost-effective

Easy-to-implement 

Desired by the community
Once you've got an idea for a business in a small town, you can put it into practice:
Do some research. You should study the theoretical part of the business that you are going to start. If you stay informed, it will be much easier to open and manage your business. Learn what it takes to operate a restaurant, hardware store, or salon. If you haven't worked in these businesses before then you might want to bring in someone with real-world experience. 
Create a business plan. Every business needs a business plan before they do anything else, no matter how big or small. Even when starting in a small town, you can't do without the right planning and paperwork. Develop a plan with cost projections for your area, so that you know exactly how much money and time you need. If you run out of ideas check out

Bplan.com

to find a template or example that fits your business type. This way you will avoid the most common mistakes at the business plan creation stage.
Make it legal. This process is rather laborious, so be patient and get started on it early. Each type of business has its own nuances in obtaining proper licenses, so you need to make plans around your business and concept. In addition, the state and even the town itself can affect the list of documents necessary. To understand the sequence, stages and cost of registration for your type of business and location, visit the License Suite and U.S. Small Business Administration websites.
Business plan implementation
Once the registration procedure is over and you have your capital investments, you can proceed with the implementation of your business plan:
Choice of premises for rent or purchase

Repairs, if necessary

Purchase furniture, equipment, and any smallwares

Hiring staff

Begin marketing for your grand opening

Buy POS software for restaurants (there are some inexpensive subscription-based POS software for any type of small food service business).
Advertising campaign
One small town benefit is that you don't need to splurge on advertising. You can make do with minimal expense by  investing in a bright sign, and ads on billboards, or flyers. Cooperate with your business neighbors and create a special deal together. This will complement your efforts, and of course, don't forget about social media. We've already mentioned ways to use social media promotion in the restaurant business so check this out for more information.
If you do things right and people are happy with what you are doing, then the rest of the work will be done by word of mouth.
Fifteen best small business ideas for small towns
The most difficult thing when it comes to choosing businesses for small towns is to come up with an idea that will be easy and inexpensive to implement while also quickly generating profits. Here are 15 t business ideas for a small town can be put to use and lead to success.
1. Bakery 
The smell of a freshly baked pastry in the morning will make even the laziest person in the world get out of the bed and buy fresh bread with a crispy crust for breakfast in a bakery with a memorable name. Bread is an important part of people's lives, and some of us can't imagine breakfast without tasty buns, croissants, and donuts from small home bakery. That is why if you think on how to open a bakery in a small town, you might be on the right way to building a profitable small business. 
2. Sports bar
Sport always unite people. This applies not just to the athletes but to those who root for their favorite teams on-screen. A sports bar is the place where fans can gather to watch matches, cheer together, and chat with like-minded people. Pay attention to the smallest details including the interior, the staff uniform, sports calendars, the possibility of viewing sports on a big screen, video game nights and so on. In a word, plunge deep into the sports world! You can also sell sports souvenirs and mascots with certain permissions. Or maybe you could offer a small reward to anyone who guesses the final score?
3. Ice cream cafe
Did you know that Americans occupy a leading position in ice cream consumption globally? If you're on the look-out for a great business idea, this is an excellent option for operating a seasonal business. When summer comes, all that people can think about is how to cool down a bit. Recent small business trends through North America include a rise in La Michoacana shops, paleterias based on handmade ice cream and sherbet from the Michoacan state of Mexico. Handmade, unique and delicious ice creams inspire no less interest than craft beer. The wider the ice cream variety, the better, because guests can choose whatever they like and will want to return. This could be the perfect place for families or sweethearts to stop by. And come on, who doesn't adore the ice cream man?
4.  Coffee shop or Cafe 
Starting a coffee shop or cafe business is a very exciting process. People will always need a cool place where they can spend quality time with their buddies and have a delicious meal at the same time. Even if there are several cafes in your town, opening a new and better one with catchy name will create more dining options for the community. Think about how you might stand apart from already existing places; maybe you'll make a bet on a themed design, ethnic cuisine or a location. Of course, the cafe concept will also depend on the people living in your town. As a rule, opening a cafe in a small town needs lower investment than if you want to run a cafe business in, say, New York City. You'll need to purchase equipment for a cafe, make repairs to the premises, hire staff, choose a POS system for a cafe.
5. Food truck
A restaurant is a place for dinners and dates, discussions and business meetings. But, what if there is absolutely no time to wait for an order, and all you want to do is to grab your food and get going? Mobile fast food on wheels is especially popular among office workers, students, tourists or just busy folk. A food truck is a fast food joint on a truck converted into a small kitchen with restaurant equipment. A distinctive feature of this business is the preparation of meals from semi-finished products, which reduces cooking durations several times over. In addition, to implement the business plan for a food truck doesn't require impressive start-up capital.
6. Microbrewery
We think no one will deny that beer has always been a symbol of pleasant times with friends. True beer fans often dream of buying a microbrewery to treat people with delicious beers made from original recipes. So, why not turn a hobby into a real business that will generate a good income? Large companies, as a rule, create a product that is designed for a large population of consumers. The advantage of a small brewery is that it can afford to produce an exclusive product in small quantities and cater only to locals or tourists.
7. Pharmacy store
Health is a major issue for everyone and the need for medicines is always relevant. Now more than ever before people are paying attention to their health. Although this business is not the easiest to start, it can have a large payoff. Considering that many people purchase more than just their prescriptions at the pharmacy each receipt could add up to big profits quickly. Pharmacy stores are excellent for small towns as they often have something for everyone by offering cosmetics and seasonal goods as well as prescription pick-up. You don't need much space to store medical supplies, and as a result, rental costs for premises will be lower than any grocery or hardware store. Sometimes medicine prices exceed the prices of other goods and services, so a pharmacy business could be quite profitable.
8. Pet shop
For many people, a domestic pet is a loyal friend or even a family member. Almost every family has a cat, dog, fish, parrot, chinchilla, turtle or other small creature. That is why opening a pet store in a small town can become a big deal. Don't confuse it with a veterinary pharmacy, which requires training and multiple licenses. We are talking about a store with pet products, such as treats, leads, collars, and of course small creatures. This business idea is simple to implement and always in demand among locals.
9. Grocery store
This is a business that is relevant all year round. Like a pharmacy, a grocery store is a stable and reliable niche. But unlike a drug store, this business requires lower costs and the smallest number of licenses and permits. If you decide to open a grocery store from scratch, the first thing you need to do is decide on the concept. According to businessinsider.com, local food sales in the U.S. should reach up to $20 billion by the end of 2019, a continued trend in preferring locally branded products. There are many options. Decide if you'll open a small supermarket, a shop in a residential district, or a specialized market (meat, fish, dairy, eco-products, etc). Today, shops that have a specific approach are considered the most profitable because they occupy less space and compete more effectively with developed networks due to their wider range within their specialization. However, if you can't stop thinking about the allure of large chains, then you could consider starting a franchise of a grocery store.
10 Flower shop
It's hard to imagine a wedding, birthday, fair, or a romantic date without flowers. To run a successful flower business it is not necessary to open a huge garden center or a luxury flower boutique (although it depends on the audience you are targeting). A flower shop does not require huge investments to open, and it has a significant margin that can reach 200–300%. There are also drawbacks in this business like seasonal sales, perishable goods, and the possibility of damage during transportation. You can cooperate with suppliers or grow the flowers yourself, thereby expanding the boundaries of your business.
11. Auto repair garage
The number of automobiles in urban environments is growing rapidly every year, so the business of providing auto repair services is very promising. This will especially suit people who are passionate about cars and can turn their hobby into a profitable business with a stable income. As a rule, people trust the repair of their cars only to a master mechanic, and only visit a proven auto repair shop. So if among the locals you are the well-known handyman you won't lack clients. 
12. Barbershop
Beauty salons with pink neon signs, beautiful accessories, and relaxing music have become a significant part of the modern woman's life. Despite the fact that men today pay more attention to self-care, they don't always feel comfortable surrounded by all these things. That's why over the last couple of years barbershops have gained a substantial amount of popularity. They offer old-school procedures with classic techniques (for example, old-style razor shaving) and invite guests to become a part of the tradition. Sounds good, right? Well, we're pretty sure that a barbershop adds zest to every small town.
13. Mobile car wash
Car washes are great options for opening a business in a small town. One of the benefits of running this kind of business is its compactness. The car wash can be placed in the body of a medium-duty truck and consists of a wide tent and a set of the necessary equipment. These setups are very reliable, not just for townspeople, but for vehicle fleet owners who need  washing for many cars and buses. To increase profitability, you can provide additional services such as polishing, dry cleaning, bug-off, and tire scrub. These mobile car wash services will often offer a carpet and furniture cleaning service as well, and use the same equipment.
14. Repairing computers and smartphones
Unlike capitals and large cities, where you'll find a gadget repair service on every corner, small towns don't often have an abundance of shops in this area. In most cases, people have no idea where to have their gadgets repaired after the expiration of the warranty. The stores where the gadget was purchased usually recommend using it for spare parts and buying a new one. Therefore, if there is a lack of service centers in your town and you are well-versed in the technology or know people who can perform this work well, then think about opening this kind of business. We're sure the locals will be really happy about the opportunity to extend the life of their tech devices.
15. Mini eco-farm
More people are choosing to buy food from eco-farms rather than supermarkets. The agricultural business is quite profitable, but, at the same time, requires large investments. Therefore, before you open a farm from scratch, you need to familiarize yourself with all the intricacies of this business and understand what will be relevant to your startup and specifically to your town. It could be vegetables, nuts, fruit, or dairy products. Each option is profitable in its own way, so you need to decide which kind meets your expectations and what is reasonable for growth in your area.
Small towns have some restrictions, which can affect the conditions for starting your own business. Not every idea can be successful. When choosing the best business to start in a small town, consider the economy, the living conditions and mentality. The main thing is to find an empty niche and make every effort to succeed in it.