Super Bowl 2020 is a huge promo opportunity for businesses. This event has been celebrated as much as national holidays in the US. Year after year, big brands gain huge profits after running their eye-stopping TV ad campaigns. Good news is that even small businesses can benefit from the event. If you are starting a bar in the city where Super Bowl fans live, read our post, to find out how bars can increase business during Super Bowl week. You'll learn how to stand out from your competitors and step up your sales game for the special night.
The Super Bowl is a Great Opportunity To Stand Out From Your Competitors
The Super Bowl is traditionally considered by local businesses as a chance to bring in extra revenue. Indeed, bars and restaurants are the ones to benefit during Super Bowl Saturday and Sunday.
The time to spend money
During Super Bowl weekend, consumers are still on the spending peak that started in the holiday season. Last year, for instance, Americans spent over $15 billion dollars on Super Bowl festivities. Here's a little breakdown of just how much consumers are expected to spend on food (data provided by The Nielsen Company):
$277 million - cheese snacks

$225 million - tortilla chips

$99 million - meat snacks

$89 million - popcorn

$71 million - cheese snacks

$42 million - dips
The same spending splurge applies to alcoholic beverages. During the Super Bowl weekend, Americans spend over $1.1 billion on beer alone.
Such a willingness to spend money on Super Bowl food promotions and drinks during the Super Bowl weekend will attract people to bars and restaurants for a party, a night out, or even an order to take home.
Super Bowl night is a time to go out
Those who can't afford to visit the game (tickets to the stadium cost approximately $4,200) are very likely to party at a local bar. In fact, approximately 11 million people considered a night out at a local bar following the Super Bowl last year, according to National Retail Federation.
This gives local restaurant managers a huge number of clients to manage. That night alone can be a chance to start a long-lasting relationship with potential clients and turn occasional visitors into regular guests.
A chance to attract press
The Super Bowl is an event that everyone keeps an eye on - press included. While all the big editorials will be covering the game, local outlets will also capitalize on the event's popularity seek out local pieces, for example, on the most impressive Super Bowl parties at local bars.
By creating an unforgettable experience for football fans, you can attract local press and spread the word about your place. Getting journalists to talk about your watching party is a great way to get local bar promotions for Super Bowl events.
Super Bowl Party Ideas For a Bar
In order to make sure you're rocking the atmosphere, come up with a few ideas for Super Bowl party themes and select the one that will be the most fun for your visitors. If it doesn't seem like there's a broad choice of unique football-related themes, we'll help you out by offering some ideas.
A die-hard fan party
Super Bowl crowds are big and come in a wide variety. There are people who genuinely care about the game and the teams, those who only come with friends, and those who are only waiting for commercials. A touchdown can be appealing to both groups, but sometimes it's not just about the way the game is played.
If you are a die hard football fan, think about gathering your best friends or family at a dedicated party. Here are just a few things you can come up with:
A trivia tournament with free specials as prizes to winners

Places where people can have competitions in EA's Madden NFL game

A costume party - everyone has to wear a jersey of his favorite football player
Organizing such a party will be fun and attractive for the press. If you want to go an extra mile with a die-hard fan party, add team cake toppings and go hard with all the football-related decor.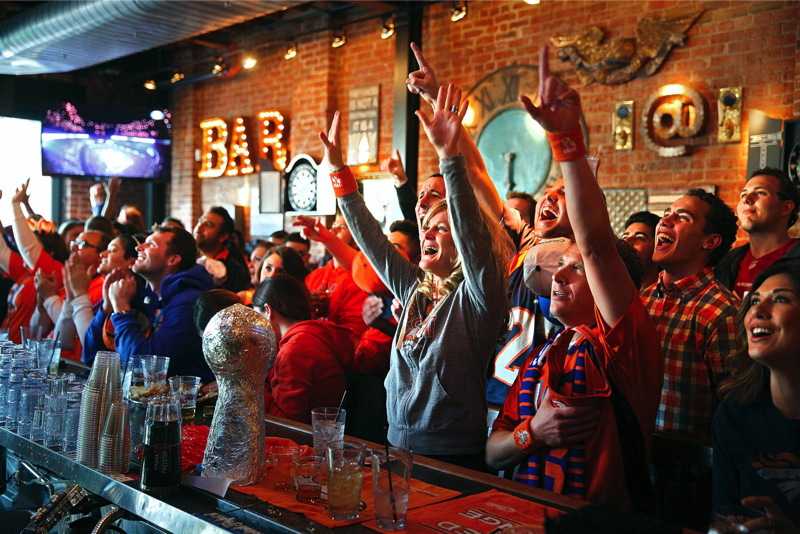 An all-day football brunch
In order to really take advantage of the Super Bowl excitement, it's not necessary to wait for the kick-off. In fact, you can have fun way before the start of the game. Serving football specials all day long and offering a unique brunch menu is a good idea to create an atmosphere before the game.
It's worth mentioning that hosting a party brunch a few hours before the game is a good strategy to stand out from the crowd of competitors who might not yet be ready to start the festivities early in the day. Small local bars should definitely consider this type of the party to raise the awareness of the bar. And for anyone who hasn't made plans for the game, this themed brunch might convince them to come back later in the day.
An Anti-Super Bowl party
When the entire country is obsessed with its biggest and best-marketed sports events, there's always a group of people that just don't get it. When everyone is discussing odds and bets, choosing teams, and following the halftimes, you can be there for a crowd that would love to stay out of the Super Bowl fuss.
An Anti-Super Bowl party is a good idea to think outside of the box as well as gain viral attention. That's an especially good idea if you aren't the biggest football fan yourself.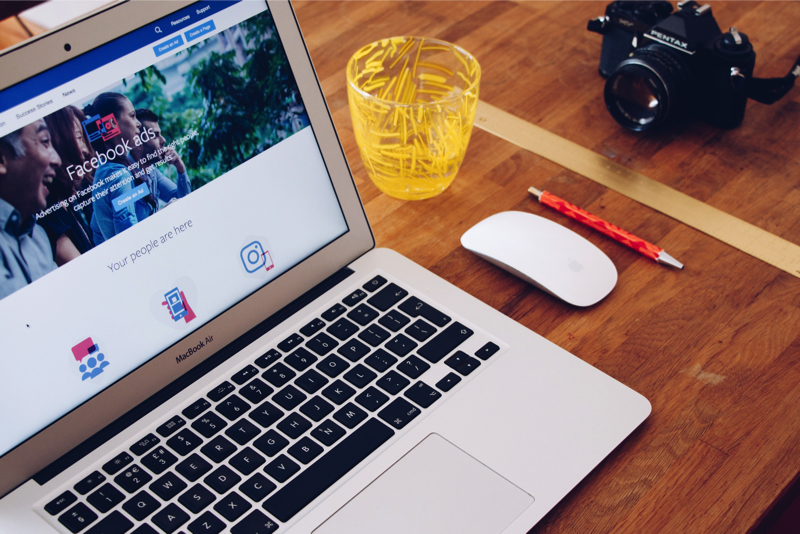 Online Promotions For a Super Bowl Party
Even if you have planned a Super Bowl party like no other at your local bar, at the end of the day, the success still lies in spreading the word and attracting as many clients as possible on the special day. Let's go over Super Bowl promotions for bars that will come in handy during Super Bowl Saturday and Sunday.
Create a Facebook Event
If you're looking for a clear and concise way to tell the local community you're throwing a Super Bowl party, consider bringing your event to social media. Facebook has an easy to use system for sharing upcoming parties.
Be sure to create an event for the party and put everything you offer in the description. After it's done, make sure your event gains traction. Here are a few ways to do it:
Ask your staff to tell everyone that they'll be attending. Everyone who puts "Going" on the party page automatically shares the event with friends. Your staff on its own can create a powerful traction mechanism.

Offer a discount for every invited guest. Instead of hoping for people to sign up to your party "just because", give them an incentive, an encouragement. Offering a free special or a discount for every invited friend is a good way to increase the number of shares.

Optimize the event. Apart from designing a stylish color and coming up with a creative event description, it's a good idea to put some efforts into optimization for search engines. For instance, check out what search queries people are putting into search bars and list them in the "Keywords" field.
Offer online catering
If you have a huge Super Bowl party in mind, you might have to deal with an all-hands-on-deck situation. No one on your team will have a light workload - there will be a need for as many people as you can get.
In such an energy-consuming atmosphere, phone calls for house-party catering are the last thing you need. Losing potential profit because you weren't prepared and had to refuse to process delivery orders during the Super Bowl weekend is something no owner wants to have happen.
Securing a system of online catering beforehand will help you tremendously to free up the labor and have more time to concentrate on the party. Keep in mind that a lot of restaurants are going digital these days - and you wouldn't want to be the one left behind. Not during Super Bowl night, anyway.
Start an online competition before the party
When it comes to the Super Bowl, everything is about competing. This is the time of the year when everyone loves to be challenged, filled with adrenaline and, above everything else, rewarded for their activities.
While a quiz or a trivia tournament can be a solid party activity, it's just as fun and effective to use contests as Super Bowl promotions for restaurants and bars. For instance, you can make people find clues and solve football-related conundrums to guess the party's specials or the games you're planning to host.
If your budget can cut it, go an extra mile by offering a prize to the winners of your online contest. This will give people even more of an incentive to participate.
How to Bring the Atmosphere During Super Bowl Halftime
During a watching party, you might be able to keep your crowd's attention with the TV alone. However, as halftime starts, you might risk losing a fair share of guests. Keep the attention on you and your bar by offering your guests fun halftime activities.
Have them rate commercials
Super Bowl commercials are an event on its own. Everyone loves to see what major brands have come up with this year. People love to comment on who had the best commercial, but keeping their attention is even more effective if you're rating the commercials and choosing the winner.
This activity is cheap if you're offering small prizes. It's just enough to keep every guest interested before the kickoff of the next half.
Play a round of Super Bowl Bingo
Who doesn't love some good old Bingo at parties? It's one of the best large group activities, even for an unfamiliar crowd. On Super Bowl night, it can be especially fun if you create special, sports-related cards.
Create a special photo booth experience
Many people want to capture the best moments of our lives and share them online later. On the day of the game, it would be a smart idea to create an unforgettable photo experience for your guests.
If you have a photo booth, make sure to upgrade it with jerseys, football helmets, and other sports-related stuff. This way, your guests will be able to take big-time selfies. You can also decorate your bar with photo ops in mind, designating areas for people to take pictures with memorabilia along with your logo or bar name for further promotion.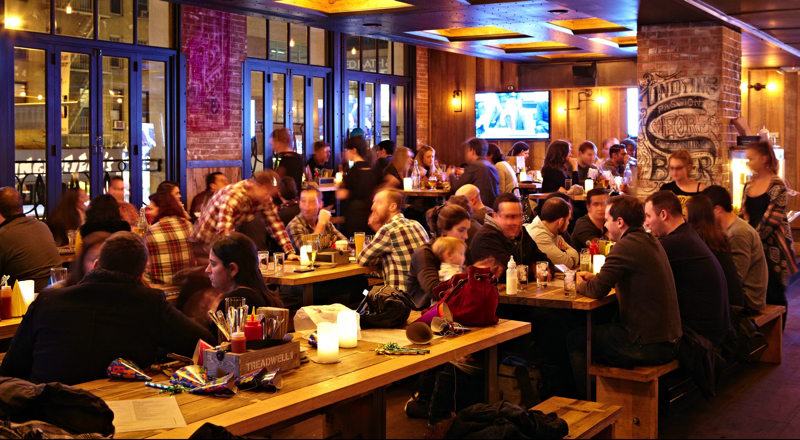 Super Bowl Bar Decoration Ideas
To create a once-in-a-lifetime Super Bowl party experience, you need to go all out. The most obvious way to deliver a special atmosphere is by decorating your bar with Super Bowl and football themed items.
Here are the top affordable items you can consider:
Plastic cups
Even if you don't normally serve food in plastic cups, it wouldn't hurt to use these just to keep the spirit going on and help visitors feel like they're at a game or tailgating. There's quite a wide selection of such cups on the market - you can even choose those that fit your bar's color theme.
Football tablecloth
If you're really into going the extra mile, think about getting a Super Bowl tablecloth for a game day party. This could get expensive if you have a lot of tables, but for small bar owners it's much more feasible.
Football field cupcake stand
Creating a special Super Bowl cupcake stand is a great way to create an atmosphere die-hard fans will love. There are many tutorials online to create this scene of field goal posts and small bleachers to place snacks on.
Scoreboard on the chalkboard
When the game is on, it's fun to have something to write bets and scores on. A chalkboard is a good, minimalistic way to create a scoreboard. You can engage your guests to write bets, ideas, as well as track scores during the game.
Helmet snack bowl
If you want to have a special piece of decor, something which all of your guests can't help but get excited about, a helmet snack bowl is exactly what you need. It doesn't get more Super Bowl than that.
You can fill the bowl with iconic Super Bowl specials - potato chips and cheese dip.
Super Bowl Bar Specials
For the big night, you want to offer menus that taste like team spirit. Room for creativity is endless - there are, however, some dishes you just have to serve. Organize those dishes in a separate menu in your bar POS software and turn it on for the event. event Let's go over these Super Bowl classics:
Hot chicken wings. Football and wings go together perfectly. Hot chicken wings with celery sticks and blue cheese dips are just the classic touch to your football menu your guests are looking for.

Cheese boat dip. Serving different kinds of cheese dips is an amazing idea to add new flavor to the party. Include cheddar and cream cheese in the dips and serve it with spices.

Winter drink. It's February so in many places the cold is intolerable. What can be better than blood orange, red pear, and a touch of alcohol mixed together in a warming Super Bowl cocktail? Also, it provides alternatives to the usual beer foam.

Mozzarella sticks. Cheeses baked in breadcrumbs are super delicious on any given day, but for a Super Bowl it's a must-have snack, You can even cook these sticks and freeze them in advance. This will save you time during the party.

Lasagna roll-ups. If you still want to serve some advanced cuisine, you can always include another famous gameday dish - lasagna roll-ups. These look appealing to hungry customers and taste amazing.

Buffalo chicken dip. This is the easy version of famous Super Bowl dips. It takes approximately half an hour to cook a dip - no different than any traditional cheese dips.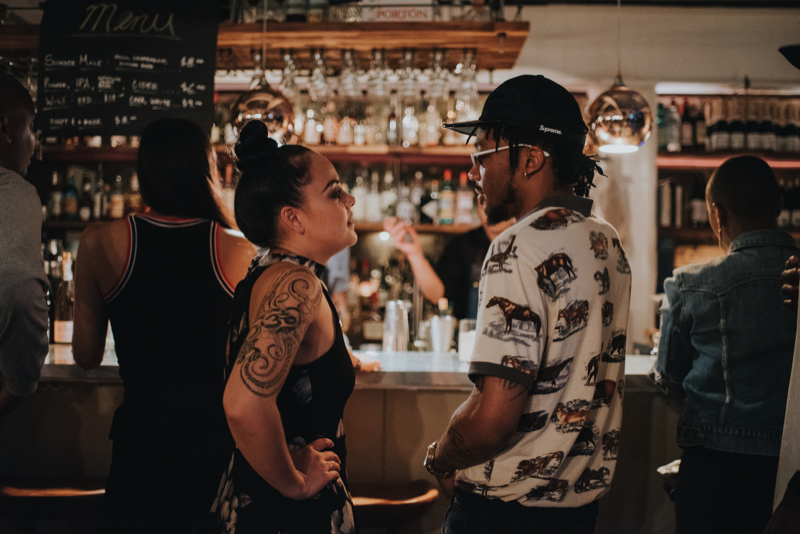 Super Bowl Afterparty
So the game is over. You've done a great job slaying a Super Bowl party and guests start leaving. If you want to keep the party going, you can organize an afterparty. Here are some rules you should keep in mind:
Step up your legal game. Before throwing a Super Bowl afterparty, make sure you've double-checked your bar regulations - can you serve food this late, if minors are allowed in during the day what time must they leave, etc.

Book a DJ to perform at a bar. After the game, you have a chance to lure your guests into visiting your place regularly in the future. Going an extra mile with entertainment and music will convince patrons that your bar is always this fun.

Hire a party clean-up crew. It's important to have someone on staff who's willing to wait until the end of the afterparty to clean the place up. If you don't want to bother your team with extra shifts, consider hiring a cleaning crew.

Keep people excited. Afterparties are all about adrenaline. That means offering a variety of drinks, playing music, and hosting more games to keep your guests on their toes. Make sure that everyone is excited about what's going to come next.
Super Bowl Sunday is a big day for Americans. Everyone is excited and ready for a night out. It's crucial for local bars to be ready and step up their party planning game. There's a variety of themes to choose from - it can be a die-hard fan party or an anti-Super Bowl event.
With a few attractive sports-dedicated pieces of decor and Super Bowl specials on the table, you'll be fully prepared for a football touchdown.
Certainly it's important to keep your management at the highest level possible. To make sure everything runs smoothly during the Super Bowl weekend, consider installing a restaurant and bar POS system. With Poster, you can keep track of everything that happens in your kitchen. A POS (Point of Sale) system is in charge of order management, inventory, analytics, and finances.
That way, when you're nearing Super Bowl weekend, you'll be able to keep all the management tasks under control and enjoy the party!