After starting a bar business your next challenge will be in finding ways to attract and retain customers. Think about seasonal holidays people celebrate nearly every month and plan on how you'll use those opportunities to increase your business. The funniest parties in bars happen on All Saints Day. For restaurants and bars this holiday gives good opportunities to gather a crowd. Every year customers spend a lot of money on Halloween. To get prepared to this holiday well, you should start thinking about entertainments, costumes, menu, decorations, and Halloween merchandise at the end of summer. 
According to the LendEDU study, people in the US spend $185.50 in average on Halloween:
$76.05 (41%) on candy 
$66.78 (36%) on costumes 
$42.67 (23%) on decorations.
Restaurants benefit from hosting Halloween parties, costume contests, or serving special menus. Everybody wants to enjoy Halloween – and who said restaurant owners can't get in on the fun and add profit to their business at the same time? In fact, this holiday provides an opportunity to launch some out-of-the-ordinary promotion campaigns. Here are some Halloween marketing ideas for your restaurant that will help you entertain parties, decorate your place, and figure out what else you can do to make guests remember you.
1. Choose creative Halloween decorations for restaurants and bars
People are obsessed with Halloween, in a good way, of course. That's why it's really important to give your restaurant guests a true All Saints Day aura. It doesn't matter whether you own a fast-casual eatery, old-school pub, classy full-service or family-friendly restaurant. You can be equally creative with holiday decorations and by choosing one of these interesting Halloween restaurant ideas:
Add deep dark colors to your interior design.
Use streamers, cobwebs, dry leaves, candles.
Tap into table decorations.
Every Halloween party must-have is pumpkin. You don't have to use the real one for decorations, but leave it for cooking a special holiday menu. Stores and websites selling themed decoration items are full of accessories, lamps, candles, statuettes and other supplies made in the shape of a pumpkin. Just try to make sure that the spirit of the holiday surrounds your guests.
Your party may have a more specific theme inspired by popular horror stories, like, good old Dracula, Hocus Pocus, or Frankenstein. Choose a corresponding Halloween playlist to support the vivid atmosphere but don't make it too scary for not to spoil your guests' festive mood.
Turn off the lights and create a mysterious atmosphere. Your customers would love it! Create some magic with a few tricks, like fake fog billowing across the floor or talking skeletons hanging on the restroom door. As an option, you can invite a professional decorator to help you prepare your restaurant or pub for the holiday.
2. Plan for Halloween restaurant promotions and contests
And now it's time to talk about free candy. You can offer your customers deals and freebies. Every restaurant you walk into has something interesting to offer their customers. Host a contest for your guests and, as a prize, offer a discount, free meal or drink from your special menu. The more extraordinary your competition, the more people will want to visit your restaurant and take part in it. For example you can organize:
A darts competition (or other game that doesn't require much space).
A cocktail contest.
A costume contest.
Offer customers the chance to create their own cocktail recipe and pick the winner or use other Halloween ideas for pubs to entertain your guests. Give anyone coming into your place a free coffee or treat if they're wearing orange. You can create a special loyalty program for people who participate actively in your events and add them to a special group of customers in your bar POS system.

Place two "Trick or Treat" baskets beside the entrance. First off, free biscuits and sweets to please your little customers and second, discount coupons with 2%-10% deals for the next order. 
Offer a special Halloween deal and give guests who are following you on social media a complimentary dessert. With the right all-in-one restaurant POS system, you'll be aware of the effectiveness of all promotional offers and holiday discounts. Think about what your customer would love, and create an offer around that!
3. Brainstorm Halloween party ideas for bar and restaurant businesses
Do you know what's the best part about Halloween for your customers? Right, getting free candy is important too, but we are talking about a party. Ok, this year Halloween falls on a Tuesday, but this shouldn't prevent you holding a themed party. Move the main Halloween themed restaurant party to the weekend, and on October 31 you can arrange a party for the kids. Check some recently released horror movies or cartoons to know what's trending. This may help you decide on the theme for your party and outperform competitor restaurant who may choose some traditional themes.
During the party, you need to give out the prizes from this lottery: Souvenirs with Halloween symbols: 
Amulets against evil spirits.
Garlic clusters.
Aspen stakes. 
At the costume party, it is necessary to hold a contest and reward the best outfits. Think of several nominations for those who party that nigh: "The most unusual costume", "Miss Halloween", or "Mr. Secret") and give the winners memorable gifts. 
You can start the entertainment on the doorstep. Let the guests meet a host and waiters dressed as witches or in other Halloween costumes, and get them to pull out a lottery ticket. Tickets can be put into a bag filled with rubber spiders and worms. 
Besides Halloween parties, you can also offer themed banquets and Birthday parties for customers. It will gain your restaurant, above all, more profit during the holidays.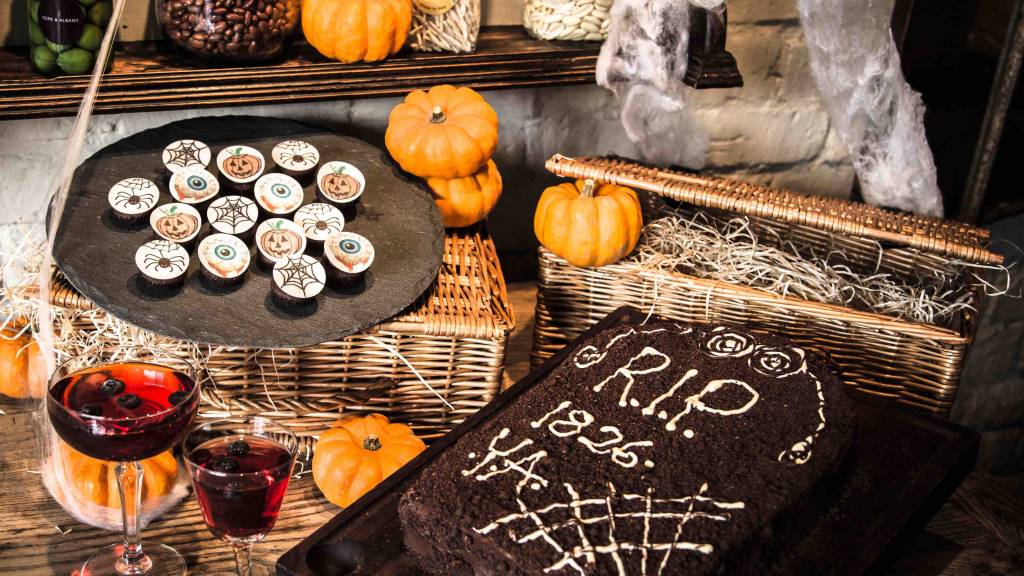 4. Create a Halloween menu with pumpkin and other seasonal specials
Many restaurants offer special menus for Halloween. That's exactly where your chef can give rein to their imagination! Developing a seasonal menu with Halloween-themed food involves every menu category from the pastry to the drinks. Traditionally, the menu includes a lot of pumpkin and spices. 
When it comes to Halloween bar ideas, you can use anything that could be taken for blood, any red-colored food or drink. Add Halloween cocktails to the menu, the classic or new and trending:
Bloody Mary.
Zombie Cocktail.
Bloody Black Currant Punch. 
If you have a tomato soup on your menu: Why not serve it in laboratory tubes or in a goblet with fake eyeballs and call it "Vampire Soup" or "Bloody Eyes". Use all your imagination, check out examples of Halloween promotions for bars online, and create Halloweeny menu names—you know it makes sense!  
Don't forget about special treats for the youngest guests—ghost-shaped cookies in white chocolate, cupcakes with "scary" toppings, pumpkin pies and more. And of course, to complete the whole restaurant concept, the menu itself should have an All Saints Day inspired design!
5. Provide Halloween costumes and makeup for staff
Creating a memorable Halloween atmosphere also depends on your employees and their festive appearance. Pick up masks and costumes or other means for your staff to disguise themselves and impress your customers with scary appearance. You can be even more serious and choose some popular themed costumes for your employees, such as a mummy, a vampire, Frankenstein, a witch, or a superhero. 
The concept and cuisine of your restaurant can also inspire the choice of costumes. For example, if you run a Mexican restaurant, it would be a great idea to come up with costumes and makeup in the style of the Day of the Dead.
Your staff can still wear uniforms with a small accessory. For example, waiters can wear a black shirt with an orange vest or handkerchief and a hat. That way, you're not getting too far into this while still keeping in with the mood you're creating. It all depends on how far you want to go with the Halloween atmosphere.
6. Come up with social media advertising ideas for Halloween 
Let people know about your restaurant party and Halloween promotions in advance. One of the most powerful forms of restaurant marketing is social media. Make sure you put your plans and restaurant Halloween deals on Facebook, Snapchat, Twitter, and Instagram. Word of mouth always does its job and helps other people in surrounding areas become aware of your restaurant offers. 
Give out a promo code like "Pumpkin",or "Trick or treat," for free drinks or hotdogs on social media to invite more customers to your place. 
Look into local events and check what your competitors are up to and do it better. You can create your own hashtag, post pictures of your new seasonal dishes and drinks to gain some likes and shares, make party announcements and every other kind of content to communicate with people and make them want to come and visit your place.