Some unique bar promotion ideas that work
10 August 2020
•
7 minute read
•
37,466 views
When you're thinking about how to open a bar your thoughts are all about making it look and feel a great place. You want your bar interior design to be outstanding and your bearded bartenders covered in tattoos to be charismatic. Following this approach, you'll gain your first regulars quite fast and they'll most probably give you good feedback. But what's next? Next, you'll have to think about your marketing strategy (according to your bar opening budget) and find ways to spread the word about your location to let everybody in the city want to spend their evenings there.
In today's competitive landscape, your place won't all by itself provide you with a longer list of loyal customers and a higher average check. Without advertising, your potential customers might never find out that your bar exists! So let's figure out how to promote a bar to get the most out of your business. We have collected some useful bar promotion ideas that would help you take your business to the next level.
Social media
While this is probably one of the simplest bar marketing ideas and the most obvious way to reach new customers, it shouldn't mean that you neglect old-school, tried-and-tested methods like bright signs and boards outdoors. You can advertise promotions and special deals on them to attract passers-by from the street. How else can you attract customers to a restaurant or bar?

Almost everyone spends most of their time online, so why don't you benefit from this to promote your bar? Social media is an accessible and personalized way to contact your followers. Facebook, Instagram, and Twitter are great aids to do just that! 
Look at large chains or the most popular bar in your city: We're pretty sure they'll have a massive, loyal community standing behind them. Follow other successful bars and "steal" ideas like a true artist! Here are some unique bar promotion ideas for you to use to attract new customers to social media:
Use events on Facebook. Be sure to create a separate event for each party, themed meeting or master class that you hold. The best way would be to throw parties on weekends once every couple of weeks. Invite all your followers and use paid advertising for greater reach.
Create your own #hashtag. Use it under every post on social networks and promote it among the guests at your bar. For example, hang a neon sign with your hashtag on a wall or on the bar counter. It's hard to miss something bright, isn't it? Encourage your followers and loyal customers to use your hashtag on Instagram while sitting in the bar. We have already talked about

Instagram promotion ideas for restaurants

and bars, so check this out for more details.
Offer promotions and special deals. It isn't necessary to hold a free cocktail contest or a "2 + 1" promotion every week. Better to offer something more interesting, for example, give guests the opportunity to create a cocktail together with your best bartender. Or ask people to invent names for new cocktails in the comments and the best gets 3 cocktails for free. Collaborations work pretty well, too! For example, cooperate with a tattoo shop or a barber shop on competitions and give the winner tattoo or haircut gift cards. Once again: Always keep in mind your concept and target audience specifics. It's better to stand out and offer something unusual. Something people will remember you by.
Run photo contests. Promote them everywhere, especially on Instagram. Create a permanent set of rules to avoid problems with identifying the winner. Set obligatory conditions for participation, for example, reports, hashtag and geotag.
To get the most out of the boundless Internet, consider creating a website for your bar, where guests can book tables or order delivery (if you serve food). Also, register on Google Pages and TripAdvisor and mark your location on Google Maps.

Other important advice you need to include in your bar marketing plan is to collaborate with local bloggers. They can help promote upcoming events and attract more customers to your bar. The best way to organize communication with bloggers is to assign an employee as coordinator. This approach will lead to effective organization and promotion so that not one of your events goes unnoticed.
Holidays and seasonal promotions
So it's worth considering other dates that fit your concept, becoming an excellent occasion for loyal guests to spend their time at your bar. If your bar point of sale system allows you to run promotions, you won't even need any additional marketing software. Here are some examples of bar promo ideas during holidays:
International Beer Day, August 3. This is a perfect holiday for every bar or pub! Offer discounts on bottled beer or serve local craft beer. You can even do a tasting for true beer fans!
Cinco de Mayo, May 5. One of the biggest Mexican national holidays. Dress the bartenders in sombreros, and offer special cocktails based on tequila. You can temporarily add to the menu your own taco and burrito variations.
St. Patrick's Day, March 17. Drinkers in bars around the world celebrate this holiday with special pleasure. We doubt you'll find a bar or pub without some "green" fun on this day. You can run special offers on Guinness and add green food coloring to cocktails and drinks.
Massive sports occasions. You don't need to be a sports bar to throw a themed party in honor of the Olympics or Super Bowl. Everyone definitely has a good reason to meet with friends at your bar.
Local holidays. The main rule of every good bar is always to focus on local events. And we aren't talking just sports. 
There are so many ways you can hold an event! For example, it could be a movie quiz, a projector movie evening, a costume party, or all these together! Your pub promotion ideas first and foremost depend on your budget and imagination.
There are a lot of other fun dates you can celebrate at your bar! Star Wars Day (May 4) could become a great themed party! Decorate the bar and develop a special menu, adding new themed dishes and transforming the most popular ones.
Food has tons of special holidays too! For example, Hotdog Day (July 21) or National Burger Day (August 23). It's the easiest thing to add variations on these dishes to the menu. Or you can collaborate with local street food maestros if they're around. You provide the space to hand out and drink, and they cook amazing and unusual hot dogs. Any holiday can be taken as a reason to throw a party at your bar. Select those that best go with your bar concept and schedule a calendar of events.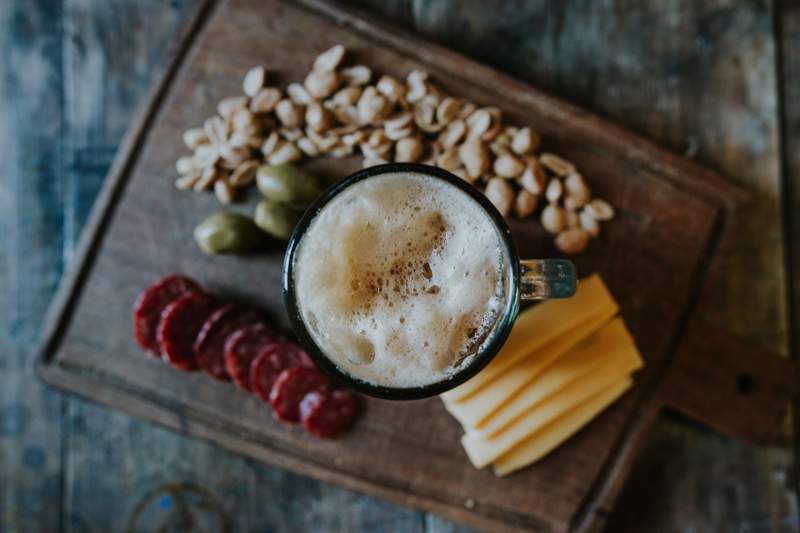 Menu diversity
Can we consider a selling menu as one of the marketing ideas for pubs and bars? 100% yes! Drinks are great but a bar menu isn't complete without snacks. Snacks are an excellent way to increase bar sales. As with everything else, the menu items also depend on your chosen concept. 
If you own a bar for hipsters, then probably the menu should include hummus, various bruschetta, a cheese plate, spiced sweet potato and other stuff that suits hipster preferences. 
There is no need to hire a full-time chef if you serve snacks and drinks. A line cook will cope with the cooking process completely. Though, if you are going to serve sophisticated snacks, it makes sense to find a chef who will help you develop recipes and describe the cooking process to your cooks in detail. Most snacks are very easy to cook! When it comes to a regular bar, here are the most popular:
Onion rings
Buffalo wings
Nachos
Potato chips
French fries
Fried dumplings
Mozzarella sticks
Cheese balls
Grilled sausages
There are also ready-made snacks: crackers, nuts, etc. To get a real advantage, it's not enough to add the snacks that all your competitors have. At least try to diversify the assortment with a range of sauces. 

First of all, bet on snacks that are prepared in the bar, no matter how simple they are. A bar that serves snacks will beat the bar offering drinks only.
The wider the choice, the better. Choose three or four variations for each type of snack and don't skimp on them. To keep the food cost to the appropriate level, it is better to put up the prices instead of reducing the size of the sauce portion.

Bar promotion ideas
1. Everyday deals 
If you need to test a new menu item or a cocktail, offer your guests a discount and ask what they think of it. Or you can come up with some ideas for the weekends as well as working days to motivate people to visit you more often.
2. Seasonal deal
Offer guests seasonal cocktails. Change the bar menu every three or four months, though keep the menu base consistent. People like to try something new!
3. Mystery drinks
This game works really well! Suggest your guests try an unknown cocktail or beer, and let them guess what it is. If a guest wins, you offer a discount or a second cocktail for free.
4. Private drinks tastings
Hold private parties for your most loyal guests. Invite your regular customers to try new cocktails, wine or beer. To run such loyalty program, create a special group in your POS system and send them the invitations a week before the actual tasting party.
5. Promote snacks
We already told you about the importance of having snacks on the bar menu. An additional advantage is that snacks usually have high margins. You can sell even more of them by giving a discount when cocktails are ordered, giving both everyday deals ("1 + 1 = 3"), and cumulative ones (every fifth snack is free), etc. This motivates guests to buy more.
Having fun in the bar
A successful bar should create the most pleasant and entertaining atmosphere that keeps customers coming to your place again and again. Often large gatherings want not only to have a chat while drinking beer or wine but also have fun. Let's see what you can add to your bar:
Air Hockey
Foosball
Pool and billiards
Darts
Beer contest
Beer Pong
DJ nights
Karaoke and jukebox
Poker tournaments
Stand Up
Live music
In general, the latest trend in bar entertainment is to make it more interactive, social, and even a little competitive. Friendly competition can spark bonds between your customers, and create a more energetic atmosphere.
For example, instead of just hiring a band to perform, could you run a weekly competitive open mic night? Start by selecting a local musician to be the judge, he or she selects the best performer, who then judges the next week's event.
One of the most popular competitive bar events is  time on a weekday. For bars, it's a great way to draw a crowd and increase revenue on a repeat basis.
Of course, you could always turn classic drinking games into a competitive event. Host a bar games tournament where players battle it out in rounds of flip cup, cornhole, darts, and more. Check out these 18 best bar games for inspiration.
Sign up for our newsletter
Useful tips, articles, webinars about the restaurant business
You're already subscribed!
Double-check the email address you have written
✔ Thanks! You're now subscribed to our blog updates

Your detailed checklist for opening a new restaurant
Setting up a restaurant business? Use this ultimate checklist to do it right.
×
Sign up for our newsletter
Useful tips, articles, webinars about the restaurant business
You're already subscribed!
Double-check the email address you have written
✔ Thanks! You're now subscribed to our blog updates