Restaurant Service Ideas to Promote Thanksgiving Sales
7 October 2019
•
4 minute read
•
11,803 views
Autumn is quite eventful. As with any special holiday, the Thanksgiving holiday must be thoughtfully planned. Unlike All Saints Day, Thanksgiving is a traditional holiday, and many people prefer to celebrate the holiday at home with family and close friends. Cooking a turkey is an important ritual for many Americans. However, the young struggle to find the time for honoring traditions and preparing a festive dinner. According to the National Restaurant Association, modern families either go to a restaurant or have a ready-made meal delivered to their home. 
15 million Americans prefer to have their holiday dinner at a restaurant, 4 million order full traditional home meal, and another 14 million Americans order a partial meal. 
Staying open on Thanksgiving can turn one of your best restaurant marketing ideas because the locations you compete with might be closed on that day. Still, it is important to keep your head above water during the holidays. Offer group and family traditional dining, in-house restaurant catering service, promote holiday parties, and support local food festivals. Here are more Thanksgiving marketing ideas for bar or restaurant that will help you to increase sales and attract customers during the holidays.
Thanksgiving menu and decoration in restaurants
At this time of year, people who can't spend Thanksgiving week with their family or who don't want to spend much time preparing meals still need a festive dinner. If your restaurant is going to remain open on November 23, then you definitely need to plan a special menu and come up with thanksgiving buffet ideas. There is no way to do that without traditional turkey and dressing, cranberry sauce, pumpkin-flavored desserts, and casserole dishes. 
People love to experiment with traditional recipes, and it is not easy to surprise restaurant guests with unusual dishes so you need to try harder when coming up with Thanksgiving service ideas.
Of course, the menu should include the main dishes, but, in addition to the classics, offer customers something new and inspired by classic ingredients. For example, people might enjoy something like vegan sweet potato casserole with maple pecan topping, apple pie salsa with cinnamon sugar, or pumpkin pie popsicles. To increase Thanksgiving sales, add special cocktails to the menu that are available just for the holidays. Make your place one of the best Thanksgiving day dinner restaurants in the city! 
Thanksgiving Day-themed restaurants can draw even more attention. Consider a couple more Thanksgiving marketing tips. You can make the atmosphere more festive by decorating the hall with pieces that evoke nature. Use warm, golden colors, floral napkins, and create a fall tablescape with autumn-scented candles, small pumpkins, oranges, chestnuts, flowers, or leaves: everything that is holiday inspiring.

So let's sum things up:
Add dishes and drinks to your menu that will bring a festive atmosphere to your location.
Print a special menu as additional pieces to your main one.
Use all your creativity while decorating the hall but stick to your concept. Don't over do this. 
Offer Thanksgiving to-go food
Taking into account the raising trend on takeaway food, offering Thanksgiving meals to-go can be the best thanksgiving marketing idea this year. This is a lifesaver for those who don't want to cook anything this Thanksgiving but still want to have a delicious holiday dinner at home. In addition to the competition from other local restaurants, many supermarkets also offer Thanksgiving meals. This means your restaurant should strive to offer great quality and make better Thanksgiving offers for customers so they make a choice in your favor.
Make the order process easier and post your menu online. Place your special offers on the restaurant website, and don't forget about popular food delivery services like UberEats, GrubHub, and Seamless. To avoid overloading your customers right before the holiday, make sure that people know about your offers in advance, for example, starting on November 1st. And, of course, choose the deadline for meal orders early on. 
Decide how you will set prices. For example, charge per pound or number of people (dinner for 4, 8, 10). Think about a la carte options for smaller groups, too. Consider including some complimentary extras such as cookies or cranberry sauce. You can also offer Thanksgiving boxed lunches that small businesses can pick up at the restaurant. Many office workers will appreciate it.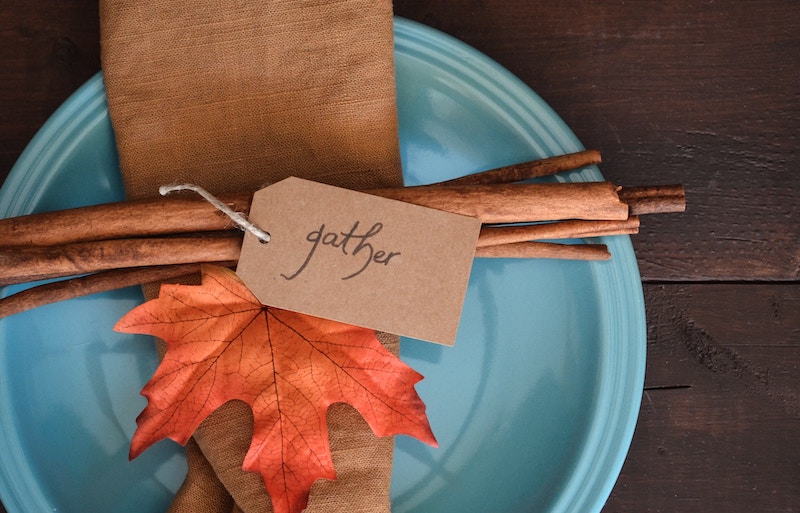 Themed parties and special deals
November brings colder weather, so people prefer to spend more time indoors. Therefore, people need a place where they can have a fun while enjoying a delicious holiday meal. Take an advantage of one of the biggest bar days of the year, Thanksgiving Eve, by targeting large local groups. 
There are a lot of Thanksgiving Eve promotion ideas for bars and rastaurants! For example, hosting afternoon football viewing parties with half-priced snacks on the menu will be really popular with sports fans. Or broadcast the large, traditional Macy's Thanksgiving Day Parade, and try to recreate the atmosphere of home for guests of your restaurant.
Start a "Thanksgiving Countdown" promotion the week before the holiday by offering a different deal each day, like "free biscuit with purchase of a cup of pumpkin spice latte" or "30% off on a second hot chocolate". 
You can set up all the special deals in your POS software for restaurants. By adding special restaurant Thanksgiving Day deals you can attract more guests to your business. Offer a complimentary item, like sparkling cinnamon cider or extra gravy to the customers who order the full Thanksgiving Day meal. Another marketing solution to Thanksgiving is offering rebates, or promoting gift card sales. Offer a free item with each sale that encourages people to bring family and friends to the restaurant. You will benefit from interesting Thanksgiving Day ideas.  
Social media and promotion
If people don't know about your Thanksgiving special offers, they won't show up. Fortunately, when it comes to holiday marketing there are plenty of ways to keep your guests informed. You can send emails with a special menu and restaurant offers to all participants of your restaurant loyalty programs to keep them up-to-date. Social media is definitely on the list of the best ways to promote your restaurant. 
Attracting an audience is definitely not simple for restaurant owners. But one thing we know for sure: it's better to brainstorm some Thanksgiving promotion ideas for rastaurants to attract more guests than simply cut prices. People are ready to overspend during the holidays, so restaurateurs that don't have special holiday promotions are losing opportunities, customers, and profit. What will you do this year?

Sign up for our newsletter
Useful tips, articles, webinars about the restaurant business
You're already subscribed!
Double-check the email address you have written
✔ Thanks! You're now subscribed to our blog updates

Your detailed checklist for opening a new restaurant
Setting up a restaurant business? Use our checklist to do it right.
×
Sign up for our newsletter
Useful tips, articles, webinars about the restaurant business
You're already subscribed!
Double-check the email address you have written
✔ Thanks! You're now subscribed to our blog updates