Do you want to attract more customers to your restaurant and skyrocket your sales? Here is a solution for you – integrate user-generated content (UGC) into your marketing strategy, and you will achieve all the goals set. Real customer reviews are trusted 12 times more than branded content. So focusing on getting more user-generated content belongs to the most effective restaurant marketing ideas. Here is a short guide by Daniela McVicker on how to establish your restaurant's brand using UGC.
Why should you use user-generated content to promote your restaurant?
First of all, let's make it clear why you should integrate user-generated content into your marketing strategy.
Use social proof. Any pieces of user-generated content, including posts, comments, and tweets about your restaurant, serve as social proof. They help to convince prospective customers that your restaurant is worth visiting and that your food is worth tasting.
Cut content marketing costs. If your customers generate high-quality visual content, you don't need to hire a team of content creators and photographers. You can use photos and videos published by your guests, and do it for free.
Humanize your marketing. The restaurant business is not about delicious food and fancy interior design only. It's about people. Your social media audience wants to know who visits your restaurant and also who stands behind your brand. If you leverage user-generated content in the right way, you will satisfy that curiosity and add a human touch to your brand.
Boost engagement and build a community of loyal customers. User-generated content helps to engage the audience more than other types of content do. So if you share posts of your customers on a regular basis, you will grow your social media following.
Five fun ways to get user generated content for restaurant marketing 
Now let's consider five steps you should take to encourage customers to take photos at your restaurant and share them on social media.
1. Incorporate an Instagram-worthy spot in your restaurant's interior
The first step you should take is to tweak the interior design of your restaurant. You may hire a professional designer to give your restaurant a quick makeover. Or, you may use your own ideas to make your place more visually appealing.
If you don't have enough money to renovate your restaurant, don't worry about that. It's not a big problem. You don't need to change the look of the entire space completely. You can choose one spot in your restaurant and make it "Instagrammable".
Seriously. You don't have to spend a fortune to make your guests want to take photos in your restaurant. You can pick one wall or one table in a room and adorn it in a special way. If you don't believe that it can work, here is a proof. Mr.Holmes Bakehouse is a bakery that has two locations – one in Los Angeles and another one in San Francisco – both of which are extremely popular among locals and tourists. 
The interior design of both places is minimal– white brick walls and a few chairs. The only decorative element that grabs customers' attention is a neon light sign that says, "I got bakes in Los Angeles/San Francisco".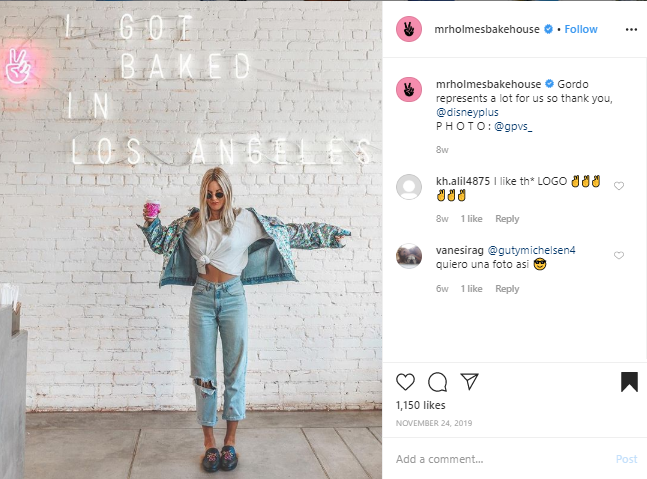 It may surprise you, but this wall has turned into a perfect Instagrammable spot. Every day, dozens of customers line up to take a picture next to the sign. As for today, there are more than 38K posts with hashtag #MrHolmesBakehouse on Instagram, and there are way more pieces of user-generated content on other social media platforms. Mr.Holmes Bakehouse spent around $1,000 on each neon light sign and has gotten enormous profits in return. And you can use the same approach to improve marketing results. Make a spot in your restaurant Instagram-worthy, and you will get tons of user-generated content for promoting your restaurant on Instagram.
2. Style your restaurant's food in a new way
Have you heard the phrase "camera eats first"?  This term describes a global phenomenon of people taking photos of their meals before they eat in order to publish a post on social media. 
Modern people literally "feed" their cameras first by taking pictures of their food before feeding themselves. They are obsessed with food porn.
If you want your restaurant to benefit from UGC, you should find a new way to present your culinary creations and impress your guests. Your goal is to make your customers think like this: "This plate looks fantastic! I have never seen anything like this before! I need to take a picture and publish it on Instagram and Facebook so my followers will be jealous of what I eat." Well, it doesn't mean that you need to design a brand new menu from scratch. You can just add a few new items with "wow factor" to the existing menu or simply restyle some of your dishes. 
For instance, you can adorn your top-selling dessert with edible flowers or butterflies made of edible wafer paper. It will not change the taste of the dessert, but it will amaze your guests and encourage them to use their cameras.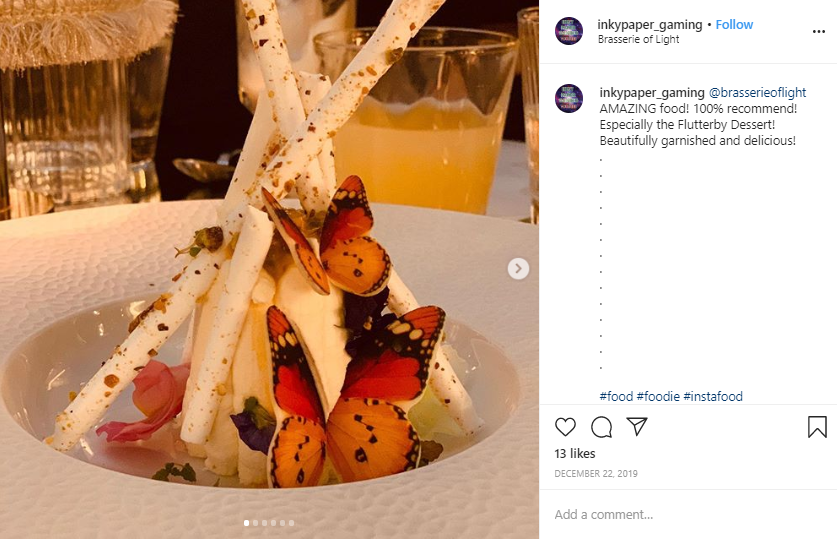 3. Run a contest for your restaurant's patrons
Does your restaurant already look like a perfect Instagrammable spot? If yes, you can skip the first two steps mentioned above and move to the third one. If your customers do like to take photos at your restaurant, you should encourage them to share their photos on social media using your restaurant name or branded hashtag, and tag. One of the easiest, yet the most effective ways to do it is to run a contest. 
To motivate your followers to participate, you should offer a valuable prize. It can be a "free romantic dinner for two" or "free burgers for a year," or whatever prize you can afford. 
To run a successful social media contest, you should follow these simple rules:
Clearly explain to your followers what specific tasks they should complete (e.g., publish a post, tag a friend, follow your account) 

Mention the start day and the end day of the contest

Make it clear how many winners you will choose (one or a few) and what specific prize the winner (or winners) will get 

Make sure your front-of-house employees are aware of the contest and can easily manage promo codes, discounts, coupons or restaurant loyalty programs in your POS software for restaurants.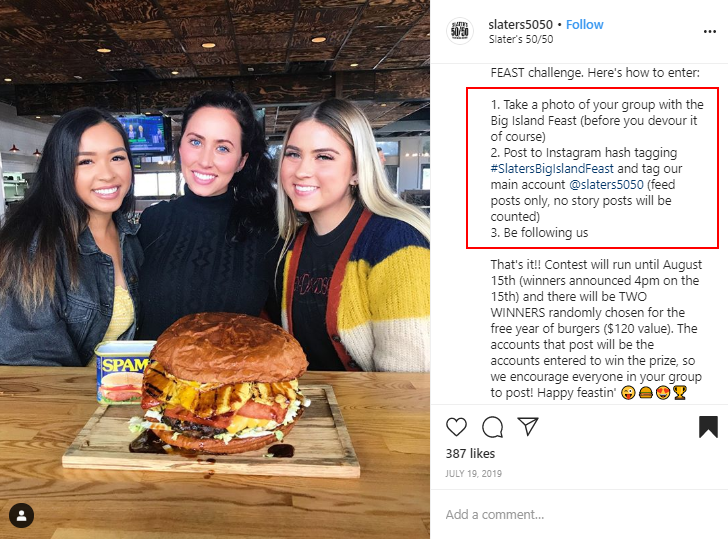 4. Spread "good vibes" to attract new customers to your restaurant
Another trick you can use to encourage your customers to publish more posts is to leverage cheerful or "be kind" quotes. If you add quotes to the design of your paper coffee cups, menu, or receipts, it will work in your favor.   
"Modern people like to use social media to "spread good vibes." And they do really like quotes. So if you write something positive and wit on the food packaging you use, you will get more user-generated content," says Kimberly Orrego, a marketing specialist at

Alltopreviews

.
5. Interact with the guests of your restaurant
Your customers expect that you will reply to their posts and tweets. So when you see a new piece of user-generated content, you should like it or comment on it. 
The more actively you will interact with your customers on social media, the more user-generated content you will get. If you have to deal with negative reviews and comments regarding your competitors, use your sense of humor. It will help you to avoid conflict situations, entertain your audience, and draw attention to your restaurant brand.
Generals rules to follow when sharing user-generated content
Once you collect enough user-generated content, you can share it with a wide audience. However, first you should ask yourself what are some of the advantages and disadvantages of user-generated content for your restaurant. User generated content helps your brand be more genuine and authentic but one mistake and everything we've worked for is lost. To avoid mistakes and boost your marketing efforts, follow these simple rules.
Ask permission to share content
Keep in mind that you can't use user-generated content without the permission of the content creator. If you want to reshare a picture or video, you should reach out to its respective owner. You can leave a comment below the chosen post or send a direct message. 
If the content owner approves your request, you will be eligible to use the chosen piece of user-generated content for commercial purposes.
Also, it's worth mentioning that you should be careful about publishing photos and videos with the kids. Some parents don't want to show their child's face on Instagram and Facebook. If a parent asks you to cover the child's face with emojis, you can't ignore that. You must use an emoji – or chose another photo.
Say "thank you" to your loyal customers
Do you say "thank you" to your customers? If you want to build customer loyalty, you should express your gratitude in every post you publish. You should thank your customers for choosing your restaurant and sharing positive reviews on social media. If you show your guests how grateful you are, they will appreciate that a lot. Your gratitude will make them feel like they should do something good in return, so they will write more reviews to market your restaurant.
Keep your brand's tone of voice and style consistent
Most businesses find it challenging to maintain a consistent brand voice across all social media platforms. And when it comes to leveraging user-generated content, the task gets even more challenging. 
It's not that easy to keep consistency when you share posts created by dozens of different people who use different cameras, apply different photo filters, and use different approaches to caption writing.
However, brand voice consistency is crucially important for your restaurant business. And you should find your own way to express the authenticity of your brand. When users look through your profile, they should have a clear understanding that all posts belong to the same "author" and promotes the same restaurant. If you haven't gotten the idea yet, take a look at the following two posts published by Maman, New-York-based restaurant chain. Both pictures are taken by guests of the restaurant – by two different persons. But they look pretty the same. And most importantly, both posts have rather similar captions: short, witty phrases in curly brackets.
To keep your brand consistent, you can use the same approach as Maman does. Instead of sharing random user-generated posts, you can do the following – choose photos that visually match photos in your account and come up with relevant captions. Besides, you may pick a specific symbol, or emoji, or hashtag and use it in every post to create that sense of consistency. 
Show which menu items your customers order 
Humans are curious creatures. They want to know what other people do, what they wear, and what they eat. And you can be sure that your social media followers wonder what your guests usually order at your restaurant. You can use user-generated content to satisfy that curiosity and make your followers want to try a specific dish. All you need to do is to write a funny caption and mention the name of the dish shown in the picture.
Share posts that evoke positive emotions
To attract more guests, you should publish not only food photos but also pictures that evoke positive emotions. Pictures of your customers' dogs, cats, kids, kisses, smiles, and other "sweet" stuff will help to increase reach and engagement and also will help you to develop positive attitudes toward your brand. By sharing such type of user-generated content, you can get your followers emotionally attached to your restaurant brand and increase sales.
Mix up UGC with your branded content
Your customers trust user-generated content, and that's true. However, it doesn't mean that you shouldn't use any other types of content. As was mentioned at the beginning of the article, your guests want to know who stands behind your brand. So feel free to write posts about the professional achievements of your chefs and to share stories of your key employees. 
Show your customers "the human side" of your restaurant business, and you will win their loyalty. It will help you to boost revenue and keep your business afloat when the competition gets intense.  
If you want your restaurant business to succeed in 2020, you should leverage user-generated content in your marketing strategy. It will help you to attract new guests and build customer loyalty. Use this article as a guide for encouraging more user-generated content. Apply all the tips given, and you will achieve fantastic results.