Starting a cafe is not as easy as brewing coffee and opening your doors for business. You may have thought about your cafe for years, but in the few months leading up to the opening you'll earn the titles of entrepreneur and business owner. As soon as you figure out how much does it cost to open a cafe, you can go to action.
How to start a cafe business: Defining a cafe in your region
Although it seems that all cafes serve coffee and have a similar laid-back environment, the definition of a cafe varies from country to country. In the U.S., cafes often serve meals through breakfast and lunch hours, occasionally staying open for dinner as well. Throughout Asia, private coffee bean roasters will start a cafe business as a way to promote their brand. This business concept is trending, especially through Singapore. In Latin America, cafes tend to cater to tourists providing a blend of American dining with artisan coffee. By learning more about your country's cafe industry through trends and performance metrics, you'll set clearer specifications on what will be part of your cafe concept.
1. Learn the cafe industry quick stats
The cafe industry is booming, and even through recessions, it has shown steady growth. If you're hesitant to start your own cafe, these statistics might help you make your final decision. Cafe trend and performance stats:
Knowing the busiest times of day, and where it's likely most of your revenue will come from can help guide you through solidifying your concept and starting a cafe business.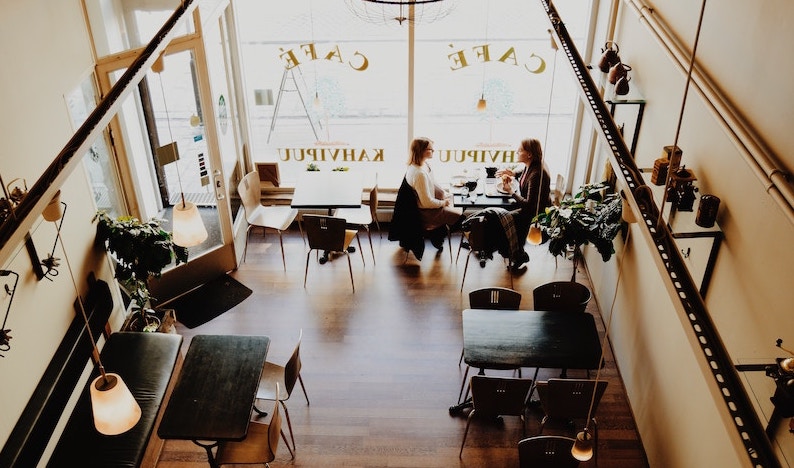 2. Bring together your concept and design
A cafe is the place where many people try to start their day on the right foot, or where they stop in during the afternoon for a pick-me-up. Don't fall prey for the general cafe concept when you can have fun and make it a place where you and others will want to be all day. Your concept will impact your menu, design, and marketing, so choosing the right concept is the best way to start your new cafe. Here are some unique and fun concepts to consider:
Boutique cafes
Pink settee, painted china, and chandeliers. A boutique cafe concept relies on proper design execution. This is a fun concept that can include theatrical uniforms and music.
Steampunk cafes
Who doesn't love a bit of steampunk? Mix metals, and strip your equipment to show its inner components. Steampunk cafes will often play host to steampunk parties and murder mystery nights after closing time, which is great for marketing.
Prague Minimalist cafes
Possibly the best way to save on everything from small wares to dining furniture, a minimalist cafe is the bare minimum. Putting this concept to work will involve streamlining your menu to a few outstanding items, and offering clean and clear surfaces.
Eco-friendly cafes
A huge trend taking over many countries is a focus on environmental impact. Eco-friendly cafe concepts can range from opting to use paper straws to hosting floating gardens in the dining area. The possibilities are limitless, and you can really tailor this concept to fit your budget and abilities.
Anti-Loneliness cafes
Most people dining in cafes are eating alone. Anti-loneliness cafes use adorable and rather large installations at each table to ensure that no one sits alone. Using stuffed animals or opening a cat cafe, this is a great way to capitalize on character creation in your concept.
Hybrid cafes
Do you love coffee but also have a flair for Korean cuisine? Similar to the concept behind fusion restaurants, hybrid cafes have all the beverage staples you would expect from a cafe. But when it comes to food, all bets are off. As you build your design and have a clear view of your concept, you'll need to start looking at locations. Finding a location that has a prep and dining area similar to what you want may be able to save you money and time.
3. Find a location for your cafe
Finding a location is one of the most exhausting parts of starting your own cafe. The search could take months. There are three things you want from a good location:
Traffic and target audience
Does your concept cater to people that are on their way to work or those who are meeting friends in the middle of the day? Use your concept to identify your target audience. Then determine if your location fits that audience. A minimalist cafe might fit best in a business park, while a Hybrid cafe would do well in a renovated downtown district because of the different audiences and foot traffic in those areas.
Accessibility
Accessibility comes in two-fold. First, you want the location easily accessible from the road with enough parking and clear walkways. Second, you need to meet handicap accessibility requirements. In the U.S. the ADA sets clear standards on ramps, and even counter height.
Visibility
Your signboard with cafe or coffee shop name should be visible from the street and from the sidewalk. Drive with a friend a few times and see if they can point out the location as you pass it. When you find a place, make it visible on Google Maps by creating a Google My Business account. Finding the right location is the starting point for many other steps involved in starting your own cafe. After you have a location, you can apply for licenses and put the legal aspects of your business into motion.
4. Apply for licenses and permits you need to start a cafe
Most licenses and permits within the U.S. do not take very long to obtain. However, there may be a few additional hurdles to clear, such as inspections and reviews. There are three stages for applications that you'll need to go through, and they're vital steps to starting a cafe.
Licenses to obtain before finding a location
Before you can really start shopping for a location, you need to make your business legal. You'll want to sign your lease or purchase a property under the business' name, not your personal name. In some cases, you may need a business loan which will require your business to stand as a separate entity. To make your business a legal entity in the U.S., you'll need a business license and an EIN. An EIN will act as a tax ID number for your business. In the U.S., a business license can take up to two weeks to acquire, but you can obtain an EIN immediately, even when applying online.
Licenses and permits necessary after finding a location
The second wave of licenses and permits comes after you find your ideal location and purchase your equipment. As you prepare to start your applications for the second wave of licenses, you'll need to ensure that your equipment and products meet certain quality standards. In the U.S., you'll need to submit applications for:
| | |
| --- | --- |
| Permit or License | Possible Waiting Period |
| Sellers Permit | Up to 2 weeks, or immediately if applying in person. |
| Food Service License | Up to 4 weeks depending on scheduled inspections and reviews. |
| Building Health Permit | Up to 4 weeks depending on inspections. |
| Resale Permit | Up to 2 weeks, or immediately if applying in person. |
| Certificate of Occupancy | Between 2 and 3 weeks. |
| Sign Permit | Up to 8 Weeks depending on local ordinances and additional reviews. |
For new entrepreneurs who are starting a cafe business in Asia, you may be dealing with several different licenses. For example, China requires all cafes and restaurants to carry a Food Production License from the AQSIQ.
Licenses for staff and management
The final phase of permits comes after you hire your staff. Employees need health permits, and in some regions, managers need a ServSafe certification. You can learn if your area requires ServSafe certification here. First-time entrepreneurs may feel intimidated by the many legal requirements. For those in the U.S., your city will be the primary source of information and where you submit your applications. Creating a timeline for your license and permit applications can make planning things such as purchasing your equipment or hiring staff much easier. You can plan on waiting to apply for your health permit or food service license until after you find the right equipment for your cafe.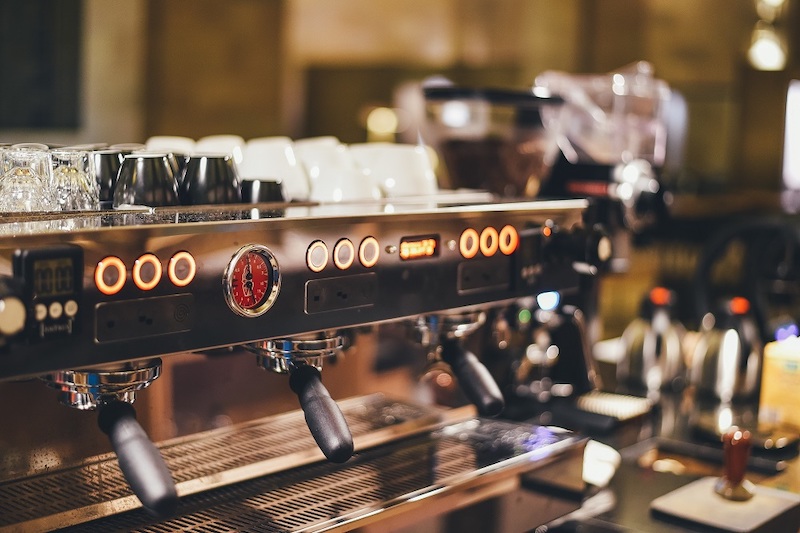 5. Obtain equipment for your cafe
Supplies are everything when you're starting your own cafe. Equipment is a major expense, and taking shortcuts can cost you even more. When choosing your equipment, you have a clear option between new and used. Not all used equipment is bad. Insist on testing any used equipment before completing the purchase. It's important because used equipment comes with the risk of needing repair soon after opening.
If you're buying new coffee shop equipment, try to buy from one vendor where you might be able to get a discount for placing a large order. Here is a quick checklist of equipment and supplies you need to start a small cafe:
Espresso machine

Coffee grinder

Blenders

Coffee and tea brewers

Hot water dispenser

Refrigeration unit

Warewashing equipment - dishwasher and/or three-compartment sink

Display case

Ice machine

Disposable drinking supplies

Disposable dining supplies

Smallwares including - measuring cups, scales, frothers, thermometers, etc.

Additional meal preparation supplies
As most cafes serve small meals, you may need additional food preparation equipment. If your cafe only serves sandwiches, you may need a meat slicer and a sandwich press. However, if your cafe serves breakfast staples such as pancakes, you'll need a flat grill and stove.
6. Find a POS system for your cafe
The days when MS excel sheets were the best option for managing sales and inventory in cafes have gone. Over the last decade, POS and inventory management systems advanced significantly and became affordable. Whether you're starting a small independent cafe or a multi-location business, you'll find a coffee shop POS system that'll help you deliver excellent customer service.
If you choose a cloud-based solution, the basic set of POS equipment and the monthly subscription will be generally cheap. Just make sure it provides all the functions you need:
A slick tablet POS app with a customizable floor plan of your dining area allowing waiters to conveniently assign orders to tables.

An inventory management tool for you to know at a glance what products you have in stock and get alerts when a particular product is low or out.

Advanced menu management that allows for product modifications for you to sell small, medium, and big cappuccinos or drinks with various toppings.

Marketing tools allowing you to run happy hours, discounts, and bonus programs without any additional software.

Statistic reports for you to check whether your best-selling coffee drinks are also the most profitable items on your menu.
A careful selection of a cafe POS system will help you optimize your coffee shop startup costs and ensure flawless operation on your opening day and for years to come. 
7. Choose suppliers
When it comes to finding suppliers or distributors, you can use national vendors or local farmer's markets. To find a farmer's market in your area, there is the USDA's Farmers Market Directory or LocalHarvest.org. Another great way to meet suppliers is to attend a tradeshow. You can speak with other cafe owners to get the best advice on vendors in your area. Take advantage and shop around for a product that really fits with. After you found the right equipment and supplies to brew the best coffee, you can start focusing on the guest experience aspect. Consider how your guests will place their orders and how they will pay.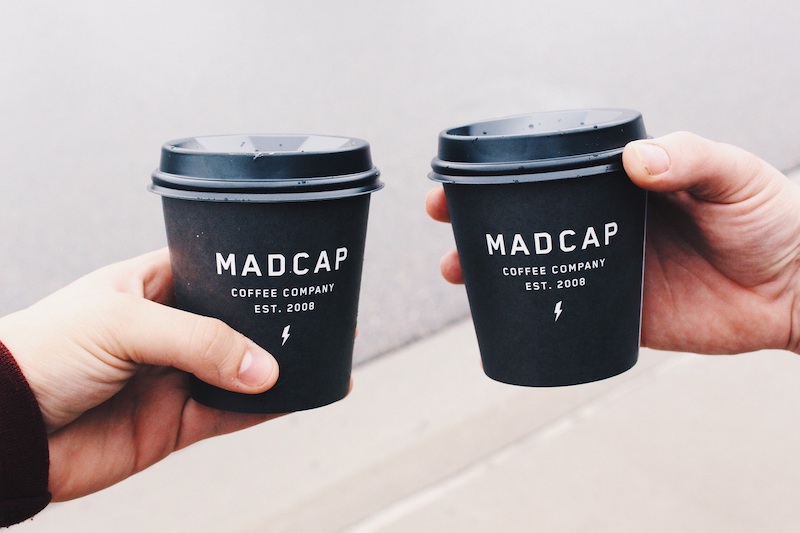 8. Market your cafe
It's time to put your social media marketing strategy to work. One of the best ways to excite the local and online community is to document your opening process. As you start a cafe, it might seem like a one person journey, but that changes so quickly. You can show your progress through social media as your very first marketing campaign.
Post about finding your ideal location and don't forget to give your realtor a shout-out! Comment on your city's page about the approval of your permits, and share the experience of building vendor relationships and be sure to tag them.
There is no lack of support for new entrepreneurs, and posting about your experiences with the people involved through these various steps is a great way to build a positive reputation.
Another marketing strategy is to take an active role in community sponsored events. Unlike social media marketing, this is not free, but fun things such as local food festivals can help create some excitement about your upcoming launch. You can participate in social media marketing from the day you decide to make your concept a real cafe. Remember that it's important to align your marketing with other brand aspects such as your staff.
9. Choose the right employees
Business owners have an ideal barista, server, or host in mind when they start a cafe. Do you want someone chatty, or fast, or somewhere in-between? Look for these qualities in quality staff members:
Guest focused

Fast-paced worker

An eye for cleanliness

A clear understanding of your concept
If you're the fun cafe that throws back to the 90s, hipsters need not apply. When an employee understands your concept, you'll immediately identify how well they fit in. There are two tools you have at your disposal to bring in great talent while sticking within a reasonable payroll budget. 
First, bonuses. Bonuses play a role in many industries, but the food and beverage industry usually misses out. Offer bonuses for exceptional service and exception work, but always use monitorable metrics.
Second is motivational tools. This umbrella of benefits can include anything from paid training through well-respected learning platforms to letting employees give short motivational speeches before shifts. Some managers play TedX videos before a busy day to get their team's ready. A motivational Ted Talk or good speech is a great way to start your opening day. Be sure to get your employees excited and keep their energy up whether you're busy or slow.
10. Launch your cafe
Your opening day is something that will stick in your mind for years to come. Use your employees, social media, and community connections to build a lot of buzz around your opening.
If you're planning on a soft opening, invite business associates, close friends, and family. It's a great way to train your staff while also inviting people in to see all of your hard work. For a grand opening, you can plan an event. Use Facebook to establish an event that people can find through the social platform. Offer wider windows for food service, chat with people who come in about your coffee bean vendor, and spend the time learning about your customers.
Many first-time entrepreneurs get to the opening day and realize that it's not everything they thought it would be. It's critical that you give that day importance and create a buzz around it. You definitely won't be saying goodbye to long workdays, or the struggles of a new business owner. But now you know what to do. Develop your concept, find a location, build your brand through social media, obtain licenses and permits, and hire your staff.
Then, open your doors; you're a business owner! Congratulations on your new cafe!