Food delivery is one of the biggest trends in the restaurant business and a true lifesaver for every busy urban dweller. Today, the rapid pace of life dictates the rules, and already food delivery has found its place in the rhythm. Maybe not every single day, but it's a great option for those occasions when there's no time to cook or unexpected guests just knocked at the door.
If your restaurant doesn't have a website yet, you're losing most of your potential customers. If you don't have a Facebook or Instagram account, that's really bad. We've already talked about how to promote your restaurant on Instagram so check that article for more details. Sometimes, owners spend hundreds of dollars creating and promoting their cafe and restaurant websites. But they don't all bring real customers to a location. Let's figure out together how to make a website attractive to a customer with Template Monsters.
Main restaurant website functions
Menu
This is the main reason a customer visits your website. Everyone wants to know what a restaurant is ready to offer them.
Best ways to design an online menu:
use a dish and ingredients builder

add pictures to the menu

add special deals and discounts

adjust the sliders

don't forget the quick, convenient search

turn on animation for the dishes, if possible
What to add to the order form:
table reservation

call back

online payment possibility

fast order / one-click order

option to send order copy by email or SMS
Social media widgets:
social media buttons

share buttons

possibility to log onto the website using personal social media account
Marketing tools
Very important functions that help promote your website on the network, making the restaurant more recognizable and popular. You will need:
You can try to use already existing website templates, from a design studio, that have been specially created for restaurants. The website needs to attract new visitors and turn them into regular customers. Make the process of placing an order as convenient and intuitive as possible so that customers won't leave your website without a purchase. Let's take a look at a few good examples of restaurant websites with unique design:
KingBurg – template for burger place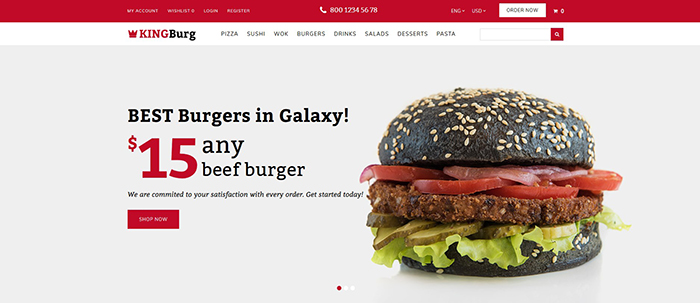 YangXin – template for Chinese restaurant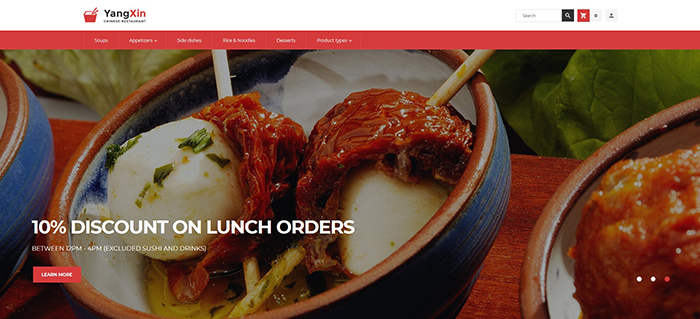 Food House – template for Italian restaurant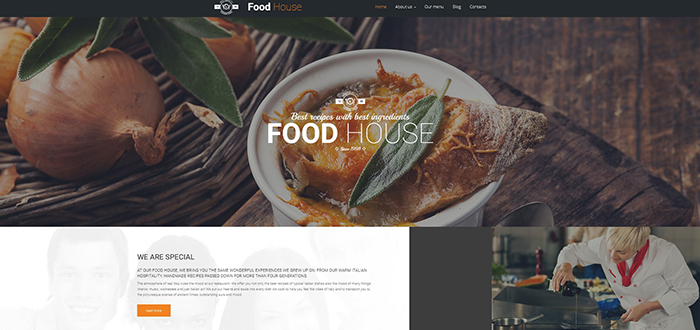 Virtuemart – template for seafood restaurant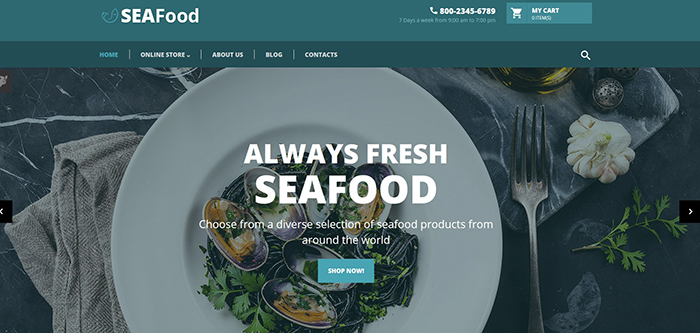 More ideas for restaurant website improvement
Many restaurant owners spend hundreds of dollars creating and promoting websites, but isn't always easy to bring the potential customer to the point of placing an order. It's really important to convey the restaurant's atmosphere, its philosophy and concept through the website. Choose appropriate background images, fonts, and overall style, so that customers feel the vibe. More about how to do this.
Dish photos
People visit restaurants primarily to have a delicious meal: Your website's role is to be the place where potential customers may feast their eyes. This is why you need to pay special attention to high-quality pictures of food. Here are a few ways to select photo content:
Real photos. This is the perfect way to show off your dishes in all their glory. All photos should be high quality and in one style. To achieve this, it's best to hire a professional food photographer, so the photos are edited with the same filters and color scheme. Pictures should attract users. Show the website to your friends and get their opinion.
Stock photos. This is an acceptable option that will significantly save time. Photo stocks offer inventories of food photos for all types of restaurants and cuisines. Don't get lost in the variety, and be smart about selecting photos so that the visuals actually match your menu.
Search engine photos. This is the worst option. Most likely, photos will have different sizes and backgrounds so you will spend a whole bunch of time editing and trying to get them into the proper shape. Additionally, most often such photos are copyright protected and this might cause problems in the future.
Images with a white or plain background are suitable for almost any website and when you want to change the design, you don't need to change the photos as well. Scientists say that certain colors affect people's emotions. Try designing the website in warm colors like yellow, orange and red. They display joy, enthusiasm, and passion –increasing appetite!
Restaurant menu
Besides pictures, your menu should be intuitive and easy to navigate so that customers can orient themselves and surf between categories and menu items. Don't forget to monitor the relevance of positions, to update information, publish seasonal offers and add a special menu. 
Easy access to the website from a smartphone
To ensure that the website is correctly displayed on any device, you need an adaptive template.
Adaptive template for European restaurant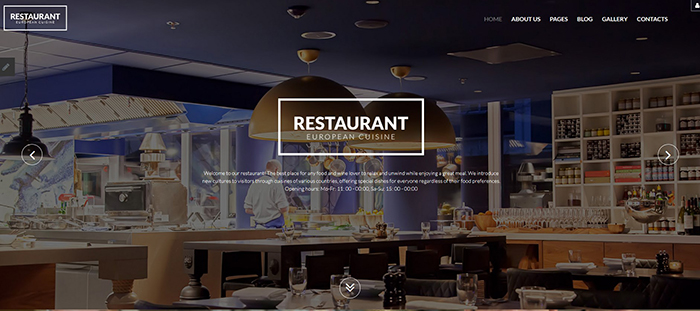 Adaptive template for classic restaurant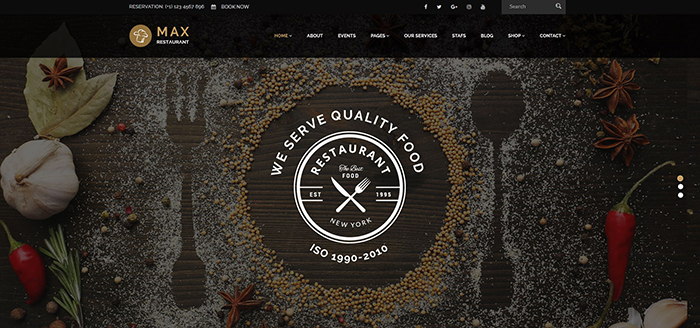 Adaptive template for Mexican restaurant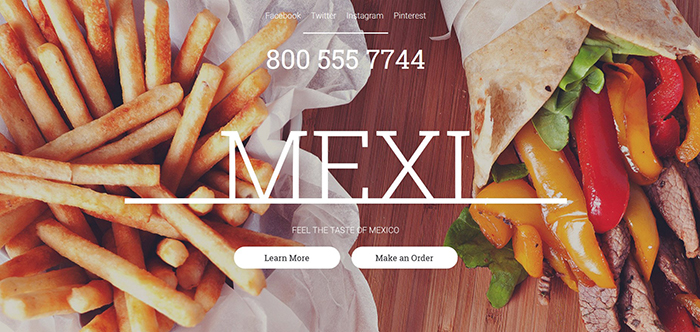 Restaurant contacts and address
If people haven't ever been to your restaurant, they need to know where to go. Be sure to include address and contact phone number on the main page of the website (for example, in the upper right corner). Mark the restaurant on the map and add the Google Maps widget in the Contacts section.
Online orders and delivery
The possibility of food delivery is actually the main reason why most people visit a restaurant website. Customize the online form on the website and accept orders for food delivery. Add one more sales channel and increase restaurant profits!
To communicate with customers more effective and get more of your business it is better to build integration between your website and POS system. Then all data of your customers (online and offline) will store in one place and you won't miss anything. If you don't have a reliable point of sale yet we recommend you to consider getting one. Usually, a restaurant POS systems cost is really affordable and your investment will pay off extremely fast.