There are so many reasons why businesses do much better with a developed online side. Restaurants are no exception. You could be stuck in traditional methods of advertising like buying space in the local magazines, but the costs are too high, and the gains are small. Now we are talking not only about the positive trends of Internet promotion in general. Since the invention of the first iPhone mobile usage continued to skyrocket as people spend more of their browsing time on mobile devices. Now it all comes down to the easiness of use and reaching the audience through their phone.
Apart from the promotion, the restaurant business has a lot of tasks. Such activities as people management or bill payments take a lot of time. Having most business tasks digitized will make your processes more efficient. Here are some reasons why you need to improve the online side of your business and integrate all online orders in your POS system, and how to do it.
Promotion
Currently, most people spend more of their active hours of the day online than they do offline. This means that when your restaurant has an online presence then more prospective customers will be able to access your services. Here are ways you can promote your restaurant business online:
Your own blog  
Blogs are an excellent way of keeping 'netizens' aware of your business. And since there just enough cuisines you do at the restaurant, you can never run out of content to share with your readers.
As your blog grows, you begin to create trust among your followers and this translates into more customers for your business. Also, if you add a content about your own experience, it will attract not only usual visitors but professionals in your sphere with whom you can deal in the future. The personal blog is both a long term and short term promotional avenue.
Listings  
Once you have built your reputation online, you can easily get listed by travel websites such as TripAdvisor. Positive reviews there will make new customers to trust you more.
Instagram account
I will say it out loud. Every restaurant owner have to use Instagram for marketing restaurants Instagram favors images, and with restaurants, meals are more alluring in perfect professional photos. You can post special dishes photos on Instagram (ensure the images are watermarked with your restaurant's name) or you can just repost your visitors' posts about your place. The image will be shared online, and that brings more awareness for your business.
On top of that, try to post as many stories as you can. People want to eat every day, and once you won their attention, try to be on their Insta screens from dusk till dawn. This job can be done by freelance managers that work for a couple of restaurants simultaneously, or by one of your team members.
Don't forget to add suitable hashtags - such an action will expand the target audience. Furthermore, you may include a link where the food can be ordered in the caption and convenient payment method and your sales will surprise you! Use paid ads to target your potential customers, target them by posts they like or location, and get relevant traffic for a low cost.
Facebook page
You could be having your website and a personal blog but having a Facebook page can help you promote your business further. You can pay and boost your content so that it reaches many people on Facebook. More reach means more customers and regular visitors.
Service improvement
The restaurant deal is a very demanding enterprise, you, therefore, have to delegate some tasks so that you can have enough time to attend to the most important needs of the business. Yes, you can have all the employees you want to help you run the business, but at what cost? Why do you need to employ more people when you can have a more effective and efficient software work for you at the cheapest cost?
The best thing with technology is that once the system is in place, then you can have the checks and balances without a hassle. Here is some software that will make your work easier and save you money.
Restaurant Reservation system
Having an online restaurant reservation system will save in many ways. First, it will eliminate human error that is common with the paper system of data entry. Have you ever encountered a situation where two different employees reserved the same table for two different clients? This is not only embarrassing but also makes your customers think twice before coming back to your restaurant.
Ordinarily, a single reservation involves a lot of paperwork that might create a lot of mistakes. Having a reservation software makes things straight-forward. The customers fill all the details of the reservation from their end hence limiting the errors from within your business.
A restaurant software for reservation captures customer's details: emails, phone numbers, and purchase history. You can use this data to send targeted marketing and promotion messages.
Employee management software
In the restaurant business, employees are mostly paid on the basis of hours worked. It is complicated to trace this information without the use of a software. Fortunately, you can have a clock in systems or time cards that tell when an employee arrived and when he left.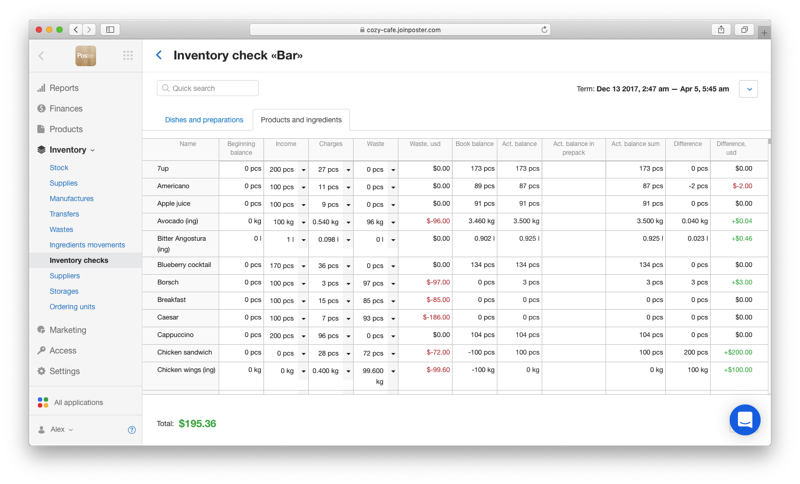 Inventory management software
With an inventory management software, you can keep track of the perishables like milk, vegetables, and other products. Your restaurant POS system will help you track the items in stock and place new orders with suppliers on time. 
Getting feedback and building communication
Having an online presence makes it easier for clients to communicate with you. You could have one employee whose job is to answer all the online inquiries. Having a timely communication like Instagram replies and Facebook chats influences purchasing decisions and helps build trust between your business and its customers.
Engage your loyal customers in simple surveys on Facebook or Twitter to improve your service. Though few restaurants have utilized this, it has great benefits as it makes the customers feel part and parcel of your business. That sense of belonging will go a long way in making them regular customers.
Having an online presence opens a convenient way for the customer to rate your services and give you reliable feedback on your services. Once you have a Facebook page, you can enable customer ratings, and through their feedback, you will know the space of your restaurant among your competitors. You can also handle grievances easily, either privately (inbox) or publicly in a way that enhances trust.
In conclusion
In the current time business processes can be optimized dramatically, so use these opportunities for your own good. Having an online presence and optimized processes is a must for modern restaurants. It improves the reputation of the establishment and widens your profit margin.
Overall, the target goal is the satisfaction of customers, so do it with efficiency and straight-forwardness. Tips mentioned in this article will bring you closer to perfection, but improving your business is a never-ending process.